NSIC Preview Week Six
October 11th, 2019 10:00am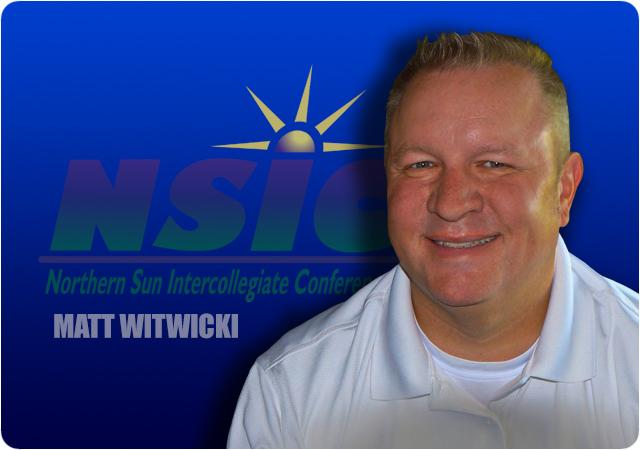 Saturday, October 12
Minnesota State-Moorhead (3-2) at Concordia-St. Paul (3-2)
MSUM lost a heartbreaker against Winona week ago. The Dragons were up late but an interception with a few minutes left cost them. The Dragons looked decent for a good portion of the game as Grady Bresnahan continued to be a top threat at wideout and we also saw the quiet return of 1,000-yard receiver Jake Richter, a player I had understood was gone for the year due to an injury in the spring.
The home Dragons outgained the Warriors but gave up an opening kick return for a score and spent most of the game playing catch-up. I'm pretty impressed with how the Dragons have been able to overcome the injury to starting quarterback Jakob Sinani and not miss a bit with backup Matt Plasterer.
Concordia found themselves on the wrong side of an overtime contest at St. Cloud. The Bears were able to get their passing game clicking but had zero success running the football, finishing the day with 43 yards on 36 totes. CSP has found a way to race out to three wins in their first four games, but they've now been outgained by four of five opponents this season. It's hard to expect success when ended up on the wrong side of the totals. Concordia is going to need to find a way to get their passing game and ground attack on the same page.
The Golden Bears defense has put them in a position to win games and this last week they held SCSU QB Dwayne Lawhorn to 11 of 26 passing. CSP has been the least penalized team in the NSIC as well, only 36 yards per game.
This might be the hardest game to pick this week. I feel that Moorhead has a more explosive offense, but that Concordia is better defensively. At times MSUM struggles to protect that quarterback and in this case, I'm liking CSP to disrupt the Dragon offense with their All American DE Chris Garrett and others. I'm taking the Bears at home in a close game.
CSP 27-20

Sioux Falls (3-2) at Minnesota-Crookston (0-5)
Due to the possible blizzard heading across the Dakotas and Minnesota, this game has been moved to the Alerus Center in Grand Forks (University of North Dakota). USF played at UND in 2009 and 2011, thumping the Fighting Sioux in the first game and then losing at the gun (field goal) in the other.
Crookston has shown continual signs of being more competitive this season but last week they were thumped by Wayne State 30-7. The Golden Eagles defense has kept them in games this year, but their offense averages a league-low 10 points per contest.
The Cougars had a get-right game against Mary a week ago. Caden Walters looked to sharpen his connection with his top wideout, Nate Johnson, as they locked in for 8 grabs for 186 yards and 3 scores. Johnson has the potential to be among the most dangerous pass-catchers in the league but had yet to reach the end zone or go over the 100 yards mark this season. Walters is now leading the NSIC in passing yards, which is fairly odd considering how the Cougars has focused on running the football. However, during the past few weeks it's been apparent there's been more trust with the air attack, and they've done well making the passing game a greater threat. The USF defense continues to look like one of the top in the conference.
USF should work out some kinks this week against Crookston, before Duluth arrives in Sioux Falls the following week. I wouldn't expect RB Gabe Watson to return this week as any plans for his return would likely be centered around a high-profile matchup like UMD, if at all.
USF 41-3

Wayne State (2-3) at Minnesota-Duluth (4-1)
First things first. UMD isn't as bad as their 52-7 loss might indicate last week at Mankato. Let's give the Mavs credit for displaying maybe their best overall performance in years. Duluth didn't perform well, no, but they ran into a buzz saw and their QB was hurt and outta the game by half. This certainly brings into question the status of starting signal-caller John Larson going forward. I expressed in the season preview that I feared if he'd be able to stay healthy as they didn't have any experienced depth like in the recent past, along with Larson getting used so heavily in the ground game. If/When he returns, I think a slight adjustment might be needed regarding his involvement in the running game and other players will need to step up and pick up some of his production.
A bigger concern for Dogs fans might be how their defense couldn't get home and disrupt the passing game of Mankato a week ago, and how easy it looked for Mankato to operate with 50/50 balls. UMD's defense is predicated on pressure and they get put at-risk defensively when they aren't imposing themselves on the offense at the point of attack. I really thought UMD would be flying around getting to the spot quickly and limiting the Mavs in various ways, but that just didn't happen.
Wayne is now going on three weeks without their freshman gunslinger Andy McCance, but has done respectable offensively without him, becoming a little more run-heavy. McCance might return for UMD but for a player coming off injury the Dogs aren't the easiest matchup given how they look to attack the quarterback. Last week the Wildcats rushed for 376 yards on 50 attempts, but I don't anticipate it'll be that easy of sledding up in Duluth.
I wouldn't be surprised if neither team played their starter this week if the weather is treacherous, which could make for a lower scoring contest with offensive execution at a premium. While WSC threw Augie back in their chair for a half a few weeks ago, I don't expect UMD to take their blowout loss at Mankato a week ago lightly. If Larson plays, I think the Bulldogs win handily, but if not, I could see them game being a little sticky.
UMD 27-14

St. Cloud State (3-2) at Augustana (3-2)
Augustana looked like they were going to escape Bemidji with a win a week ago and move to 4-1. However, the Vikings botched an extra point attempt and then things started to snowball for Augie. The Vikings had an ill-advised hit on the quarterback as he scooted out of bounds, followed by a questionable infraction for laying on the ball carrier after a play. In any event, the Vikings surely feel they didn't put away the Beavers when they had the chance, which lead to a crazy looping halfback pass for a 2 pointer to seal the game for BSU.
In the process Augie is unfortunately no closer to getting the serum for making their offense back to normal. Conditions were less than good for a team that thrives on throwing the ball down the field, but Kyle Saddler is going to need to be more accurate than he's been lately In tuning-in casually, I noticed he was 0-9 at one point in the first half, finishing 11 of 34 for just 134 yards and 2 picks. The Vikings have too many weapons at receiver to be coming up short like there are through the air.
Luckily for Augie their defense has played very well during this stretch when their offense has struggled, so they are still in the race for the playoffs with just 2 losses.
SCSU is a bit of a mystery this year as they've looked good against a team like UMD and then poor against a lower half squad like Northern. Frankly, I expected more from the Huskies offense than I'm seeing. Similar to Kyle Saddler, I was anticipating a 'next step' in progression for SCSU QB Dwayne Lawhorn. Lawhorn was 11 of 26 for just 149 yards last week and hasn't become a real threat in the running game for St. Cloud either. Joe Blando is helping with the load at running back but he hasn't seen a breakout season either. The SCSU defense continues to be solid and last week they completely shut down the running game of Concordia but allowed success through the air.
This game is tough to call. If Augie plays like I think they can, I have them by a few scores. However, their offense hasn't gotten out to a quick start since their opening game of the season against UIU. I think the SCSU defense keeps this a lower scoring contest as the weather will be cold and windy. I'm taking Augie at home but by the slimmest of margins.
AU 20-17

Minot State (2-3) at Winona State (3-2)
Minot found themselves dangerously close to moving to an over .500 record after five games, a feat that I cannot recall from them during their D2 window. However, SMSU just had too much offense for the Beavers in their 21-17 victory, outgaining them 433 to 251 in the contest. The way Minot is competing shows signs of improvement, but the challenge will be keeping their head above water with their remaining schedule being Winona, CSP, Augie, Moorhead, SCSU, and BSU. They will be looked at by neutral eyes as a double-digit underdog in each matchup. That said, QB Ben Bolinske has become a more consistent performer this season and the Beaver defense has played well enough to keep them in games.
A week ago, Winona got everything they could handle at Moorhead, escaping with some big plays to seal a 28-26 win. The Warriors continue looking more like a solid squad, but not a great one. WSU was once outgained by an opponent, which is something I don't think the Warriors coaches were anticipating this season with all the players they were bringing back from an 8-3 squad in 2018. The Warriors have to be looking at this week's Homecoming contest as a time they'll need to wake up their offense while getting sharper on defense. QB Owen Burke hasn't been sharp so far this season and with ongoing injuries with their ball-carriers, the Warriors might need to get a player like Jake Balliu (WR) more than the 3 touches he had a week ago. Considering his playmaking abilities, I'm surprised they aren't finding more ways to get him the ball in times when they aren't exactly prolific offensively.
I think Minot is more refined offensively than in the recent past, but their defense is still giving up too many yards to some of the not outstanding offensives in the conference. I like Winona doing enough to keep this one under control for much of the contest.
WSU 30-13

Upper Iowa (0-5) at Mary (0-5)
Not a lot to say when two squads are both 0-5 and struggling on both sides of the ball. That said, Mary is at a different level of struggle than Upper Iowa. The Peacocks have lost by 2, 5, and 7 this year. I like them to have enough success offensively against a Mary team who hasn't been able to stop anyone yet this campaign.
UIU 34-20

Minnesota State-Mankato (5-0) at Northern State (3-2)
MSU played an outstanding game in their 52-7 thrashing of North division power Duluth. The Mavs got fantastic play from Ryan Schlichte, a player that I've scrutinized during the last handful of big games Mankato has played. If Schlichte can throw the ball with the command he did against Duluth for the remainder of the year the Mavs have a chance to make this a season for the ages. The combination of a great offensively line, a battering ram halfback, and a nearly unstoppable big target wideout, has the Mavs in a position to be a complete handful for any D2 defense. Couple that with a defense that's playing better than the Mavs have since their 2014 runner up squad, and you have all the ingredients for making a title run.
Northern State appears to be on the upswing as they find themselves at 3-2, but before we get too excited their wins are over Minot by 4, SCSU by 3, and UIU by 2. The SCSU win is the one they weren't getting a year ago, but the Wolves are still -24 in point differential this season.
The Wolves offense is getting steady running from Isaiah Cherrier (80 ypg) but will need to continue to see the progression of quarterback Hunter Trautman. The Wolves offense has been 'good enough' to win three games but is still only averaging 16 points per contest.
NSU found a way to escape Fayette with a 24-22 win a week ago, allowing the Peacocks less than 300 yards of total offense. The week previous they limited SCSU to 319 yards total. These are signs that the Wolves D is keeping the opponent to a low enough total to win them some ballgames.
While Northern is sitting good at 3-2, their week 6 opponent is something much different than they've seen this year. The Mavs D should be able to really put the Wolves in some tough spots offensively while being too much with the Gunn and Zylstra combo. That said, I kinda expect an emotional letdown from the Mavs in the week that follows a game the magnitude of Duluth. Don't be shocked if the Mavs take a while to get going in this one.
MSU 31-10

Bemidji State (4-1) at Southwest Minnesota State (2-3)
The Mustangs started the year 0-3 but have seen rebounded and found the pay window each of the last two weeks. SMSU won on the road at Fayette and then Minot, two wins on the season between those two squads. In that time the Mustangs have found a running game in Max Simmons, who's rushed for 226 yards during that stretch. Daniel Davis continues to be a top receiving threat and would be seen as a star in the league if he was on a high-profile squad.
BSU is 4-1 but must feel very fortunate to escape the wild finish with Augie with a win. Given the injuries the Beavers have seen at quarterback, they don't have the feel of a powerful 1-loss squad, but instead one that's trying to make it week-to-week. Third string signal-caller Emmett Enright (JR) has been pressed into action and he will need to show weekly improvement if the Beavers will continue with their successful campaign. So far Enright's passes have found the end zone twice, but he's been intercepted four times, completing 39% of his tosses. BSU's top wideout Malik Williams is very elusive and will need to further his progression as well to help his quarterback be successful. Jalen Frye is a smaller runner, yet tough, that'll need to continue giving the offense a lift with his ground game.
The BSU defense has looked strong this year except for the forgettable second half they had against Duluth. That said, the BSU defense should be robust enough to stop the emerging SMSU ground game. I'd expect some safe playcalling offensively to limit turnover risks in a ballgame the Beavers will think they can win at the point of attack.
BSU 31-17