NSIC Week Eleven Preview - 2021
November 12th, 2021 7:00am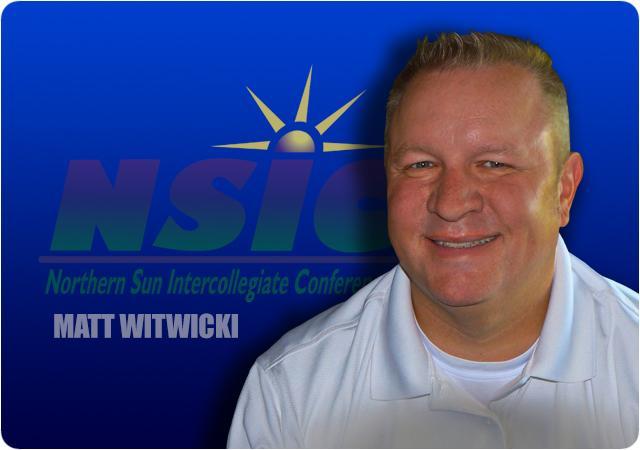 Games for the final week of the regular season..
Concordia-St. Paul (1-9) at Minot State (1-9)
There's no other way to say it, the Golden Bears 1-win campaign is a big letdown for a program that rose to a .500 squad the last few seasons. Coach Shannon Currier brought back some vigor to the program, but they'll need to regroup after this tough fall. A 3-point output a week ago against a middle of the pack defensive team like Moorhead team speaks to this year needing to be over for Concordia.
Minot State spent most of 2021 seeking a win. It finally came just a few weeks ago against mutually winless Upper Iowa. While the Beavers have become capable through the air and feature one of the better running backs in the league in Ali Mohamed, their defense has given up 49, 49, 48, 68, 49, and 49 points this year. That said, they'll need to get better on both sides of the ball in the future if they hope to improve on 1 or 2-win seasons.
Outlook: It's anyone's guess who'll win a contest like this one. I believe Minot has played more competitive of late and I'm taking the Beavers to win at home.
Prediction: Minot State 30-24

Wayne State (6-4) at Minnesota State-Moorhead (5-5)
A month ago, Wayne State was the surprise team in the league and on the way to the playoffs. Since then the Wildcats have come back down to earth and lost 3 of 4, including the stunning setback against winless Upper Iowa. This last week against they hung around for a half but couldn't slow down the Cougar running game enough to play 4 quarters with Sioux Falls. Wayne State was sitting at +16 in turnover margin when it was a 1-loss squad. Now WSC is +9, which speaks to the negative 4 game swing.
MSUM has been a pleasant surprise despite being overshadowed in the North by UMD-BSU-NSU. The Dragons have won 5 games and lost to those squads by just 5, 3, and 6 points. In other words, Moorhead isn't that far away from being in the playoff discussion. MSUM is young and has a very productive freshman quarterback in Tommy Falk, who should be a top gunslinger in the NSIC for years to come.
Outlook: Call me crazy, but I think Moorhead has more to play for here since Wayne has already exceeded expectations and is on a downturn. MSUM is playing at home and wants to send its seniors out with a win, along with finishing over .500, a big deal for a program that's spent plenty of its recent history under that mark.
Prediction: MSUM 26-24

Minnesota State-Mankato (6-4) at Winona State (6-4)
Back in September if you told me MSU at WSU in week 11 would be just another game, I would've shaken my head no. 2021 has been a letdown for both squads. MSU has clearly moved from a hopeful reload to a rebuild, losing 3 contests at home this fall. Winona has a nice win over USF, but also a painful loss to Northern (a game they were fortunate to make close after giving up a 50-spot to the visitors). Neither team is especially strong defensively and both have struggled to establish an offensive identity.
Outlook: All eyeballs on this game fully understand it's the last for Tom Sawyer, the dean of NSIC coaches. Coach Sawyer wraps his 25th season at the helm of his alma mater where he played both football and baseball. You don't often see coaches like Sawyer stick around their school for 25 years, especially with a near .700 winning percentage. During my time as the conference columnist (since 2013), Coach Sawyer has been great to me and fun to joke around with during our preseason coach-chat. We've kidded about old high school teammates of mine that he's coached, and he's been very candid about the WSU program and the league as well. Personally, I will miss that.
While Coach Sawyer's final season won't have a storybook ending, I do think the Warriors will show their best effort for his final game and find a way to disrupt the Mavs offense enough to win a tight one.
Prediction: WSU 27-24
Northern State (7-3) at Minnesota-Duluth (8-2)
What UMD did to Augustana a week ago shocked me. If you'd said the Bulldogs would start a 3rd string QB as well as control an outstanding Augie offense to win easily 41-15, I would have laughed in your face. But after witnessing UMD get to the passer early, it was apparent they had the game plan working and might very well roll. They did. The ability of the Bulldogs to limit the AU running game was very impressive as well. Just an incredible effort defensively.
Offensively the 'Dogs turned to Garrett Olson to lead the home squad in his biggest career start to date. Prior to Augie, Olson completed 55% of his passes with 5 touchdowns and 7 interceptions while starting numerous games as a backup. Olson looked composed and delivered on 11 of 18 throws for 171 yards and 3 scores vs. the Vikings. He also had a 51-yard mid-draw out of a 5-wide set for a score. A run that Olson didn't encounter a defender until reaching the goal. I cannot say how impressed I was with Olson's performance. Offensive Coordinator Chase Vogler put him in good spots to succeed as he moved the pocket and such.
Northern State lost a battle with BSU, a defeat that could very well keep the Wolves out of the playoffs. Like USF, they have the slightest of chances for the dance but need help. Numerous ranked opponents in front of them have to lose this weekend. The Wolves were up 28-22 in the second half and looked poised to take over against Bemidji but three turnovers late in the final quarter caused things to slip away for this talented offensive squad. Coupled with NSU's defensive inability to get stops at the end of ballgames (see Mary result) and the fact the Wolves don't get up for all their opponents, a postseason bid is a long shot.
Outlook: I often get feedback about not picking enough upsets. I'm very candid about who I feel should win. Since I'm accountable for my picks (good or bad), I try to get things right. Last week's big victory over AU should have the NSIC conference columnist picking UMD at home, right? Not so fast my friend. I'm doing my best Lee Corso and putting on the Wolves mascot head today. Why? Not sure lightning can strike on consecutive Saturdays in Duluth. For the home team to force 6 turnovers and beat another strong team using a 3rd string quarterback seems like a big ask. Are the Bulldogs favored? Of course. But if Hunter Trautman can get rid of the ball before getting swarmed by the UMD blitz (just ask Saddler a week ago), the NSU wideouts are flat out more athletic than other squads in the NSIC. I'm taking NSU in a game similar to Bemidji's win a few weeks ago in Duluth. I'm expecting a battle but because this is a 'prove it' game, I think the Wolves show up and step up.
Prediction: NSU 42-34

Southwest Minnesota State (2-8) at Augustana (8-2)
Augie's loss a week ago was a stunner and cause for concern for the Viking offense. Considering the magnitude of the contest and knowing a win at Duluth has been elusive over the years, the offensive collapse was troubling. The line struggled to account for rushing defenders which rattled QB Kyle Saddler (a fumble early, 2 pick sixes, and a total of 6 turnovers). This was uncharacteristic for a unit that's looked like the NSIC's best throughout 2021. Equally concerning is the status of Saddler's knee. The senior was hit after the halftime break and sat on the turf for an extended period. Saddler hobbled his way around in the 3rd quarter not looking 100%. So, don't be shocked to see backup signal-caller Connor Neill against SMSU so Saddler can heal for the post season. The Vikings have enough weapons to find their way through Saturday's contest.
SMSU lost its 5th straight, getting shutout in a 52-0 drubbing at the hands of Minnesota State Mankato. Based on the massive turnover in the Mustangs roster from 2019 to 2021, this tough year shouldn't be shocking.
Outlook: Not a lot at stake for SMSU on the road against Augie, while the Vikings are playing for a playoff spot. AU certainly has to lick its wounds and brush off a whooping, but the Vikings have everything in front of them for the playoffs and a potential first round home game. The Mustangs don't have enough offense to make this game dangerous for the home squad.
Prediction: Augie 34-13

Mary (4-6) at Bemidji State (8-2)
The Marauders Danny Kittner is now the single season leader for receptions in NSIC history. The sure-handed wideout has 109 grabs for 1439 yards, along with 14 scores. I speculated a week ago on our Inside D2 Football show that he could be a dark horse for the Harlon Hill award, given to the best football player in Division 2. Kittner's numbers are 25 plus catches and 200 yards better than the next guy at this level. Clearly production of Kittner and his ball-catching mate Luke Little (18 scores, best in D2) have been front and center for the improvement at UMary. QB Logan Nelson, recruited by the previous Marauder regime to be an option quarterback, is 4th in passing yards nationally with just 7 picks. Those are remarkable numbers considering Mary has been chasing the score in more games than they've been ahead.
After years of not being able to get past Minnesota-Duluth, BSU has reached a spot of "win and you're in" for the playoffs. QB Brandon Alt staying healthy for the season has been the single biggest factor for the success but he's got a nice crew of wideouts that help this offense go. A week ago, the Beavers outlasted Northern in a dogfight in Aberdeen to keep their playoff hopes alive.
Outlook: There's no way around it, Bemidji State faces a boatload of pressure this weekend. Enter UMary and Coach Craig Bagnell (former BSU OC) and his prolific offense. Don't think BSU Coach Brent Bolte isn't aware the Marauders went into Northern a month ago and put 49 on the Wolves. Both squads average 34 points per contest. Neither team has a shutdown D, the Beavers allow 29 per contest and Mary 34. The Marauders have struggled to keep better offenses from big numbers and while this game could be a shootout, BSU is a definite favorite at home. I'm taking Bemidji to disrupt Logan Nelson just enough to slow down the Marauders aerial attack.
Prediction: BSU 45-30

Upper Iowa (1-9) at Sioux Falls (7-3)
The Peacocks finish out a lost season but can look back at the spoiler role they played with Wayne State late in the year. UIU has youth at skill positions and should be poised for an improvement in 2022.
Sioux Falls has the slightest of chances to make the dance and knows it needs to take care of business against the Peacocks to have any shot at the postseason. The Cougars have played their best football the last few weeks which would make them a tough playoff draw. The emergence of running back Landon Freeman, coupled with a mostly healthy Thuro Reisdorfer and a stingy defense, has USF playing with a confidence seen in convincing road wins at Mankato and Wayne. In the victories USF showed multiple new elements to the offense (shovel pass and reverse) that went for big scores.
Outlook: Upper Iowa hasn't played well in Sioux Falls in many a year. This USF defense should be the best UIU has seen so I'm expecting a one-sided Cougar win.
Prediction: USF 38-13
Regional Rankings (11.7.2021)
1-Colorado Mines (9-1) vs Adams State (1-9)
2-Angelo State (8-2) at Texas A/M Kingsville (4-4)
3-Augie (8-2) vs SMSU (2-8)
4-Bemidji State (8-2) vs Mary (4-6)
5-Western CO (8-1) vs CSU-Pueblo (6-4)
6-Central Washington (CWU) (6-1) vs Simon Fraser (0-4)
7-Duluth (8-2) vs Northern State (7-3)
8-Midwestern State (6-2) vs UTPB (4-3)
9-USF (7-3) vs Upper Iowa (1-9)
10-CO Mesa (7-2) at SD Mines (4-4)
My reaction to Monday's Regional Rankings was that suddenly quality wins mattered. The week previous with Augie dropping to the 2-line, they did not. When a team like CWU falls further it confirms this as the Wildcats have crossed paths with just 2 teams over .500 this year. They certainly have immense scheduling challenges being located in the Pacific Northwest but teams who've played more winning squads need to be rewarded. It now looks like that's occurring. The top 4 teams on the list all have 4 quality wins (over .500 clubs). Western and CWU had the slight advantage in Winning % plus SOS....but Western only 2 quality wins and CWU with 1.

UMD can jump those teams (I'd guess) with a win over NSU. If the three NSIC teams in this week's top 7 win, Bemidji will have best SOS in that grouping and get the 3 line. Augie with the next best SOS would be at 4, UMD at 5 (they all have beaten each other so that's a wash). BSU will also have 2 wins over ranked opponents, which is something that helps them in this tight race. If things go chalk, I expect to see this late Sunday afternoon:
1-Mines
2-Angelo (very high SOS, 4 quality wins)
3-BSU
4-Augie
5-UMD
6-Western
7-Central Washington

I think it's unlikely anyone comes up and gets the 7 spot as CWU plays Simon Fraser....and they BAD BAD. I'd favor an old version of Crookston over Fraser in a dust-up. If this happens, Duluth would travel since the top 4 seeds get home games. Region 3's Northwest Missouri State could very well be a landing spot for the Bulldogs. Region 3's Nebraska Kearney could be traded for them if it saves the NCAA money by not putting teams on a plane. Kearney can easily travel to Sioux Falls (AU) or Colorado without needing a flight and UMD would be in bus range of Maryville, Missouri (NW Mo.) as well. If Central Washington qualifies it must fly no matter what. CWU to TX makes sense. It kills 2 birds with 1 stone as Texas is a plane ride for all NSIC teams. This leaves Nebraska-Kearney traveling to Augustana in the opening round and Western Colorado to Bemidji. This is all just speculation, but if you are reading this in the first place that's what you are looking for.
I predict in my column Northern State will beat UMD. If that happens, look for Midwestern State (TX) to earn the 7 seed with a win, edging out Colorado Mesa (if the Mavericks beat SD Mines). If Midwestern and Mesa lose, I think NSU gets in based on wins over USF and UMD. If all the upsets happen but NSU's SOS is low, the committee might look at USF and UMD and pick the better looking three loss team for the final playoff spot.
If you're confused, don't worry. We all are! HaHa! This is why Saturday is so important for all the schools in the Regional Rankings (and even some that aren't ranked).
**Quick side note. There is no Mineral Water Bowl game this year**