NSIC Week Five Preview - 2021
October 1st, 2021 7:00am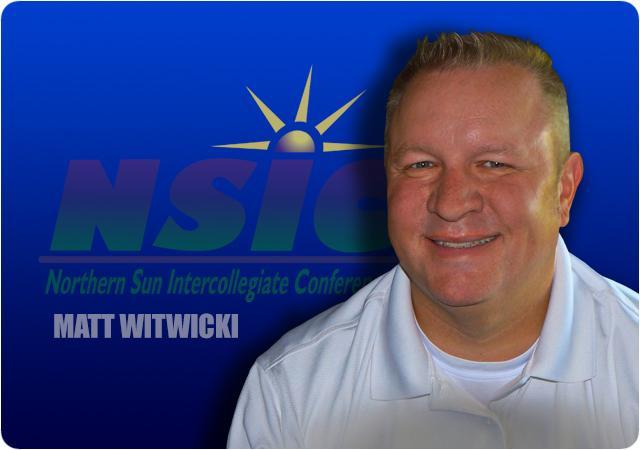 Week 5 Games

After a month of games, it's become apparent the race for the top spot in the NSIC is more wide-open than it's been in the past. Augustana is the lone unbeaten after four weeks and two teams with new head coaches (Wayne State and Northern State) find themselves in the hunt after huge wins over perennial powers. The NSIC is seeing record high passing numbers as Moorhead-Bemidji-Northern-Mary are in the top 5 nationally. Just a few years ago the NSIC didn't have one team throwing for 300 yards per contest, now there's 4 programs averaging 330 yards per game.
North Division schools won half of the crossover contests through two weeks of play, but since that time the South has gotten the better of the head to head to lead the season 16-12. In the past the South won 2 of every 3 games but the North closed the gap a bit in 2021, winning 43% of the matchups so far.
Games for Saturday - October 2
Minnesota-Duluth (3-1) at Minnesota State-Moorhead (2-2)
The Bulldogs looked like a possible frontrunner but stubbed their toe at home against Wayne State in what most see as a shocking loss. UMD turned over the ball five times and quarterback John Larson was 1 of his first 10 en route to a 11 for 28 outing, with 2 picks. I cannot say how out of character this was for Larson, who's typically rock solid for the 'Dogs. Wayne State put up a 28 spot in the second quarter, which had Duluth playing catch-up for the remainder of the contest, eventually losing 31-28.
Moorhead notched its second win of the season, beating Upper Iowa 33-28. The Dragons found themselves down 14-10 at half against the winless Peacocks but rallied behind a 428-yard passing day by Tommy Falk, along with 4 scores. Falk is second in D2 this season, averaging 356 yards per contest. MSUM continues to be inept running the football netting -7 yards against UIU, and just 94 yards gained for the season. Therefore, I struggle with picking the Moorhead games, because right when I think they can play with a Winona State they struggle with an Upper Iowa.
Outlook: The Moorhead defense has come undone in recent games and now faces a UMD squad primed to show they are better than the Wayne loss would suggest. I like the Bulldogs in a rebound game, but it's anyone's guess which Dragon squad shows up.
Prediction: UMD 45-24

Winona State (3-1) at Wayne State (3-1)
Wayne comes into this home contest riding high after upsetting front running Duluth last week. The Wildcats scored 28 points in the second quarter as replacement signal-caller Nick Bohn had his first collegiate start, filling in for the injured Tavian Willis. The redshirt freshman displayed a steady hand completing 14 of 23 for 224 yards and 2 scores, with 1 pick. Bohn also made plays with his feet and surprised UMD by picking up another 33 yards on the ground with a score. Anthony Watkins helped the young quarterback by rushing for over 100 yards against the Bulldogs, scoring twice. Equally important was the ability of WSC to limit Duluth offensively to 337 yards, outgaining the home team by a slight margin. Wayne is among league leaders in sacks with 11 and near the top in interceptions as well. Freshman Alex Kowalczyk has stepped in at backer to be the top tackler on the squad, with 11 stops against Bemidji and another 7 at Duluth. Josh Taylor and Ryan Parker are in the top 10 in the conference with TFL's with 4.5 each. If the Wildcats can continue to be a top half defense, they have a real chance to have a culture changing season.
Most figured the Wildcats would go up to UMD and keep up with the 'Dogs for about a half and then fade so this win is a quite a notch in the belt for new head coach Johnny Mac. With the possibility of Willis returning in this or future weeks, teams will need to prepare for both quarterbacks.
I've said it numerous times in my previews, but Winona continues to be one of those teams I cannot figure out. I had them losing to UMD, so that didn't surprise me, and the Warriors battled back to make that a game and had a chance at the end. Last week I thought a top team in the conference would kinda boat-race Mary. Nope. The Warriors outlasted the Marauders 48-38 but were down 24-17 at half and the very experienced Warrior defense allowed 544 yards of offense. Against most passing teams WSU gets a handful of sacks, but this time they only took down Logan Nelson (Mary QB) once as he looked like Johnny Unitas in the process throwing for 403 yards and 4 scores.
The Winona State offense was able to mix run and pass in the second half last Saturday to win the day. The Warriors continue to spread things out in the passing game, and they've seen an emergence at running back from Dominik London. The sophomore tailback redshirted with the Golden Gophers in 2018. London helped give the Warriors strong yards on the ground netting 153 yards on 20 totes, scoring twice and having a huge 78-yard score to ice the game. Owen Burke was a solid 16 of 28 passing for a bulky 286 yards and a score, but Winona doesn't seem to be keyed on making the passing game prolific. The Warriors instead are working on balance between the run and the pass. Wideout Jake Balliu found the pay window by taking a punt 61 yards to the house just after halftime. While Balliu doesn't see the volume of passes other top slots in the league get, he finds a way to impact a game in a variety of ways and again continues to be the among the most dangerous return men in the conference.
Outlook: This one is really tough to call. The Wildcats are very easy to like, playing at home and coming off a huge win at UMD. However, if Winona plays like I think they can, they have a higher ceiling. I'm taking the Warriors to outlast the Wildcats in a back-and-forth contest, with the WSU defense or special teams making a big play late to impact the outcome. That said, I wouldn't be at all surprised if Wayne kept rolling and got the "W" here.
Prediction: Winona State 40-35

Augustana (4-0) at Sioux Falls (2-2)
Augustana comes into the Key to the City rivalry flying high at 4-0, thumping a solid Bemidji State squad 52-24. Quarterback Kyle Saddler had maybe his most impressive day as a Viking completing 23 of 37 for 316 yards and 6 touchdown passes, adding another score on a keeper. The Augie offense continues to show proof of a strong running game with over 200 yards per contest mixing carries among multiple ball carriers. The Viking offensive line doesn't get the headlines but is a big group that's kept Saddler clean by not allowing a sack and is making holes for the running game. Sean Engel is a large red zone target at wideout and Logan Uttecht has given Saddler another reliable target as a possession receiver. Devon Jones is a dangerous slot player that AU can use in a variety of ways, including stretching the field. He could very well be a matchup challenge for the Cougars. Overall, Augie leads the NSIC scoring a whopping 46.8 points per game while also leading the conference in points allowed at 15.3 per contest.
The Augie defense limited BSU forcing the Beavers to become completely one-dimensional and often got the ball back quickly to help extend the lead. Safety Eli Weber got a pick and a healthy return last week and continues to lead the secondary while All-American tackle Logan Swanson is an ongoing handful for offenses at the point of attack. When watching Augustana defend the running game, the Vikings are getting a lot of hats to the ball, leading to a D2 best 72 yards allowed. New DC Mark Sipple (formerly with St. Cloud State) must be proud of his group and how they've picked up his system.
Sioux Falls is in the precarious position of being 2-2 after a month of play, a mark that's lower than the high bar of expectation set during the NAIA glory days and D2 era. Most expected USF to be 4-0 after the first month against North squads, but BSU and NSU both hurt the Cougars with passing games that produced long scores and chunk plays. Against their two toughest foes, the USF offense has sputtered more than flourished, scoring just 3 points in the first half of those contests. The 41-10 loss at Northern was shocking considering how the Cougars dominated the Wolves since coming to D2 and has now once again put them in a position where a rebound game is needed.
Thuro Reisdorfer remains a steady performer for the Coo, running hard and taking on a heavy workload. Unfortunately, last week in Aberdeen signal-caller Adam Mullen seemed shell-shocked with pressures and made key mistakes on bad balls compounding problems in a disastrous first half. Mullen was 7 for 22 at half, with 2 picks. Equally troubling for USF was the inability to get chunk plays in the running game, often playing behind the sticks or scratching and clawing to gain first downs when the game was still in-reach.
I still contend the USF defense isn't as bad as the NSU game would suggest but the Cougars just couldn't deal with Northern's skill position speed. They also didn't tackle like a Coo D typically would. However, credit is due, Northern played outstanding last Saturday. Augie has a healthy compliment of good skill guys, maybe more than anyone in the league, but they aren't burners the likes of what the Wolves have. This should allow USF to play more of its usual defense. USF feels the front four on defense it's strength, and while NSU often got rid of the ball quickly, there were plenty of times USF just didn't get home or disrupt the passing game. The Coo D will need to have a bounce-back performance to have a chance against the top offense in the conference.
Outlook: A season ago the Vikings limited Thuro Reisdorfer to 50 yards on the ground and forced the Cougars to the air. The USF passing game had some success during that contest, but this year the air attack has been hit and miss against stronger opposition. Sioux Falls outgained Augie in the last 'Key game 319 to 139, but untimely turnovers deep in the Cougar end gave the Vikings the win 20-13. In that game Kyle Saddler was shown a lot of different looks and had a 6 for 22 passing day. There is no other aspect more important to the Cougars this week than to try and fluster and pressure Saddler. This year Saddler is having his best season of his Augie career, completing 58% of his passes with 15 scores and 5 picks. On the flip side, Augie will be laser focused on stopping Reisdorfer and the Coo running game. Since their 2019 matchup, I feel Augie has taken a step forward on both sides of the ball. That said, USF will be far and away the best rushing team the Vikings have seen so far this year. Offensively Augie is more complete than in the past with great balance and a variety of options to go along with it. I haven't seen that same level of cohesion with the USF offense to make me think they can spring the upset. In past matchups USF has been the more physical team and that's often had a bearing on the outcome. This time around AU is playing a more physical brand of football than in the past and will certainly look to challenge the Cougars grit. I'll be interested to see how USF responds to that challenge especially with the way their backs are to the wall.
USF leads the series 6 wins to 2 but for the first time since the Key to the City game has been played, I'm taking Augustana to win.
Prediction: Augie 38-23

Mary (1-3) at Northern State (3-1)
Well, this UMary team is easily more interesting than most figured coming into the year. The Marauders hammered SMSU in Marshall and then followed that up by almost beating Winona State. Craig Bagnell and his squad were up 24-17 at the break, all even after three quarters, but gave up a 78-yard run with 4 minutes left in the final period to sink their ship, losing 48-38. While the Mary defense continues to give up big points, their own firepower with Logan Nelson (31 of 43, 403 yards, 4 touchdowns) and his crew of wideouts really keep them in games and they might find a way to upend a top half team in the process. UMary outgained Winona 544 to 505 and WR Danny Kittner continues to put up video game numbers (13 grabs for 235 yards with 3 scores). Kittner leads all of D2 with 12 catches per contest and his 176 yards per game also leads the country.
Northern State won its 'prove it' game in resounding fashion over Sioux Falls 41-10. The Wolves put on an offensive display of speed and precision on the way to a 31-3 lead at the break. I saw firsthand at Dacotah Bank Stadium NSU offensive speed and how they'll be a tough opponent even though they are still meshing with a heavy transfer load at those key spots. Quarterback Hunter Trautman is simply playing his best football leading the Wolves right now. Trautman was a tremendous 22 of 27 in the first half. He gets rid of the ball quickly allowing his speedy wideouts to make plays in-space. What impressed me about the Wolves defensively was their backers speed and punch, along with corner Donovan Lucas's ability to cover USF's top target, Dominic Pegley. Head Coach Mike Schmidt has done quite the job of microwaving success and a ready-made roster for winning this year. While riding the elevator at the beautiful new stadium, I overheard student athletes saying at halftime, "so this is who our football team is now..really?" I found the comment very telling and the surprise from the student body as part of the culture change that's happening in Aberdeen.
Outlook: Coach Schmidt said this Mary contest could be a trap game for his group. I completely agree. Mary is going to come into Aberdeen feeling better about themselves than they have in a while, having taken Winona to the limit, proving they can play with a strong team. The NSU I saw on Saturday evening wasn't the same one that struggled with Upper Iowa and Southwest. In those games they found themselves in dogfights against teams they should frankly handle. I fear the Wolves players won't see this as a game they need to rise up for, thusly I see this game being closer than most would anticipate. I'm guessing Mary will be near-even at the break, but the Wolves will pull away by the 4th quarter. For Northern State going forward the 'prove it' will be showing up and playing close to their potential against teams with under .500 records and not getting saddled with an "L" in one of those contests.
Prediction: NSU 45-28

Concordia-St. Paul (1-3) at Minnesota State-Mankato (3-1)
The Golden Bears look to be in the middle of a free-fall unlike recent years under head coach Shannon Currier. In each of the last few campaigns the squad has been on the rise, but this year seems to be a step back. A home loss to a winless SMSU is a tough pill to swallow for CSP supporters. A week previous the Bears allowed over 400 yards on the ground at Sioux Falls and followed that up with Southwest netting 241 yards in the rushing game. Considering SMSU isn't known for its rushing attack, it's a real sign of a struggling defense.
MSU did what most expected vs. hapless Minot, drubbing the Beavers 68-10, accumulating 615 yards of offense, 350 via the ground and pound. JD Ekowa was less than a 40% passer after 3 weeks but had a nice get-right game against the Beavers as he was 8 for 9 for 140 yards and a score while splitting time with Hayden Ekern. Ekern was 7 of 11 for 125 yards and 2 scores. The Mavs relied more on the ground game after getting a 40-3 lead at half. Kaleb Sleezer had 63 yards (11 carries) but I keep waiting to see him become more of a feature back. I spoke up Sleezer in my preseason column and he's 5th in rushing yards in the conference, but is averaging less than 100 yards per contest, not the norm for a bell-cow Mavs back or fulfilling the potential that I feel he possesses.
Outlook: The Mavs are finding themselves on both sides of the ball and should be a better team as the year continues, considering how many new parts they had to break-in. CSP seems to be in a funk and second only to Minot for allowing the most rushing yards in the conference. "This can't end well" seems to fit the Bears being tasked with slowing down the ground and pound happy Mavericks.
Prediction: MSU 50-13

Minot State (0-4) at Bemidji State (2-2)
Dawson Macleary got the start at quarterback for a presumably injured Ben Bolisnke who'd been running for his life in the first 3 weeks of the season against opponents like USF and Augie. Macleary struggled against the Mavs, completing 10 of 28 passes with 2 interceptions. One bright spot in the Beavers 68-10 setback was Ali Mohamed rushing for 139 yards and a score. The Beavers are now allowing an average of more than 50 points per contest and nearly 8 yards per play. Some of this is a product of playing MSU, USF, Augie, and Wayne the first month.
BSU was riding high heading into Mankato a few weeks ago, but since they've allowed 45 points to the Mavs and a whopping 52-spot to Augie on Homecoming. In watching that contest, I was surprised to see how playmaking slot Malik Williams no longer seems in-tune with the offense after being a difference maker in the opener at USF. I realize Williams has been nursing an injury, but his key drops have hurt this potentially prolific offense. Brandon Alt has become one-dimensional. Alt threw for 362 yards, but with 53 attempts and 3 picks. It's now just volume passing with no running game. Bemidji was limited to 30 rushing yards against Augustana, but the Vikings have been outstanding against the run.
Outlook: Both teams are limping into this contest, but this has all the makings of a get-right game for BSU. Expect BSU to be better at running the football on Saturday but also to get some of the swagger back on both sides of the ball.
Prediction: BSU 48-7

Southwest Minnesota State (1-3) at Upper Iowa (0-4)
SMSU climbed out of the group of winless squads last Saturday, outlasting Concordia 34-24. The Mustangs threw for only 70 yards but were able to amass a surprisingly robust 241 yards on the ground. Jesse Sherwood lead the ground attack with 178 yards on 19 attempts, scoring once from 56 yards to secure the game for the Mustangs. SMSU only moved the chains 13 times and was outgained by over 100 yards by the Bears but benefited from an 80-yard pick six at the start of the 4th quarter.
Upper Iowa gave MSUM everything it could handle, but eventually lost in Moorhead 33-28. The Peacocks have seen more reliable quarterback play since switching to Marcus Orr. While not spectacular, Orr was 23 of 32 for 218 yards with 2 scores and 0 turnovers. Erik Hansen continues to be a top defender in the league, netting another 3.5 tackles for loss and another sack. After a month of play the defensive end has 13.5 TFL's which puts him well ahead of the pack in the NSIC and #1 in all of D2.
Outlook: Call me crazy, but I think UIU is trending in the right direction after a first 2 weeks in which they were awful. I realize SMSU won a week ago, but their offense scares me a bit at the moment and I think the Peacocks have a higher ceiling. I'm taking the winless Peacocks to win in Fayette.
Prediction: UIU 34-20