D2Football.com Players of the Week
October 23rd, 2023 9:00am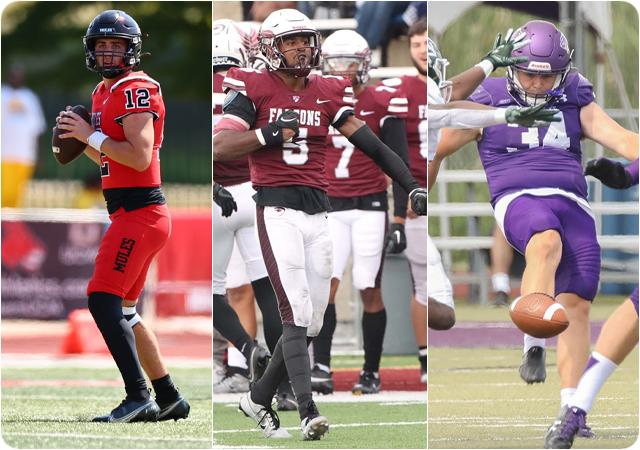 D2Football.com is pleased to announce the players of the week for week eight of the Division II season.
Offense
Zach Zebrowski
Quarterback, Central Missouri
Zach Zebrowski had a day that will be remembered at Central Missouri for years to come. He set new school and conference single game records for passing yards, passing touchdowns and total offense. He completed 31 of 51 passes for 615 yards, with 8 touchdowns. He was not intercepted and was sacked only once in more than 50 dropbacks. He added 50 rushing yards as well. The Mules defeated a ranked Emporia State team 77-27. Zach Zebrowski is a redshirt junior from Woodbury, Minnesota.
Defense
Eltayeb Bushra
Defensive back, Fairmont State
Eltayeb Bushra ignited Fairmont State's 33-30 upset victory of previously unbeaten Charleston with a huge day from the defensive backfield. He recorded the first points of the day with a 35-yard interception returned for a touchdown. In the third quarter, he stopped a scoring threat with a second interception in Fairmont's territory and returned it 11 yards. He also led the Falcons with 13 total tackles and a tackle for loss. Eltayeb Bushra is a junior from Herndon, Virginia.
Special Teams
Kaleb Barry
Punter, McKendree
Kaleb Barry averaged 43.5 yards on six punts in Mckendree's 20-17 win over Missouri S&T. Four of six punts were downed inside the twenty yard line. Two of those kicks were downed inside the five and both were in the fourth quarter. Early in the fourth quarter, with the Bearcats facing a 4th and 9 at their own 26, Barry flipped the field with a career-long 73 yard punt that was downed at the one. Later in the fourth, McKendree opted for a short punt while facing a 4th down at the Missouri S&T 34. Barry dropped the punt at the four yard line. His punts allowed Mckendree to shut out S&T in the fourth quarter and secure a three-point win. Kaleb Barry is a junior from Kirkwood, Missouri.