D2Football.com Players of the Week
October 31st, 2023 7:00am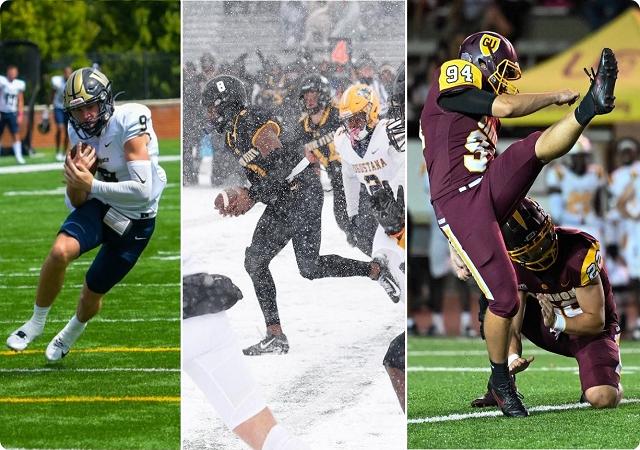 D2Football.com is pleased to announce the players of the week for week nine of the Division II season.
Offense
Brooks Bentley
Quarterback, Wingate
Brooks Bentley had a career day in Wingate's 34-30 upset of previously unbeaten and No. 7 ranked Lenoir-Rhyne. The freshman from Venice, Florida completed 24 of 37 attempts for a career high 335 yards and 3 touchdowns. He was not intercepted and was sacked only once by one of the top defenses in the country. He also rushed four times for 37 yards and a touchdown. The defining moment of the game occurred inside a minute to play as Bentley floated a perfect ball to Evan McCray who took it the distance for a 75-yard game winning touchdown strike.
Defense
Tanner Cooper
Defensive back, Wayne State (Neb)
Two impact plays from defensive back Tanner Cooper made the difference in Wayne State's victory over previously unbeaten and No. 10 ranked Augustana. The entire game was played in a snow covered field with snowfall continuing throughout.. With both offenses struggling, Cooper's pair of interceptions made the difference. In the first quarter, Cooper stopped an Augustana scoring threat by intercepting a pass at the 16 yard line. He returned it the distance, however, a penalty negated the score and part of the return. The turnover did lead to Wayne State's only offensive touchdown of the day. Later in the half, Cooper repeated the trick with a 64 yard interception and this time, the touchdown would stand. Wayne State would go on to win 14-12. Cooper's two interceptions resulted in 111 return yards and lead to all of the Wildcats' points. Tanner Cooper is a senior from Oakley, California.
Special Teams
Eric Scarpino
Kicker, Gannon
For the second week in a row, Gannon's Eric Scarpino hit a game winning field goal in the final seconds of regulation. This past Saturday, it was a 51-yard kick as time expired to give the Knights a 16-15 win at IUP. Scarpino had 10 points for the day, connecting on all three field goal attempts from 31, 40 and 51 yards. The game-winner tied the program record for longest field goal. Scarpino has been true on every kick this season, going 14-for-14 on field goal attempts and hitting all 23 PATs. Eric Scarpino is a redshirt senior from Waterford, Pa.