D2Football.com Players of the Week
November 6th, 2023 9:00am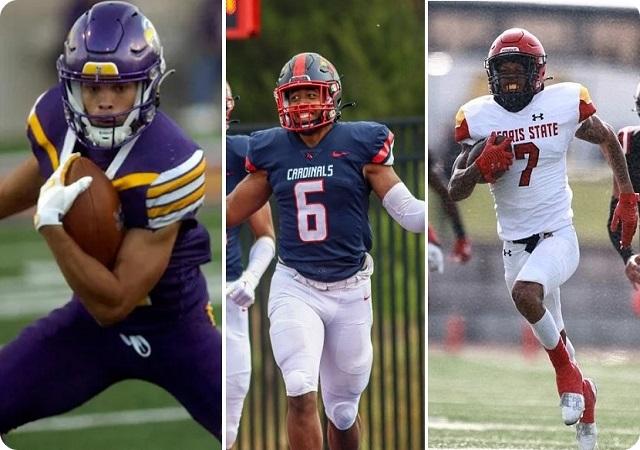 D2Football.com is pleased to announce the players of the week for week ten of the Division II season.
Offense
Dezmin Lyburtus
Wide receiver, Ashland
Dezmin Lyburtus led Ashland's offense in a thrilling four-overtime victory over conference rival Findlay. The senior from Bellefontaine, Ohio caught 11 passes for 220 and two touchdowns. One of his grabs was a two-point play in the third overtime that matched Findlay's score and extended the game to a fourth overtime period. His performance was the first 200+ yard receiving day for an Ashland player since 2017.
Defense
Micah Cretsinger
Linebacker, Saginaw Valley State
Michah Cretsinger was responsible for creating five turnovers in Saginaw Valley State's win over Northern Michigan on senior day. The junior from Jackson, Michigan established a new program single-game record with four interceptions. His third quarter interception was returned 30 yards for a touchdown. He also forced a fumble that was recovered by a teammate and led the Cardinals in tackles with seven, including a tackle for loss.
Special Teams
Shon Stephens
Defensive back, Ferris State
Ferris State was locked in a battle with Davenport at halftime of their road game against the undefeated Panthers. The Bulldogs trailed 10-7 at the start of the third quarter but Shon Stephens flipped the game in favor of Ferris State with a 100-yard kickoff return. The exciting return gave the Bulldogs their first lead of the day, 14-10. Holding onto a 21-10 lead in the fourth quarter, Stephens sealed the victory with an interception that he returned 15 yards for a touchdown. For the day, he totaled 100 return yards, three tackles, two interceptions and two touchdowns. Shon Stephens is a senior from Bakersfield, California.