D2Football.com Players of the Week
November 13th, 2023 6:00pm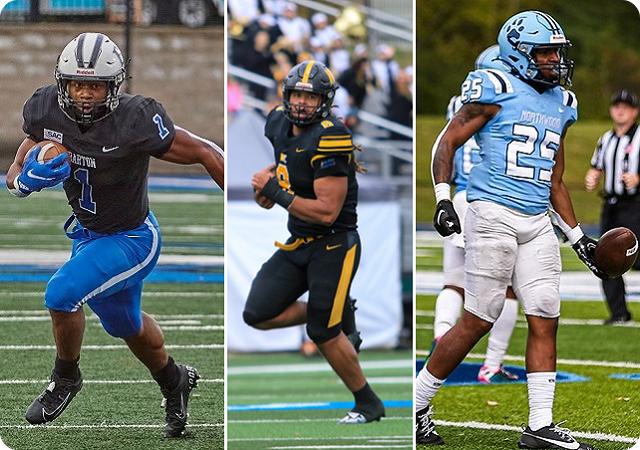 D2Football.com is pleased to announce the players of the week for final time in 2023.
Offense
Jordan Terrell
Running Back, Barton
Barton's Jordan Terrell set a new school and South Atlantic Conference single-game rushing record with 403 yards in the season finale. Terrell was the workhorse all day for the Bulldogs' offense, carrying the ball on 44 snaps. He averaged 9.2 yards per rush and scored four touchdowns. His 403 yards was just 22 short of the single-game Division II record. Jordan Terrell is a junior from Ramseur, North Carolina.
Defense
Cam Rice
Defensive Lineman, West Liberty
Cam Rice did nearly everything for West Liberty in the Hilltoppers' season-closing win over Wheeling. Rice led the team with 9 total tackles, including 4.5 tackles for loss of 15 yards and 2.5 sacks for loss of 11 yards. He was responsible for four total turnovers with two forced fumbles that were recovered by the defense and two interceptions. Rice returned both interceptions for touchdowns from distances of 13 and 34 yards. He also broke up a pass and blocked a field goal. Cam Rice is a redshirt sophomore from Morgantown, West Virginia.
Special Teams
Deonte Higgins
Wide Receiver, Northwood
Northwood return specialist Deonte Higgins played a major roll in The Timberwolves' 31-24 win over Walsh. The junior from Detroit, Michigan returned two kickoffs for touchdowns, both from distances of 95 yards. Higgins' pair of touchdowns helped The Wood to a third consecutive victory to close the season.