Playoff Bracket Reactions
November 14th, 2022 8:00am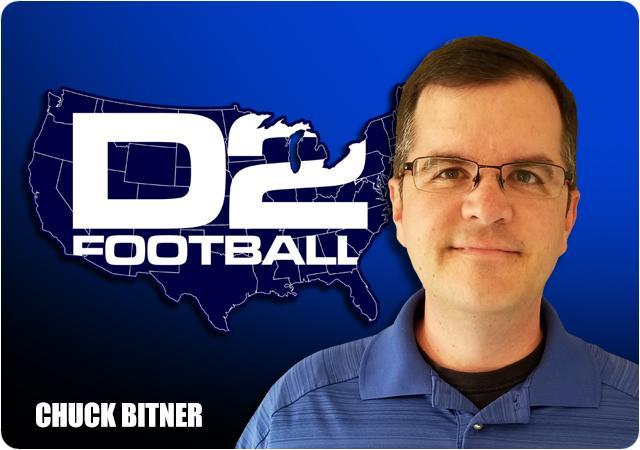 The playoff field for the 2022 Division II Football Championship has been announced. As in most years, a majority of the available spaces in the 28-team field were easy to project. There were no questions about who the number one seeds would be in any of the super regions and for the most part, all the seeded teams (1-4 in each region) were not difficult to predict before the NCAA officially released the bracket. But naturally, there was some speculation involving the final spots. If you want an extended deep dive on all the regions and the teams involved, check out the playoff selection edition of Inside D2 Football from Sunday. Let's take a look at each super region. For kicks, we'll go in descending order. Game previews will come later this week. The purpose today is to look at who made it and how.
Super Region Four
First round matchups
#1 Angelo State (bye)
#2 Colorado Mines v. CSU-Pueblo
#3 Minnesota State v. Wayne State
#4 Bemidji State v. Winona State
Heading into Sunday morning, super region four had the fewest unknowns. It was actually very easy to name the seven teams that would make the cut. Angelo State was the easiest pick in the entire bracket. The Rams have the best record by two full games and have six wins against teams that finished over .500. I thought Minnesota State had a chance to move to #2 because the Mavericks have beaten five teams that were ranked in the final top 10 to come out before the playoff field was announced. That's more than any team in the country. The committee held with Colorado Mines at #2 and I don't object to it, just thought the Mavericks had a case for ascending. The only other thing open for debate was the final spot. Going into the weekend, Sioux Falls was on the bubble in 7th, with CSU-Pueblo in 8th. With USF playing 1-9 Upper Iowa and Pueblo playing a 6-3 Black Hills State, it seemed likely that the Thunderwolves could overtake the Cougars. They did, and it wasn't a difficult decision. Sioux Falls had two wins over ranked opponents, but CSUP had an edge in SOS, more wins over teams above .500 and a big advantage in Performance Indicator. The downside in this region is we have three rematches of games that occurred in the regular season. Its hard to avoid it in this region because the teams are so spread out and the NCAA will eliminate air travel whenever possible. As a note, any distance under 600 miles is traveled by bus.
Super Region Three
First round matchups
#1 Grand Valley State (bye)
#2 Ferris State v. Davenport
#3 Pittsburg State v. Indianapolis
#4 Ouachita Baptist v. Northwest Missouri State
The seeded teams in super region three were easy. Henderson State very nearly upset the seeding but their bid to win the Battle of the Ravine against rival Ouachita Baptist fell apart in the final minutes. Grand Valley State was number one with no debate involved. Ferris moved up to number two a week ago, so it was expected that they would be the second seed in the bracket. If you're a Pitt State or Ouachita fan and feel a little put out by that, I get it. Those teams are 11-0 versus Ferris State's 8-1 against D2 competition. Ferris State has the highest SOS in the field and is one of only two teams in country with an SOS over .600. They also have five wins against teams over .500 (same as Pitt State) and the second highest Performance Indicator score in the region.
The unseeded part of this bracket was harder to project. Davenport lost the last two games (Ferris State, Grand Valley) but with a 7-2 record against D2, very high SOS and a win over a ranked opponent (Truman State), they seemed a safe bet to earn their first ever playoff bid. Indianapolis' win over Truman State on the final day of the regular season put the Greyhounds solidly into the field and left Truman vulnerable. Enough so that the committee went with Northwest Missouri State for the final spot in the SR3 field. I'm conflicted on this. The part of me that watches a lot of D2 teams knows that I would favor Northwest Missouri State in a head-to-head matchup. This bracket is deeper and stronger with Northwest in it. No doubt. I am sure Grand Valley, Ferris and Pitt all would have preferred to see someone other than Northwest in the spot. But the part of me that studies the criteria and has followed this process closely for 20 years thinks that if you do a blind resume review, Truman State wins the argument. They had a higher SOS, higher composite of winning percentage + SOS, same number of wins against teams over .500 and a considerable advantage in Performance Indicator. What they lacked was a win over ranked opponent. Northwest earned a notch in the column with the win over Emporia State. It was very close. I think the selection criteria favored Truman State, but I see the reasoning for Northwest Missouri State.
Super Region Two
First round matchups
#1 Benedict (bye)
#2 Delta State v. Fayetteville State
#3 West Florida v. Limestone
#4 Virginia Union v. Wingate
Super region two has the most to unpack. We'll start with the easy stuff. Benedict was the clear choice for number one. The Tigers earned their first ever playoff bid in style with an undefeated season capped by a thrashing of Tuskegee in the SIAC Championship. Delta State, West Florida and Virginia Union fell into place easily at 2-4. Nothing much to discuss or debate there. That can actually extend to fifth place Wingate. But it does start to get murky here. Immediately, Newberry fans throw up red flags because they're not in the field and they beat Wingate. Here is the thing…In this region, Benedict was the only team with zero losses and they were followed by three teams with one loss. After that, there are nine teams with two losses. Nine teams contending for three spots. And there are many head-to-head results among those teams so you can't simply apply that. The committee has to look at those teams as a group, they can't just pick any two teams, compare them and start eliminating. They would end up in loop. When you look at all the two-loss teams together, Wingate's resume goes to the top of the list. They have the highest SOS, highest composite of winning percentage + SOS, most wins against teams over .500 and the highest Performance Indicator. I know they have the same record as Newberry and lost to them on the field. But again, the committee can't just pick any two teams and compare. They have to look at the whole field and in that process, they were right to put Wingate at the top of the two-loss teams.
So that settles 1-5. For six and seven, I expected Limestone, followed by either Newberry or Fort Valley State. Here is where the committee threw its most vicious curve ball. Newly-crowned CIAA champion Fayetteville State landed the final spot in this region. This is the only position in the field I can look at and say firmly the committee got it wrong. Fayetteville State absolutely deserved to be in the conversation. That was not expected. Going into the weekend, it looked like their SOS would not be competitive even with a boost from 7-3 Chowan. But finishing at 9-2 with an SOS of .516 put Fayetteville State in the running. But it should not have put them in the field. Had Newberry not been in the frame, I could see Fayetteville State jumping over Fort Valley State. The numbers between those teams are very close and Fort Valley lost a game to a team under .500. But Newberry IS part of the picture and I think they should have gotten the final spot. Fayetteville State does have a tiny margin in SOS but the .516 to .513 comparison is negligible. Not enough to call it done and stop looking further. When you do look further into the selection criteria, Newberry has three wins over teams above .500. FSU has two. The Wolves have two wins over opponents in regional rankings (Wingate and Mars Hill). Fayetteville State has zero. The committee can also look at results against common opponents. This is in the selection criteria. Both teams played Wingate. Fayetteville State lost at home to Wingate, Newberry beat Wingate on the road. Those are significant factors that should have favored Newberry.
I feel for Fort Valley State too. I thought going into the weekend they might be in a good spot. But it didn't work out and the unexpected loss to Savannah State hurt. I know fans were urging them to find an 11th game (the SIAC ends its season after week 10) but that is not easy to do on a few days notice and it would only have helped if it had been a team over .500. I also saw a lot of chatter on social media about West Georgia. The Wolves had possibly the best win of any SR2 team with their road victory at Delta State. But their SOS of .506 wasn't strong enough and they had only two wins against teams over .500. For the folks that thought Lenoir-Rhyne had a place in the argument, I'm not following. They have really high SOS and a win over a ranked Limestone team but they also lost to Newberry, Wingate and Ferris State. The Ferris game was high risk / high reward. They took the loss but it still boosted SOS. Had they split with Newberry and Wingate, the conversation would be very different. And again, this is a situation where you cannot solely look at head-to-head results. Yes, they beat Limestone. But they also lost to Newberry.
Super Region One
First round matchups
#1 IUP
#2 Shepherd v. New Haven
#3 Assumption v. Slippery Rock
#4 Ashland v. Notre Dame
Had Gannon not lost the finale to Shippensburg and fallen to 8-3, there would have been very little to discuss in super region one. More on that in a minute. Starting at the top, IUP jumped to #1 with the victory over previously undefeated Shepherd in the PSAC championship. That move was both predictable and fully justified. Shepherd only dropped one spot which actually bumped Assumption down from two to three. Slippery Rock lost their finale at home to Kutztown and that probably cost them a home game. With a win and the SOS bump, they could have moved ahead of Ashland for fourth and hosted a game. As an unseeded team, they were an easy pairing for Assumption. Slippery Rock's campus is within the 600 mile threshold, making them the only team in the playoffs that can travel to Assumption by bus. Notre Dame has made a lot of noise in the SR1 playoffs in recent years and they will open the playoffs in the same way they opened the season. At Ashland. This rematch could have been avoided if the committee had chosen to swap Notre Dame and Davenport in the brackets, which they have authority to do. That would not have changed the air travel situation in rounds one or two and could have eliminated two regular season rematches.
Down to the last spot, Gannon was seventh heading into the weekend and were one of the few teams in the country facing a definitive situation of win, you're in, lose you're out. Their loss opened the door for a pair of two-loss teams, Concord and New Haven. Both won on Saturday. I don't think any other teams were in consideration, it was down to these two. The metrics were extremely close. Both were below .500 in SOS. New Haven finished at .476, Concord at .474. Concord comes out slightly ahead in the combined value of winning percentage + SOS, 1.292 to 1.276. Performance Indicator was close as well. I thought the difference would be wins against teams over .500. Concord had four, New Haven had three. What's really difficult to judge is how or if the committee discussed losses. The documented criteria doesn't really address how or if losses are used as a differentiator. Practically, it would make sense in this situation. New Haven lost by seven on the road to Bowie State (6-4) and by a single point at Assumption (8-1) . Concord lost to Fairmont State (3-8) and West Virginia State (7-4). Without being in the room to know what was discussed I can't say with any certainly. But as close as the resumes are between Concord and New Haven, they had to go pretty far into all the available information to make a decision.
So that's the bracket. Overall, most of it was predictable. A few surprises and more first round regular season rematches than expected. But all the math, metrics, paperwork and evaluation is complete. Its all down to results on the field. Enjoy the playoffs!
Questions, suggestions, comments, complaints? Email me at [email protected] and follow me on Twitter @D2Chuck.