D2Football.com Players of the Week
October 25th, 2022 8:00am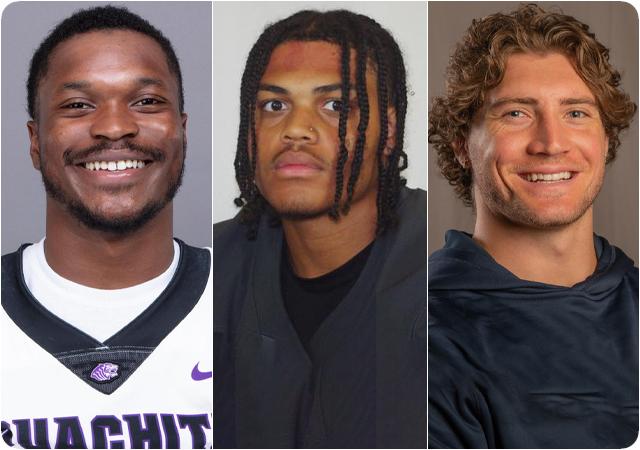 D2Football.com is pleased to announce the players of the week for Week eight of the Division II season.
Offense
TJ Cole
Running back, Ouachita Baptist
TJ Cole led the Ouachita offense in a 63-31 win over Southern Arkansas last Saturday in the Murphy USA Classic played in El Dorado, Arkansas. Cole carried the ball 25 times for 230 yards, averaging 9.2 yards per carry. His six rushing touchdowns established a new program record and tied the Great American Conference record. Cole currently leads the nation in yards per carry (9.11) and is tied for the lead in rushing touchdowns (18).
Defense
Cael Bright
Notre Dame College
Cael Bright led Notre Dame College to a victory over Glenville State with two defensive touchdowns. With the score tied at seven midway through the second quarter, Bright changed the course of the game with two Interceptions returned for touchdowns in a span of 1:20 on the game clock. The defensive scores helped NDC build a lead they would not relinquish in the 38-16 win. Bright also added six tackles and 1.5 tackles for loss on top of his two INTs, two TDs and 61 return yards.
Special Teams
Danny Kittner
WR/KR, U Mary
Danny Kittner made his mark in many ways in U Mary's 40-38 loss last Saturday but his special teams play was especially notable. Kittner fielded eight kickoffs and totaled 236 return yards. His day was highlighted by a 92 yard return for a touchdown to open the second half. His return total, combined with this 131 receiving yards, resulted in a new program record for all-purpose yards in a single game (a record he previously set last year). Also noteworthy, in last Saturday's game, Kittner become the NSIC's career leader in receptions (272) and receiving yards (3,498).