D2Football.com Players of the Week
November 8th, 2022 5:00pm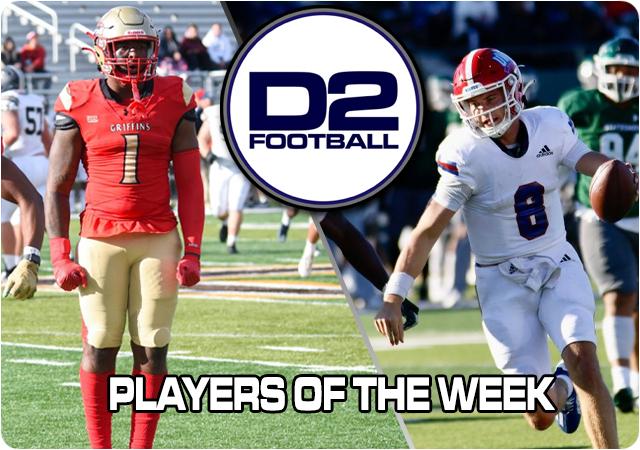 D2Football.com is pleased to announce the players of the week for week ten of the Division II season.
Offense
Harrison Frost
Quarterback, West Georgia
Harrison Frost led West Georgia's furious fouth quarter comeback to upset #7 Delta State last Saturday night. Frost completed 41 of 65 pass attempts for a single game program record 503 yards and four touchdows. All four touchdown passes were hauled in by differnet receivers. Frost completed the game winner from 29 yards out with jus five seconds remaining in the game.
Defense
Jaylen McDuffie
Linebacker, Seton Hill
Jaylen McDuffie led the Seton Hill defense in a shut-out performance in last Satuday's 7-0 win over Mercyhurst. McDuffie recorded 13 total tackles, including 8 solo. Among his tackles were 5.5 for a loss of 30 yards and 4.5 sacks. He also forced a fumble in leading the Griffins to just the third shutout in program history. Seton Hill held Mercyhurst to -48 rushing yards and a toal 114 yards for the day.
Special Teams
Estin Thiele
Kicker/Punter, Valdosta State
Estin Thiele's all-around performance in the kicking game helped Valdosta State take Top 10 West Florida to overtime in last Saturday night's GSC afair. Thiele averaged 54.6 yards on five puns, with all five exceeding 50 yards. His 64-yarder was a career long. He also handled the kickoff duties, averaging 65 yards on five kicks. Four resulted in touchbacks. He also added a 44-yard field goal that gave the Blazers a fourth quarter lead and registered a touchdown-saving tackle on the final play of the first half.