PSAC East - Week 1 Recap / Week 2 Preview
September 10th, 2019 12:00pm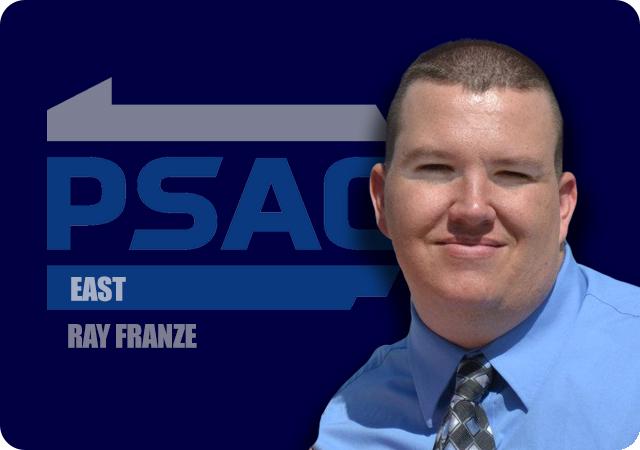 The opening week is behind us. The PSAC-East did their part to help the PSAC earn a clean sweep on Thursday night as the conference as a whole went 5-0 to kick off the 2019 season. And the week ended with the PSAC-East bringing down a FCS opponent. While the Shippensburg-Clarion matchup began the inter-conference games, Week 2 begins all-PSAC matchups. It will be interesting to see how the PSAC-East fares this week as all but one team travels to hostile environments on the road.
Last Week's Games
Lock Haven 57, Lincoln 13
Lock Haven got things going for the PSAC-East Thursday evening. The Bald Eagles scored on their opening possession and never looked back. After Lincoln scored on their opening possession, Lock Haven put up 38 additional unanswered points enroute to a blow out win. Nearly triple the first downs, double the rushing yards, and almost 400 passing yards with 5 passing touchdowns, Lock Haven's 12 penalties for 147 yards is pretty much the only thing that kept it from being a perfect game for them.
Millersville 21, Pace 20
Rounding out the Thursday night action for the PSAC-East was Millersville's nail biter win over Pace. Both teams traded touchdowns midway through the first quarter, but Pace entered halftime with a 17-7 lead. Millersville did a good job holding Pace to a pair of field goals following Marauder turnovers. Millersville limited the mistakes in the second half and scored 14 unanswered points in the 3rd quarter. A Pace field goal in the 4th brought the game within one point, and Pace had a last-second field goal attempt to win the game. Fans were led to believe the kick was good, but it missed and Millersville leaves week 1 undefeated.
West Chester 14, Bentley 7
Bentley scored midway through the first quarter to take a 7-0 lead that they would hold onto for most of the game. It took a late third-quarter touchdown by West Chester to tie the game, and a 30-yard touchdown run with 23 seconds remaining in the game to eventually take the lead and hold on for victory. West Chester turned the ball over five times; fortunately for the Golden Rams, Bentley only converted the first turnover into points. Both teams had 133 passing yards, but both had strong rushing yardage averaging between 5.5 and 5.8 yards per carry. Bentley's 9:00 more of time of possession helped them hold onto the lead for as long as they did.
Kutztown 54, Assumption 16
Kutztown scored touchdowns on each of their first three possessions to take a 21-0 lead that they would never relinquish. Avoiding turnovers and amassing over 640 total yards of offense, Kutztown had 47 points before the Greyhounds crossed into double digits on the scoreboard.
Clarion 48, Shippensburg 28
In contention for one of week 1's biggest surprises was Clarion's big win over Shippensburg. Clarion went into halftime with a 34-0 lead. The Eagles scored 21 points off of three Shippensburg turnovers. Self-inflicted wounds with the turnovers and a weak rushing defense that allowed over 340 rushing yards put the Raiders into a hole they just couldn't quite overcome in the second half. Shippensburg outscored Clarion 28-14 in the second half, but at that point it was too little, too late.
Ohio Dominican 24, Shepherd 28
Another coulda, woulda, shoulda game. Shepherd had a great opportunity to begin the season 1-0, but the Rams suffered four turnovers. The first half interception didn't cost much, but two second half fumbles led to 14 points by Ohio Dominican and a 21 point swing as Shepherd was inches away from crossing the goal line for a touchdown on the first fumble of the second half. The third fumble came at the end of the game as Shepherd was driving to ice a 5-point lead with under two minutes to play. Despite some initial concern, this game gave the Rams faithful a lot of optimism for the season ahead.
Stonehill 33, Bloomsburg 14
Ball control for Stonehill led them to victory on the road against Bloomsburg. The Skyhawks converted over 50% of their third-down attempts, had nearly three times the total yards as Bloomsburg, only punted once to Bloomsburg's six, and had possession of the football for nearly a quarter (13:00) longer than the Huskies. Bloomsburg only managed 52 passing yards in this contest. This was the PSAC's only loss to the NE-10 conference.
East Stroudsburg 24, Wagner (FCS) 14
When Wagner scored on their opening drive with a five minute, 8 play drive culminating in a touchdown, one likely figured it was going to be a long night for the Division II Warriors against a Division I FSC opponent. But the Warriors answered right back with a 10-play, under four minutes touchdown drive. East Stroudsburg would score a second touchdown on their second possession, and added one more to go into halftime with a 21-7 lead. If one looked at the game stats, once might assume this was a game between two evenly matched opponents. East Stroudsburg didn't dominate by any means, but they did enough to knock off a higher class opponent. Congratulations to coach Terwilliger on beginning his reign as head coach with a win over a FCS opponent.
This Week's Matchups
Indiana (Pa.) at Millersville
Millersville is the lone PSAC-East team with homefield advantage this week. Both teams come into this game 1-0, defeating NE-10 opponents the week before. Both schools won close games--Pace missed a field goal as time expired and IUP scored a late touchdown to provide a little distance over New Haven in a slop-fest where each team had four turnovers. It's difficult to assess IUP when they traded turnovers with New Haven on three consecutive drives, twice during the game. Millersville enters the game riding high after an opening week win during which they were likely the underdogs to what seemed to be an up-and-coming Pace Setters. Millersville themselves had three turnovers; so both teams need to clean up those issues. While Millersville is riding optimism at home, I'm afraid IUP finds a way to bring them back down to earth a little bit.
Indiana (Pa.) 38, Millersville 14
West Chester at Gannon
Gannon is coming off of a 14-7 win over Southern Connecticut. Gannon scored two touchdowns late in the third quarter to take a commanding 14-0 lead that would eventually hold. Gannon didn't have any turnovers, but their 9 punts wasn't too far off from their total first downs (12) which, coupled with less than 70 rushing yards doesn't inspire a lot of confidence heading into a matchup against PSAC champion West Chester. That being said, the Golden Rams are coming off of their own 14-7 win over Bentley. West Chester's five turnovers kept Bentley in the game; if they can clean up those mistakes they should have an easier road to victory this week.
West Chester 35, Gannon 10
Bloomsburg at Edinboro
Both Bloomsburg and Edinboro are looking for their first win here in week 2. Bloomsburg is coming off of a slow start with which Stonehill achieved the NE-10's only victory over a PSAC opponent this season. Edinboro is also coming off of a slow start, but in fairness to the Fighting Scots they opened against Grand Valley State--a perennial contender to make the playoffs and threaten to run deep in them. Edinboro only managed 5 first downs and their 10 punts nearly reached their passing completions (13) and total rushing yards (13). Bloomsburg amassed a meager 52 yards through the air in their opening game. Perhaps Stonehill is poised to make a strong run through the NE-10 and Super Region 1 this year, but until that happens I'm more inclined to believe we were able to get a better feel of who the Huskies are against Stonehill than we could about the Fighting Scots against Grand Valley State.
Edinboro 27, Bloomsburg 20
Shepherd at Mercyhurst
The last time Shepherd travelled to Mercyhurst was December 4, 2010 for the Super Region 1 championship. The Rams won that game 49-14 with snow piled all around the stadium. Shepherd is coming off of a heartbreaking loss to Ohio Dominican while Mercyhurst did just enough to defeat Lake Erie last week. Turnovers cost Shepherd dearly in last week's game as the Rams had a significant advantage over Ohio Dominican in all facets of that game except the scoreboard at the end. I look for the Rams to use this game against Mercyhurst to prove a point about what Shepherd brings to the PSAC-East.
Shepherd 42, Mercyhurst 19
Lock Haven at Clarion
Lock Haven and Clarion are both 1-0 entering week 2. Lock Haven destroyed Lincoln University (Pa.) while Clarion upset Shippensburg in a PSAC contest behind a strong running game. Clarion accumulated over 340 rushing yards, over half (179) of which came from running back Mylique McGriff. Clarion forced three turnovers against Shippensburg and held the Raiders to 60 rushing yards. Stopping the run will likely be Lock Haven's top priority this week. This will be Lock Haven's first serious test of the 2019 season, after which we will have a much better idea of Lock Haven's abilities to compete within the conference.
Clarion 42, Lock Haven 21
Kutztown at California (Pa.)
If you're looking for a road trip this weekend, may I recommend California, PA as a possible destination. Kutztown destroyed the NE-10's Assumption 54-16 while California (Pa.) handled the NE-10's Saint Anselm 59-13. Saint Anselm did have seven turnovers, two of which were immediately returned for touchdowns--and ultimately watching Cal turn seven turnovers into 31 points. Cal. held Saint Anselm to negative rushing yards (-7), and they will need a similar effort in week 2 against a Kutztown offense that racked up over 300 rushing yards against Assumption. But the Vulcans can't exactly stack the deck against the run because Kutztown's very balanced offense also had over 300 yards through the air last week. I predict this will be a great game that provides great discussion fodder for the message boards concerning the usual topics like which PSAC division is better/stronger, which teams are the best in the entire conference, etc. This is a hard outcome to predict, but I'm going to lean with my division's balanced attack that dominated with fewer turnovers to work with.
Kutztown 37, California (Pa.) 35
East Stroudsburg at Seton Hill
East Stroudsburg faces an unknown in week 2. The Warriors returned home victorious over Division I FSC Wagner in the opening week in coach Terwilliger's inaugural contest as head coach. There is no game film of the 2019 Seton Hill Griffins since they were off during the opening week of the season. Last year Seton Hill let a 27-13 third-quarter lead slip away as East Stroudsburg scored 28-unanswered, fourth quarter points to win 41-34. The Griffins finished last season 1-10 with their only win coming in a 1-point victory over Mercyhurst. I look for the Warriors ride the enthusiasm from last week's big win and begin the season 2-0.
East Stroudsburg 30, Seton Hill 22
Shippensburg at Slippery Rock
Shippensburg allowed Clarion to build a 34-0 halftime lead in part to three first half turnovers and a very tough rushing opponent. The difficulty only increases as they travel to take on Slippery Rock, who defeated Wayne State 62-37 in week 1. Slippery Rock didn't light the field on fire through the running game like the Raiders' last opponent, but The Rock did acquire over 400 passing yards last week. Shippensburg must limit the turnovers and have a phenomenal defensive effort to win this one. It's tough to see an up-and-coming PSAC-East contender look at possibly beginning the season 0-2.
Slippery Rock 45, Shippensburg 24
Positive and negative feedback welcomed. Questions, comments, personal insight, feel free to reach out ... [email protected]