PSAC East - Week 10 Preview
November 8th, 2019 8:00am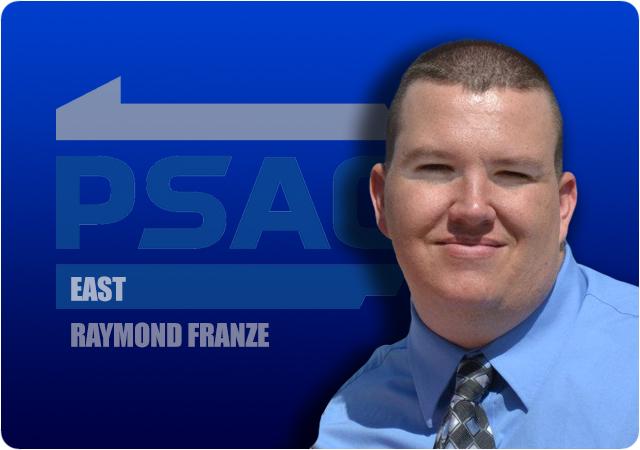 PSAC EAST Champions: KUTZTOWN GOLDEN BEARS
Congratulations to Kutztown who became division champs following their road win against West Chester last Saturday--earning their second division title in four seasons. Regardless of this weekend's outcomes, Kutztown will host Slippery Rock for the PSAC Championship next week. Aside from next week's conference championship, the remaining seven PSAC East teams have two more weeks of regular season action. Shepherd climbed to fifth place in the Super Region 1 rankings following losses suffered by West Chester and West Virginia State. The Rams also managed to jump ahead of Urbana who just lost Thursday night to Fairmont State and will likely drop off of the rankings. West Chester still has a fighting chance to make the playoffs, particularly after Urbana's third loss. Both versions of the division's Rams must win out though.
Below the matchups you will continue to find the Super Region 1 regional rankings and the list of all teams within Super Region 1 with two or fewer losses. The list of those with two or fewer losses included 17 teams just a couple of weeks ago, but has widdled its way down to 11 and will continue to shrink in the coming weeks.
A look at the division standings, PSAC East teams in the D2Football.com Top 25 poll, last weeks games and this week's matchups ....
PSAC East Standings
| | | |
| --- | --- | --- |
| TEAM | DIVISION | OVERALL |
| Kutztown | 6-0 | 9-0 |
| Shepherd | 5-1 | 7-2 |
| West Chester | 4-2 | 7-2 |
| Bloomsburg | 3-3 | 4-5 |
| Shippensburg | 3-3 | 3-6 |
| East Stroudsburg | 2-4 | 5-4 |
| Millersville | 1-5 | 2-7 |
| Lock Haven | 0-6 | 1-8 |
D2 Football Top 25
| | | |
| --- | --- | --- |
| Team | Rank | Prev. |
| Kutztown | 17th | 18th |
| | | |
Last Week's Games
Kutztown 30, West Chester 17
West Chester's offense has struggled with turnovers and running away with the game with many opponents this season, but their defense has helped keep them among the top teams in the PSAC East this season. That defense, however, wasn't strong enough to keep a well balanced Kutztown offense down. The Golden Bears doubled West Chester's previous 15 points allowed per game, and put up over 400 offensive yards on a defense that has held teams to an average under 300 yards per game. Both teams were fairly even in balance between run and pass plays, yardage, rushing touchdowns and turnovers--which West Chester's lone turnover was a marked, and necessary, improvement from previous games. Kutztown was more effective through the air. While Kutztown struggled on third downs and didn't have the ball anywhere near the amount of time the Golden Rams did, their 23-3 halftime lead was too much for West Chester to overcome. Congratulations to Kutztown on a great season thus far!
Bloomsburg 26, Millersville 21
Millersville managed to tie up the game following Bloomsburg's first two scores; and they even managed to take a 21-20 lead late in the third quarter. Unfortunately the Marauders couldn't manage any fourth quarter points, and a pair of Huskies field goals were enough to earn the victory.
Shepherd 76, East Stroudsburg 34
East Stroudsburg's 34 points tie the most points given up by Shepherd this season--the loss to Kutztown was the other time the Rams allowed 34 points. Unfortunately for the Warriors, Shepherd's 460 rushing yards was more than six of the seven PSAC East team's total offensive yardage this past week. Add an 80% completion percentage, 295 passing yards and five passing touchdowns and you end up with 76 points. Shepherd set new records for the most points scored in a game, most combined points (110) scored in a game and most touchdowns (11) in a single game. It was quite the game to attend as East Stroudsburg scored on their first play of the game, a 75-yard touchdown pass. That was followed up by Shepehrd scoring on its first play of the game--a 75-yard touchdown run by Deonte Glover. A couple of possessions later running back Ty Hebron scored on a one-play, 70-yard touchdown run. Needless to say the endzone saw a lot of action in this one.
Shippensburg 65, Lock Haven 32
Similar to the Shepherd--East Stroudsburg, game, Lock Haven put up their most points since their opening season win over Lincoln University. The Bald Eagles' running back Dante Graham (33-205-2) had most of the team's 258 rushing yards, yet it wasn't enough. Lock Haven pulled within three points of the Raiders with six minutes to go in the first half, but Lock Haven allowed the Raiders to score three touchdowns before halftime thanks in part to two of Lock Haven's five turnovers--Shippensburg score 28 points off of Lock Haven turnovers. Shippensburg was effective on the ground themselves almost rushing for 200 yards, but their passing game under the lead of quarterback Brycen Mussina (29-40-350-4-1) was on point completing approximately 75% of their passes for 350 yards and four touchdowns.
This Week's Games
Millersville at Kutztown
Kutztown is your 2019 PSAC East champions. Kutztown can lose this game and they will still host Slippery Rock next week for the PSAC Championship. I look for Kutztown to use their starters for a while to take a comfortable lead and keep them warm and riding that momentum; but at some point look for the Golden Bears to remove their starters to avoid injury prior to the conference championsip and pending playoff birth.
Kutztown 38, Millersville 20
West Chester at Lock Haven
With only two losses, West Chester still has a chance at making the playoffs. So far, their only losses are against PSAC East champion Kutztown and Shepherd--who is coming on strong and looking like a lock to make the playoffs themselves. Similar to Shepherd though, West Chester's Rams need to win to keep that hope alive--and also rely on some outside help around Super Region 1. Lock Haven is a very strong running team who is coming off of their fifth game with 200-plus rushing yards as a team. They are on an eight-game losing streak during which none of the games were close. West Chester has a strong defense, but they also have a habit of committing turnovers and allowing some of the division's weaker teams to hang around and threaten to win. If West Chester can commit just one turnover like they did last week against Kutztown and limit the run, they'll be fine.
West Chester 35, Lock Haven 20
Shepherd at Bloomsburg
The Rams moved up to fifth place in the Super Region 1 regional rankings; should they win out they have a strong chance of making the playoffs. But they have to win out. Today they take on a Bloomsburg Huskies team that cannot be taken lightly. While the Huskies have struggled with a 4-5 record, they are on a three game winning streak that started a week after losing to defending PSAC East champs West Chester by only three points. Bloomsburg has faced the bottom tier of the division lately, but you have to figure they have momentum and are feeling good. As long as Shepherd limits their own mistakes, they shouldn't have a problem winning this game.
Shepherd 42, Bloomsburg 21
Shippensburg at East Stroudsburg
East Stroudsburg is on a four game losing streak. They only need one more win to have their first winning season since 2015 when they finished 6-5. Shippensburg is all over the place. They narrowly lost to Shepherd by two points; but were destroyed by Kutztown. They also shutout Millersville and dominated Lock Haven. This game is may be the closest of the week for the PSAC East with both teams looking to build some momentum going into the offseason.
Shippensburg 32, East Stroudsurg 28
NCAA Division II Super Region 1 Regional Rankings
| | | | |
| --- | --- | --- | --- |
| Pos. | Team | In-Region | Overall |
| 1. | Kutzton | 9-0 | 9-0 |
| 2. | Slippery Rock | 8-0 | 9-0 |
| 3. | Notre Dame College | 9-0 | 9-0 |
| 4. | Indiana (Pa.) | 8-1 | 8-1 |
| 5. | Shepherd | 7-2 | 7-2 |
| 6. | Urbana | 7-2 | 7-2 |
| 7. | West Chester | 7-2 | 7-2 |
| 8. | West Virginia State | 6-2 | 6-2 |
| 9. | Tiffin | 7-1 | 7-1 |
| 10. | Ohio Dominican | 5-2 | 5-2 |
Super Region 1 - Records of Potential Playoff Teams (Overall Records)
9-0 Kutztown vs Millersville, vs Edinboro***
9-0 Notre Dame College vs Glenville State, at WV State
9-0 Slippery Rock at Gannon, at Bloomsburg***

8-1 Indiana (Pa.) vs Edinboro, at Shippensburg***
7-1 Tiffin vs Hillsdale, at Findlay
7-2 Shepherd at Bloomsburg, vs Seton Hill***
7-2 Urbana vs Fairmont State, vs Truman State
7-2 West Chester at Lock Haven, vs California (Pa.)
7-2 Frostburg State Not Eligible for Post-Season competition due to reclassification from Division III to Division II

6-2 Assumption vs New Haven, at Saint Anselm

5-2 OH Dominican vs Lake Erie, at Hillsdale

Way to Go Nationals!!!!