PSAC East - Championship Week Preview
November 15th, 2019 8:00am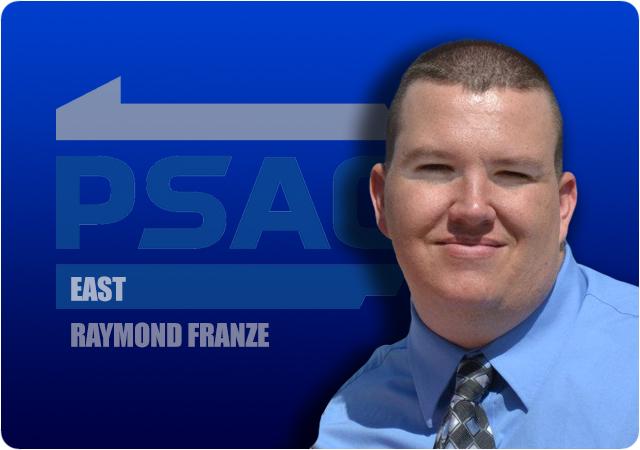 It's Championship week!!!
And just like that, the regular season has reached its final week. The teams that needed to win last week, did so. Kutztown will host Slippery Rock at noon for the PSAC Championship. Regardless of the outcome, both teams will end up in the playoffs and a possible rematch with more dire consequences awaits in the not-too-distant future. At the moment, the PSAC has a strong likelihood of getting four teams into the playoffs (two from each division)--possibly a fifth which would be quite the monopoly on playoff bracket spots. An unofficial battle taking place this weekend is the battle between East and West. The PSAC East holds a 9-8 advantage in crossover games from the earlier part of the season. Can the PSAC East hold on or will the West claim the final advantage?
Tomorrow's anticipation only builds as it spills over into Sunday when we'll find out the final (and most important) regional rankings. In the past it was easy to tell who would play who based on the seedings; but this year the NCAA is experimenting with a new bracketing initiative where it may schedule cross-regional playoff games when it becomes a travel ($) advantage. https://ncaaorg.s3.amazonaws.com/championships/sports/football/d2/2019-20D2MFB_BracketingInitiative.pdf So we all get to watch and learn as it plays out this year.
First, a look at the final PSAC East division standings, PSAC East teams in the D2Football.com Top 25 poll, last weeks games and this week's matchups with the Super Region 1 rankings further down ....
PSAC East Standings
| | | |
| --- | --- | --- |
| TEAM | DIVISION | OVERALL |
| Kutztown | 7-0 | 10-0 |
| Shepherd | 6-1 | 8-2 |
| West Chester | 5-2 | 8-2 |
| Shippensburg | 4-3 | 4-6 |
| Bloomsburg | 3-4 | 4-6 |
| East Stroudsburg | 2-5 | 5-5 |
| Millersville | 1-6 | 2-8 |
| Lock Haven | 0-7 | 1-9 |
D2 Football Top 25
| | | |
| --- | --- | --- |
| Team | Rank | Prev. |
| Kutztown | 15th | 17th |
| | | |
Last Week's Games
Kutztown 37, Millersville 17
Kutztown finishes divisional play with a perfect 7-0 record against PSAC East opponents. Millersville took an early 7-0 lead when they scored with a 40-yard touchdown reception on their third play of the game. Kutztown didn't panic however, going into halftime with a 24-10 lead which eventually became a 37-10 lead before Millersville scored again near the end of the game. Millersville gave up over 300 rushing yards while failing to reach 100 rushing yards themselves. Kutztown stole the ball four times and had it for nearly twenty more minutes to close out divisional action. The win earns Kutztown their second trip to the PSAC Championship in four years.
West Chester 56, Lock Haven 14
West Chester gave up 271 rushing yards to Lock Haven, but Lock Haven hasn't had much difficulty running against anyone this season. The Golden Rams' defense did hold Lock Haven though, to just 92 passing yards and three turnovers. West Chester's offense compiled over 200 yards rushing and 300 yards passing. They also did much better in the ball security department turning it over just once. They did what they needed to do to remain in contention for a playoff spot.
Shepherd 42, Bloomsburg 35
The biggest scare in the PSAC East this week. For the second consectuive week, Shepherd scored again on its opening play of the game--this time on a 44-yard touchdown run by Deonte Glover. A 21-point second quarter for Bloomsburg had the game tied at halftime. Twice Bloomsburg would take the lead in the second half. Bloomsburg had a 35-28 lead into the fourth quarter and Shepherd was struggling at times to finish the job. Late in the third, down seven points, Shepherd drove down to Bloomsburg's 20 yard line before turning the ball over on an interception. When the clock expired and the dust settled, Shepherd's two fourth quarter touchdowns were enough to win the game, close out the season second in the PSAC East with a 6-1 division record, 8-2 heading into the final week of the regular season. Glover had his second consecutive week with 100 rushing yards--fourth time this season and a monster day with five rushing touchdowns. Shepherd's QB, Tyson Bagent, had his sixth game of the season where he passed for at least 326 yards.
Shippensburg 35, East Stroudsburg 10
The Raiders defense held East Stroudsburg to less than 200 yards of total offense--and just one field goal through most of the game. During that same stretch, Shippensburg scored at least one touchdown each quarter (two in the 4th) to slowly, but steadily run away with the game.
This Week's Games
Slippery Rock at Kutztown (PSAC CHAMPIONSHIP)
Without question, both teams earned the respect and the right to represent their respective divisions over the course of division play. Both Slippery Rock and Kutztown finished with spotless 7-0 records within their divisions. Kutztown is representing the PSAC East for the second time since 2016; and Slippery Rock is representing the PSAC West for the second time since, well, last year. Both teams are hoping to avenge their last PSAC Championship appearance--Kutztown lost to California (Pa.) 7-49 and Slippery Rock lost to West Chester 10-33.
In the major categories, neither team is ranked lower than fifth, and find themselves ranked first or second within their respective division. Only 3.4 yards per game separates these two teams in Total Defense. Only 1.2 yards per game separates these two in Rushing Defense. Only 4.5 yards per game dfference in Passing Defense. Only 12.1 yards per game separates them in Rushing Offense. Only 4.0 points per game in Scoring Defense. Both teams have only given 15 sacks; Slippery Rock has recorded four more sacks (31-27). Kutztown has committed just a couple more turnovers than Slippery Rock (12-10). Both teams sport a Field Goal percentage near 50%. It appears Kutztown isn't a fan of field goal attempts--having only attempted four this year. The Rock holds the advantage in longest field goals made (48 vs. 35).
The game is going to feature a pair of quarterbacks who often run the ball. Both Slippery Rock's Roland Rivers (215-296-3107-36-5) and Kutztown's Collin DiGalbo (158-236-2238-24-5) have 100-plus carries on the season. Rivers has rushed for 538 yards on 111 carries with 6 touchdowns while DiGalbo has 430 yards on 100 carres and 9 touchdowns. Rivers is Slippery Rock's leading rusher whereas Kutztown also has Abdul-Hassan Neblett with over 100 carries (109-798-9).
Slippery Rock's air attack has been distributed to mainly three receivers who rank within the top four in the PSAC in touchdown receptions with at least 9 a piece. Kutztown has spread the ball around a bit more as they have six different receivers with at least 20 receptions, 5 of which have at least four touchdowns--yet none of their receivers has more than 450 yards receiving.
This should be a game for the ages. I'm pulling hard for the PSAC East to come away with the victory; but something tells me the conference crown goes back to the West this year.
Slippery Rock 35, Kutztown 27
Mercyhurst at Millersville
In half of Millersville's games, they have scored ten points or less--including three shutouts. They opened with a 21-20 win over the Northeast 10's Pace who lost when a last-second field goal failed to make it through the uprights; and their only other win was against the PSAC East's last-place Lock Haven Bald Eagles. Mercyhurst defeated Bloomsburg and lost to Shephrd by 5 points earlier in the season. The Lakers have scored no less than 15 points a game this season, and they give the PSAC West one more cross-over win to end the season.
Mercyhurst 32, Millersville 17
Seton Hill at Shepherd
Shepherd should earn a playoff berth as long as they win this week. They drew a favorable matchup for a Week 11 contest with significant implications. The Seton Hill Griffins have only won two games this season, and both of those were against opponents who reside in Erie, PA. The Rams escaped with a win last week, but they should roll this week when the biggest moment of anticipation is seeing who they will draw in the opening week of the playoffs.
Shepherd 40, Seton Hill 17
Gannon at Lock Haven
Lock Haven rides a nine game losing streak into the final week. Their lone win was a 57-13 win over Lincoln University in the opening week. Gannon, who also won their opening week out-of-conference matchup (So. Connecticut State), has something that has eluded the Bald Eagles all season long--a win over a PSAC opponent this year. Gannon defeated Clarion earlier in the season. Lock Haven has a strong running game, evident as they rank first in the entire PSAC in rushing offense--averaging nearly 200 yards per game. Lock Haven runs their way to a victory and finishes the season with the same record as Gannon.
Lock Haven 27, Gannon 20
.
California (Pa.) at West Chester
While this isn't the PSAC Championship, it's certainly a game worth keeping an eye on. With regard to the upcoming playoffs, California (Pa.) (CalU) is on the outside looking in due to having three losses this season. West Chester is on the bubble. They only have two losses and those are against quality opponents Kutztown and Shepherd. Their current place in the regional rankings (7th) tells you that they're slated to make the playoffs--but that spot is in jeopardy for a couple of reasons. First, it's possible the GMAC gets a team in via Earned Access. Secondly, a loss this week gives the Golden Rams their third loss on the season. Teams with three losses don't typically make the playoffs in Super Region 1, but if enough teams end up with three losses it's possible to get in. In this instance though, CalU would hold a head-to-head advantage over West Chester for a final spot if one's available. This game will feature a pair of stout running backs, but CalU has the advantage in Rushing Defense. Cal's QB has also completed twice the number of touchdown passes as West Chester's Paul Dooley. What may be the Golden Rams' undoing is their ability to turn the ball over. West Chester enters this game with 26 turnovers opposed to CalU who has only turned it over 12 times. Lastly, all of the Vulcans' wins have been by two-or-more scores while West Chester narrowly defeated Bentley (14-7), Shippensburg (29-21), Bloomsburg (20-17) and East Stroudsburg (28-21). This should be an epic battle between two teams fighting for a chance and keeping hope alive.
California (Pa.) 37, West Chester 24
Indiana (Pa.) at Shippensburg
Indiana (Pa.) (IUP) looks to secure one of the higher seeds in the final version of the Super Region 1 regional rankings. A win this week sets up the Crimson Hawks to potentially host at least one game. Their only loss this season was a close 42-45 loss against the PSAC West's division champion--Slippery Rock. In that game, IUP outscored Slippery Rock 28-14 in the second half, but it wasn't enough to overcome a 0-17 first quarter deficit. Shippensburg presents an interesting final week matchup. The Raiders aren't the toughest possible matchup for IUP--but they're not the easiest either. Shippensburg ended with a winning record in the division and enters this game winning three of their last four. The disclaimer is that Shippensburg had it's softest part of the schedule on the back end of the regular season. The Raiders were a tough out for Shepherd (30-32) and lost to West Chester by eight points (21-29). But the Raiders have been erratic, recently losing to Kutztown 55-5. IUP is more well-rounded and they have a lot more to fight for.
IUP 42, Shippensburg 25
Clarion at East Stroudsburg
Clarion opened the season with three straight games against PSAC East opponents. They won two of the three--only losing to Shepherd. East Stroudsburg opened its season with a five game winning streak that started by defeating Wagner (FCS) in the opening week followed by back-to-back wins in their cross-over games against PSAC West opponents Seton Hll and Edinboro. The Warriors only lost to West Chester by seven points and five to Bloomsburg. They have a little more to fight for as a win in the final week allows them to close out 2019 with a winning record.
East Stroudsburg 34, Clarion 27
Edinboro at Bloomsburg
A rematch of week two's contest between the Fighting Scots and Huskies. Edinboro seeks to avenge a loss where they carried a 21-16 lead late into the fourth quarter, losing thanks to a Bloomsburg 65-yard punt return touchdown with under 5:00 to play in the game and an Edinboro fumble on the ensuing drive near midfield. An Edinboro win this week would have both teams finish 4-7 for the season. Bloomsburg won three of it's last four games, with it's 3-game win streak bookended by close losses to West Chester and Shepherd. Edinboro has won two of their past three games. Looking at the past I like Bloomsburg's chances, but I have a feeling the Fighting Scots evens the series for the season.
Edinboro 30, Bloomsburg 27
NCAA Division II Super Region 1 Regional Rankings
| | | | |
| --- | --- | --- | --- |
| Pos. | Team | In-Region | Overall |
| 1. | Kutzton | 10-0 | 10-0 |
| 2. | Slippery Rock | 9-0 | 10-0 |
| 3. | Notre Dame College | 9-1 | 9-1 |
| 4. | Indiana (Pa.) | 9-1 | 9-1 |
| 5. | Shepherd | 8-2 | 8-2 |
| 6. | West Virginia State | 7-2 | 7-2 |
| 7. | West Chester | 8-2 | 8-2 |
| 8. | Tiffin | 8-1 | 8-1 |
| 9. | Urbana | 7-3 | 7-3 |
| 10. | Ohio Dominican | 6-2 | 6-2 |
Super Region 1 - Records of Potential Playoff Teams (Overall Records)
9-0 Kutztown vs Slippery Rock (PSAC Championship)
9-0 Slippery Rock at Kutztown (PSAC Championship)

9-1 Notre Dame College at WV State
9-1 Indiana (Pa.) at Shippensburg
8-1 Tiffin at Findlay
8-2 Shepherd vs Seton Hill***
8-2 West Chester vs California (Pa.)
8-2 Frostburg State Not Eligible for Post-Season competition due to reclassification from Division III to Division II
7-2 WV State vs Notre Dame College *WV State has three losses, but third is to a D-1 FCS team

6-2 OH Dominican vs Lake Erie, at Hillsdale