PSAC East - Week 12 Preview
November 22nd, 2019 8:00am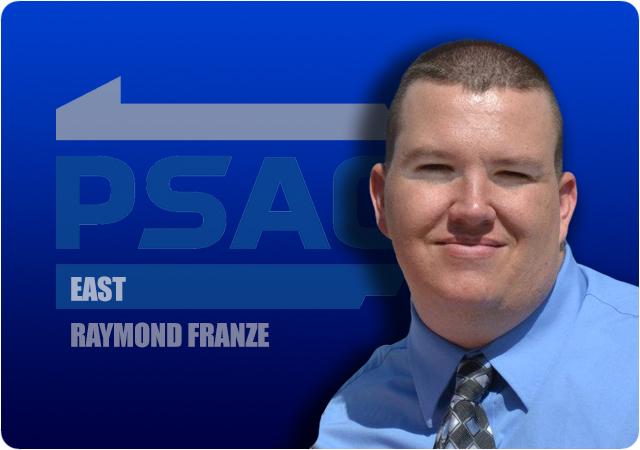 It's Playoff Time!!!
And just like that, the regular season has reached its conclusion. The final week involved a full slate of intra-conference cross-over games including the PSAC Championship. The PSAC East won five of the final week's eight games; with the PSAC East finishing the season with a winning record (14-11) against the PSAC West. The hardware went to the PSAC West however, as Slippery Rock put together a come-from-behind win over Kutztown for the conference championship.
The highly anticipated final, and most important, version of the regional rankings were released Sunday afternoon during the NCAA Selection show. There didn't seem to be any surprises for Super Region 1. Five of the region's seven playoff teams hail from the PSAC (3-of-5 from the PSAC East) which is quite the accomplishment--and a good chance Super Region 1's representative in the national semi-finals will hail from the conference.
The weather forecasts look promising--mostly cloudy throughout the region from northeast Ohio to central Pennsylvania with light winds. The chance of precipitation throughout the region increases significantly after 4:00--well after the games have ended. Each team should be able to implement their game plan without interference from Mother Nature.
Safe travels to everyone going to enjoy one of the region's games in-person!
PSAC East Standings (Final)
| | | |
| --- | --- | --- |
| TEAM | DIVISION | OVERALL |
| Kutztown | 7-0 | 10-1 |
| Shepherd | 6-1 | 9-2 |
| West Chester | 5-2 | 9-2 |
| Shippensburg | 4-3 | 4-7 |
| Bloomsburg | 3-4 | 5-6 |
| East Stroudsburg | 2-5 | 6-5 |
| Millersville | 1-6 | 2-9 |
| Lock Haven | 0-7 | 2-9 |
D2 Football Top 25
| | | |
| --- | --- | --- |
| Team | Rank | Prev. |
| Kutztown | 18th | 15th |
| Shepherd | 25th | NR |
Last Week's Games
Slippery Rock 37, Kutztown 35 (PSAC CHAMPIONSHIP)
What a game! What. A. Game. This conference championship game did not disappoint in regards to a fun-to-watch, back-and-forth battle between two very deserving teams. Whether it was nerves, shy to get things going, or simply feeling each other out as they sized up their dance partner, the opening four possessions resulted in punts. Once the goal line was broken however, the touchdowns came in droves. The remaining seven possessions leading up to halftime resulted in back-and-forth touchdowns between the two teams as Kutztown took a 28-21 halftime lead. Coming out of the break, Slippery Rock was forced to punt. On the ensuing drive, Kutztown picked up where they left off by scoring another touchdown. At this point, the Golden Bears took a two-score lead and their offense looked like it could not be stopped. But then it happened, they hit a wall. That early third quarter touchdown would be their final points of the game. Slippery Rock turned the ball over twice, but Kutztown failed to capitalize. Slippery Rock's defense stepped up in a huge way forcing a turnover-on-downs and then three 3-and-outs. Kutztown had one last chance at the end of the game. Still trailing near the end, Slippery Rock capped off a nine-play, 65-yard drive with an eight-yard touchdown run with 25 seconds remaining in the game to take their first lead of the game. Kutztown managed to move the ball far enough with the few remaining seconds on the game clock to give themselves a shot at redemption. Instead of opting for a lengthy touchdown pass attempt where their fingers would be crossed for either a miracle catch or defensive pass-interference call, they opted to try a 51-yard field goal attempt into the wind--a wind that was so strong both teams squibbed it on kickoffs in that direction; and touchbacks were pretty much guaranteed when kicking downwind. The ball barely left the ground and despite trailing for 59:35 of the game, Slippery Rock led when it mattered and claimed the conference championship for the PSAC West.
West Chester 20, California (Pa.) 19
For a game with playoff implications on the line, this one did not disappoint. From the scoreboard to the stat sheet, this matchup proved to be a great battle between two evenly matched teams. Both teams held each other to some of their lowest point totals of the season. Rushing yards and passing yards were only 11 and 16 yards apart, respectively. First downs, sacks, time of possession--most of it was close to even. West Chester's defense went right to work holding the Vulcans to a three-and-out. The Golden Rams also wasted no time turning the ball over. Known for gifting the football back to their opponents often during the season, West Chester fumbled the punt return. Cal came out of the locker room at halftime holding a 13-10 advantage. West Chester scored 10 unanswered points to lead by a touchdown as the end of regulation neared. The Vulcans scored on a 15-yard touchdown reception as time expired to pull within a point. While it looked like the game was headed toward overtime, Cal opted to go for a two-point conversion which they failed to convert; and West Chester left with a one-point victory and a chance to make the Super Region 1 playoff bracket.
Shepherd 56, Seton Hill 24
A win for Shepherd all but guaranteed a spot in the upcoming playoffs; and the Rams took care of business. A sack-fumble around their own five-yard line put Seton Hill in great shape to score first, but then the Rams went on to outscore the Griffins 56-17 for the remainder of the game. Quarterback Tyson Bagent completed his fewest passes (19) along with his fewest pass attempts (27) for his fewest passing yards (276) in a game this season. When your quarterback's slowest day still equates to a 70% completion percentage with four touchdowns, it's going to be a good day. Wide receiver Dylan Brewer (7-124-3) had his fifth 100-receiving yard game of the season; and running back Deonte Glover (23-125-4) had his fifth 100-rushing yard game of the season. Glover also added a 98-yard kickoff return for a touchdown.
Mercyhurst 17, Millersville 7
Millersville was limited to 56 rushing yards on 28 carries. The Marauders didn't do themselves any favors by fumbling the ball six times (only lost two). Millersville's three turnovers and lack of offensive production kept their defense on the field for so long that Mercyhurst had a little over 16:00 more of possession. Millersville closes out its season with just two wins--one to open the season against Pace and the other against the PSAC East's other two-win team, Lock Haven.
Bloomsburg 20, Edinboro 17
This game should have been a blowout when you look at the stat sheet. Bloomsburg had three times the number of first downs (27 vs 9), three times the number of rushing yards (155 vs 50), nearly three times the time of possession (42:23 vs. 17:37), half the penalties (9-94 vs 19-167), more opportunities and perfection in the red zone (4/4 vs 2/3) and a much better third down conversion rate (56% vs16%). Both teams had three interceptions. Edinboro returned one for a go-ahead touchdown early in the third quarter--a lead they would hold onto until Bloomsburg scored on a 12-play, 87-yard drive with 28 seconds remaining in the game.
Indiana (Pa.) 54, Shippensburg 24
Shippensburg had four more passing yards than IUP (268 vs 264), but the Raiders gave up over 300 rushing yards to the Crimson Hawks as well as four touchdowns and 27 points in each of the two halves. Each of Shippensburg's four wins came against PSAC East opponents where they had a winning record within divisional play.
Lock Haven 28, Gannon 27
Lock Haven's two wins bookended their season. First, the Bald Eagles opened the season with a win against Lincoln University. Their win at the end of the season againt Gannon snapped a 9-game losing streak. Lock Haven, known for running the ball, found a passing game in their final game to provide a balanced attack against Gannon as quarterback Kyle Knight (17-21-242-2-0) completed 80% of his passes with a pair of touchdowns. Lock Haven led throughout the first half, but an early fourth quarter touchdown by Gannon forced the Bald Eagles to come from behind. With a chance to tie the game at the end, the Gannon Knights opted to go for a two-point conversion and the win, but the attempt failed and Lock Haven held on. Neither of Lock Haven's wins came against PSAC East opponents.
East Stroudsburg 41, Clarion 17
East Stroudsburg had its best rushing performance of the season and its worst passing performance in the season finale against Clarion. While the Warriors rushed for over 200 yards, their passing game was held to under 100 yards (98). Offensively, East Stroudsburg did enough to beat Clarion--who turned the ball over seven times. The Warriors special teams helped make up for the lack of a passing attack. In the second quarter, East Stroudsburg returned a kickoff 95 yards for a touchdown and returned a blocked field goal attempt 84 yards. Coupled with two fourth quarter field goals, the Warriors' special teams added 20 of their own points to help put the game out of reach. This win gives East Stroudsburg a 6-5 records and its first winning season since 2015.
This Week's Games
Tiffin at Kutztown
The Tiffin Dragons are hoping to take advantage of their first playoff appearance this decade. They have ascended from a team that went 1-21 over the course of the 2010 and 2011 seasons to 9-1 this year. They travel to Kutztown wear the Golden Bears just suffered a heart-breaking, last-minute defeat at home against Slippery Rock in the PSAC Championship. Kutztown is not a stranger to post-season play. Last year they lost in the opening round at home to Hillsdale College 26-40; and they hope to avoid another opening round home playoff loss. This is Kutztown's fifth playoff game going back to the 2010 season.
Tiffin enters with a 9-1 record, but their strength of schedule wasn't exactly the strongest. To put it in perspective, the teams they played this year were a combined 38-69. Kutztown, on the other hand, finished 10-1 against a schedule of opponents that had a combined record of 73-58. On paper, these two teams are close to being evenly matched. Of course once you reach the playoffs the level of play between the top and bottom seeds is going to be much more consistent during the regular season. When looking at the strength of schedule it may be easy to take any data with a grain of salt--perhaps the numbers are skewed because of the competition faced during the first 10-11 games. This is one more reason why we love the playoffs, these games serve as great litmus tests between teams from different conferences when you get a chance to see if the level of play corresponds to the stats put up.
Until Tiffin's efforts on the field indicate otherwise, they are bringing in one of the nation's best offenses. The Dragons rank sixth in Total Offense, ninth in Scoring Offense, 15th in Rushing Offense and 23rd in Passing Offense. Running back JaQuan Hardy ranks seventh in the nation in rushing yards with 1405. Quarterback Nick Watson is tied for eighth in the country with 28 passing touchdowns.
Kutztown will counter with their dual-threat quarterback, Collin DiGalbo. DiGalbo has over 100 carries and 10 rushing touchdowns to go along with his 26 passing touchdowns. Running back Abdul-Hassan Neblett (124-939-11) gave Slippery Rock fits in last week's conference championship game. He is averaging approximately 130 yards and a pair of touchdowns over the last four games. If it comes down to a field goal, Tiffin will get the nod as Kutztown simply hasn't utilized its field goal unit much at all--making two out of five field goal attempts this season. Although I don't count their last missed attempt against the kicker--a 51-yard try into a brutal wind was quite the hail mary attempt at adding three points at the end of the game.
Here's what the stat sheets don't show: Kutztown finished 7-0 against the PSAC including tough road wins against Shepherd and West Chester--the latter to unseat last year's division champion. The Golden Bears had a two score lead against Slippery Rock in the PSAC Championship after scoring five touchdowns on consecutive drives before they it a wall and stalled offensively. Their playoff appearance last year should mean that a lot of their players are past the post-season nerves. And they are at home where they are hungry to erase the memories of last week's loss and last year's opening round home playoff loss against Hillsdale.
Kutztown 35, Tiffin 24
Shepherd at Indiana (Pa.)
This is SR1's Playoff Game of the Week. But it's just a #4 seed and presumably the #5 seed!?!? This game, is a matchup between the runners-up in their respective divisions. IUP's only loss came at the hands of Slippery Rock; and Shepherd's lone divisional loss came against Kutztown. This game, is a matchup between two teams with a wealth of playoff experience. This game, is a matchup between two teams who have gotten in each other's way during previous years of post-season advancement. This game, is a matchup between incredible offenses. The team who wins this game may not have much in the tank next week for Slippery Rock as it's going to be a physical, chippy, hard-fought emotional roller coaster.
Shepherd's offense is led by sophomore quarterback Tyson Bagent who was second in the nation in passing yards (3547)--and he missed a week! Bagent ranks fifth in the country for completion percentage (.716) and is tied for eighth in passing touchdowns (28). Shepherd's offensive line is going to be critical in this contest. Of the six Super Region 1 teams playing this weekend, IUP has recorded the most sacks (35) while Shepherd has given up the least (8)--so who wins this battle?
Both teams bring in strong offenses. The problem for Shepherd is the Crimson Hawks rank much better on the defensive side. Of the four major categories (Scoring, Total, Rushing and Passing), IUP's average rank is 20th while Shepherd is 75th. With both teams hailing from the PSAC, albeit different divisions, it's safe to say IUP presents the stronger defense. That means the Rams will need to bring extra amounts of blood, sweat, tears, heart and soul.
Shepherd won the last playoff contest between these two teams, 17-13 back in 2015. That game, however, was in Shepherdstown, West Virginia. The last time these two met in the playoffs in Indiana, Pennsylvania, the Crimson Hawks left victorious (27-17 in 2012). On paper, IUP wins this game for the home crowd and advances. I can't help but wonder though, if fate is on Shepherd's side and the stars are aligning. In 2015, the West Liberty Hilltoppers finished 5-6, and Shepherd faced IUP followed by Slippery Rock to advance in the playoffs. This year, West Liberty finished 5-6 and the road to through the playoffs goes through IUP and Slippery Rock--in the same order as 2015 as long as Shepherd wins this week. Where did Shepherd play their last game in 2015? ... in Kansas City, Kansas for the national championship.
Shepherd 33, IUP 30
West Chester at Notre Dame College
West Chester closed out the regular season with a 9-2 record; their only losses coming against Kutztown (10-1) and Shepherd (9-2). They drew what amounts to being the sixth seed and travel to South Euclid, Ohio to take on the number three seed, Notre Dame College. Both teams made the playoffs last year. West Chester saw an early exit as they lost at home New Haven, 28-35. The Falcons took better advantage of their home field advantage winning their way to a national semi-final game against Valdosta State. The Falcons gave Valdosta everything they could, losing a heartbreaker 24-30. Notre Dame College, following an opening round bye, defeated Hillsdale College (19-14) and Slippery Rock (21-17).
Notre Dame's Jaleel McLaughlin leads the nation in rushing yards (1982) and rushing touchdowns (27). The Falcons rank 79th in First Downs, but a lot of that may have to do with the limited number of first downs McLaughlin needs before reaching the end zone. West Chester has a tough defense, but the toughest teams have not been able to contain McLaughlin. Stopping Notre Dame's rushing attack is priority one for West Chester to have a chance. But, how many other teams have keyed in on stopping that rushing attack and simply couldn't. When Notre Dame wants to thrown the ball to keep teams honest, they are one of the best teams at avoiding sacks.
Ball security must be another priority for the Golden Rams. West Chester enters this game as the only playoff team in Super Region 1 with a negative turnover margin (-2). Holding onto the ball is paramount to limiting the amount of time the Falcons have to hand it off to their star running back. Look for West Chester to use quarterback Paul Dooley as a dual threat to keep the Falcon defense off-balance. Dooley has 100 carries and 7 of his 18 touchdowns have been on the ground.
West Chester's defense keeps them in the game for awhile, but Notre Dame College does a better job limiting their own mistakes and eliminates the Golden Rams in the opening week of the playoffs.
Notre Dame 27, West Chester 17