PSAC East - Week 13 Preview
November 29th, 2019 8:00am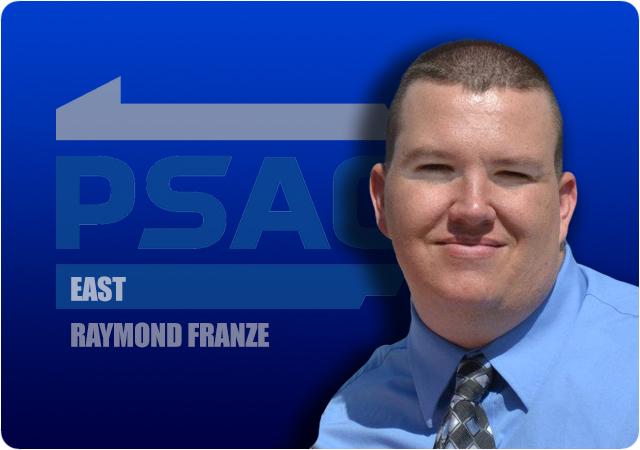 The PSAC East standings are gone. The Top 25 poll is gone. We're at that point where, you're in the playoffs, or you're not. Win, and you stay in. Lose, and you're irrelevent. Two-thirds of the PSAC East teams in the post-season survived the opening round to live to fight at least once more. The first round of games in Super Region 1 set a high standard for exciting, down-to-the-wire finishes. Three teams scored 31 points--two of them won their games (Notre Dame College, Shepherd). Thirty-one points wasn't enough for the Tiffin Dragons to defeat Kutztown. In the Kutztown (vs Tiffin) and Shepherd (at IUP) games, the game's final points were scored within the final minute. The box score doesn't tell you, but West Chester's game at Notre Dame College came down to the final seconds as well. Each of the six teams to play in the opening round proved they were deserving of a playoff spot, fighting to the bitter end, and setting up a pair of second round games that should be just as exciting. With Tiffin's loss, the Mountain East and PSAC are the only two conferences represented in the second week of Super Region 1 playoff action.
First, let's review the exciting action from last week and on with this weekend's matchups which features three of the country's Top 15 quarterbacks (two are top five) and the nation's leading rusher ....
Last Week's Games:
Kutztown 33, Tiffin 31
Tiffin, the lone GMAC representative in the playoffs, travelled to Kutztown and ran all over the PSAC's runner-up. The Dragons' 211 rushing yards were the most by any Super Region 1 team in the first round of the playoffs. Dragon quarterback Nick Watson got the party started with a four-yard touchdown run midway through the opening quarter. This would be the first of four Tiffin leads throughout the game. A 21-yard field goal halfway through the second quarter gave Tiffin it's second lead (10-7) of the game. The Golden Bears had a 20-10 lead at halftime. After Tiffin pulled to within three midway through the third quarter, both teams struggled to score trading punts on four consecutive possessions. Kutztown threatened to increase their 20-17 lead with a 23-yard field goal attempt early in the fourth quarter, but the Dragons managed to block it. And that block inspired Tiffin's offense who went on to score touchdowns on their next two possessions--leading 24-20 halfway through the final quarter, and 31-27 with under 1:30 to play in the game. Kutztown, led by quarterback Collin DiGalbo (31-44-462-3-1), utilized its prolific passing attack to march down the field and answer each of Tiffin's fourth quarter touchdowns with a pair of their own--the final touchdown giving Kutztown the final lead of the game as the Golden Bears ended Tiffin's final efforts with an interception to seal the victory.
Kutztown was held to under 100 yards; but the 462 passing yards helped compensate for that. While Tiffin enjoyed great success running the ball, their passing game was held to less than 200 yards.
Notre Dame College 31, West Chester 24
This game was over mid-way through the third quarter; but it wasn't. The Falcons needed no more than 15 seconds to get on the scoreboard as wide receiver Marvelle Ross returned the opening kickoff 95 yards for a touchdown. West Chester managed a touchdown on its opening possession to tie the game. The Golden Rams had success moving the ball against Notre Dame, but stalled twice inside their opponent's 35 yard line with two turnovers-on-downs and two punts for their other four possessions in the first half. Notre Dame College made a 26-yard field goal at the end of the first half to lead 24-7. Despite the lead, West Chester was doing a fantastic job keeping the nation's leading rusher, Jaleel McLaughlin (18-45-1), in check. I thought that he may have had an early exit due to injury or something when I saw the stats, but watching a replay of the game I saw the Golden Rams simply did a great job slowing him down.
The down side to keying in on McLaughlin was opening up opportunities for other Falcons. And this is where the Falcons won the game, by having its other playmakers step up and continue to make plays without McLaughlin gashing the defense all over. Running back DJ Greene (12-96-1) took advantage of not receiving the same respect, and quarterback Chris Brimm (15-24-224-2-0) played mistake-free football avoiding the interception and getting it in the hands of receiver Marvelle Ross (7-99-1) and tight end Zaire Mitchell (6-99-1).
The Golden Rams started the third quarter by adding three points with an impressive 49-yard field goal, but they were going to need touchdowns. With 5:10 left in the third quarter, the Falcons enjoyed a three score lead at 31-10 following a 24-yard touchdown run by Jaleel McLaughlin. These would be the only, and final, points scored by Notre Dame in the second half. West Chester forced punts on Notre Dame's other second half possessions. Late in the third quarter, quarterback Paul Dooley (21-26-297-3-0) connected with Dan Neuhaus (4-107-1) on a one-play, 35-yard touchdown reception. A little beyond the midpoint of the fourth quarter, Dooley hooked up with Lex Rosario (11-163-1) on a 30-yard touchdown reception to pull within one score. The Golden Rams were moving the ball--that touchdown concluded an 11-play, 93-yard drive. Dooley led his offense down the field one last time as the fourth quarter drew to a close--11 plays and 74 yards later West Chester was inside their opponents 10 yard line. Dooley rushed for 8 yards but was stopped by the Falcons at the one yard line. On the 13th, and final, play of the drive, West Chester was stopped short of the goal line one final time as the Falcons thwarted the comeback and advance to the second round of the playoffs.
Shepherd 31, Indiana (Pa.) 27
A week ago I said this game was, "going to be a physical, hard-fought emotional roller coaster." And that's precisely what we got.
It started just as it ended, with a Tyson Bagent-to-Devin Phelps over the top touchdown connection. IUP received the opening kickoff and had the ball for over 10 minutes in the first quarter. Nineteen plays and 122 yards of offense in the first quarter, it looked as though Shepherd would have its hands full and possibly be in for a long day. Fortunately for Shepherd, IUP's first drive ended with an interception at the goal line. Unfortunately for Shepherd, the Crimson Hawks' first punt of the game pinned the Rams down at their own one yard line. Shepherd drove 99 yards on 12 plays taking a 7-0 lead on a Devin Phelps (6-98-2) 39-yard touchdown reception. Two minutes and fourteen seconds later, the Crimson Hawks tied the game up at 7-7, and at that point everyone at the stadium probably realized the fight both teams were in for. Shepherd returned the ensuring kickoff 72 yards and their sights set on the endzone and taking the lead once again. Their first play from scrimmage however, Shepherd fumbled--their only turnover in the game--and IUP breathed a sigh of relief much like Shepherd did when they got the interception. Shepherd forced a punt, but the Rams were now pinned down at their own 2-yard line. With less than 3:30 to play in the second half and at their own 2-yard line, going into halftime with a 7-7 tie seemed like an admirable goal. Ten plays, 98-yards later, Dylan Brewer's (9-139-2) two-yard touchdown reception gave Shepherd a 14-7 lead at halftime--and they were receiving after the half.
Shepherd opened the second half with two Deonte Glover (18-117-0) carries--each at least 10 yards and a new set of downs before connecting with Dylan Brewer who made his way down the field for a 52-yard touchdown reception. The Crimson Hawks' efforts on that one drive to start the second half led many to think this game was over. Up two scores, Shepherd failed to put the game out of reach, and stalled throughout much of the second half. At this point, IUP found their groove and scored touchdowns on three consecutive drives to take their first lead (27-24) of the game with under two minutes left to play. Slippery Rock demonstrated a week before in the PSAC Championship, it doesn't matter how long you lead during the game--what matters is that you lead when the fourth quarter clock reaches 00:00--and IUP took the lead at just the right time. Except there was still some time; enough time. Shepherd had 1:40 to go 84 yards--and on the eighth play, Bagent (25-39-389-4-0) connected with Phelps one last time to put the Rams ahead for a final, 31-27 lead and the win.
The Crimson Hawks entered the game giving up only 182 passing yards per game--Bagent passed for 389 yards. IUP came in with the most sacks of any Super Region 1 team in the playoffs--IUP failed to get a single sack in this game. The Crimson Hawks allowed an average of 283 yards per game--Shepherd had over 500 yards of offense. The Crimson Hawks gave up 16 points per game, Shepherd pretty much doubled that. Shepherd proved that despite stats and rankings, the Rams have what it takes to make, compete, and advance in the playoffs.
This Week's Games:
Shepherd at Slippery Rock
Slippery Rock begins its post-season play hosting Shepherd University. Slippery Rock received the #1 seed in Super Region 1 following its undefeated regular season which culminated in a conference championship win over Kutztown. Bye weeks can be a double-edged sword. Teams enjoy the ability to spend a second week getting healthy so they are as close to full strength as possible when it's time to play; and it gives them a second week to watch, study, and prepare for, their opponent. Far too often though, that bye week results in some rust, lost momentum and slow starts. Most teams would probably tell you that they'd rather take their chances and earn the bye week--which also comes with home field advantage.
The weather forecast improved as it looks like any precipitation will wait until later at night. But it's still going to be cold; and many would prefer to be in a tree stand than stadium bleachers this weekend; but if there's a place to be on Saturday--this is it!
This game features two Harlon Hill nominees at quarterback. Shepherd's Tyson Bagent is #2 in the country in passing yards (3936) and Slippery Rock's Roland Rivers III is #4 (3409). Both quarterbacks have played 11 games at this point--Bagent missed a week earlier in the season, and Rivers had the bye week last Saturday. Bagent has more pass attempts and completions while Rivers has more touchdown passes and fewer interceptions--a combination that has Rivers leading the nation in Passing Efficiency (192.7). Helping their quarterbacks look good, each team has a pair of receivers that rank within the top 25 in the country in receiving yards. Slippery Rock's two leading receivers both have over 1,000 receiving yards. Shepherd's Dylan Brewer (93-1180-9) has eclipsed 1,000 yards while Devin Phelps (57-961-11) is closing in.
When looking at the stats though, I don't know what to tell you. Slippery Rock averages giving up 21 points per game. IUP averaged giving up 16 points per game and Shepherd put up 31. Slippery Rock only averages 2.7 more points per game than IUP did, who Shepherd held to 27. Slippery Rock's Passing Defense (198.0) is 1.3 yards better than IUP (199.3)--and Shepherd managed to pass for nearly 400 yards. Both teams are similar in Sacks, and Tackles For Loss. Shepherd has allowed half as many sacks (8 vs 16), but Slippery Rock is +6 better in Turnover Margin.
The keys to winning this game are no different than Shepherd's game last week against IUP, and no different than for any team in any game. Control the line of scrimmage and limit the mistakes. Many believe this game is going to be an offensive shootout where the last team to possess the ball likely wins. As the game gets closer to the end though, the team trailing my feel more pressure to make a play. Shepherd's two losses this season came from killer turnovers--four in each game--the first few which were bad, but the final ones that were costly. Neither team can afford to turn the ball over. This is also a game where I fear field goals will do nothing except widen the score gap. Finding the end zone will be critical. Once notable difference between these two teams is that Roland Rivers III, Slippery Rock's quarterback, is also their leading rusher in both carries and rushing yards. That means even if they struggle to get sacks like a week ago (they recorded two, but it was a struggle), the Rams will get opportunities to be physical against Rivers.
Coach McCook and staff will need to be creative and find new ways to get the job done on offense. I imagine Slippery Rock's coaching staff plans to close up the middle of the field where Shepherd enjoyed a lot of success against IUP. Slippery Rock looks to avenge its 2015 loss to Shepherd (16-28) in the Super Region 1 final. Slippery Rock knows they're a great football team. But even though they lost, Kutztown proved Slippery Rock is not heads-and-shoulders above all others in the PSAC. Shepherd's riding a lot of energy and emotion into this game after last week's road win, but sometimes a team that played their guts out the week before, drained themselves of that energy and emotion leading to a surprise letdown the following week. But West Liberty went 5-6 this year, and Shepherd defeated IUP on a final drive touchdown pass (a la Billy Brown in 2015), which means they are one Slippery Rock win away from getting closer to the national championship--do you believe in fate?
Shepherd 39, Slippery Rock 36
Notre Dame College at Kutztown
If there's a place to be on Saturday, it's Kutztown University for their second round matchup against Notre Dame College. But wait, I said Slippery Rock was the place to be on Saturday! Honestly, you can't go wrong with either option. This season is a great time for Division II football in the region. Matchup number two in Super Region 1, one of the two games to decide who's going to the Regional Finals, is between the PSAC East champion and conference runner up, against Notre Dame College, who won the Mountain East Conference two years in a row and advanced to the national semi-final game against Valdosta State a year ago.
Notre Dame College defeated West Chester in the opening round of the playoffs. The Falcons enjoyed a 21-point advantage in the second half, although they had to stop West Chester at the 1-yard line not once, but twice at the end of the game to avoid a possible tie and overtime. The Falcons come with one of the nation's top rushing offenses as well as a top 10 rushing defense. Harlon Hill nominee Jaleel McLaughlin (293-2,027-28) leads the nation in rushing yards and rushing touchdowns. He is the only running back in Division II with over 2,000 rushing yards. West Chester was determined to stop the star running back, and they pretty much did as they held him to under 50 on 18 carries. Notre Dame College isn't a one-man show however, and their other playmakers stepped up. Running back DJ Greene enjoyed being underestimated as he nearly rushed for 100 yards on 12 carries; and quarterback Chris Brimm did the damage he needed to through the air with receiver Marvelle Ross and Tight End Zaire Mitchell.
The Falcons have a strong defense. They are a top 10 defense in Rushing Defense, are #3 in the nation with 112 Tackles for Loss, and they have accumulated 36 sacks.
Kutztown maintains home field advantage for at least one more week after defeating Tiffin a week ago in a down-to-the-wire, two-minute offense touchdown drive. Kutztown showed incredible resolve eliminating the Dragons. One week prior, in the PSAC Championship game aginst Slippery Rock, Kutztown gave away a two-score lead in a heartbreaking loss at home. Following that let down, Kutztown's opponent led at four different times throughout the game--twice late in the fourth quarter. The Golden Bears offense is led by quarterback Collin DiGalbo (210-312-2927-29-6) who ranks #5 in the country in Passing Efficiency. Kutztown was held to just 75 rushing yards against Tiffin last week, but DiGalbo and the passing game managed 462 passing yards. The Golden Bears' leading rusher, Abdul-Hassan Neblett is closing in on 1,000 yards himself on the ground.
Kutztown's only loss came at the hands of Slippery Rock in the conference championship. And it was a game they could have, and should have (but didn't), win. They clearly have the weapons it takes to go score-for-score against an opponent. West Chester laid out a pretty good blue print for bringing down the reigning Super Region 1 champion. Stop Jaleel McLaughlin, win the time of possession to keep the ball out of the Falcons' offense's hands, limit your own mistakes, and lastly just don't allow the Falcons to gain a 21-point advantage--a deficit that proved too much to overcome. Even then, West Chester found themselves less than three feet away from evening the score at the end of regulation.
Kutztown's rushing defense gave up just under 100 yards per game in the regular season--putting them inside the Top 20 in Rushing Defense. Notre Dame's Passing Offense ranked 135th at the end of the regular season. Regardless of the stats, here are the questions that will be answered this weekend? Who does a better job stopping the other team's strong suit (NDC-rushing, KU-passing)? Who does a better job maximizing the part of their offense that isn't the strongest? All throughout last season including the playoffs, Notre Dame College found ways to win. They won games that they probably shouldn't have. The ball was bouncing in their favor when they needed it to. If West Chester can almost come back from down 21 points, Kutztown can win this game. The Golden Bears won't allow it to get that out of hand--they have a strong passing game and a more-than-capable defense.
And think of the exciting matchup potential when they win! I know Shepherd wants a re-match (re-do?!?) and I'm sure Kutztown would look forward to a re-match (re-do?!?) of the PSAC Championship game against Slippery Rock.
Kutztown 31, Notre Dame College 28
Safe travels to everyone going to enjoy either of the region's playoff games!