PSAC East - Week 13 Review
December 5th, 2019 8:00am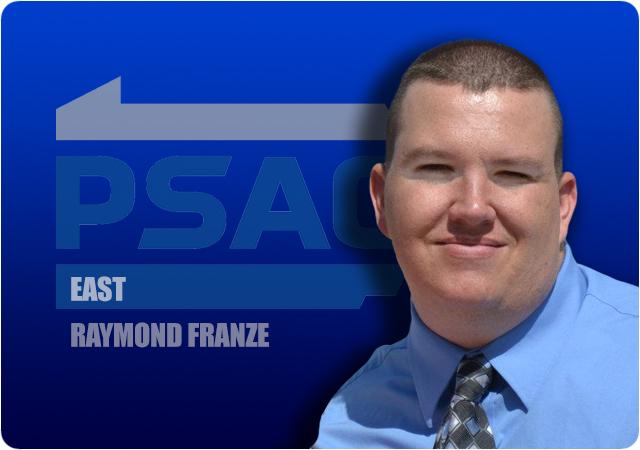 The PSAC East's 2019 football season has reached its conclusion. Kutztown and Shepherd were the division's remaining two playoff participants; and their post-season run was ended at home against Notre Dame College and on the road at Slippery Rock, respectively. Good luck to both teams going forward; fans within Super Region 1 tend to rally behind the region's representative going forward. I'll offer a quick rundown of the 2019 PSAC East after the championship game in a few weeks. But here's a review of how the PSAC East's season ended ....
Last Week's Games
Slippery Rock 51, Shepherd 30
Slippery Rock's high-powered offense was every bit as advertised, putting up over 50 points in the second round of the playoffs. Slippery Rock scored on their opening possession to take a 6-0 lead (failed extra point attempt), Shepherd found success moving the ball against Slippery Rock, but turnovers--as they're prone to do--allowed the Rock to jump out to bigger leads throughout the game. Shepherd moved the ball 45 yards on 4 plays during their opening possession, but running back Deonte Glover had the ball ripped away from him as he was in the midst of a huge run into Slippery Rock territory. Slippery Rock marched downfield and scored their second touchdown on as many possessions taking a 13-0 lead. The teams traded a pair of fumbles before Slippery Rock scored their third unanswered touchdown to take a 20-0 lead. At this point, early in the second quarter, Shepherd had two turnovers and Slippery Rock had three touchdowns. There was no doubt Shepherd would move down the field and put points on the board, but a 0-20 deficit may have seemed insurmountable at the time.
Staying the course, the Rams cracked the scoreboard when quarterback Tyson Bagent connected with receiver Devin Phelps (4-143-3) for a 21-yard touchdown pass. Shepherd, like Slippery Rock, missed its first extra point attempt of the game. Trading field goals, Slippery Rock led 23-9 at halftime. Shepherd pulled within seven points after a 21-yard touchdown pass to Devin Phelps to start the second half. Another Bagent touchdown pass, this time a 38-yard completion following a Slippery Rock turnover-on-downs had the game tied at 23-23 late in the third quarter.
Slippery Rock scored on an improbable play during which quarterback Roland Rivers III was nearly sacked around midfield, got the ball off and just over the outstretched arms of a defender and into the hands of Jermaine Wynn Jr. (18-229-2) who did the legwork for the remaining 30 yards for the score. With the game recently tied, Shepherd was ready to start trading Slippery Rock score-for-score. In what almost was, Bagent found an open Devin Phelps down the left sideline for a 34-yard pass--which could have possibly been taken all the way to the endzone but the receiver was bit by the turf monster. Eventually turning the ball over on downs, Slippery Rock's offense punished Shepherd's inability to score with another touchdown and a 37-23 lead.
Trying to avoid another big deficit, particularly late in the game, Bagent found Phelps for a 67-yard touchdown pass to pull within seven points at 37-30. The Rock kept their foot on the gas pedal as running back Charles Snorweah scored on a 38-yard touchdown run to go up by 14 once again. A Shepherd interception--their third turnover of the day--allowed Slippery Rock to put the game out of reach with their final touchdown of the day and a 51-30 advantage.
Shepherd ended the day with five turnovers, but two were at the very end as the game was out of reach. Both Slippery Rock's Roland Rivers III (31-47-416-4-0) and Shepherd's Tyson Bagent (30-42-413-4-2) had similar passing statistics. While Shepherd's Deonte Glover (13-136-0) had another game rushing for more than 100 yards, Slippery Rock doubled Shepherd's rushing production, led by Charles Snorweah (21-163-2). Rivers III was the Rock's leading rusher going into the game, but he only had nine carries for 33 yards.
Notre Dame College 20, Kutztown 17
Notre Dame College made it to the semi-final game a season ago; losing to eventual national champion Valdosta State. Their late season run and their lengthy stay in last year's post-season seemed to be defined by an ability to find ways to win games--even when the tradewinds seemed to be blowing a victory beyond their reach. The Falcons' game against Kutztown in the second round of this year's post-season fell into that same theme.
The Golden Bears gave the home crowd one of the best starts possible. Notre Dame College received the opening kickoff, and they were promptly held to negative yards on a three-and-out series. The Falcons' three first quarter series involved two three-and-outs for a total of two yards and an interception. Kutztown was able to move the ball with ease, but came up empty handed as they missed a 28-yard field goal attempt and threw an interception at the goal line. The third time was the charm and Kutztown was able to find the end zone when wide receiver Jake Novak threw a 15-yard touchdown pass to fellow wide receiver Jerry Kapp.
Kutztown, like many other teams before them, keyed in on stopping star running back Jaleel McLaughlin--and they did a great job in the first half. Following the same script as the previous week against West Chester, Falcon running back DJ Greene (12-118-1) found success running the ball. Five plays after Kutztown's touchdown, Greene--a great running back in his own right--broke out on a 52-yard touchdown run to tie the game at 7-7. Kutztown went to work following the script of their game a week before against Tiffin where they matched score-for-score. On Kutztown's first play from scrimmage following Greene's touchdown run, quarterback Collin DiGalbo found receiver Diego Torres for an 80-yard touchdown reception; and a 14-7 lead they would hold up to halftime.
The teams would trade field goals in the third quarter as Kutztown maintained a 7-point lead going into the fourth quarter. Kutztown had opportunities to pull away throughout the game, but struggled to do so. DiGalbo (19-43-266-1-4) ended the day with four turnovers, though a couple of them were off the body/hands of their own receivers. Just as Kutztown struggled to pull away, Notre Dame College struggled to tie the game. The Falcons had their own missed field goal attempt, a fumble, turned it over on downs at the five yard line and some punts in there for good measure.
Two things transpired for Notre Dame College, that despite all or their trailing throughout the game, tipped the scales for the Falcons. First, despite Kutztown's best efforts, Jaleel McLaughlin (32-163-0) found much better success running the ball in the second half. McLaughlin had nine carries for 23 yards in the first half, but 23 carries for 140 yards in the second half. Secondly, early in the fourth quarter with their backs against their own end zone, the Golden Bears fumbled and it was recovered in the end zone by Notre Dame College for a game-tying touchdown. Three failed Kutztown drives and the Falcons ran their way into position to attempt, and make, the game winning field goal as time expired.