PSAC East - Week 3 Preview
September 20th, 2019 8:00am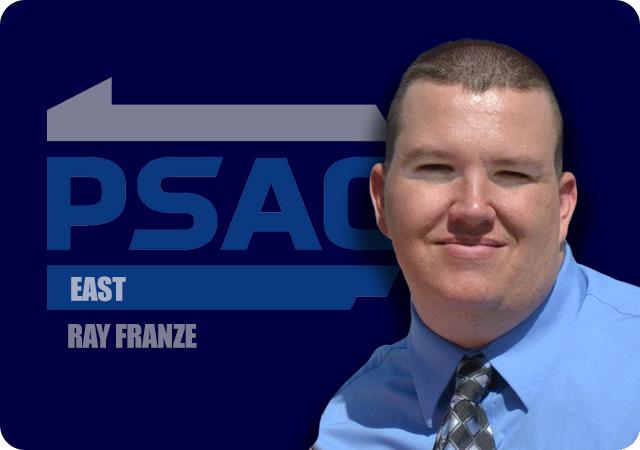 We are one week away from divisional matchups. This week is the second round of all out-of-division, inter-PSAC conference matchups. PSAC-East teams have a slight edge as they went 5-3 against the PSAC-West last week. With Clarion defeating Shippensburg in the opening week of the season, the PSAC-East still holds a slight edge at 5-4. And every team that won last week, did so on the road as Millersville was the only PSAC-East team with a home game last week. This week it's an even split between home and away games for each division.
We should have some good trends after this week to have a good idea of what each team brings to the table next week to start divisional play.
First, a quick recap of last week ...
Last Week's Games
Indiana (Pa.) 54, Millersville 0
The Crimson Hawks completely dominated Millersville, holding the Marauders to 26 total offensive yards. Half of Millersville's six first downs were awarded due to penalties on the opposition. After six punts and a turnover-on-downs, the Marauders recovered a fumble at IUP's four yard line. Their best chance for points, Millersville had a three play drive that resulted in negative eight yards and an interception. The Crimson Hawks accumulated 166 rushing yards and 399 passing yards for a complete performance.
West Chester 48, Gannon 14
The Golden Rams' defense got things started with a 61-yard interception return for a touchdown which jump started a 21-point run in the first quarter and a 35-7 lead at halftime. That interception was the first of five interceptions that would stall drives for Gannon. Aside from the self-inflicted wounds, Gannon had solid success moving the ball against West Chester--with 312 total yards of offense. For every interception thrown by Gannon, West Chester had a rushing touchdown. West Chester limited their mistakes with greater than 70% pass completion and 180 rushing yards.
Bloomsburg 24, Edinboro 21
The stats show this game featured two evenly matched opponents. Both teams passed for less than 200 yards, Bloomsburg had four more rushing yards, one more first down, one less penalty, the same amount of punts, and the same amount of sacks for just a two yard difference. Edinboro scored a touchdown on a 10-play opening possesion which ended up being a 14-6 lead at halftime. Unfortunately for the Fighting Scots, the two daggers that resulted in a loss was giving up a punt return for a touchdown with less than five minutes to play in the game, and a sack-fumble near midfield on their final drive of the game.
Shepherd 22, Mercyhurst 17
Shepherd earned their first PSAC victory of the season agaisnt Mercyhurst in close contest that required strong defensive efforts up to the very end. The scoreboard resembled a baseball score early in the first when Mercyhurst had a 3-2 edge over the Rams. Twice after Shepherd scored Mercyhurst took a one point lead of their own. Both teams were held to less than 75 yards rushing--with the Rams limiting Mercyhurst to only 21 yards rushing. Shepherd did have an interception that Mercyhurst converted into three points. Mercyhurst had a couple of chances to take the lead in the fourth quarter, but Shepherd was able to stop Mercyhurst in the red zone in the fourth quarter, once at the goal line and the other at the 11 yard line.
Clarion 48, Lock Haven 20
Lock Haven's real test following their huge win over Lincoln University resulted in a huge struggle against Clarion. The Bald Eagles had approximately half of the first downs, rushing yards, passing yards, total yards, and first downs achieved by Clarion. Clarion had over 200 rushing yards which helped them hold onto the ball for 18 minutes longer than Lock Haven, but six of their seven touchdowns came through the air.
Kutztown 35, California (Pa.) 28
A boxing match between heavyweights from their respective divisions. The teams traded blows in a closely contested game. The Vulcans ran one more play than Kutztown, while the Golden Bears had 40 yards more of total offense. The Vulcans ran one more play while the Golden Bears had one more first down; and only 2:20 separated the two teams in time of possession. Both teams had three interceptions. Kutztown scored first on a one play, 22-yard touchdown pass to tight end Jack Pilkerton following an interception. The Vulcans continued to tie up the game until pulling ahead in the third quarter with a 21-14 lead. After evening the score at 21 points each, Kutztown took advantage of a sack-fumble with a second, one play, 22-yard touchdown reception to take a 28-21 lead in the fourth quarter. Keeping with the ebb and flow of the game, the Vulcans evened the score at 28-28 following a 13-play, 80 yard drive that left just a little over two minutes in the game. Kutztown's tight end Jack Pilkerton bookended the game with a second touchdown reception with less than 20 seconds remaining in the game to give Kutztown the go-ahead score which they held on to.
East Stroudsburg 31, Seton Hill 18
The Warriors followed up their opening week, upset win over FCS Wagner with a solid win over Seton Hill. They scored on their opening drive to take a lead they would never relinquish. The Warriors had 421 total yards of offense--356 of which were all-purpose yards from quarterback Jake Cirillo. While they threw two interceptions, Seton Hill only managed to score three points off of those turnovers. While the Warriors' most difficult competition is yet to come, they are certainly enjoying a 2-0 start to the season.
Slippery Rock 54, Shippensburg 19
Shippensburg jumped out to a 10-0 lead. Slippery Rock shut down the Raiders' rushing attack, holding Shippensburg to just 45 rushing yards. Three more Shippensburg turnovers and 616 yards of total offense propelled Slippery Rock to score 48 unanswered points.
This Week's Games
Seton Hill at West Chester
West Chester took care of Gannon in convincing fashion a week ago, and now they face a Seton Hill team that lost to East Stroudsburg last week. Aside from their 14-7 win over Bentley, the Golden Rams are benefiting from a soft opening to their PSAC schedule. West Chester will likely need to get in their own way and trip over themselves to lose this game. West Chester's biggest tests may not come until mid-October.
West Chester 48, Seton Hill 14
Gannon at Kutztown
Kutztown earned a hard-fought win against California (Pa.) a week ago. Kutztown is trying to establish themselves as one of the top teams in the PSAC-East. They destroyed Assumption (NE-10) and again, defeated the Vulcans on the road. The Golden Bears have their struggles though--they were limited to 46 rushing yards and threw three interceptions. Gannon has scored 14 points in both of their games this season, while Kutztown has scored no less than 35 points. This game should be an opportunity for Kutztown to work on stuff in preparation for next week's matchup against Shepherd.
Kutztown 45, Gannon 14
Shippensburg at California (Pa.)
Shippensburg travels to California (Pa.) already 0-2 against the PSAC-West. The Raiders also enter the game with six turnovers; three in each of their opening two games. Shippensburg needs to find a running game as they are averaging just a little bit over 50 rushing yards per game so far this season. It's going to take a mistake-free, complete performance from Shippensburg to beat the Vulcans. If the Vulcans are still in mourning from a tough loss against Kutztown, or taking Shippensburg for granted as they look ahead to the PSAC-West competition beginning next week, then the Raiders may have a chance.
California (Pa.) 43, Shippensburg 20
Shepherd at Clarion
Shepherd was close to beginning the season 0-2, and one would have to dig deep into the archives to find the last time that may have happened. But the Rams held tough with two defensive stands late in the game to hold off Mercyhurst a week ago. While Shepherd limited the turnovers, they returned to old form by giving up nearly an entire football field in penalty yards. Clarion opened the season against Shippensburg and is currently 2-0 against the PSAC-East. Last week they had over 200 rushing yards and six passing touchdowns. Despite Clarion being projected to finish seventh in the PSAC-West and Shepherd second in the PSAC-East, this game may find the opponents relatively evenly matched. Shepherd should be able to beat Clarion, but the Rams once again find themselves on the road and mistakes may come with a high price to pay.
Shepherd 30, Clarion 28
Edinboro at East Stroudsburg
The Warriors find themselves undefeated through the first two weeks of the season. The question is whether or not they can build on that momentum. They enter this week on the heels of a 31-18 victory over Seton Hill; while Edinboro is recovering from a close loss to Bloomsburg last week. I would like to see more balance from the Warriors this week--and if they can replicate their numbers with balance they may prove to be a difficult out for the Fighting Scots. Last week East Stroudsburg had 421 total yards of offense, but 356 of that came from quarterback Jake Cirillo alone. This game may prove though, that his dual-threat capabilities make it tough for opponents to defend. Bloomsburg only had 267 total yards of offense last week against Bloomsburg. This is a tough one to call, and will be a key game toward giving the winner's division bragging rights.
East Stroudsburg 27, Edinboro 24
Mercyhurst at Bloomsburg
Another one of this week's PSAC matchups that is tough to call. Bloomsburg earned a close win over Edinboro a week ago, but the Huskies' stats aren't overwhelmingly impressive. Mercyhurst only had 21 rushing yards last week, but Bloomsburg gives up a few more rushing yards per game. The next question is whether or not Mercyhurst's passing game is better than Edinboro's, or is Bloomsburg's passing defense much better than the Rams' defense faced by Mercyhurst a week ago. Mercyhurst nearly pulled off the victory over Shepherd--and they had a couple of late-game chances to do so. This game will truly come down to which team limits their mistakes and capitalizes on their opportunities. Interestingly, both teams have scored 38 total points over the first two weeks of the year.
Mercyhurst 21, Bloomsburg 20
Lock Haven at Indiana (Pa.)
Lock Haven started the season with a blowout win, but the results grew ugly as soon as they faced PSAC competition. They lost last week by 28 points to Clarion, and this week they face a Crimson Hawks team that destroyed Millersville. They say history repeats itself, and the pundits project Lock Haven to continue finishing as one of the bottom tier teams in the PSAC-East. A strong finish against the Crimson Hawks would likely turn some heads, but until that happens one has to believe Indiana (Pa.) continues to benefit from what appears to be a soft PSAC opening themselves.
Indiana (Pa.) 54, Lock Haven 10
Millersville at Slippery Rock
Similar to Lock Haven, Millersville kicked off their season with a win over a non-conference opponent. As soon as the Marauders faced PSAC competition, however, early returns correlate with pre-season projections. It's difficult to believe the team that was shutout a week ago against the Crimson Hawks will fare much better against a team that defeated Shippensburg by 35 points last week.
Slippery Rock 50, Millersville 7
Good morning to you, good evening from here!
For feedback or inquiries, I can be reached at [email protected]