PSAC East - Week Four Preview
September 24th, 2019 8:00am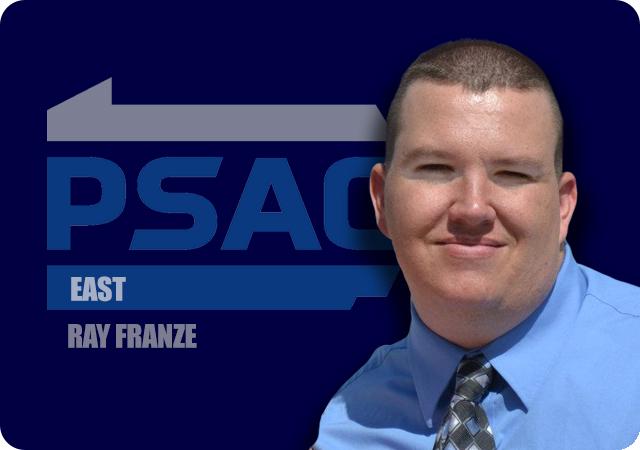 The cross-divisional games are behind us until the final week of the regular season. For now the PSAC East enjoys a 9-8 edge against their opponents from the western side of the state. We find ourselves far enough into the season to have a good idea of what each team brings to the field this season. Undefeated East Stroudsburg has been a pleasant surprise under new head coach Jimmy Terwilliger while Shippensburg has experienced a disappointing slide backwards thus far. Regardless, the race to represent the PSAC East in the conference championship begins this coming week and its essentially a new season with each team 0-0 in division play. West Chester, Kutztown and Shepherd are likely to be the favorites heading into the seven-game stretch against division opponents. It's going to be fun to watch and fun to talk about ....
On an unrelated note, congratulations to Frostburg State for their 3-1 record including an overtime win on the road against Fairmont State tonight. What a beginning to their short tenure at the NCAA Division II level and Mountain East Conference.
Last Week's Games
West Chester 29, Seton Hill 0
Limited to 49 first quarter yards and two punts, West Chester managed a 2-0 lead before getting things going early in the second quarter. For the past two weeks the Golden Rams scored their first points on defense--an interception return against Gannon and a safety this past week against Seton Hill. West Chester held Seton Hill to 112 total yards and 20% on third-down conversions. This was West Chester's first shutout since late 2016 against Millersville; and the first time Seton Hill failed to score any points since 2013 in a loss to IUP.
Kutztown 35, Gannon 10
For the second week in a row, Kutztown put up 35 points aginst its PSAC West opponent. The Golden Bears' defense limited Gannon to just three offensive points as their touchdown came on a fumble recovery returned 80 yards for the score. Gannon enjoyed moderate success through the air against Kutztown, but was limited to 56 rushing yards. The fourth quarter was relatively sloppy as both teams committed to of their three turnovers in the final 15 minutes of the game.
California (Pa.) 58, Shippensburg 7
Shippensburg limited the Vulcans to 74 yards of offense and 7 points in the opening quarter. Following the first quarter though, the Raiders gave up 437 yards during which they gave up six offensive touchdowns, an interception returned for a touchdown and a field goal. The Raiders gave up four turnovers, but the Vulcans only converted 14 points following two interceptions, turning the ball over on downs after each of their two fumble recoveries. Shippensburg was held to 34 rushing yards on 29 carries averaging 1.2 yards per carry with their ground game; and only converted 2 of 15 third downs.
Shepherd 40, Clarion 24
Shepherd got off to a slow start watching Clarion jump out to a 10-6 lead early into the second quarter. The Rams then scored 34 unanswered points before Clarion put together a pair of touchdowns late in the fourth quarter. Aiding Shepherd's scoring was four Clarion interceptions which the Rams converted into 17 points. Not a strategy worth advocating, but Shepherd's big wins often come win many penalties and this game was no different as Shepherd had 16 penalties for 157 yards by the end of the game.
East Stroudsburg 34, Edinboro 14
These two teams strung together some relatively even statistics in this contest. The Warriors' 128 rushing yards were only five better than Edinboro's 123. Only 42 yards of total offense separated the teams. Edinboro was 7-of-13 on third downs while East Stroudsburg was 8-of-14. Yards per play came out to be 5.4 and 5.5 in favor of the Warriors. The significant differences was Edinboro turning the ball over four times and going two-for-four in the red zone while East Stroudsburg maintained ball security and was a perfect six-for-six inside the opponent's 20 yard line.
Mercyhurst 38, Bloomsburg 24
Each team had a pair of turnovers, two interceptions for Mercyhurst and two fumbles for Bloomsburg. Each only managed to score seven points off of those turnoveres. Bloomsburg fumbled following one of the interceptions and Mercyhurst missed a field goal following their other fumble recovery. Bloomsburg struggled to keep Mercyhurst out of the backfield as the Lakers sacked quarterback Logan Leiby six times. The Huskies only managed to get inside the red zone twice compared to Mercyhurst's six visits. And while Bloomsburg put up 24 second half points, they allowed 31 unanswered points in the beginning that put them in a hole just too deep to overcome.
Indiana (Pa.) 77, Lock Haven 14
Too little, too late for Lock Haven. The Bald Eagles scored their first and last touchdowns when IUP had had 49 and 56 points respectively. Lock Haven had no answer for the Crimson Hawks' offense. Lock Haven gave up over 600 yards of offense. IUP only had seven third-down attempts because they were averaging 9.5 yards per play--also a reason why they never punted during the game.
Slippery Rock 49, Millersville 0
Millersville had only been shut out once during the previous two seasons, yet this was the second time they failed to score points in consecutive weeks this season. Millersville only had two turnovers in the game--not enough to be a difference maker in this game. The Marauders were only successful on 20% of their third down attempts and 0-3 on fourth down attempts while allowing Slippery Rock to convert on 50% of their third downs.
This Week's Games
Kutztown at Shepherd
The PSAC East game of the week. The Golden Bears find themselves 3-0 heading into division play. They destroyed the NE-10's Assumption Greyhounds in the opening week, defeated California (Pa.) in a back-and-forth battle and the following week, and recently defeated Gannon. The Rams lost a close home opener against the GMAC's Ohio Dominican, but followed that up with back-to-back road wins against the PSAC-West's Mercyhurst and Clarion. In many categories the two teams find themselves near each other like total offense and total defense. In other areas each team has a weakness that matches up against the other teams's weakness. For example, Shepherd doesn't rank well in third down conversions, but at the same time Kutztown doesn't rank well on stopping opponents on third down. The winner will have an inside lane toward the PSAC crown as these are two of the PSAC-East's best teams. The stadium is likely to be crowded as it's Shepherd's homecoming and the significance of the matchup leads me to think Kutztown fans may travel in large numbers. While Kutztown leads the division in offensive points per game, an emotionally charged Ram Stadium provides a home-field advantage to help Shepherd come away victorious.
Shepherd 36, Kutztown 32
West Chester at Millersville
West Chester prevented Seton Hill from scoring any points last week. Millersville has failed to score any points in its previous two games. The Marauders may have difficulty scoring any points this week against a Golden Ram defense that is first in the conference in scoring defense allowing 7.0 points per game, and second in the conference (first in the division) in total defense (253.3 yards per game) and passing defense (147.3). The Golden Rams' offensive statistics are fairly pedestrian, but as long as they avoid turnovers they shouldn't require much offense in this game.
West Chester 33, Millersville 7
Bloomsburg at Shippensburg
Shippensburg finds itself winless entering week four; which probably no one would have predicted prior to the season starting. The Raiders are the only team in the PSAC-East to play a PSAC-West opponent during each of its first three games. They opened with a 20-point loss against Clarion and then things got progressively worse as they lost to Slippery Rock by 35 and California (Pa.) by 51. In fairness to Shippensburg, they had arguably the toughest opening three-game stretch of any team in the division--but the degree to which they lost is probably what is most surprising. The good news for Shippensburg is this week kind of marks a new season. Their record within the division is 0-0 like the seven other teams; and if they can right the Ship (pardon the pun) quickly, perhaps they can challenge for the PSAC-East crown. They are pretty much at the bottom of giving up first downs and achieving their own--not a good combination. The Huskies aren't faring much better averaging 2.8 yards per carry compared to the Raiders 1.8. Neither team has a running back with over 100 rushing yards total after three games. The biggest difference is Shippensburg has turned the ball over 10 times already, Bloomsburg only has three. If Shippensburg can clean up their turnovers, this could be the game they finally find the win column.
Bloomsburg 28, Shippensburg 17
East Stroudsburg at Lock Haven
Lock Haven destroyed Lincoln (Pa.) in the opening week of the season, but they've been humbled the past two weeks against Clarion and Indiana (Pa.). East Stroudsburg opened the season by upsetting NCAA Division I FCS Wagner on the road--and they've followed that with two additional wins against PSAC-West opponents Seton Hill and Edinboro. Look for a lot of yards gained on the ground in this game. Lock Haven features the top rushing offense statistically in the PSAC-East averaging 172.7 yards per game while East Stroudsburg is 3rd in the division with 139.3. Both teams' rushing defenses rank toward the bottom. East Stroudsburg does a better job protecting its quarterback, giving up only two sacks through three games which is tied for first with Shepherd in the division. While the Warriors don't have a lot of flashy stats at this point in the season, what they do have is confidence and momentum behind first year head coach Jimmy Terwilliger. Conversely the Bald Eagles are likely afraid the season is going to be more of the underwhelming same after the past two games. Lock Haven beat East Stroudsburg 44-41 a year ago, and has one two of the last three, but one can't help feeling a turning of the tide.
East Stroudsburg 38, Lock Haven 20
Questions or Comments? Reach out to me at [email protected] I'm looking forward to getting back to EDT; and if you take the time to read my posts ...
Mahalo!