PSAC East Week Five Preview
October 2nd, 2019 8:00am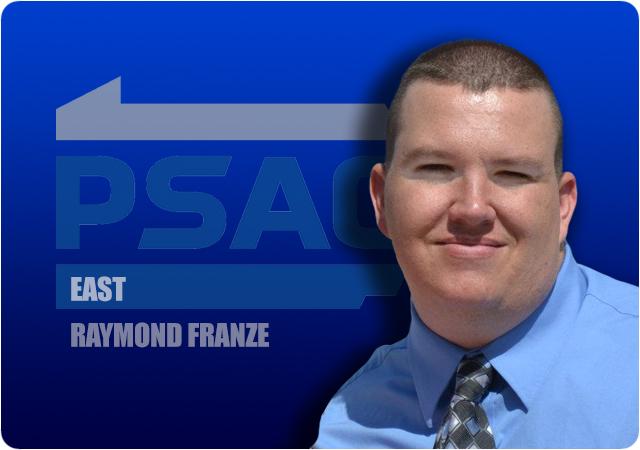 We are a week into the divisional rounds of the regular season. Shippensburg picked a good time to get into the win column; of course there is a lot more football to be played. Two teams from the PSAC East moved up in the polls--West Chester moved up to 13th and Kutztown entered the list at 25th after being not ranked just a week ago. The Kutztown-Shepherd game did not disappoint as it went down to the wire and East Stroudsburg in having the best start to a season since 2008 when they started 5-0.
A look at the division standings, PSAC East teams in the D2Football.com Top 25 poll, last weeks games and this week's matchups ....
PSAC East Standings
| | | |
| --- | --- | --- |
| TEAM | DIVISION | OVERALL |
| East Stroudsburg | 1-0 | 4-0 |
| Kutztown | 1-0 | 4-0 |
| West Chester | 1-0 | 4-0 |
| Shippensburg | 1-0 | 1-3 |
| Shepherd | 0-1 | 2-2 |
| Bloomsburg | 0-1 | 1-3 |
| Lock Haven | 0-1 | 1-3 |
| Millersville | 0-1 | 1-3 |
D2 Football Top 25
| | | |
| --- | --- | --- |
| Team | Rank | Prev. |
| West Chester | 13th | 15th |
| Kutztown | 25th | NR |
Last Week's Games
West Chester 48, Millersville 7
Millersville gave up five turnovers and watched West Chester run away with the game as the Golden Rams scored 41 unanswered points early into the final quarter of the game. West Chester held Millersville to seven total rushing yards while the Golden Rams had 245 rushing yards on 53 carries. West Chester averaged a rushing touchdown every 10 carries. West Chester's defense had nine Tackles for Loss including five sacks and continue to remain undefeated.
Shippensburg 30, Bloomsburg 15
The Shippensburg Raiders rewarded the approximately 5,000 fans who showed up on Parents Day by scoring their first victory of the season. In fairness to Shippensburg, the front-end of their schedule included a couple of the PSAC's toughest perennial chart toppers. Bloomsburg had difficulty stopping the Raiders' running game which ran for over 220 yards; averaging just shy of a first down every two runs. Shippensburg had the only turnover of the game, but following the Raiders' fumble their defense held Bloomsburg to another three-and-out. Running back Luke Durkin had 31 carries for 172 yards. Shippensburg got out to a 20-0 lead early in the 2nd quarter behind two passing touchdowns which was enough as neither team scored throughout the third or much of the 4th quarter.
Kutztown 34, Shepherd 27
Shepherd marched 91 yards in 13 plays on their opening possession and taking a 7-0 lead. Following Kutztown's only turnover, a fumble, Shepherd scored a second touchdown to take a 14-0 lead. The Rams did most of their damage through the air evident by 22 of their 28 first downs coming via the passing game. Quarterback Tyson Bagent completed almost 80% of his passes for a total of 385 yards prior to coming out of the game due to an injury near the end of the game. Unfortunately for Shepherd, the Rams committed four turnovers over the course of the game which Kutztown converted into 14 points. Shepherd came out of halftime with a 17-12 lead. During a 13-minute stretch the nearly 6,000 fans would watch the lead change hands three times. Officiating and game clock management from the booth was very suspect and had the fans up in arms often throughout the game. The four turnovers, 16 penalties for 124 yards and late scores by Kutztown proved to be too damaging for Shepherd to overcome. The Rams continue to wait for the rushing game to get going.
East Stroudsburg 63, Lock Haven 14
The Warriors remain undefeated following a big win over the Bald Eagles. East Stroudsburg jumped out to a 28-0 lead early into the second quarter; entering halftime with a 42-7 lead following an 83-yard blocked field goal return for a touchdown at the end of the half. Quarterback Jake Cirillo was a big part of the win completing over 80% of his passes for 280 yards and five touchdowns--with wideout Javier Buffalo being Cirillo's favorite target hauling in six catches for 118 yards and three touchdown receptions.
This Week's Games
Shepherd at Lock Haven
The final scheduled Thursday night game for the PSAC takes place this week in Lock Haven, Pennsylvania. Under the lights Shepherd seeks to move past last week's home loss to Kutztown and remain a viable contender for the PSAC East crown. Lock Haven is allowing its opponents to score an average of 50 points per game. Shepherd's quarterback Tyson Bagent was banged up and didn't finish out last week's game. It may not be a huge blowout, but Shepherd should still be able to pick up its first divisional win this week against the Bald Eagles.
Shepherd 38, Lock Haven 13
Millersville at East Stroudsburg
East Stroudsburg looks to continue their win streak this week against the Marauders. A win this week would tie their best start since 2008 when they began 5-0. While the Warriors are playing inspired football full of confidence, expectations should be tempered by looking at their opponents thus far. East Stroudsburg's opponents to date have an overall record of 2-14, 3-17 if you add Millersville's record. Millersville averages 7.0 points per game thanks to a 21-point game against Pace in the opening week. The Marauders have only scored seven points over the past three weeks. Meanwhile the have given up over 40 points per game and their rushing game averages less than 50 yards per game. East Stroudsburg has a great opportunity to move ahead to 5-0 as long as they don't simply ignore Millersville while looking ahead to next week's matchup against Kutztown.
East Stroudsburg 38, Millersville 14
West Chester at Shippensburg
Despite a slow start due to a tough opening schedule which included road trips to Slippery Rock and California (Pa.), Shippensuburg enters week five undefeated in division competition. The schedule doesn't get easier for the Raiders as they host undefeated West Chester. West Chester has defeated their opponents by an average of 27 points, doing most of their damage with their rushing offense and all-around defense. The one weakness for the Golden Rams is turnovers--they have turned the ball over 10 times over the first four games. West Chester should be able to win this game as long as they don't hand the game over to Shippensburg with a handful of turnovers.
West Chester 36, Shippensburg 17
Kutztown at Bloomsburg
Bloomsburg has a tough task at home this weekend hosting a Kutztown team that is undefeated on the season with impressive wins over California (Pa.) and Shepherd. The Golden Bears average nearly 40 points per game, 168 rushing and 314 passing yards per game. Their offensive effeciency is evident with an approximate 60% third-down conversion rate. Quarterback Collin DiGalbo is a dual-threat option who leads his team in carries. Kutztown doesn't exactly have a shut-down defense, but their offense is capable of out-pacing just about any opponent at this point. Bloomsburg averages half of the points per game, rushing yards and passing yards per game achieved by their opponent in this matchup.
Kutztown 46, Bloomsburg 18
Hit up the mailbag: [email protected]