PSAC East - Week Eight Preview
October 22nd, 2019 8:00am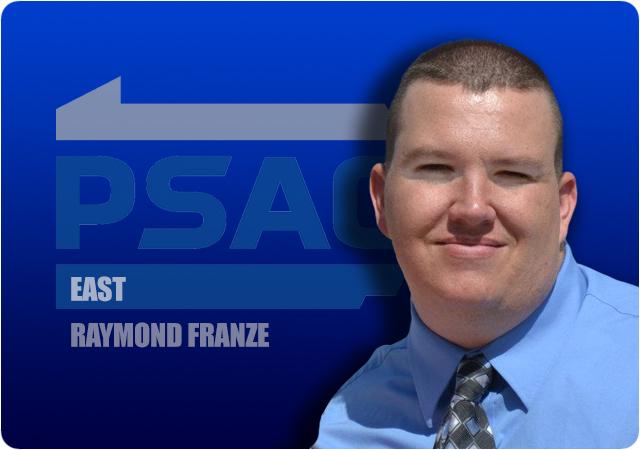 After week seven, the Kutztown Golden Bears find themselves as the lone undefeated team in the PSAC East. A win in each of their next two matchups should be enough to solidify a spot in the PSAC conference championship. Shepherd helped as they won against West Chester, who up to that point was also undefeated and ranked 13th in the D2Football.com Top 25 poll. As we enter week eight, we near the initial release of the Regional Rankings where we ultimately set the field for the post-season. Below the matchup coverage you will find a list of teams in Super Region 1 currently sitting with two or fewer losses--all of whom have at least an outside chance of making the playoffs.
A look at the division standings, PSAC East teams in the D2Football.com Top 25 poll, last weeks games and this week's matchups ....
PSAC East Standings
| | | |
| --- | --- | --- |
| TEAM | DIVISION | OVERALL |
| Kutztown | 4-0 | 7-0 |
| West Chester | 3-1 | 6-1 |
| Shepherd | 3-1 | 5-2 |
| East Stroudsburg | 2-2 | 5-2 |
| Shippensburg | 2-2 | 2-5 |
| Bloomsburg | 1-3 | 2-5 |
| Millersville | 1-3 | 2-5 |
| Lock Haven | 0-4 | 1-6 |
D2 Football Top 25
| | | |
| --- | --- | --- |
| Team | Rank | Prev. |
| Kutztown | 18th | 22nd |
| West Chester | 22nd | 13th |

Last Week's Games
Shepehrd 35, West Chester 23
Shepherd handed West Chester its first loss of the season last Saturday. Shepherd jumped out to a 14-0 lead thanks to two early turnovers by West Chester and a pair of lengthy touchdown receptions by Devin Phelps (4-109-2). Twice Shepherd had a 14-point lead in the first half, ultimately heading into the locker rooms holding onto an 11-point lead. West Chester pulled within 4-5 points twice, but each time Shepherd responded with strong defensive play and putting more points on the board to widen their lead. West Chester's Ja'Den McKenzie (33-179-2) proved difficult to bring down, but Shepherd was able to limit West Chester's passing game to just 121 yards and three interceptions. Shepherd's passing game was back to true form as quarterback Tyson Bagent (21-32-413-3-2) connected with eight different receivers, Devin Phelps and Dylan Brewer (7-99) being his favorite targets. While Shepherd's rushing yardage (116) isn't spectacular, their running backs were huge throughout the game. They averaged nearly four yards per carry, and they came through at key moments. Deonte Glover bounced around to the left for a 24-yard touchdown run to pull ahead in the second half, and Ty Hebron took a short pass 70 yards to increase their lead earlier in the first half. Shepherd's defense came up with a huge stop during a two-point conversion attempt late in the game and sacks at pivotal moments, followed by a huge kickoff return by Glover that put the Rams in great position to answer back with a score of their own and keep the pressure on West Chester. Both teams combined for nine turnovers on the day--five for Shepherd and four from West Chester; mistakes that need cleaned up if they hope to slip into the post-season and challenge the region. This game was the good battle many expected it to be and both teams have an outside chance to represent the PSAC East in the conference championship--though needing some help in the form of a few losses for Kutzotwn.
Kutztown 35, Lock Haven 12
Despite five turnovers in this game, only one was converted into points. Kutztown had four different players score a rushing touchdown. While Lock Haven kept pace on the ground (120-99 yards), the Golden Bears amassed more than twice the passing yards than Lock Haven (259-113). Kutztown's 75% completion percentage and 14 passing first downs helped them hold onto the football over a full quarter longer (37:49 - 22:11) than Lock Haven--wearing down Lock Haven's defense and limiting the Bald Eagles' opportunities to mount a comeback. Kutztown outscored Lock Haven 21-6 in the first half, and 14-6 in the second half and are now the sole undefeated team in the division.
Bloomsburg 22, East Stroudsburg 17
East Stroudsburg limited the Huskies to just six offensive points via two field goals. On an ordinary day, chances would be good that information was indicative of an East Stroudsburg victory. Bloomsburg's defense and special teams earned their keep as they accounted for 16 of the Huskies' 22 points, doing enough to propel them to victory. Bloomsburg recovered a bad snap in the end zone for a touchdown, recorded a safety due to a sack in the end zone and they returned the free kick 87 yards for a touchdown. East Stroudsburg outpaced Bloomsburg in total yards, passing yards, completion percentage first downs and offensive points, but they had just enough critical mistakes to let victory slip away from their grasp.
Shippensburg 27, Millersville 0
Shippensburg's interception, the lone turnover in the game, was possibly the only thing that kept this from being a perfect game for the Raiders. Shippensubrg spent two-thirds of their plays handing the ball off. And for good reason, running back Luke Dirkin (31-213-2) rushed for over 200 yards. While their passing yards (223) came close, it didn't quite match those acquired on the ground (236). But quarterback Brycen Mussina (18-26-223-2-1) and receiver Kyle Haines (8-120-2) helped provide a balanced attack. Add in six recorded sacks by the Raiders' defense, and Shippensburg gave its 6,000-plus fans something to be excited about this past weekend.
This Week's Games
Shippensburg at Kutztown
Kutzown is the only undefeated team in the PSAC East. The Golden Bears' next two games are at home against Shippensburg, and at West Chester. If they can win their next two games, they will de-throne West Chester and claim the top spot in the division, representing the PSAC East in the conference championship. The key this week for Kutztown is to not overlook Shippensburg while looking ahead to the West Chester matchup. Both Shepherd and West Chester had difficulty in each of their wins over the Raiders. Kutztown is the PSAC East's most complete team this year. Golden Bear quarterback Collin DiGalbo is second in the division to Shepherd's Bagent in passing completions and yards per game. He has a four-to-one touchdown-to-interception ratio. Kutztown has the best rushing defense in the division, and stopping Shippensburg's Luke Durkin will be a key to victory this week. Shippensburg will be a tough out, but Kutztown stays atop the divsion entering its matchup against West Chester.
Kutztown 38, Shippensburg 27
East Stroudsburg at West Chester
Both the Warriors and Golden Rams are looking to rebound following losses last week. East Stroudsburg outscored Bloomsburg offensively, but had several miscues that allowed Bloom's defense and special teams to score on a few occasions. East Stroudsburg started the season 5-0, but their schedule had the conference's more difficult opponents later in the season. Despite giving up more than 400 passing yards to Shepherd, West Chester still has one of the division's better defenses. One might argue West Chester was due for a loss. They have been prone to numerous turnovers each game, and they survived Shippensburg and Bloomsburg in the two weeks leading up to the Shepherd game. A Warrior win pretty much eliminates West Chester from sharing the top spot in the division even before their game against Kutztown. With a win, West Chester heads into a huge matchup against Kutztown with conference championship and playoff implications. West Chester should easily leave this game with a win, and one can be certain they are looking to avenge last week's loss. East Stroudsburg is riding a two-game losing streak, but they are still enjoying one of their best seasons in a while. A win here would be great for the team and the fan base.
West Chester 27, East Stroudsburg 20
Shepherd at Millersville
Shepherd still has an outside chance to make the conference championship game; and if they win each of their remaining games an okay chance at making the playoffs. The Rams are coming off of a big, upset win against the previously undefeated, #13 West Chester Golden Rams. Shepherd is showing a lot of passion and fight as the stakes couldn't be any higher each and every game going forward. Millersville's fans will likely get most of their enjoyment from the homecoming festivities. The Marauders have been shutout three times this season, scoring only seven points in two other games. They rank near the bottom of the division and conference in many key categories; and Shepherd shouldn't have any difficulty leaving with a win.
Shepherd 42, Millersville 13
Lock Haven at Bloomsburg
Lock Haven's offensive statistics might surprise people who simply look at their record--yet despite their best efforts with the football, the Bald Eagles have yet to win a division game. They are last in the PSAC East and only have one win to their credit so far this season, a 57-13 win over the CIAA's Lincoln University who loses by approximately 40 points per game this season. If Bloomsburg can put together more offensive points than the six they managed last week against East Stroudsburg, they should be able to earn their third win for the season. Lock Haven ranks last in the entire PSAC in Points Allowed, Rushing Defense, Passing Defense, and Total Yards Allowed. If Bloomsburg can limit their mistakes, they will likely treat their fans to an enjoyabe Saturday afternoon.
Bloomsburg 40, Lock Haven 18
Super Region 1 - Records of Potential Playoff Teams (Overall Records)
7-0 Kutztown
7-0 Notre Dame College
7-0 Slippery Rock

6-1 Frostburg State
6-1 Indiana (Pa.)
6-1 Tiffin
6-1 West Chester

5-2 Assumption
5-2 California (Pa.)
5-2 East Stroudsburg
5-2 Findlay
5-2 Shepherd
5-2 Urbana
5-2 WV State
4-2 OH Dominican
4-2 Pace
4-2 Stonehill

Go Nationals!!!!