PSAC East - Week Nine Preview
October 30th, 2019 8:00am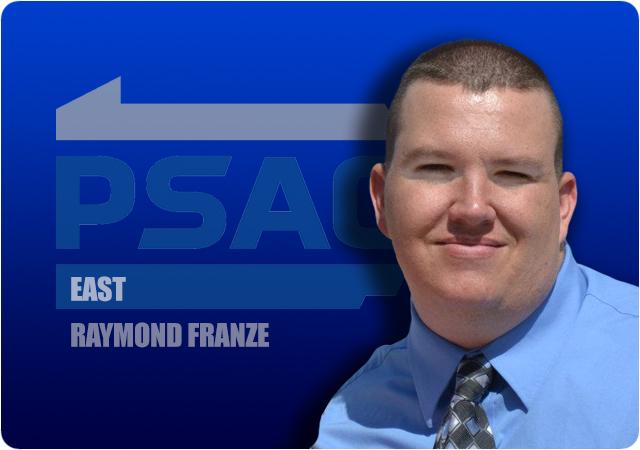 Two weeks remain before the PSAC Championship and the release of the final Regional Rankings. The PSAC East is having its division championship this week as Kutztown travels to West Chester with the hopes of unseating the defending division champs. Speaking of Regional Rankings, the first round of official post-season rankings were released and the PSAC East currently have two teams in the top seven with Shepherd sitting just outside. There is a lot of football yet to be played--a lot of difficult matchups around Super Region 1 with significant impact on the regional rankings coming up over the course of the next few weeks--the one thing you can count on is watching those rankings change each week.
I included the Super Region 1 rankings below the matchups. Also included is the list of all teams within Super Region 1 with two or fewer losses. This week I added the remaining opponents for each so you can create your own speculation about how the remaining weeks will play out with the games and the post-season slate of teams.
A look at the division standings, PSAC East teams in the D2Football.com Top 25 poll, last weeks games and this week's matchups ....
PSAC East Standings
| | | |
| --- | --- | --- |
| TEAM | DIVISION | OVERALL |
| Kutztown | 5-0 | 8-0 |
| West Chester | 4-1 | 7-1 |
| Shepherd | 4-1 | 6-2 |
| East Stroudsburg | 2-3 | 5-3 |
| Bloomsburg | 2-3 | 3-5 |
| Shippensburg | 2-3 | 2-6 |
| Millersville | 1-4 | 2-6 |
| Lock Haven | 0-5 | 1-7 |
D2 Football Top 25
| | | |
| --- | --- | --- |
| Team | Rank | Prev. |
| Kutztown | TBD | 18th |
| West Chester | TBD | 22nd |
Last Week's Games
West Chester 28, East Stroudsburg 21
West Chester survives another one to give themselves a fighting chance to defend their division crown. East Stroudsburg jumped out to an early 10-0 lead in a game where they out-paced the Golden Rams in rushing yards and total yards, nearly tied in first downs and passing yards, and committed fewer turnovers. While West Chester continued to hand the ball over via turnovers, the Golden Rams did a better job taking advantage of them. West Chester returned an interception for a touchdown for their first points of the game, and a subsequent interception put them in a good position to march down the field to take their first lead of the game. East Stroudsburg pulled within a point at the half as kicker Jordan Walters set a new PSAC record by making a 56-yard field goal. East Stroudsburg tied the game at 21-21 halfway through the third quarter, but fell short at the end of the game when West Chester led 28-21. West Chester's defense had 12 Tackles for Loss and four Sacks; holding the Warriors to nine three-and-outs.
Bloomsburg 54, Lock Haven 27
Lock Haven running back Chantz Swartz (22-135-2) had another game with more than 100 rushing yards, and the Bald Eagles scored 27 second half points. The problem is Bloomsburg scored an unanswered 38 points in the first half. The Huskies scored points on their opening six drives--five touchdowns and a field goal. They threw an interception on their final drive of the first half which was the only possession they didn't score on in the opening 30 minutes. Bloomsburg was 8-of-9 on third downs; and despite only running one more play than Lock Haven, they had 170 more yards. Half of quarterback Logan Leiby's (16-19-272-4-1) competions and touchdowns went to Michael Allen (8-164-2).
Shepherd 34, Millersville 10
Shepherd continued their fight to remain relevant in the playoff picture by defeating Millersville. The Rams scored touchdowns on their opening two possessions. Millersville then went to work by marching 50 yards on 12 plays to get into the red zone before turning the ball over on downs. At that point it looked like the score might get out of hand, but Shepherd's scoring offense stalled for most of the remainder of the first half--with two punts, two turnover-on-downs and a fumble for five of their remaining six first half possessions. Any comeback for Millersville was thwarted as the Rams' defense who forced five punts and an interception in the second half.
Kutztown 55, Shippensburg 5
Kutztown scored touchdowns on eight of it's twelve possessions. They limited Shippensburg to five punts, four turnover-on-downs and two interceptions. The Golden Bears held Shippensburg's Luke Durkin and company to just 92 rushing yards. Kutztown, on the other hand, had 335 rushing yards on eight fewer carries than the Raiders. Kutztown averaged nearly 12.0 yards with two 50+ yard touchdown runs in the game. Running back Abdul-Hassan Neblett had 203 yards on just 10 carries and four rushing touchdowns. Kutztown's win sets them up for a chance to clinch first in the division in next week's matchup againt West Chester.
This Week's Games
Kutztown at West Chester
With the assumption that Kutztown and West Chester can defeat Millersville and Lock Haven respectively in the following week, this is the 2019 PSAC East division championship. Barring something crazy, the winner of this game is going on to represent the PSAC East in the conference championship in a few weeks. Kutztown enters the game as the division's only undefeated team. West Chester suffered it's only loss a couple of weeks ago at Shepherd. West Chester sports one of the toughest defenses in the conference, but Kutztown is on their heels in those same categories. West Chester will rely on running back Ja'Den Mckenzie who leads the conference with 10 rushing touchdowns, and is near the top in carries and yardage. Kutztown's current rushing stats are a bit misleading as Abdul-Hassan Neblett accumulated a third of his total yards last week along against Shippensburg. The Golden Bears have the edge with a more potent passing attack. Each quarterback also poses as a threat to run, with each having over 65 carries and 300 rushing yards each. Kutztown's DiGalbo's 22 passing touchdowns are the most in the division, and his nine rushing touchdowns are second best. While the stats reveal an almost even matchup, there are a few key areas that paint a different picture. West Chester has turned the ball over 24 times compared to Kutztown's 10. West Chester escaped with victories by narrow margins against several of the division's weaker teams by record. Against common PSAC East opponents (Bloomsburg, East Stroudsburg, Shepherd, Shippensburg), Kutztown is 4-0 and outscored them 151-57. The Golden Rams are 3-1 against those same opponents only outscoring them by six points (100-94). The crown is passed to a new division champion this year.
Kutztown 35, West Chester 27
East Stroudsburg at Shepherd
The Warriors travel to Shepherdstown looking to put an end to their current three game skid. Shepherd still has a chance to make the playoffs,but they must win out to stay in the race. East Stroudsburg is averaging 17 points per game over that stretch; although their losses to Bloomsburg and West Chester were one-score games. Shepherd is averaging nearly twice as many points per game over their most recent three games. While Shepherd has a prolific passing game, their running game is beginning to heat up. It's Military Appreciation Day which means as long as the weather cooperates, fans will be treated to a fly-over by a C-17 Globemaster from the area's 167th Airlift Wing.
Shepherd 38, East Stroudsburg 20
Bloomsburg at Millersville
One hour further to the east is the Kutzton at West Chester matchup.
Bloomsburg 32, Millersville 17
Lock Haven at Shippensburg
Shippensburg lost by 50 points last week against the PSAC East's leader, Kutztown. The Raiders return home where both of their victories were earned. Lock Haven has yet to win against a PSAC opponent this year. The Bald Eagles have a stout running game. Running back Chantz Swartz leads the conference in rushing yards--the only running back in the conference to average 100 yards per game. As a team, Lock Haven has rushed for over 200 yards in half of their games. The problems are they've turned the ball over 18 times, and they allow an average of 50.0 points per game. If the Raiders can Lock Haven's running game while getting their own going with Luke Durkin, they may be able to give their fans one more in at home while keeping Lock Haven winless in the conference. Plus, isn't there some kind of property taught somewhere, in some class, about if Shippensburg defeated Millersville, and Millersville defeated Lock Haven, the laws of nature and math say that Shippensburg should defeat Lock Haven? And if it's a mathematical property, it has to be an absolute, right?
Shippensburg 32, Lock Haven 24
NCAA Division II Super Region 1 Regional Rankings
| | | | |
| --- | --- | --- | --- |
| Pos. | Team | In-Region | Overall |
| 1. | Kutzton | 8-0 | 8-0 |
| 2. | Slippery Rock | 7-0 | 8-0 |
| 3. | Notre Dame College | 8-0 | 8-0 |
| 4. | Indiana (Pa.) | 7-1 | 7-1 |
| 5. | West Virginia State | 6-1 | 6-1 |
| 6. | West Chester | 7-1 | 7-1 |
| 7. | Urbana | 6-2 | 6-2 |
| 8. | Shepherd | 6-2 | 6-2 |
| 9. | Tiffin | 7-1 | 7-1 |
| 10. | Ohio Dominican | 5-2 | 5-2 |
Super Region 1 - Records of Potential Playoff Teams (Overall Records)
8-0 Kutztown at West Chester, vs Millersville, vs Edinboro***
8-0 Notre Dame College at Frostburg State, vs Glenville State, at WV State
8-0 Slippery Rock vs California (Pa.), at Gannon, at Bloomsburg***

7-1 Frostburg State Not Eligible for Post-Season competition due to reclassification from Division III to Division II
7-1 Indiana (Pa.) at Seton Hill, vs Edinboro, at Shippensburg***
7-1 Tiffin vs Hillsdale, at Findlay

6-2 Assumption vs New Haven, at Saint Anselm
6-2 California (Pa.) at Slippery Rock, vs Seton Hill, at West Chester***
6-2 Shepherd vs East Stroudsburg, at Bloomsburg, vs Seton Hill***
6-2 Urbana at West LIberty, vs Fairmont State, vs Truman State
6-2 West Chester vs Kutztown, at Lock Haven, vs California (Pa.)***
6-2 WV State vs Charleston, at Wheeling, vs. Notre Dame College
5-2 OH Dominican vs Lake Erie, at Hillsdale

Go Nationals!!!!
Since you wait with a heightened anxiousness in anticipation of each post, I'd offer a heads up. Due to work-related issues, next week's column will be down to the wire late Friday night, late Saturday morning. But you understand, work feeds the money I use to keep buying those AOL disks so I can keep doing this each week. Which reminds me, it's time to disconnect, I think someone's been trying to call the house. :-)