PSAC East - Week Seven Preview
October 18th, 2019 8:00am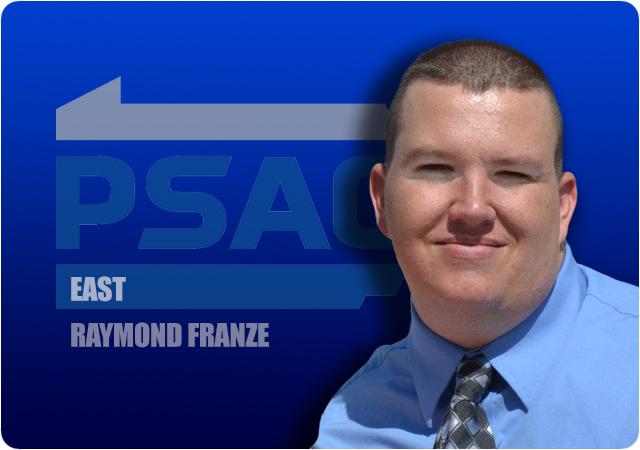 With six games in the books, we are over halfway through the regular season. Kutztown and West Chester share first place in the divsion, both undefeated to this point. East Stroudsburg's record still puts them in contention, but they will have to defeat the stronger teams to stay near the top as they still have Shepherd and West Chester ahead on their schedule. Shepherd is still in the hunt, but they are in a must-win situation through the end of the season to try and maintain an outside chance of getting into the playoffs. A share of First Place in the division may still be possible depending on how things shake out around the PSAC East going forward. As we enter the back side of October, the excitement heightens as the conference championship and post-season landscape begins to take shape--and of course many have fun with the multitude of what-if scenarios.
A look at the division standings, PSAC East teams in the D2Football.com Top 25 poll, last weeks games and this week's matchups ....
PSAC East Standings
| | | |
| --- | --- | --- |
| TEAM | DIVISION | OVERALL |
| Kutztown | 3-0 | 6-0 |
| West Chester | 3-0 | 6-0 |
| East Stroudsburg | 2-1 | 5-1 |
| Shepherd | 2-1 | 4-2 |
| Millersville | 1-2 | 2-4 |
| Shippensburg | 1-2 | 1-5 |
| Bloomsburg | 0-3 | 1-5 |
| Lock Haven | 0-3 | 1-5 |
D2 Football Top 25
| | | |
| --- | --- | --- |
| Team | Rank | Prev. |
| West Chester | 13th | 13th |
| Kutztown | 22nd | 23rd |
Last Week's Games
Millersville 48, Lock Haven 23
Lock Haven took control of this game from the very beginning. They took the opening kickoff and marched their way down inside the red zone when and where things began to unravel for them. Following the fumble on the quarterback keeper, Millersville spent the first quarter completing touchdown passes of 47, 33 and 70 yards enroute to a 21-0 lead by the end of the quarter. Lock Haven took advantage of the Marauders' only turnover of the game by completing its second consecutive 80-plus yard drive to make a game of it at 14-21. Millersville pulled away by scoring touchdowns on its first two possessions of the second half. While Millersville was dominant through the air, 26-34-444-6-1, Lock Haven stuck with the ground game 50-233-2-3. The Bald Eagles' three fumbles certainly didn't help matters.
West Chester 20, Bloomsburg 17
West Chester continues its successful run through the PSAC East as it attempts to successfully defend its title as division champs. It hasn't exactly been pretty or easy though. This week they narrowly escaped with a three-point win over the Huskies who held a 7-6 lead at halftime and was in the midst of a 10-play drive at the end of the fourth quarter trying to pull ahead when they fumbled the ball, and any chance of a win, away. West Chester has been prone to turnovers lately, and this week was no different with two interceptions thrown. The Golden Rams' top-ranked defense came through each time however, forcing three-and-outs after each turnover not allowing the Huskies to turn those miscues into points.
Shepehrd 32, Shippensburg 30
For the second week in a row, Shippensburg narrowly defeated one of the PSAC East's projected top finishers. The week prior it was a close game against West Chester. This week the Raiders had the lead going into the waning minutes of the game only to watch Shepherd put together perhaps its most efficient drive of the game and snatch victory for themselves. The game saw 10 lead changes as the teams traded punch for punch. The Rams ended up getting all of their points from the running game with five rushing touchdowns. Shippensburg quarterback Brycen Mussina (28-37-409-3-0) out-dueled Shepherd's Tyson Bagent (27-39-337-0-2) in the air--completing more passes on fewer attempts for more yards and a much better touchdown-to-interception ratio. But it was Shepherd's final eight play, 80-yard drive during which they never had a 3rd down that gave them the final lead with less than a minute to play in the game ... and keep post-season ambitions alive.
Kutztown 35, East Stroudsburg 13
East Stroudsburg was one of only a few, if not the only, undefeated team that had yet to crack the Top 25 poll. While their 5-0 run to open the season was awesome to see and great for the program, the Warriors had yet to face the strongest teams in the division or conference--the exception being an opening win over a Division I FCS opponent. Kutztown was going to be East Stroudsburg's most difficult test of the season thus far. Kutztown wasted no time rushing for a 69-yard touchdown on its opening play of the game. The Golden Bears went on to score touchdowns on each of its first five possessions while limiting the Warriors to two punts, a fumble and a field goal in between. Kutztown quarterback Collin DiGalbo had more carries than he had passing completions or attempts--rushing for nearly 100 yards on 21 carries. East Stroudsburg was limited to 50 rushing yards; and they had to settle for a lot of underneath routes as they averaged 4.6 yards per pass attempt, 7.1 yards per completion. With this win, Kutztown sets itself up for a big showdown against West Chester in a game that will very well determine the PSAC East champion.
This Week's Games
West Chester at Shepherd
The biggest game in the PSAC East this week. If West Chester wins, they will likely have a de facto Division Championship game against Kutztown in two weeks. If Shepherd wins, they linger around the playoff picture and become huge Golden Ram fans in two weeks when West Chester plays the Golden Bears. Shepherd has homefield advantage. For those able to make the game, you will have Shepherd's top ranked passing offense up against West Chester's top ranked passing defense. West Chester's rushing game ranks second in the division and third in the conference--and they are facing Shepherd's tough run defense which ranks second in the division. Shepherd's pass defense doesn't rank overly well, but neither does West Chester's passing offense. West Chester's quarterback is a dual-threat option who runs a good bit, so shutting him down on the ground and forcing the pass will be a key to winning for Shepherd. Both teams have turned the ball over far too many times for a pair of teams who try to represent the best competition the PSAC has to offer. The self-inflicted wounds may very well be the key stat that defines this game. Plan on a defensive slugfest that doubles as an emotional roller coaster for the players, coaches and fans of both teams. I wonder if Coach McCook is using history inspiration for seeking revenge. I believe the last two times these teams faced each other was a Super Region 1 final in Shepherdstown where the West Chester Golden Rams left victorious.
This week, my money is on the Rams! Both teams barely got by Shippensburg, but West Chester also barely escaped Bloomsburg ... and if they're ripe for the picking, it's now.
Shepherd 24, West Chester 20
Millersville at Shippensburg
Both of these teams were schedulded against the stronger PSAC West teams at the beginning of the season. Despite the schedule, Shippensburg probably didn't envision having only one win to their credit through six games--and seeing Millersville have more wins by this point in the season. Millersville is coming off its second win of the season, its latest against Lock Haven. Shippensburg suffered a late, heart-breaking defeat against Shepherd last week--and they had a significant chance at defeating favored West Chester the week before that. Shippensburg should fare much better running against the Marauders than they did against Shepherd, and if Brycen Mussina can pass for over 400 yards and three touchdowns again, Shippensburg should be able to give their fans a lot to cheer about this Saturday.
Shippensburg 37, Millersville 17
Bloomsburg at East Stroudsburg
This game presents East Stroudsburg with a solid rebound opportunity following last week's lost to Kutztown. The Huskies are currently 1-5, and they've only been able to score 20+ points against PSAC West opponents. East Stroudsburg will face West Chester and Shepherd after this matchup. Bloomsburg presents an opportunity to regroup and rebuild some momentum as the Warriors look to stake a claim higher up in the division than they're recently accustomed. East Stroudsburg ranks pretty high in several major categories, but similar to being undefeated and not ranked, in part the results are due to the harder part of their schedule having yet to be played. In fairness to the Warriors though, the Kutztown loss aside, they have played incredibly well against their opposition to this point which is all anyone can ask. Bloomsburg on the other hand leaves you with the sense that they are still trying to establish an identity at this point in the season. It's homecoming week in the Poconos, and the Warriors will hand Bloomsburg their first losing season in 20 years (did I read that correctly--since 1998?).
East Stroudsburg 38, Bloomsburg 22
Kutztown at Lock Haven
Statistically Lock Haven has the conference's best running game--averaging 194 rushing yards per game. Unfortunately for the Bald Eagles, Kutztown is one of the most well-rounded teamsin the PSAC at the moment. The Golden Bears are no worse than third in the division in practically every major offensive and defensive category--ranked no worse than fifth in those same categories among all teams in the PSAC regardless of division. Kutztown shouldn't have any issues rolling past the team that suffered a bad defeat against Millersville last week--so long as they maintain their focus and don't look ahead to the West Chester matchup on their horizon.
Kutztown 52, Lock Haven 18
I missed last week, and I apologize for that. I was behind on putting together comments for each matchup, and then some technical issues crept up at the 11th hour. Fortunately this conference is amazingly active on the message boards keeping each other glued in to the conference's happenings. Hate mail can be sent to: [email protected] :-)