PSAC West Week 10
November 8th, 2019 12:00pm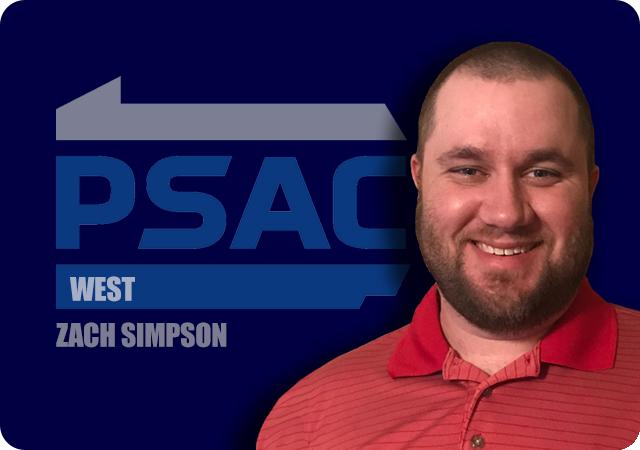 PSAC Week 10
The final weekend of divisional play has arrived, after this week all of the student athletes in our division will have played their final regular season home games. We still have two clubs striving for an NCAA playoff berth, the IUP Crimson Hawks and the Slippery Rock Rock. After California's tough lose to now PSAC West Champion Slippery Rock last week the Vulcans will be on the outside looking in come selection Sunday in two weeks.
Last week we saw some great games as Cal U hung with Slippery Rock much longer than anyone expected mounting a 14 point second half comeback to tie the game only to allow Rolland Rivers to drive the Rock back down the field for a last second field goal to win not only the game but the PSAC West Championship. Edinboro continued their hot streak of late with a seven point victory over Clarion. IUP handled Seton Hill and Mercyhurst won the "Niagara Cup" with a convincing 28-7 victory over rival Gannon.
This week we see some great matchups as teams look to close out the division season on strong notes, in the east Kutztown clinched the division championship last week with a 30-17 victory over West Chester. This week we see exciting matchups on the eastern side of the commonwealth as well.
Week 10 PSAC Schedule:
Mercyhurst at Clarion
#9 Slippery Rock at Gannon
Edinboro at #20 IUP
Millersville at #17 Kutztown
West Chester at Lock Haven
Shepherd at Bloomsburg
Seton Hill at California
Shippensburg at East Stroudsburg
Mercyhurst (4-5, 2-4) at Clarion (3-6, 1-5)
Memorial Stadium, 12pm Clarion Pa
Mercyhurst is still striving for a winning season, Clarion is playing out the stretch as these two clubs meet on Saturday from Clarion University's Memorial stadium. Mercyhurst will look to build on last week's big win over cross town rival Gannon 28-7. Clarion is in the midst of a four game losing streak and will look to end the season with some positive momentum. These are as I often say two of the most hard working teams in the PSAC and this game will be a great matchup. The Seniors at Clarion will look to win the final time the play at Memorial Stadium and the Lakers will look to continue to battle back for that winning season. Mercyhurst played its best all around game last week putting up over four hundred and fifty yards of offense while holding Gannon to under one hundred and fifty. Clarion has struggled of late but will look to play a complete game this week. The pick Mercyhurst 27 Clarion 14
#9 Slippery Rock (9-0, 6-0) at Gannon (2-7, 1-5)
Gannon University Field, 12pm Erie Pa
The PSAC West Champions finish out the PSAC West season with the short trip to Erie to play the Golden Knights of Gannon. Slippery Rock was in more of a battle last week than many expected as they blew a fourteen point second half lead to the underdog Vulcans. After allowing the tying score with under two minutes left quarterback Roland Rivers drove the Rock into field goal range for the game winning score as time expired. Gannon last week continued to struggle to score points, the Golden Knight have only scored over twenty –one points one time all season. This has all the makings of a repeat of last season as the Rock won 48-7 over the Golden Knights. The pick Slippery Rock 45 Gannon 10
Edinboro (3-6,3-3) at #20 IUP ( 8-1,5-1)
Miller Stadium, 12pm Indiana Pa
Edinboro will look to play spoiler as they travel to IUP for the PSAC West finale for the two teams. IUP will look to continue to march towards an NCAA playoffs. IUP currently only has wins over only two teams with winning records, New Haven and California. IUP will look to continue to roll on offense this week as much like last week they rolled up over five hundred yards of total offense. Edinboro is coming into IUP with positive momentum after last week's victory over Clarion. With a win this week Edinboro would finish in the top half of the conference standings. After a tough 0-4 start that would be a great accomplishment for the Scots. IUP will be a tough test for the Scots. IUP will out muscle Edinboro to move to 9-1. The pick IUP 35 Edinboro 17
Seton Hill (2-6, 2-4) at Cal U (6-3, 4-2)
Adamson Stadium, 4pm California Pa
Cal U will look to rebound after the disappointment of last weekend at Slippery Rock. Seton Hill quarterback Ryan Barabe has a solid game last week as he threw for over 350 yards and three touchdowns. The Griffins lost 50-23 in what was a great effort by Coach Day and his undermanned team. Last season in Greensburg these two teams played a tight contest with Cal U winning 49-34. Cal U could come in a little under motivated after last weeks outcome at Slippery Rock. The question for Cal could be the same as last week will Noah Mitchell come back and play again this week after getting knocked out of the second straight game last week? Josh Dale came in cold last week and threw a touchdown to tie the game with under two minutes left. Cal U will also look to rebound on defense after getting gashed by Rivers and the Slippery Rock ground attack. Seton Hill has never beaten Cal U on the gridiron but this game is setting up as a great opportunity to reach that first victory. Cal U is the more talented team but will the effort be there this Saturday? The pick Cal U 31 Seton Hill 30
This week will see the ending of PSAC west play. This will also be the final senior day for many in the league. Congratulations to the seniors on the football teams, cheerleaders, band member and support staff as they move on after graduation.
Follow along on twitter @zsimpson_d2 for game day and weeklong updates.