PSAC West Week 9
November 1st, 2019 1:00pm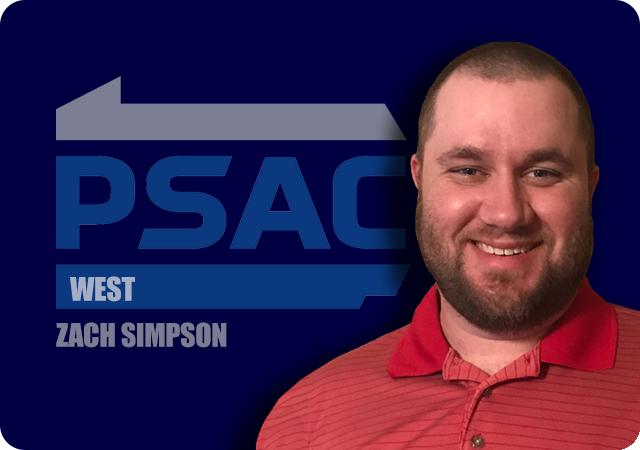 PSAC West Week 9
Week 9 in the PSAC West and we are into our final month of the regular season. The leaves have fallen, the kids have trick or treated and now off the field it's the holiday season. Which teams in the PSAC West will have a happy holiday season could be decided over the last three weeks of the regular season.
Last week we saw some great showings in tough conditions. Cal U was able to continue its playoff hopes with a 27-15 victory over Mercyhurst. Seton Hill saw its two game winning streak snapped by Edinboro 37-10. IUP rolled to a 35-0 victory over Gannon, the Golden Knights are now 2-6 and on a four game skid. Slippery Rock continued to roll as they handled Clarion in the annual "Milk Jug" game 41-6. This week we have some solid matchups as Cal U visits top 10 nationally ranked Slippery Rock. Clarion visits Edinboro and in Erie, Gannon will visit Mercyhurst.
PSAC Schedule:
Lock Haven at Shippensburg
Bloomsburg at Millersville
East Stroudsburg at Shepherd
Kutztown at West Chester
Gannon at Mercyhurst
IUP at Seton Hill
Clarion at Edinboro
Cal U at Slippery Rock
Gannon (2-6, 1-4) at Mercyhurst (3-5, 1-4)
Tullio Field, 12pm Erie PA
The "Battle for the Niagara Cup" will kick off this Saturday at noon on the campus of Mercyhurst University. Last season Mercyhurst was able to return across town victorious 38-21 against Gannon. This season both teams have failed to reach expectations, the teams enter with a combined five wins and eleven loses. This is an opportunity for both programs to turn their seasons around late and end on a positive note. Mercyhurst played a tough game last week, going for a two point conversation in the third quarter to take an 8-7 lead over California. Cal U would turn the tables and pull away after that but for the better part of three quarters the Lakers were in the game with the 6-2 Vulcans. On the Gannon side, it was another rough game as the Golden Knights were shutout at nationally ranked IUP 35-0. This game could go either way as these are both teams with many talented players who want to fight every game and turn two underachieving programs around. The pick Mercyhurst 24 Gannon 10
#21 IUP (7-1, 4-1) at Seton Hill (2-5, 2-3)
Offutt Field, 12pm Greensburg PA
IUP looks to continue its march for the NCAA playoffs this Saturday as the visit the Griffins of Seton Hill University. IUP brings an offense that is averaging over 40 ppg into Seton Hill on Saturday, Seton Hill is only scoring 16 ppg. Seton Hill must try and slow down IUP in order to keep this game close. The Griffins have played better recently but are a few recruiting cycles away from playing with the top programs in the league for sixty minutes. The pick IUP 40 Seton Hill 17
Clarion (3-5, 1-4) at Edinboro (2-6, 2-3)
Sox Harrison Stadium, 12pm Edinboro PA
Two clubs looking to head into the off season with momentum meet at Sox Harrison Stadium this Saturday. Five turnovers were key to the Fighting Scots getting their second win of the season over Seton Hill last week. Clarion was able to hang with Slippery Rock early but was not deep enough to keep with the Rock the entire game. The pick Edinboro 24 Clarion 21
Cal U (6-2, 4-1) at #10 Slippery Rock (8-0, 5-0)
Thompson Stadium, 1pm Slippery Rock PA
Slippery Rock looks to continue its magical season as they welcome old rival California for a key PSAC west matchup. It has been ten seasons since the Vulcans have left Slippery Rock with a victory. That is a stat that California will look to change this Saturday as they make the trip up I79 to play #10 Slippery Rock. Over the last twelve seasons this will be the tenth time these two clubs have met with at least one ranked inside the top 25. Slippery Rock enters and the prohibitive favorite, led by quarterback Rolland Rivers the Rock has the number one ranked offense in the PSAC and number two in NCAA Division 2. Cal U will look to counter the powerhouse offense with the PSAC's number one overall defense. If Cal U can slow down the Slippery Rock attack they may be able to hang around in this one. The Vulcans have a question mark at quarterback this week, team captain Noah Mitchell left last week's game with an injury and backup Josh Dale came in and led the Vulcans to a comeback victory. If Mitchell is out this week look for Cal U to not hold back with Dale at the helm the transfer quarterback showed the ability to get the ball downfield in the second half last week. The Vulcans will look to use a running game that has been improved but up and down at times in 2019. Look for this to be a tight game into the second half as Cal U will look to hang on to playoff hopes as long as possible. If Slippery Rock wins they lock up a spot in the PSAC championship game in two weeks. The pick Slippery Rock 40 Cal U 27
This is set up to be a great week of football across the Commonwealth. On the east side we see the huge matchup between Kutztown and West Chester that will carry both division implications as well as regional implications. To all the seniors who begin celebrating senior days across the league this week thank you for putting in the time and effort to represent the league and your universities with pride and passion, we the fans, alumni and supporters of D2 football are proud of you and wish you all the best.
I applogize for the late post and this weeks post being a little sparce, but as everyone knows this week was Trick or Treatings and my two little kids, David 4 years old was Spider Man and my Hannah 5 was an adorable puppy. I love D2 football but the little ones come first and spending time with them is what we live for. Have a great weekend and enjoy the games.
Follow along @zsimpson_d2 for updates during the week and on game day.