RMAC Week 10 Preview and Predictions
November 4th, 2021 8:42am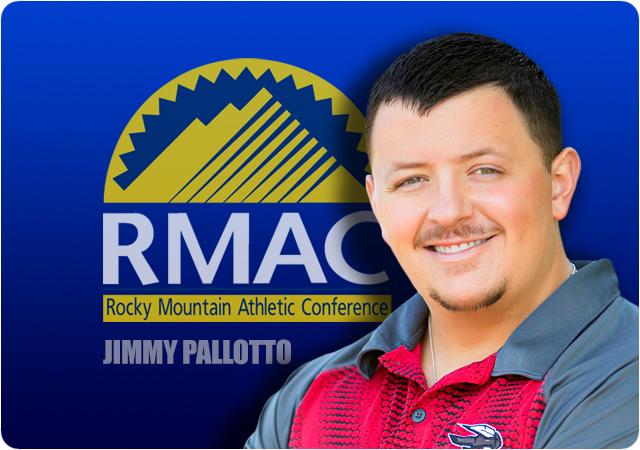 Ladies and gentlemen we are currently set for one of the most epic sprints to the finish line of an RMAC season that we have had in a long time, not to mention an extra helping of football with two out of conference games taking place. November and football go hand in hand, and with the level of competition we are seeing at the top no one is going to want to give an inch now that our 4 team tie has dwindled to a 3 team tie. We have plenty to talk about this week so let's get right into it!
For This Week's Top of the Mountain Podcast we will be featuring The Fort Lewis Skyhawks and Adams State Grizzlies as both schools have their best chance at claiming their first win of the season come Saturday. This will make sure that all schools have been involved in at least one game of the week so far! Also since we have another game that will eliminate a RMAC Title contender we will feature the CSU Pueblo Thunderwolves against the Colorado School of Mines Orediggers. Listen everywhere Friday mornings!
Fort Lewis Skyhawks (0-9) vs Adams State Grizzlies (0-9). Last week Fort Lewis lost to CSU-Pueblo 73-0, Adams lost to New Mexico Highlands 58-28. Game takes place Saturday November 6th, @1pm MST in Alamosa, Colorado.
After week two I would have looked at this game and given Fort Lewis their best chance to win a game this season, now after the subsequent weeks getting worse and worse, I almost don't want them to play this game. I can't remember the last time I have seen a team give up 70+ points twice in a season, I can't remember the last team that has been shut out three separate times, and I can't remember the last time a team was only able to score 6 touchdowns and 48 points total through nine games. Yet here we are and there is the 2021 For Lewis football team, who to some fault of their own, but an obvious oversight coaching and talent wise, will be remembered as truly one of the worst teams in RMAC history, and possibly top 15 worst of all time. I said two weeks ago they should think about just not having the games left on the schedule played, and in my defense of that harsh statement, things have gotten worse. Hopefully we will see some sort of rock bottom this week as they play the only other winless school in the conference.
Adams gave a good shot last week in Las Vegas, but ultimately didn't have the stamina to score with the high powered Cowboys. After a scoring explosion on both sides in the first half which saw a total of 49 points, the second half was a methodical beat down of the Grizzlies who were unable to stop Highlands quarterback Ramone Atkinson. Good news is this week they should be more than capable to not only win, but have fun doing so. If there is anything Fort Lewis has shown in the last year is that if you need a break and a chance to gain some confidence, they are more than happy to oblige. Now before I make my prediction I will state for the record that on any given Saturday anything is liable to happen, one thing I know is certain is that the team who is unable to win this week, won't be getting a victory the rest of the year. Final Score Prediction: FLC 10, ASU 41.
#12 Colorado School of Mines (8-1) vs Colorado State University Pueblo (6-3). Last week Colorado Mines beat Chadron 34-7, CSUP beat Fort Lewis 73-0. Game takes place Saturday November 6th, @2pm MST in Pueblo, Colorado.
Colorado Mines got both their get right game and some big help from their in-state rivals Western Colorado. The Orediggers needed to bounce back from their first regular season loss since 2018 and they did just that in a solid all consuming effort that left them easily victorious, but they also needed some help and teams to lose, namely the Colorado Mesa Mavericks and they got that as well. Alongside those things they also had two major offensive performances from running back Michale Zeman who surpassed 1,000 yards rushing for the second year in a row, putting him in an elite class of Colorado Mines running backs. Quarterback John Machota put up 330 yards and 3 touchdowns to get offensive player of the week in the conference. Now they just get to worry about their own business as if they win out they will get at least a share of the RMAC title, and based on head to head against Western Colorado be the sole RMAC champion.
If you would have told the CSU-Pueblo fanbase that they would have three losses on the season, not be nationally ranked, and still have a shot at a conference championship they probably wouldn't have believed you. Yet that is where we are with how the schedule ends up in the next two weeks. This game is do or die, you have to make sure you keep only one conference loss, if you get past it you can go win your title next weekend in Gunnison. But for now they have enough of a challenge in Colorado Mines, the defensive front which has been shaky at points is going to have to shut down Zeman, and if that is done Machota is more than comfortable winning from the pocket. CSUP needs their unique brand of stout run defense on the way back to the quarterback in passing situations, otherwise they just won't be able to stack up down the stretch. Final Score Prediction: #12 CSM 28, CSUP 13.
Black Hills State (4-5) vs Colorado Mesa (6-2). Last week Black Hills lost to SD Mines 13-10, Mesa lost to Western Colorado 23-9. Game takes place Saturday November 6th, @1pm MST in Grand Junction, Colorado.
Black Hills fell just short of pulling off the home win against their in-state rival SD Mines, giving up the game winning field goals all in the final 15 minutes of the game. This was a tried and true backyard brawl, neither team took much of the momentum at a time, and when they did things quickly changed, and this game was almost 5 minutes away from a 10-10 overtime tilt. Unfortunately the quarterback put them in non attainable situations as Chance Eben threw three interceptions giving the Hardrockers a lot more opportunity than they probably should have had. At this point in the season they get to go on a tour of trying to ruin the end of seasons, this week against the Mavericks of Colorado Mesa, and next week against the Chadron Eagles in front of their home crowd in Spearfish.
In the most anticipated matchup of the weekend last Saturday Colorado Mesa was shocked at the effort put forth by the once lowly Western Colorado team. Mesa started off the game down, and never once regained a lead, playing a game of catchup that also saw their chance at a RMAC championship disappear before them. A new effort has to be established along the offensive line as they only mustered a total of 75 yards among the four Mavericks who carried the ball last week. Ultimately talent wise this should be a bounce back game for Mesa and I don't see them having much issue if at all this weekend. Final Score Prediction: BHSU 14, CMU 38
#20 Western Colorado University (8-1) vs Lincoln College (1-6). Last week Western beat Colorado Mesa 23-9, Lincoln lost to Central Washington 92-0. Game takes place Saturday November 6th, @1pm MST in Gunnison, Colorado.
Let's be honest here, other than the intrigue of never having seen this team play before, and the fact they gave up 92 points, Western is still riding high after a huge victory Saturday, taking back the keys to the Western Slope of Colorado, and keeping their hopes alive for the ever elusive 20th RMAC championship in program history. Mountaineer faithful and players alike will be rooting for the CSU-Pueblo Thunderwolves to beat Colorado Mines which would make their game the following weekend in Gunnison effectively an RMAC Title game. Not going to lie I would love that situation, as a totally partial alumni I would like for Western to have the chance for another RMAC ring, but anyway this plays out it will be more than exciting for the finish. As for this game I don't really know what to say, please don't fall apart against this team who has only played seven games total. Handle business against the Oaklanders, stay healthy and get set up for a huge game next week against CSUP. Final Score Prediction: LC 0, WCU 45.
South Dakota School of Mines (5-4) vs New Mexico Highlands (4-5). Last week SD Mines beat Black Hills 13-10, Highlands beat Adams 58-28. Game takes place Saturday November 6th, @12 pm Noon MST in Las Vegas, New Mexico.
The Hardrockers took on bitter in-state rival Black Hills last week and checked themselves into an old-fashioned fist fight, neither team gained much momentum and statistically the outcome makes sense. However, it took a hellacious comeback in the final quarter to muster the two field goals needed to take the lead and the win. Bottom line, they got it done, and did it in impressive ways amassing 223 yards rushing as a team. They will need a similar effort on the defensive end of the ball this week. Last Saturday was beautiful, you only gave up 121 yards total and holding a team to 10 points means you always have a chance, the Cowboys are more explosive than anything SD Mines has seen so far.
The Highlands Cowboys get out to a pace and just leave you in the dust at some point. Last week was a scoring fest against Adams State and Highlands was able to pull it off and then some thanks to someone who I think should be in consideration for RMAC Offensive player of the year, Ramone Atkins. In last week's game Atkins contributed 300 yards of offense both running and passing as well as four touchdown passes. For the season Atkins has thrown for 2,513 yards, 25 touchdowns, and only 11 interceptions while also having over 500 rushing yards on the season. When it is said and done Highlands will have a better record this season solely because of #10 under center, and he is the reason Highlands is going to win this game easily. Final Score Prediction: SD Mines 14, NMHU 49
Western Oregon University (3-5) vs Chadron State (4-5). Last week Western Oregon beat Simon Frasier 42-3, Chadron lost to Colorado Mines 34-7. Game takes place Saturday November 6th @12pm Noon MST, in Chadron Nebraska.
The second time we have seen Western Oregon in these columns dating all the way back to week one when the Wolves opened their season in Golden against Colorado Mines. Since then the Wolves season has been pretty status quo for them in the GNAC conference, 3-5 and finally through the part of the schedule where they play all conference opponents twice the Wolves are looking for a strong finish to get them over the .500 hump. If you are a fan of Chadron and want more information about Western Oregon than what I am able to gather in the preparation for this column check out the GNAC section on d2football.com.
Chadron had a pissed off hornets nest of an opponent last Saturday. Colorado Mines coming off their first regular season loss since 2018, I mentioned the distinct possibility that things could get ugly in Golden. They did to a point, Mines did what they wanted, worked out their frustrations, and the Eagles kind of just had to sit back and take it. With has bad as the year has gone there is a solid route to making things feel better going into the offseason, a two game winning streak and a record that places you over .500 so you are reminded of the adversity faced, and know that it's time to start working for 2022 where I think Chadron can once again be top third of the RMAC. This season has gotten away from them, but they can right themselves a bit. Final Score Prediction: WOU 21, CSC 31.
Thank you all for checking out this week's column for Week 10 of the RMAC season! We will push on next week for the regular season finale and be standing by to see if and how many teams the conference will have represented in the NCAA DIvision II playoffs! We will run this column and release new episodes of The Top of the Mountain podcast until the last RMAC teams' season comes to an end. Be sure to tune in to the podcast this week to hear our featured breakdown of both the Fort Lewis and Adams State game, as well as the Colorado Mines versus CSU-Pueblo game! Follow @FeOTBpod and @DaygoExpress on social media! And follow The Top of the Mountain on your favorite podcasting app now including iHeartRadio!