RMAC Week 8 Preview and Predictions
October 21st, 2021 8:03am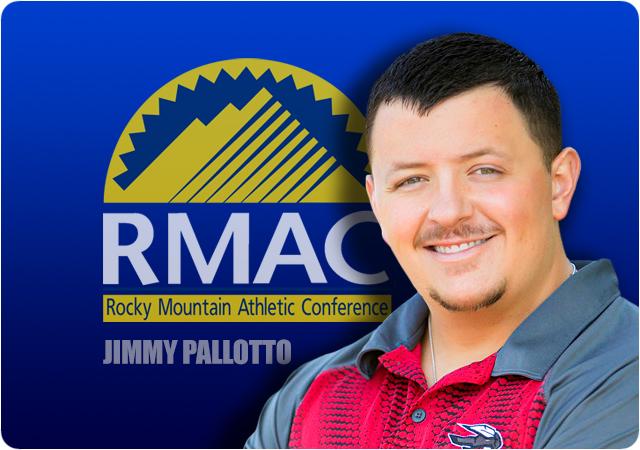 Just when we thought the surprises were over and we were settling back into a regular football season in the RMAC we have weekends like the last when not much makes sense, but it happened and now we get to see the aftermath of it all. Now let's get to the stats, records, and upsets of another week in the RMAC season
Note: I apologize for not updating the Top of the Mountain podcast last week. Schedules got out of whack. A longer episode will be coming out this Friday with two Games of the Week breakdowns! Listen anywhere you get podcasts and now on the iHeart Radio app!
New Mexico Highlands (2-5) vs Black Hills State (4-3). Last week Highlands upset CSU-Pueblo 28-21, Black Hills lost at Western Colorado 44-28. Game takes place on Saturday October October 23rd, @1pm MST in Las Vegas, New Mexico.
If you didn't keep up on the RMAC games last weekend then it won't be obvious to you, but the New Mexico Highlands Cowboys pulled the upset of the season o9ff last Saturday when they hosted the Thunderwolves of CSU-Pueblo. Leading most of the game the Cowboys staved off another second half let down to pick up just their second win of the season, but boy was it a big one. This still allows Highlands to finish the season above .500 sitting now at 2-5, and the defense stepped up big in the run game finally shutting down an opponents' attack and holding Pueblo to just 85 yards rushing as a team. Ramone Atkinson continued his great season totaling 331 yards and two touchdowns on the day as well. The Cowboys are getting back to what I thought they could be after playing Colorado Mines close, and it was surprising to see but great for the conference as a whole.
Black Hills has not had an easy stretch to their schedule the last two weeks after their big win over Fort Lewis. Colorado Mines and Western Colorado made it back to back losses where the opponent scored over 40 points, not great when you think about how good Highlands has been on offense. It is a long road trip as well for the Yellow Jackets who just had a 10 hour trip to Gunnison last week. It is not impossible for Black Hills to bounce back this week, but they are going to have to find their defense again. Giving up 400 yards on the ground is not going to hold up no matter how well the offense plays. Offensively Yellow Jacket QBs Tyler Hammons and Aidan Willard combined for 350 yards passing, and a 4th quarter surge almost got them back into striking distance but the Mountaineers had nearly 32 minutes of possession time to milk the clock. This will be one of your two Games of the Week on the Top of the Mountain podcast Friday! Final Score Prediction: NMHU 35, BHSU 20
#3 Colorado School of Mines (7-0) vs Colorado Mesa (5-1). Last week CO Mines beat SD Mines 44-24, Colorado Mesa beat Fort Lewis 55-3. Game takes place Saturday October 23rd, @1pm MST in Grand Junction, Colorado.
Finally the Orediggers get the recognition they deserve moving up two spots in the rankings following their seventh win of the season over the Hardrockers of SD Mines. Long overdue in my opinion Mines now finds themselves behind just Ferris State and Valdosta State after West Florida was handed their first loss of 2021. As for their game against fellow engineering college SD Mines, the Orediggers just have too much depth to struggle or look like they broke a sweat against most teams. So far Mines struggles with teams that are able to match them athletically, but continue to win thanks to their incredible discipline and attention to detail. Michael Zeman had another big game with 126 total yards earning himself Offensive Player of the week honors for the RMAC. Punt returner Mason Pierce also earned Player of the Week honors for his 69 return yards Saturday. This will be another test of the Orediggers athletically against the only other team at this point still in the hunt to take the RMAC title from them.
The Mavericks enjoyed their game against Fort Lewis like the other 7 teams who have played the Skyhawks. Not quite matching what their upcoming opponents did when they went to Durango, hanging 76 on the Fort, but impressive nonetheless. I said after Mesa lost to Pueblo in overtime that their schedule became very favorable to still give them the chance at the conference title. Now they have to continue to handle their business and picking up a win against a nationally ranked opponent would be a good way to do that. Mesa enjoyed big performances from Darrick Holmes who had 133 of the 338 yards rushing for the Mavs as well as two touchdowns. Siaosi Finau was all over the field for the Mesa defense tallying six total tackles, two for loss, and an interception; to complement Finau Mesa also had three sacks awarded to different members of their defense. Mesa will be able to stack up mostly to Mines, they will be just as fast, just as strong, and just as talented, maybe even more so. But can they stay focussed through the whole game and stop the machine that is the Colorado Mines Orediggers? This will be the second Gema of the week featured on the Top of the Mountain podcast Friday morning! Final Score Prediction: CSM 30, CMU 22.
Western Colorado (6-1) AFCA #24 vs South Dakota Mines (4-3). Last week Western beat Black Hills 44-28, South Dakota Mines lost to Colorado Mines 24-44. Game takes place Saturday October 23rd, @12 pm Noon in Rapid City, South Dakota.
Western continues to show they are a different team this year, and whether it be divine intervention after long time head coach Duke Iverson passed, or something else one thing is for sure, the Mountaineers are a good team with a lot to handle. 400 yards rushing as a team leads to a 44 point total at the end of the game, it also leads to 30 minutes of possession time, and finally leads to a win. Josh Cummings led the way again behind the remodeled offensive line, blazing the way to a 206 yard 2 touchdown day. Defensively coach Todd Auer keeps his guys in the right places using his quartet of great linebackers to stymie opponents running games. The Mountaineers gave up a total of 44 on the day. I'm done with the consistency talk, this team has proven themselves to be a good team each and every time they step on the field, and depending on how Mesa and Mines goes this weekend they could find themselves in ripe positioning to steal their first RMAC title since 1999.
South Dakota Mines never really stacked up to their opponent last week. Statistically the game looks even, but statistics can be tricky. The Hardrockers gained a lot of yards last Saturday, but never finished with points. Only once a quarter were they able to really find the endzone and a team like Colorado Mines is gonna notice that, allow you to move up and down the field, and just tighten up in the red zone. In reality SD Mines was dominated and it adds another down chapter to a tumultuous season. The winning streak was nice to begin with, playing Fort Lewis is fun, but this season the Hardrockers haven't shown the ability to rise above their post and push into even the middle of the RMAC standings. The teams left on the schedule look awfully similar to the teams who have given the Hardrockers their losses so far. It is a real possibility they lose out and end the year 4-6. Final Score Prediction: WCU 28, SD Mines 13.
Adams State (0-7) vs Colorado State University Pueblo (4-3). Last week Adams lost at home to Chadron 35-45, CSU-Pueblo lost to Highlands in New Mexico 28-21. Game takes place Saturday October 23rd, @2 PM MST in Pueblo, Colorado.
Adams has continuously continued to make me seem like an idiot. I truly think this team is good enough to at least be 4-3 right now in the season but making too many mistakes, and not taking advantage of the mistakes made by their opponent has left them at 0-7. It's almost comical at this point how many times they have won the turnover battle, put up gaudy numbers, and still find a way to lose by double digits. Adams got a great game out of quarterback Bradley Smith who accounted for three TDs passing and another one on the ground, wasted by a defensive performance that gave up 523 yards and 45 points.
CSU-Pueblo is in a spot they are not familiar with at all since their magical 2014 season, coach Wristen and the Thunderwolves find themselves 4-3 late in October. Luckily for them mathematically they still have a chance for at least a share of the RMAC title if Mines, Western, and Mesa all fall apart down the stretch; but really this is concerning for Pueblo. Their defense that had been led by the front seven had a bad time for a let down, giving up 424 total, with 172 on the ground. I said way back when Western played Highlands that even though their record may not be great, offensively they are good enough to score with anyone and if you come in thinking you have an easy win they can make things interesting. The difference in the way Western handled that game and how CSUP did was never stopping the bleeding. Highlands also enjoyed a defensive aberration holding Pueblo to under 100 yards rushing as a team Ultimately it was a disappointing loss, but CSU-Pueblo still has to remain focussed and handle their own business to turn this year around. Final Score Prediction: ASU 10, CSUP 35.
Fort Lewis (0-7) vs Chadron State (3-4). Last week Fort Lewis lost to Colorado Mesa 55-3, Chadron beat Adams 45-35. Game takes place Saturday October 23rd @12 pm Noon, in Chadron, Nebraska.
The Skyhawks can rejoice knowing they only have another month left of losing these games and not being competitive. As a media personality I would like to say that at some point Fort Lewis has to break through, there is no way they can finish 0-11. I refuse to lie to you, Fort Lewis is not going to win another game this season. On defense the Fort has been anything but, allowing 50 touchdowns so far this season and only managing to tally five of their own. That is a -315 point differential on the season, and there are still four more games left! This is historically bad, Abbott and Costello wouldn't have dreamed up a team this bad.
Chadron has their best chance to get a real winning streak going, after being picked 3rd in the preseason rankings the Eagles find themselves without back to back wins yet in 2021. Last week Dalton Holst led his team to a huge road victory tossing four touchdowns in the effort and running back Jeydon Cox added two more scores along with 122 yards on the ground. Chadron was always good enough to be around the top of the conference, inexperience and a lack of ability to finish is why they find themselves under .500 at 3-4. Final Score Prediction: FLC 10, CSC 38
Thank you all for checking out this week's column! Again I apologize for missing last week's Top of the Mountain episode but I will not be missing another! I will also be making it up by having a mega episode with two games featured as Game of the Week! Follow @FeOTBpod and @DaygoExpress on social media to keep up with all things RMAC from myself!