SAC Week One Preview
August 31st, 2022 1:00pm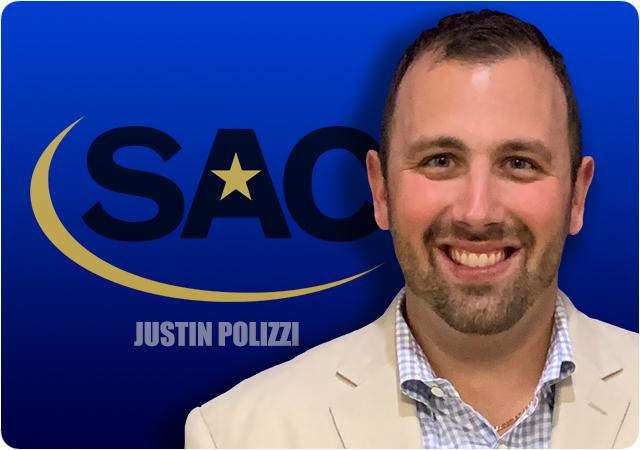 2022 is upon us football kicks off this week in the South Atlantic Conference. And it is an exciting time of year for the first time ever. The South Atlantic Conference will be broken up into two divisions, the Piedmont and the Mountain Division. In addition, the addition of Emory and Henry, along with Erskine and Barton with the scheduling alliances has allowed the conference to split into two divisions. It is very exciting. We also are excited to see a championship game for the first time in the South Atlantic Conference between the winner of both the Piedmont and the mountain divisions. Very, very exciting. It's exciting to kick off it feels like we just came out of the national championship game. And here we are kicking off week one. Week one is going to start this Thursday with a handful of games.
(Text transcribed from audio)
St. Augustine at Tusculum
And starting us off is St. Augustine at Tusculum. The pioneers play six on the preseason all conference team. They beat St. Augustine last year 5814 And they return 10 starters from last year's team. The pioneers went five and six and finished seventh in the Southland conference in 2021. St. Augustine 1-7 last season. This was their only non conference game outside of the CIAA this is a game I think Tusculum is going to look to get things started right here in 2022.
Barton at Chowan
Next Barton at Chowan. Barton pick six in the South Atlantic conference preseason poll six preseason. All conference players led by running back Jordan Terrell entering his sophomore season. Terrell finished with just over 1600 yards and 15 touchdowns as a freshman. Chowan, Picked fifth and the CIAA preseason poll, put five on all conference, preseason awards, then seven and three last fall they went 3-0 against South Atlantic Conference teams beating Mars Hill Tusculum and now Erskine.
Carson-Newman at West Georgia
Carson Newman travels to West Georgia. CNU went one in nine last season, not a typical season for the Eagles. They're picked ninth in the preseason poll in the South Atlantic conference and they put three players on the South Atlantic conference preseason on a poll. West Georgia ranked 10th and D two footballs.com preseason poll. They made a second round of the NCAA playoffs last year. They are picked third in 2022 in the Gulf South Conference and they put three players on the Gulf South preseason team. This is an interesting matchup. Another interesting matchup that we see between two typical powers here and super region to between Carson Newman and West Georgia.
Ferrum at UVA Wise
Ferrum travels to UVA Wise, fair and was picked fifth and their preseason poll. They finished six and four in 2021. Out of the odacc conference, division three school out of Virginia, UVA wise seven in the South Atlantic conference preseason poll, six plays on the preseason South Atlanic conference on a roll. They went five and six in 2021.
Limestone at Gardner-Webb
Limestone at Gardner Webb. Mike Fury is back for a second stint at limestone. There's a buzz back and Gaffney with Coach fury back they're going to be playing on campus at limestone. They traveled to a very tough Gardner Webb team. They're picked third in the Big South preseason poll. Tre Lam is continuing to build that program down there at Gardner Webb. It's going to be a very tough test early for limestone.
Mars Hill at East Tennessee State
And then the final game of the night on Thursday, Maurice hill at East Tennessee State Marshal was picked forth in the preseason poll in the Southland conference, they placed eighth on the preseason all conference team. They narrowly missed the playoffs and 2021 with a late loss to win gate to enter regular season. They return key players on the on both offense and defensive sides of ball and hope to make a run here in 2022. They traveled to a very tough East Tennessee State team ranked 11th in FCS preseason poll, and they're looking to polish up before they get into a very tough conference schedule. here later this season.
Concord at Emory and Henry
Starting Saturday, Concord travels to Emory and Henry Concord finished seventh
or rather, their pick seven in the in the mountain East poll entering 2022 They went four and six and 2021 Emory and Henry first year interview isn't to the South Atlantic Conference, Emory and Henry has picked the 11th in the South Atlantic conference preseason poll and they placed two on there all preseason team.
Fort Lauderdale at Erskine
Fort Lauderdale travels to Erskine on Saturday, Fort Lauderdale oh and seven in 2021 Not a lot out there on Fort Lauderdale stats other than other than their record. Erskine first season the South Atlantic Conference with the scheduling Alliance, they went three and eight and 2021.
Wingate at Shaw
Wingate travels to Shaw win get pick third and the Southland conference. They placed 10 On the South Atlantic Conference preseason on a roll open with two CI double A teams at the beginning conference play finished eight and three in 2021. Just narrowly missing the playoffs. Shaw finished fourth in the CI double A or picked fourth rather in the CI double A for 2022. They placed three on the CIAA all conference preseason team before they traveled to Wayne State next week.
Catawba at Livingstone
Catawba at Livingstone big game in Salisbury this weekend. Catawba picked eighth in the Southland conference preseason poll plays two on the all conference team. They finished five and four in 2021 while Livingstone was picked 11th in their preseason poll, one and eight and 2021 and obviously a huge Crosstown rivalry there in Saulsbury,
Virginia State at Lenoir-Rhyne
Virginia state at Lenore Rhine, Virginia State finished three and six and 2021. Place one on the preseason poll, or plays one on their preseason on a roll. And this is Coach Frazier's first year here in 22. Lenoir Rhyne is 19th and the AFCA preseason poll 22nd and the D two football.com poll. They were picked second in the South Atlantic Conference. They placed eighth on all South Atlantic Conference team preseason. They opened a new stadium this week in Hickory.
Allen at Newberry
The last game on Saturday, Allen at Newbury. Allen was picked eighth in the siag East Division preseason poll won on the SIAC preseason team. Newberry was picked 15th in the AFCA pole, first in the South Atlantic Conference, selected to repeat as conference champions, by the coaches, six on the all conference team, they finished tenant three and 2021 with a second round playoff loss to bowie state.
Final Thoughts:
So as you sit here and you look at the conference scheduled for Thursday, into Saturday, the biggest thing that stands out is so much unknown. This is an exciting week, because we'll get to learn a lot about each one of the teams in the South Atlantic conference, we'll get to learn a lot about the teams and super region two. And over the next couple of weeks, we'll get to see what teams have improved, where deficiencies have shown up and what that playoff picture is going to start to look like here as we go through the month of September. So a very, very exciting next couple of weeks, and especially a very exciting kickoff to 2022 here in the South Atlantic Conference. Stay tuned all year as we preview each game week to week and look at what that playoff picture and conference championship game picture is going to look like here as we navigate 2022 Here in the South Atlantic conference