SAC Playoff Preview - Regional Final
December 5th, 2019 4:00pm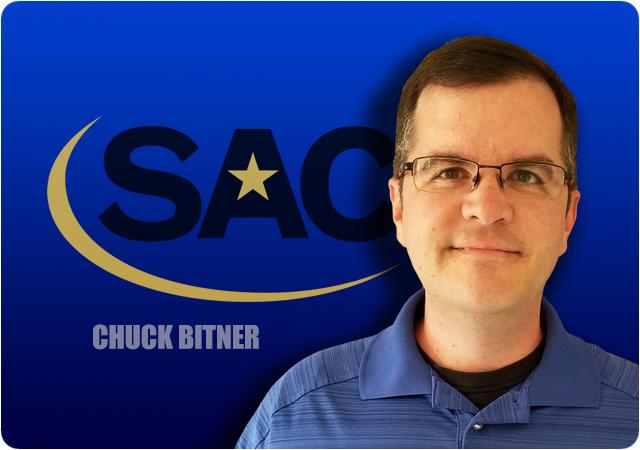 Lenoir-Rhyne advanced to the super region two final for the second consecutive season with a 49-21 win at home over Carson-Newman. The Bears earned the privledge of hosting a third straight playoff game with the regional final set to kickoff at Moretz Stadium against West Florida of the Gulf South Conference. Here is the preview.
Super Region Two Final / National Quarterfinal
Lenoir-Rhyne Bears (13-0) v. West Florida Argonauts (10-2)
Lenoir-Rhyne Bears
Location: Hickory, North Carolina
Conference: South Atlantic Conference
Head Coach: Drew Cronic
Record: 13-0 (SAC Champions)
Five players to watch
#8 RB / WR Jaquay Mitchell
#16 QB Grayson Willingham
#32 LB Jaquan Artis
#45 RB Ameen Stevens
#90 DL Dan Louba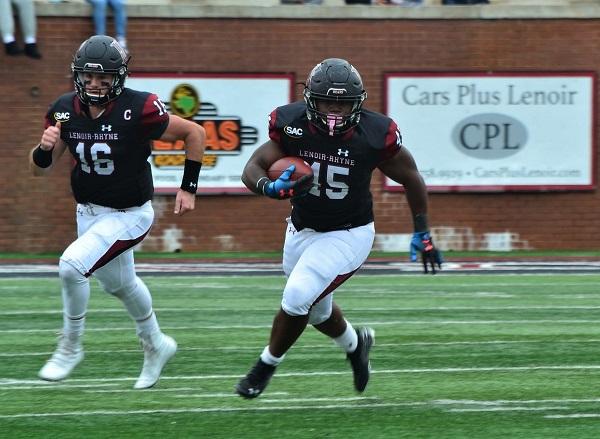 Running back Ameen Stevens. Photo by C. Bitner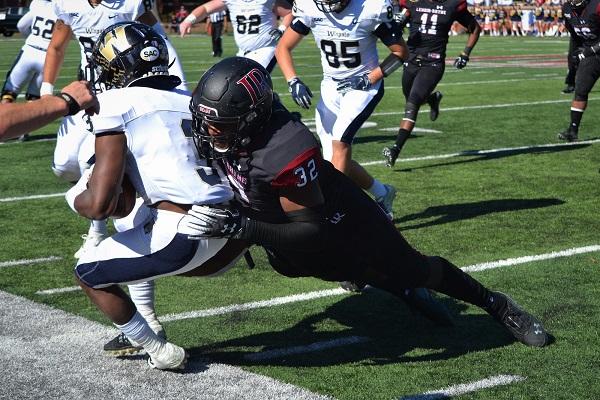 Defensive End Jaquan Artis. Photo by C. Bitner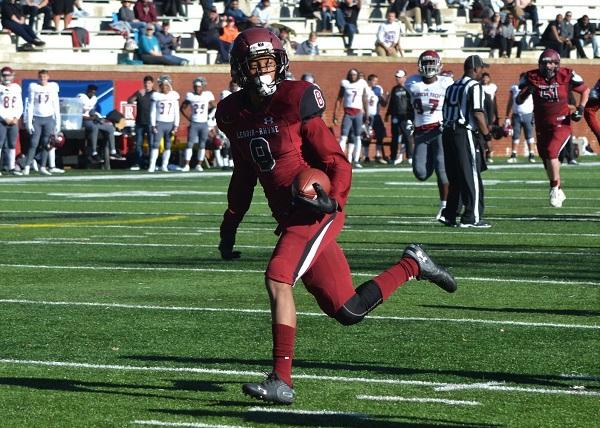 RB / WR Jaquay Mitchell. Photo by C. Bitner
West Florida Argonauts
Location: Pensacola, Florida
Conference: Gulf South Conference
Record: 10-2
Head coach: Pete Shinnick
Five players to watch
#14 QB Austin Reed
#24 LB Trent Archie
#29 WR Quentin Randolph
#88 WR Tate Lehtio
#99 DL Ian Bush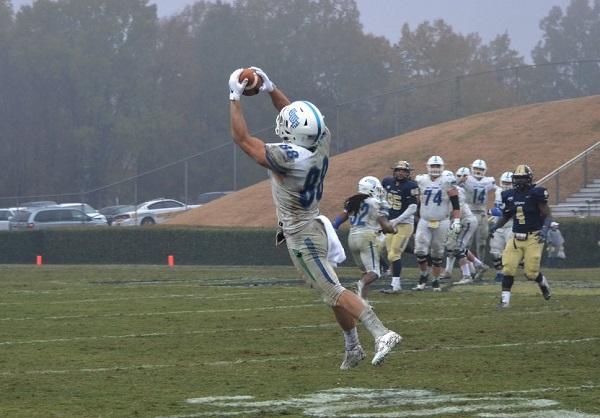 WR Tate Lehtio. Photo by C. Bitner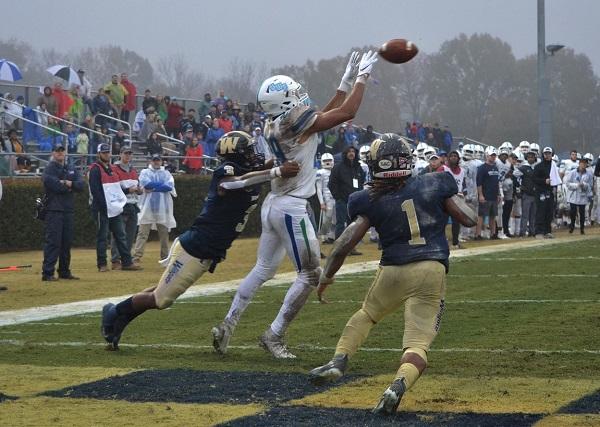 WR Quentin Randolph. Photo by C. Bitner.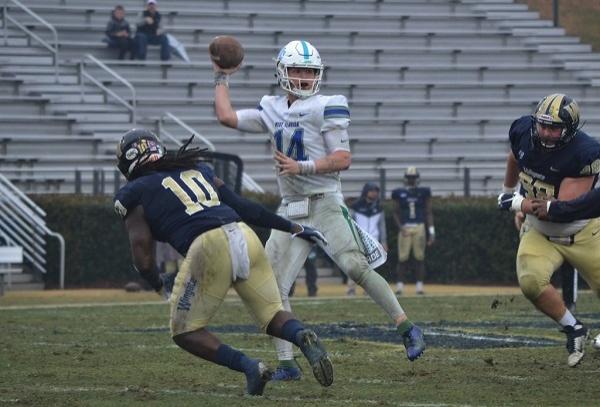 QB Austin Reed. Photo by C. Bitner.
Series history
This will be the first ever meeting between Lenoir-Rhyne and West Florida. The Bears are celebrating their 100th season of football in 2019 while West Florida is celebrating year number…four? Yes, that's right, year four. The program was launched just a few years ago with their first season of competition occurring in 2016. The program is only four years old, but the Argonauts have already established a winning culture and have made themselves known to fans of the South Atlantic Conference. West Florida has faced SAC opponents four times in their brief history. They traveled to Wingate in the 2017 and 2019 playoffs, and faced off with Carson-Newman in 2018 and 2019 season openers. The Argos are 3-1 in those games with the lone loss coming at Carson-Newman this past September.
Playoff history
Lenoir-Rhyne is in the NCAA playoffs for the fifth time in program history. The Bears made three consecutive appearances from 2012-2014 and have gone back-to-back in 2018-2019. This week's game is LR's third trip to the quarterfinal found. They were the national runner-up in 2013 and have an overall playoff record of 8-4...West Florida is making their second playoff appearance in just four seasons of varsity football. They have an overall post season record of 6-1, with all seven games played away from home. West Florida was the national runner-up in 2017.
Road to the quarterfinals
After finishing the regular season 11-0, Lenoir-Rhyne earned the #2 seed in super region two. They advanced to the quarterfinals by defeating Miles 36-7 in the first round and SAC rival Carson-Newman 49-21 in the second round. Both games were at home…West Florida lost the season opener at Carson-Newman, then won seven straight before suffering their only conference loss of the season at Valdosta State. The Argos entered the super region two bracket unseeded. They advanced by defeating Wingate and then exacting revenge by upsetting #1 Valdosta State. Both games were on the road.
Common opponents
Both teams faced Carson-Newman and Wingate during the season. Lenoir-Rhyne faced Carson-Newman twice and Wingate once, winning all three games at home. West Florida opened the season with a 20-13 loss at Carson-Newman and defeated Wingate 38-17 in the first round of the playoffs.
Weather forecast
Projections for gameday weather are quite good. Sunny skies, with a high near 50 are expected.
Statistical comparison

About Lenoir-Rhyne
Lenoir-Rhyne is a team with few weaknesses. They have good balance offensively, with a fast and sophisticated rushing attack and a big play passing threat. It's hard to put together an effective game plan for their offense because they do so many things really well. They present many different formations, use a lot of pre-snap shifts and have a trusted, veteran quarterback in Grayson Willingham to make decisions at the line of scrimmage. The offensive line is exceptional at getting to next-level blocks and it really doesn't matter who is in the backfield because they're all good. Ameen Stevens has taken a bulk of the carries since Jace Jordan was dinged up earlier this season. He's the inside, power rushing threat while Jaquay Mitchel and Dareke Young are deadly on the jet-sweep type plays. Both players are also big-play threats in the passing game, averaging more than 20 yards per catch. TE Drake Starks only catches first downs and touchdowns, so watch for him on the tight end post when they're in the red zone.
Defensively, the Bears play much like the offense does. Offense dictates pace, but the Bears play fast on defense. They play with a high level of emotion and intensity and thrive on sacks and turnovers. The unit is loaded with All-Conference players, led by Harlon Hill nominee Jaquan Artis. He is a wrecking ball that leads the team in total tackles (79), tackles for loss (23) and sacks (14.5). Others to watch are interior lineman Amari Houston and Dan Louba. They've combined for 18 sacks and 26 tackles for loss. Linebackers Eric Jackson and Clayton Horn are excellent at getting to the perimeter and each has multiple interceptions.
Special teams can't be forgotten either. The Bears have excelled in special teams under Drew Cronic. The Bears blocked two punts last week against Carson-Newman and have had many big returns this season. Place kicker Chase Albaugh is an under valued weapon a well. He's 11-15 on field goals and 8 of 9 in attempts under 40 yards.
About West Florida
Much like Lenoir-Rhyne, West Florida is a team that does a lot of things well. When I saw the Argos two weeks ago at Wingate, one of the things that stood out to me is that they play at a very high emotional level. They were really "up" for the game and sustained that for all sixty minutes. I think it was a big factor in that game and probably part of the reason this program is undefeated in road playoff games.
Another impression that was left with me is that they are deceptively committed to running the ball. The season stats don't really show a ton of productivity, but they needed the run game on the sloppy field at Wingate and it delivered. Its not easy to out muscle the Bulldogs at the line of scrimmage but the Argos' offensive line was up to the task. They also ran the ball 43 times at Valdosta State last week and even though it was not terribly successful, it made the Blazers respect the run, which helped the passing game to a near-300 yard performance. They are very big and strong in the O-line with four of five starters over 300 pounds. Feature backs Anthony Johnson and Jervon Newton have modest stats but they are both very talented ball carriers that know how to find the end zone.
The real strength of the offense, which has scored more than 35 points seven times this season, is the passing game. Redshirt freshman Austin Reed (a transfer from FCS Southern Illinois) came off the bench in the season opener at Carson-Newman and never looked back. He's been the starter since then and led the GSC in passing yards per game. He has two outstanding weapons in Tate Lehtio and Quentin Randolph. Lehtio has 69 catches for the season, including 14 last week at Valdosta State. He caught five balls for 62 yards on the game winning TD drive. Simply put, West Florida would not have won that game without him. He is a deadly weapon to watch on third down while Randolph is the deep play threat, averaging more than 20 yards per catch.
The defense is a unit that finished the regular season in the top ten in scoring. They have standouts at every level and are particularly strong at linebacker. Trent Archie is a man to account for. He is the defensive leader and is among the statistical leaders in total tackles, tackles for loss and sacks. Good rushing teams have had some success against them, but they did a great job against Wingate.
How Lenoir-Rhyne wins
Lenoir-Rhyne needs to play their game, but they need to be patient on offense and take points where they can. The Argos give up more yards than points so the Bears may find themselves in position to take field goals in the red zone and that's okay as long as they get them when they have opportunities (remember, they beat Florida Tech in the playoffs last year with five Chase Albaugh field goals). They need to be balanced and getting the run game going will be a huge advantage. They have to avoid the turnover problems of the last two weeks. Defensively, I don't think they need to do anything different from what they do every week. Play fast and aggressive and try to get to the quarterback as often as possible. The Bears have 48 sacks this season.
How West Florida wins
Lenoir-Rhyne is fairly similar in style to Valdosta State. The Bears will play fast and they will get their yards but if the Argos can bend but not break, they'll be in good shape. LR's Jaquay Mitchell is a speedy game breaker and they may need a spy on him. I think they need to pass to set up the run and if they can do that and control time of possession, it will go a long way. LR is fast and aggressive on defense but West Florida will have a size advantage at the line. They need to figure out how to take advantage of that.
The Pick
I've made prognostications on 13 Lenoir-Rhyne games this season and four West Florida games. I got all 17 right. SAC fans, let's hope my streak continues.
Lenoir-Rhyne 30 West Florida 28
As always, you can send questions or comments to me at [email protected] and you can connect with me on Twitter @D2Chuck. Follow my SAC Football photos page for updates and check out games from the past three seasons (hint for West Florida fans, your two playof games at Wingate are in that collection).