SAC Playoff Preview Round Two
November 28th, 2019 6:00am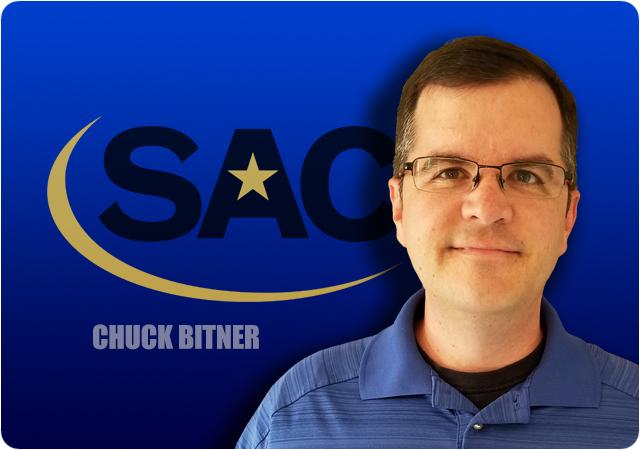 SAC v. SAC in Round two of NCAA playoffs
Two of three SAC teams in the Division II playoffs advanced last weekend with Lenoir-Rhyne winning at home as a heavy favorite over Miles and Carson-Newman prevailing on the road in an upset of #3 seed Bowie State. The third SAC representative, Wingate, lost at home to West Florida in a game the felt eerily similar to the contest played between the same teams in 2017.
Round two will pair conference rivals in Super Region two as West Florida and Valdosta State from the GSC face each other and Carson-Newman and Lenoir-Rhyne from the SAC square off. Both games are rematches from conference games held in the regular season. These matches set up a certainty that the regional final will come down a SAC team vs. a GSC team for the second year in a row. Last year, Valdosta State claimed the region with a decisive win at home over Lenoir-Rhyne.
SAC fans will have split loyalties in the Eagles v. Bears game but should be united in hoping for a West Florida victory over Valdosta State. Should Valdosta State win, the Blazers will host the regional final as the #1 seed in the bracket. If West Florida can knock them off, the regional final may migrate north. LR would earn hosting privileges as the #2 seed and should the final come down to Carson-Newman v. West Florida, the Eagles may get the home game. In the bracket both teams are technically unseeded but the Eagles were ranked ahead of West Florida in the final 1-10 rankings that were released on November 11.
Harlon Hill Trophy Nominees
Three SAC players are among the list of 36 nominees for the Harlon Hill Trophy, which is awarded annually to the best NCAA Division II football player. The nominees representing the South Atlantic Conference are Mars Hill wide receiver Craig Rucker, Lenoir-Rhyne defensive end Jaquan Artis and Carson-Newman running back Antonio Wimbush. All three have had outstanding seasons and careers. Of these three nominees, Rucker probably has the best chance to advance as a finalist. Winning the trophy requires stand-out statistics and Rucker has them. He led the SAC in nearly every individual receiving category and is among the national leaders in most statistics. Wimbush is a great player but his numbers don't match up favorably with the other running backs that are nominated. Artis is a game changing player and I am very happy to see a total of six defensive players nominated, but the award will likely go to a quarterback or running back. The trophy has been awarded 17 times to a quarterback, 14 times to a running back and once each to a receiver and linebacker.
The votes come from the Division II sports information directors. I'm not one of them so I don't get to vote, but I will give you my list of players that I think are the most deserving, in alphabetical order by last name.
Brook Boles, QB, Central Missouri
Colin Digalbo, QB, Kutztown
Zimari Manning, WR, Tarleton St.
Jaleel McLaughlin, RB Notre Dame College
Roland Rivers, QB Slippery Rock
Rogan Wells, QB Valdosta State
I think the favorites are McLaughlin, Wells, Rivers and Bolles.
There are some really good quarterbacks in that last and I think it is very likely to go to one of them, however, Jaleel McLaughlin is a 2,000 yard rusher and he has at least one more game to add to his total. That's a big number that will certainly earn some votes. He is the first player in NCAA history to rush for over 2,000 yards in his freshman and sophomore seasons.
Rogan Wells will get a lot of attention as he is an exceptional player that is leading his team to second consecutive undefeated season. He was a finalist last year. His reputation and the performance of his team is worth a lot but if voters just look at statistics, he doesn't measure up well with some of the other nominees.
Roland Rivers and Brook Boles are really close. Bolles has a slight edge in passing yards per game and touchdowns but Rivers has a small advantage in efficiency.
Its not easy to predict this year. There are several players I did not mention that could earn the votes to win it. I don't feel like there is one true stand out this year, which is a good thing.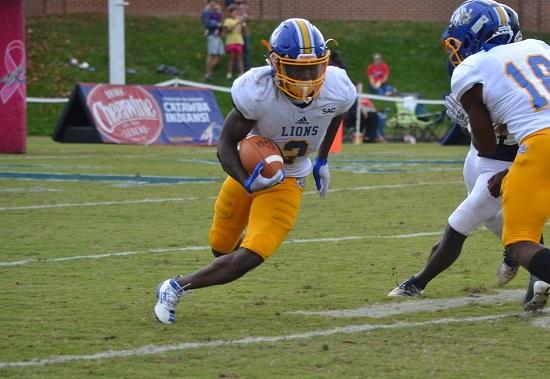 Harlon Hill Trophy nominee Craig Rucker - photo by C. Bitner

Harlon Hill Trophy nominee Jaquan Artis - photo by C. Bitner.
Harlon Hill Trophy nominee Antonio Wimbush - photo by C. Bitner
Division II Playoffs – Round Two
Carson-Newman Eagles (9-2) at Lenoir-Rhyne Bears (12-0)
Carson-Newman Eagles
Location: Jefferson City, Tennessee
Conference: South Atlantic Conference
Head Coach: Mike Turner
Record: 9-2 (3rd place, SAC)
Five players to watch
#2 DB Desmond Fairell
#6 RB Antonio Wimbush
#8 QB Tyler Thackerson
#24 LB Rondrow Peebles
#27 RB Troy Dendy
Round One Recap
The Eagles earned the program's first road playoff win in ten years with an outstanding defensive effort at #3 seed Bowie State. There were many factors that contributed to the win, but the most significant was the Eagles' defensive performance in the red zone. Bowie State scored zero points in five trips to the red zone. Bowie State entered the game averaging nearly 43 points per game but managed just one touchdown and nine total points. Bowie State's defense also played very well in holding Carson-Newman well below their averages for rushing yards, first downs and scoring, but they were not able to take the ball away. Forcing turnovers was a big part of their success but The Eagles did not give the ball away.
For the third straight week, Tyler Thackerson started at QB even though Derrick Evans was listed as the started in the published two-deep.
Lenoir-Rhyne Bears
Location: Hickory, North Carolina
Conference: South Atlantic Conference
Head Coach: Drew Cronic
Record: 11-0 (SAC Champions)
Five players to watch
#8 RB / WR Jaquay Mitchell
#16 QB Grayson Willingham
#32 LB Jaquan Artis
#35 LB Clayton Horn
#90 DL Dan Louba
Round one recap
Lenoir-Rhyne's defense manhandled a Miles offense that never established any threat rushing or passing last Saturday. The Golden Bears finished the day with just 125 yards of total offense. Their first seven drives of the game were three-and-out possessions. The longest drive of the day went 38 yards and they never held the ball for more than two and a half minutes. LR's offense wasn't as clean as it usually is (especially passing the ball), but they were up 26-0 at halftime and won 36-7. There are some things they'll work on this week at practice, but any time you win by 29 points in the playoffs, you can feel good about it. The win gives the Bears a 12-0 record for the first time in program history.
The matchup

For the second year in a row, two SAC rivals meet in the second round of the Division II playoffs at Moretz Stadium. Last year, the Bears prevailed over Wingate 21-17 in one of the best battles I've seen in the Division II playoffs (and I've seen a lot of D2 playoff games). It might be a little much to hope for this week's game to equal the drama, excitement and intensity of that day, but if it even gets close, then it will be a memorable one.
And I do think that will happen. Carson-Newman lost the first meeting (also at Moretz) 36-23. The Eagles could have been in that game at the end had they eliminated some early mistakes, but LR is a team that forces teams to make mistakes. If Carson-Newman can avoid sloppy turnovers this time around, I like their chances to pull off an upset. The Eagles have won five in row since that disappointing result, with three of the last four on the road and they've been cleaner in the turnover department recently.
Carson-Newman has turned the offense over to junior QB Tyler Thackerson, who has started the last three games in place of Derrick Evans. That began at Limestone where Evans' absence was explained as a suspension due to a violation of team rules. Evans has not played since. His absence has been felt, but not overwhelmingly so. Thackerson has played well. The passing game hasn't really missed a beat. The Eagles usually hit a few big pass plays per game, and that has continued. Evans is a more dangerous threat but the Eagles have still run the ball very effectively. Most importantly, the team seems very confident that they can with Tyler Thackerson running the offense and the experience against a very good Bowie State team should help his confidence and poise. It also helps that backs Antonio Wimbush and Troy Dendy both look as fresh in week 13 as they did back in the opener. Over the last four weeks, the duo has combined for 972 rushing yards and 10 touchdowns. That said…
…those results begin after the Eagles' loss at Lenoir-Rhyne. On that day, Carson-Newman rushed for only 158 yards, which is about half of their average productivity. I don't think they have to hit their season average of 300+ to win on Saturday, but they definitely have to break 200 and will also need to be less reliant on throwing the ball. The Eagles attempted a season-high 21 passes against LR and when they throw the ball that much, its because they have to, not because it was in the game plan. If they have to pass 20 times this Saturday it will mean they're playing from behind.
I think for Carson-Newman to win – and I do believe they can win – they have to beat LR at their own game. They need to start fast. The Bears are so good at scoring early and often to make opponents play from behind and if they can do that, on Saturday the home crowd will be amped up and loud and that will make it hard for Carson-Newman to bounce back. If the Eagles can be the team to put a couple of early scores on the board, they'll have a really good chance.
Doing that will be contingent on the defense having another big day. They are coming off one of their best performances of the season against a really good Bowie State offense, so confidence will be high. The Bears didn't have their best offensive day last week, and although Miles is pretty good defensively, Carson-Newman is better and probably more athletic. Grayson Willingham will have to step up as the leader of offense and overcome a below standard performance last week. He had two balls picked off by Miles and if that is repeated, it could be disastrous.
The Pick
Carson-Newman upset an undefeated team in round one and will have to do it again to advance to the regional finals. I believe their defense is peaking at the right time and can keep this low scoring. My concern is that the offense has not always been there against tougher defenses this season and LR has one of the best defenses in the country. I think this will be a very close game and I could see it going either way. Lenoir-Rhyne always shows up in big games and I think they'll pull this one out late in the fourth quarter.
Lenoir-Rhyne 28 Carson-Newman 24
Other SR2 Action
In the other Super Region two game, West Florida travels to Valdosta State for their second meeting of the year. The pair meet only three weeks ago in Valdosta where the home team prevailed 26-21. The Blazers led 20-0 at halftime but West Florida outscored them 21-6 in the second half. Despite the close score at the end, Valdosta State had a huge advantage in total offense, 526 to 283. I think West Florida is going to have a better day defensively and pull off the upset. Valdosta State has been a remarkable team over the past two seasons but all streaks come to an end at some point and I think this will be the weekend for it to happen. West Florida has an outstanding coaching staff and with the lessons learned from the first meeting, I think they can put together a winning game plan. I won't predict a score, but I think West Florida will win by a few points.
As always, you can send questions or comments to me at [email protected] and you can connect with me on Twitter @D2Chuck. Follow my SAC Football photos page for updates and check out games from the past three seasons.