SAC Playoff Preview: Round Two
November 25th, 2021 7:00am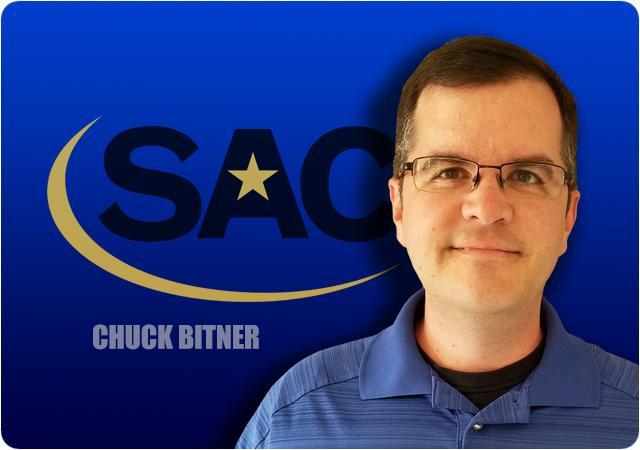 The SAC went 1-1 in the first round of the playoffs, which is exactly what I expected, so everything went according to plan…Kind of. A little bit. Well…not at all, really. I felt pretty confident in Lenoir-Rhyne being able to play good defense and muster enough offense to get out of Bowie with a hard-earned road win. Conversely, I had almost no optimism in Newberry's upset prospects at defending national champs West Florida. Going into the weekend those seemed like realistic expectations.
Neither went the way I anticipated.
As we now know, Bowie State forced Lenoir-Rhyne into a slew of mistakes that undid a handful of drives and ultimately cost the Bears a shot at victory. The critical series of events in this game occurred with about five minutes left in the second quarter. The Bears had a tough start to the game, but the defense was keeping them in it. Down just 7-3, LR had their best drive of the day going and had a chance to take the lead before halftime. Disaster struck when a hurried throw was deflected, intercepted and returned 70 yards for Bowie State's nation-leading 8th defensive touchdown of the year. On the kickoff that followed, LR fumbled and immediately gave possession back to Bowie State. The defense held Bowie State to a field goal, but the momentum swing was all the Bulldogs needed. If LR had finished that drive – even if they just get a FG – and don't yield those 10 points in the final minutes of the half, the rest of the game could have played out very differently. But even if we could change that series of events, I don't think it would have changed the fact that Bowie State was the better team that day and I don't think it would have changed the outcome. Lenoir-Rhyne was able to move the ball and did post 446 yards of total offense but Bowie State refused to let them finish drives and that was the difference.
Meanwhile, 1,000 miles to the south of Bowie, Maryland, Newberry was taking on the defending national champions, the West Florida Argonauts. The Wolves stunned the home crowd with a pair of touchdowns on their first two possessions and the defense was able to hold the lead for the entire half. The Argos did reel off 27 unanswered points and appeared to be on the verge of putting the game away, but Newberry never lost their focus. They did what the always do. They kept moving on to the next play and kept trying to make something happen. They got the play they needed early in the fourth quarter when they blocked a punt and returned it for a touchdown. Coach Todd Knight revealed on Inside D2 Football that this was something they had practiced during the week. They saw things on film that made them believe they could make a big play with the punt block team and their practice paid off. That single play changed the remainder of the game. The Wolves had been held scoreless for more than 40 minutes but following that special teams score, everything changed. The defense found their mojo again and the offense mounted a late scoring drive to get the game into OT. Once they were in OT, the Wolves simply wanted it more.
I've seen a lot of D2 Football playoff games over the years. When you get to this point in the season, every team is good. They don't all match up evenly, but every team is good and there are no easy paths to the championship. But I really did not think Newberry had a good chance of beating the defending champs, 500 miles from home. It started with great game plans on both sides of the ball, solid execution for most of the game, and a force of will. The Wolves didn't flinch when they were knocked down, and punched right back. Phenomenal performance all around. It literally takes every player and every coach on the team to make that happen.
In case you missed it, Coach Knight joined our crew on Inside D2 Football last Sunday evening to discuss the win and give some thoughts on facing Bowie State. You can find that interview on The D2Football YouTube Channel.
With the win, the Wolves advance to the second round and take on the same Bowie State team that took out Lenoir-Rhyne. Let's see how they match up.
Newberry (10-2) at #2 Bowie State (11-1)
Bowie State profile
Location: Bowie, Maryland
Home Stadium: Bulldog Stadium
Coach: Damon Wilson (88-44, 12th season)
NCAA Playoff history: 5th appearance (2015, 2017, 2018, 2019, 2021)
Playoff record: 2-4
Three things to know about Bowie State
The Bulldogs have won three straight CIAA Championships, with all three culminating in wins over Fayetteville State in the conference championship game.
Bowie State is traditionally one of the top defensive teams in Division II. They finished the 2021 regular season ranking 5th in total defense and 6th in scoring defense.
The Bulldogs are tough to beat at home. They have not lost a regular season home game since September, 2016. Their home record over the last five years, including playoff games, is 22-3.
Stats at a glance
| | | |
| --- | --- | --- |
| | Bowie State | Opponents |
| Points Per Game | 34.67 | 12.92 |
| Total offense | 369 | 236 |
| Rushing | 200 | 92 |
| Passing | 170 | 143 |
| 3rd down conversion | 38.16% | 23.90% |
| Red Zone offense | 40 / 49 | 13 / 26 |
| Sacks by | 43 | 33 |
| Turnovers gained | 31 | 22 |
| Turnovers lost | 22 | 31 |
| Penalty yards per game | 86 | 49 |
Five players to watch
#0 DL Joshua Pryor
#7 QB Ja'rome Johnson
#6 RB Calil Wilkins
#10 DL Jonathan Ross
#59 DL Joseph Murray
Newberry profile
2021 South Atlantic Conference Champions
Location: Newberry, South Carolina
Home stadium: Setzler Field
Coach: Todd Knight (77-59, 13th season)
NCAA Playoff history: 5th appearance (2006, 2013, 2015, 2016, 2021)
Playoff record: 2-4
Three things to know about Newberry
The Wolves won the SAC championship outright on the final day of the season. They finished with a 7-1 conference record, a game ahead of second place.
Newberry's 9-2 regular season record secured the program's first winning fall season since 2016, which was also their most recent SAC Championship and playoff appearance.
Coach Todd Knight is the winningest coach in program history, an honor he earned earlier this season when the Wolves got their 73rd victory under his direction.
Stats at a glance
| | | |
| --- | --- | --- |
| | Newberry | Opponents |
| Points Per Game | 30.67 | 17.02 |
| Total offense | 413 | 289 |
| Rushing | 210 | 127 |
| Passing | 203 | 161 |
| 3rd down conversion | 47.80% | 30.87% |
| Red Zone offense | 38 / 51 | 21 / 29 |
| Sacks by | 15 | 13 |
| Turnovers gained | 19 | 15 |
| Turnovers lost | 15 | 19 |
| Penalty yards per game | 77 | 55 |
Five players to watch
#1 QB Dre Harris
#2 WR Bryson Woodruff
#8 DB Anthony Blue
#24 RB Mario Anderson
#90 DL Tyran Dixon
How Bowie State wins
Bowie State can win by doing a lot of the same things they did last week. Be tough against the run, get off the field on third down and create turnovers. Those are all key contributions to a win on any day but especially against a good team. How they do those things will be different this week than last week. Newberry has a diverse offense but success really is predicated on the running game. Mario Anderson is a physical runner that will make you pay for every tackle. Bowie State isn't afraid of physicality but it can wear down any defense if the opposition is picking up first downs with it. I would play the run aggressively and also plan to snuff out the receiver screens. Newberry will take some shots and the Bulldogs will have to accept that. The Wolves might hit some, but it's not something they can rely on a lot. Cover the underneath routes, and limit the YAC. That should be the priority. If they burn you once or twice, you can live with that if you're getting off the field consistently on third down.
Offensively, they're going need the same things Newberry will need. 100 tough rushing yards from the leading rusher (Calil Wilkins) and a whole lot of improvisation from their quarterback (Ja'Rome Johnson.) The Bulldogs didn't throw the ball well last week (8 of 21, 76 yards) and only two receivers caught passes. They can get away with that again If Wilkins and Johnson both hit 100 yards on the ground again, but that might be harder to do this week.
How Newberry wins
The Wolves' offense will face an even bigger challenge this week than they did in Pensacola. Bowie State has one of the top defensive units in Division II and they proved that again this past weekend against Lenoir-Rhyne. That said, Newberry will match up differently than Lenoir-Rhyne did and it could prove to be a more favorable match up. Newberry's running style is a more physical, between the tackles approach which, if effective, can negate team speed on defense. LR was not able to do that very often and the result was too many rush plays for negative yardage. The other key factor in the match up, rushing and passing, is the mobility of quarterback Dre Harris. He led the Wolves in rushing last week with 77 yards and a score, while also passing for 182 and another TD. He excels at extending plays and he's played with his receivers for so long that they're usually on the same page when the receivers have to break off their routes. I do have some concerns that their short passing routes to speedy receivers Bobby Irby and Bryson Woodruff won't be as effective against the Bulldog defense. They do have the ability to stretch the field and might have to take some shots to make Bowie State respect that element of the offense.
Defensively, the challenge is very different this week. They're going to do everything they can to force Bowie State into passing situations and if they can do that, I think they can gamble heavily on bringing pressure. We saw last week against West Florida they are not afraid to let their corners cover one on one. The most important thing is to be physical at the line of scrimmage and win first down as often as possible. If Bowie State has their whole playbook available to them on second or third and short, that's when Ja'Rome Johnson can really burn them. Todd Knight told our crew on Inside D2 Football that if they let Johnson get to the second level when he takes off, they won't be able to catch him.
Final analysis
By the time the busses roll onto campus at Bowie State this weekend, the Wolves will have covered more than 1,500 miles in about a week. Its definitely an advantage for Bowie State to be at home for the second straight game. But seat time on the bus can also be mental preparation time and beating Bowie State will require total focus and very few mistakes. If the Wolves can win the turnover battle again this week, I like their chances. Regardless of the outcome, this will be a very physical game.
The pick
Newberry
Questions, suggestions, comments, complaints? Email me at [email protected] and follow me on Twitter @D2Chuck.