SAC Preview Week 10
November 7th, 2019 2:00pm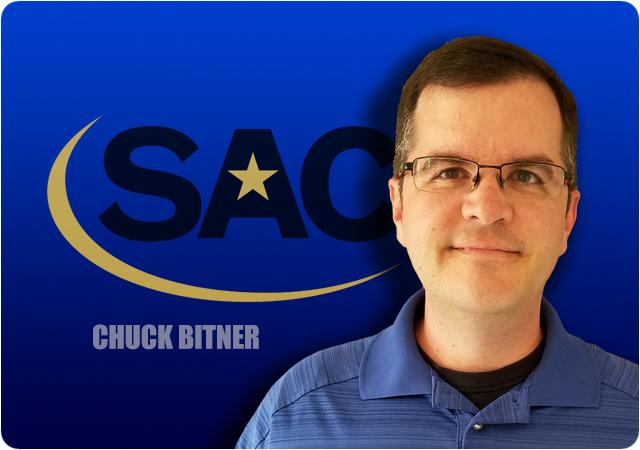 We're into double digit weeks now which means we are heading towards the checkered flag on this 2019 season. It's always a little sad to see the regular season winding down since most teams will be done after next Saturday, but we still have a lot games to go and we have the post season coming up, which always delivers a few thrillers. Here is a look at some headlines around the the league.
Lenoir-Rhyne prevails in battle of unbeatens
The battle of unbeatens between the bricks was everyting we thought it could be. It was a close, competitive battle between two great teams that know each other well. It was a perfect day for the SAC and Dvision II. I coud not possibly design a better way to showcase the conference to a national television audience. More than 10,000 people packed into Moretz Stadium to watch and everyone stayed until the clock hit 0:00. It was an amazing experience and it was one of the loudest D2 environments I've ever been in. Only a couple of well-attended national championship games top it. The victory helped boost LR into the number one ranking in super region two (more on that later) and the loss didn't cost Wingate a single spot.
Dugger invited to Senior Bowl
Lenoir-Rhyne defensive captain Kyle Dugger, ranked by talent experts as one of the top safety prospects in this year's draft, received an invitation to the Senior Bowl.This is an amazing opportunity. There are numerous post-sason All Star games for draft-eligible players but the Senior Bowl is by far the most important and prestigious. All practices and off field events are observed by representatives of every NFL franchise. He will get a ton of exposure, one-on-one time with executives and coaches and of course, an opportunity to show what he can do on the field. Congratulations Kyle!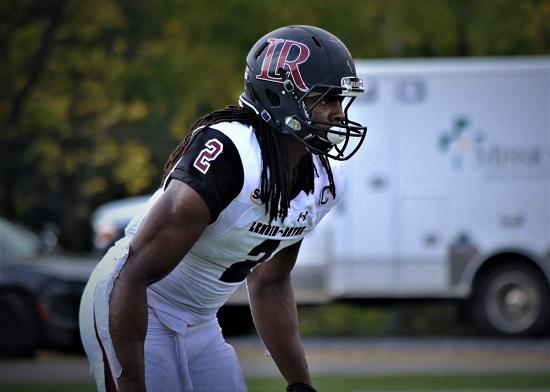 Lenoir-Rhyne's Kyle Dugger. Photo by C. Bitner.
Rucker sets school and conference record for TD receptions
Mars Hill's Craig Rucker hauled in 15 catches for 199 yards, and three touchdowns in the Lions' loss to Carson-Newman. Rucker's career tally now stands at 42 touchdown receptions, which establishes a new Mars Hill and South Atlantic Conference record. Cogratulations Craig!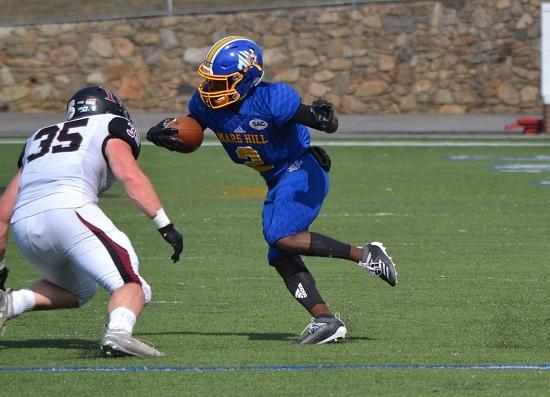 Mars Hill's Craig Rucker. Photo by C. Bitner.
SAC players named finalists for Blanchard-Rogers Award
Newberry defensive lineman Keito Jordan and Limestone running back Jerko'ya Patton have been named as a finalists for the Blanchard-Rogers Award. The award is presented to the most outstanding college player from or playing in the state of South Carolina. Congratulations Keito and Jerko'ya!
Regional rankings
The latest round of regional rankings was released on Monday and as expected there were not many changes. Wingate's loss did not impact their standing as they justifiably remained in fourth place with an 8-1 record. Mississippi College dropped out after losing to West Georgia by two touchdowns. That elevated Virginia Union and Albany State and bumped West Georgia into the top 10. Predictable changes based on minimal chaos.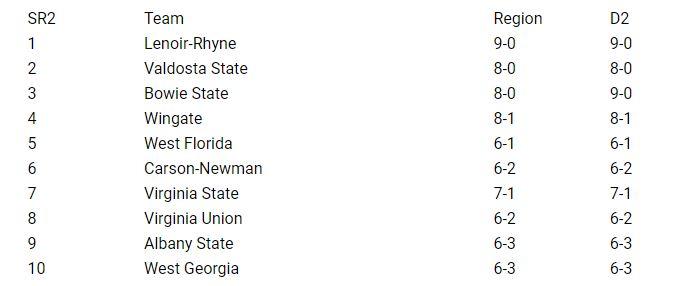 The most notable change was Lenoir-Rhyne jumping over Valdosta State for the number 1 spot. I did find that a little surprising, but it is consistent. In the first round of rankings, there were four undefeated teams and all were 8-0. Given the identical records, it looked to me like the committee simply used weighted OWP to set the order, and that makes sense. They simply did the same thing again and this week LR had the advantage. It was minute, yes, but still a higher number (.554 to .553). Also, the Bears have one more win than the Blazers and that does count for something.
Blazer fans are understandably confused by this, but it is important to remember a couple of things. 1) national polls (including ours at D2Football) have never had any influence on regional rankings. 2) While we are not privy to the conversations that occur in committee meetings the process as it is documented, is largely mathematical. In this case, the numbers favor Lenoir-Rhyne. 3) Last year doesn't matter. Valdosta doesn't get deference for being the reigning national champion, nor does the committee care that they manhandled Lenoir-Rhyne in the quarterfinals last year. We all remember it. We all know it happened. But it does not matter. Those factors have no bearing whatsoever on the 2019 regional rankings. 4) If it changed once, it can change again. After navigating the toughest parts of their schedule, Lenoir-Rhyne hits the home stretch against UNC Pembroke (3-6) and Catawba (1-8). Valdosta State finishes with West Florida (6-1) and West Georgia (6-3). If both teams win the remaining games, I think it is very likely Valdosta State will re-assume the number 1 spot.
Here is how the SAC looks as we roll into week 10.
1. Lenoir-Rhyne
Playing without defensive leader Kyle Dugger, absent with a hand injury, the Bears held Wingate to just 86 rushing yards and most importantly, 13 points. For their part, Lenoir-Rhyne's offense also struggled but 200 rushing yards was a great effort against the Wingate defense and Jaquay Mitchell was the difference marker with touchdown receptions of 41 and 90 yards. The latter was a school record. Only seems fitting to set a school record in front of what may have been a record crowd in LR's 100th season of football.
There are still two games to go but the Bears have already locked up their second consecutive SAC championship and an undefeated season is now well within reach. The only things standing in the way of an 11-0 regular season are UNC Pembroke and Catawba.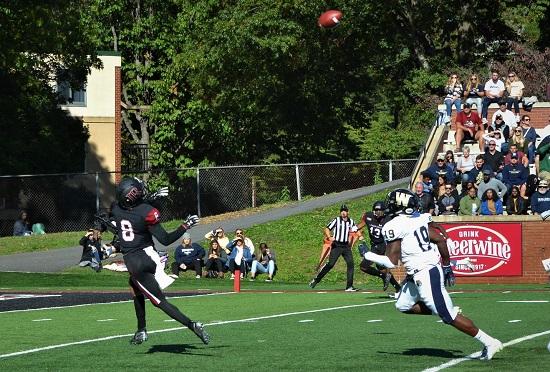 Jaquay Mitchell scored both of Lenoir-Rhyne's touchdowns including this 41 yard reception in the first half. Photo by C. Bitner.
2. Wingate
Wingate's performance at Lenoir-Rhyne was quite similar to the road game at Catawba back in week four. They did a lot of things well. They outgained LR in total offense and put up more first downs. They moved the ball well at times, making several clutch plays in the passing game and stringing first downs together. Unfortunately, they just couldn't finish drives when they had some opportunities. It is a tough loss that probably hurts a lot, but there is no time to wallow in it or lick wounds. The Bulldogs cannot win the league title but they are still in perfect position to make the playoffs for the third straight year. But the last two games are not going to be easy. Wingate is better than Newberry and Mars Hill but the Wolves have won three of the last four and Mars Hill has some strengths that could cause problems for the Bulldogs. They need to get refocused quickly and take care of business. If they do that, another shot at Lenoir-Rhyne is a very strong possibility.
3. Carson-Newman
I know coaches like to pretend they don't look at rankings or pay any attention to media, but believe, they do. That may not be a good thing in many cases, but there can be a time and a place for it. The first round of regional rankings came out last Monday and with the six place ranking, Carson-Newman is in position to make the playoffs and they played a like a team that is very much aware of that. At Mars Hill last Saturday, they played like a team that has a new lease on life. The Eagles are in position to make the playoff field, if they can finish 8-2. They don't completely control their destiny, but for all practical purposes, they do. They played like a team with a lot to play for. We haven't always seen that in the past few years so maybe this team is ready to prove how good they can be. They made a few mistakes with penalties but won the turnover battle, which made a huge difference. The Eagles still have to get through a Limestone team that can punch above its weight and local rival Tusculum.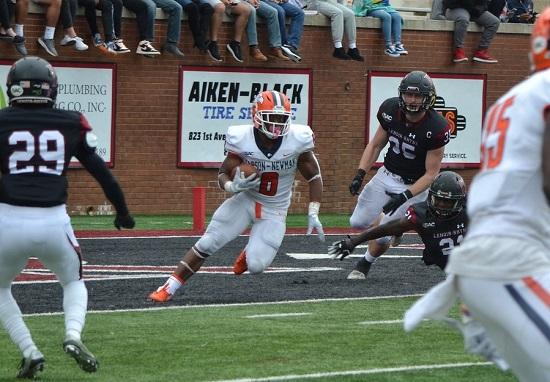 Antonio Wimbush rushed for 143 yards and 3 TDs in Carson-Newman's win over Mars Hill. Photo by C. Bitner.
4. Mars Hill
I was very close to picking Mars Hill to upset Carson-Newman last Saturday. Unfortunately, they hurt themselves with turnovers and couldn't do enough to slow down the Eagles' rushing attack, which churned out 388 yards. The Lions have to win at least once in the last two weeks to earn their first winning season since 2015. They're at Tusculum this weekend, then close the season at home against Wingate.
5. Newberry
Newberry prevailed in overtime against UNC Pembroke at home. The hero of the day ended up being a player that, to be perfectly honest, I did not even realize was still with the team. Greg Ruff started several games in 2017 and 2018 but had appeared in only two games in 2019 and had not attempted a pass until this past Saturday. His third and final attempt of the day fell into the hands of Bryson Woodruff for a 15 yard touchdown in the bottom half of the first OT, ending the game on the spot. It was a great moment for a player who has put a lot into the program and hasn't had many opportunities this year. The Wolves have won three of the last four but still need the last two to pull off a winning season. That would have to start with an upset at Wingate Saturday night.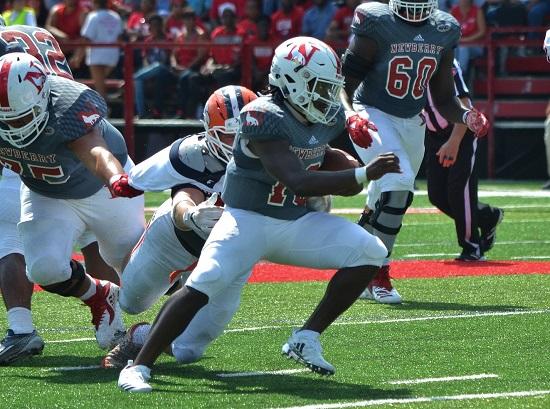 Greg Ruff came off the bench to throw the game winnng touchdown in Newberry's overtime win over UNCP. Photo by C. Bitner.
6. Tusculum
The Pioneers extended their winning streak to three games with a big day running the ball against the struggling Catawba defense. For the second week in a row, both Jordan Shippy and Thurlow Wilkins eclipsed 100 yards. This marked the first time in program history that multiple backs rushed for over 100 yards in consecutive games. Two tough games remain against Mars Hill and Carson-Newman and the Pioneers must win both to achieve a winning season.
7. Limestone
Limestone picked up their third overall and second conference win of the season with a victory over UVa-Wise. It was the Saints' first SAC win on the road since winning at Newberry in 2017. I can't say it was pretty. The offense started well with scoring drives of 14 plays, 85 yards and 13 plays, 80 yards in the first quarter but that ended up being a bulk of their offensive production for the day. They did add more points later on and the defense had no problems with the Cavs' offense. The Saints play their final home game of 2019 this Saturday against Carson-Newman. A win in that contest is unlikely, but a fourth win in the finale at Newberry is not out of the question.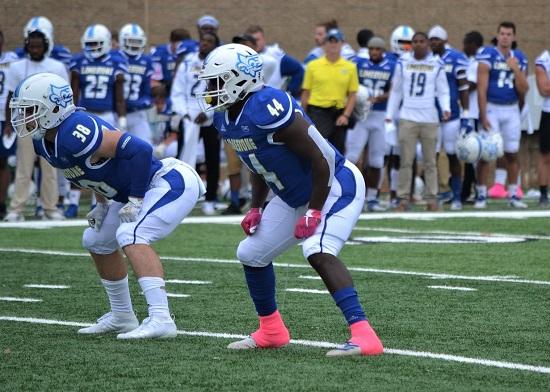 D'Mecko Pryor led Limestone's defense in the Saints' first conference road victory at UVa-Wise. Photo by C. Bitner.
8. Catawba
Catawba was able to keep the score close for a half, mostly because of a few Tusculum mistakes they were able to take advantage of, but weren't able to do much on either side of the ball. Sadly, it was another really ugly day. The offense produced only eight first downs and 148 total yards. They also turned the ball over three times, got sacked seven times and held possession for only 22 minutes. They're relying on a freshman quarterback to lead an offense that is severely depleted and has no one left stepping up as a play maker. When I watched the game replay on Sunday, the defense stood out with numerous blown assignments, terrible tackling and bad angles. Those are fundamentals that should not be lacking in a program with Catawba's pedigree.
9. UVa-Wise
The Cavs had what was probably their best shot at a win since the season opener and simply could not deliver. The defense settled in and played well after a bad first quarter but it was already too late. The offense just can't get anything going and for the fourth time this year, put 7 or fewer points on the board. Three different quarterbacks played and all were efficient, but couldn't push the ball down field. They completed a combined 18 passes but for only 6.3 yards per completion. The Cavs do have one more shot at a conference win and that too will be their best to date. Catawba comes to town with a seven game losing streak.
Week ten schedule
Catawba (1-8, 0-6) at UVa-Wise (1-8, 0-7) 12:00
Well this is hardly the game of the year in the SAC but for these two teams, it is. One of these teams will finish winless in conference play and in an undisputed last place. Catawba has one more league game after this but it's Lenoir-Rhyne and I can't even do the mental calculus on what it would take for an upset to happen in that game. For Wise, this is it. Catawba will be their eighth and final conference game of the season.
They have some of the same struggles so this could be a game that simply comes down to who wants it more. Putting in the time and enduring wear and tear on the body when you are 1-8 takes a lot of mental toughness. In my professional life, I have been on struggling teams that aren't going anywhere and it is very hard to slog through the day to day. I imagine these teams are dealing with a lot right now. The team that has a more positive outlook this week at practice will show up in a better mindset and that team will be the winner. Wise has a little more working for them on defense and some experience at quarterback to at least minimize mistakes. Wise gets their first SAC win.
UVa-Wise 20 Catawba 17
Carson-Newman (6-2, 4-2) at Limestone (3-6, 2-4) 1:00
Limestone will hold their home finale this Saturday afternoon when Carson-Newman comes to town. The Saints are feeling good again after notching their third win of the season but I think Carson-Newman has a sharp focus on what they must do to secure their spot in the post season. The Eagles should be able to win this game by doing what they do best, which is running the ball for 300+ yards and creating turnovers on defense. The Eagles are really good at defending the pass and have a SAC best 17 interceptions. I think they will create extra possession with turnovers and pull away in the second half.
Carson-Newman 35 Limestone 14
Mars Hill (5-4, 4-2) at Tusculum (4-5, 3-3) 1:30
Mars Hill makes their final road trip of the season with the short journey northwest to visit Tusculum. This will be a pivotal battle for fourth place in the SAC. The Lions can secure a fourth place finish with a win and possibly force a three-way tie for second if they can win the following week as well. Tusculum must win to keep their hopes of a winning season alive.
Tusculum has gutted out three hard earned wins in a row, but none of those three teams are very good offensively. Mars Hill has an offense that can move the ball as well as any anyone. They lead the SAC with 441 yards of offense per game. That poses a problem for Tusculum. The Pioneers have a good defense but if the offense has to score more than 24 points, their chances of winning go down dramatically. In each of Tusculum's four wins, the opponent scored no more than 20 points. In their five losses, opponents scored no less than 24. I think Mars Hill can hit four touchdowns and that is a danger zone for Tusculum's prospects.
Mars Hill 28 Tusculum 21
UNC Pembroke at #7 Lenoir-Rhyne (9-0, 7-0) 2:00
UNCP has been a bit of a hard luck team in 2019. The record is not good but they've battled hard and come up heartbreakingly short in the last three games. I like their effort, but I don't like their chances on Saturday. That's assuming Lenoir-Rhyne doesn't have a let down following the huge game against Wingate…and that could definitely happen. The Bears are a much better team but UNCP deserves their full attention. They need to look no further than what happened when Wingate thought they had the Braves put away back on October 19. UNCP scored 35 second half points to make it close at the end. The Bears should be able to win this game with a ground attack. UNCP has been struggling to stop the run all year. I would expect to see LR try to win this by grinding it out with some backs that have been providing a lot of production off the bench. Look for Tate Beaver and Ryan Carter to see more carries and they may work in some more packages for back up QB Hayden Mann who contributed against Wingate.
The Bears could probably slog through an ugly win even if they don't show up and play well, but that is not what the want. I think they'll be ready to take care of business.
Lenoir-Rhyne 42 UNCP 14
Newberry (4-5, 3-3) at #21 Wingate (8-1, 5-1) 6:00
Newberry has won three out of four and now have their eyes set on winning two more to close the year with a winning record. Wingate has to get refocused after the tough loss at Lenoir-Rhyne. That loss will cost the Bulldogs the SAC title but it did not damage their playoff prospects. However, a loss this weekend would drop them at least a position or two and while that probably wouldn't be enough to bounce them out of the playoffs entirely, it would hurt their chances. Bouncing back will not be easy, especially against a team that is feeling pretty good and has some momentum.
I can see this being a difficult game for Wingate. Their defense should be able to carry them and give the offense time to put some scoring drives together. I think it will be a low scoring first half, in the neighborhood of 10-3 and then Wingate will grind out a few TD drives with McNeill and Peoples.
Wingate 24 Newberry 13
Important games around the region
West Florida at Valdosta State 6:00
Probably the top game in Division II this weekend. Winner and loser will both remain in good playoff standing, but a win by West Florida could really shake up the bracket.
West Georgia at Delta State 2:00
Playoff elimination game. West Georgia jumped into the top 10 last week and could inch closer to the top seven with a win but a loss drops them from contention. Same is true for Delta State.
Miles at Tuskegee (all day? – no joke, that is the listed start time by the SIAC)
Fort Valley State at Albany State
It's a rivalry game and it will have a big impact on the bottom three positions in the rankings.
Fayetteville State at Winston-Salem State 2:00
St. Augustine's at Shaw (its actually a home game for both teams) 1:00
Fayetteville State and Shaw are tied for the CIAA south division lead. FSU controls their destiny. If they beat WSSU, they win the division. If they lose and Shaw beats St. Aug, Shaw wins the division. If both teams lose, FSU wins the division.
Virginia Union at Virginia State 2:00
It's a BIG rivalry and most likely an elimination game. Should be a great scene at VSU.
As always, you can send questions or comments to me at [email protected] and you can connect with me on Twitter @D2Chuck. Follow my SAC Football photos page for updates and check out games from the past three seasons.