SAC Preview Week Eight
October 24th, 2019 2:00pm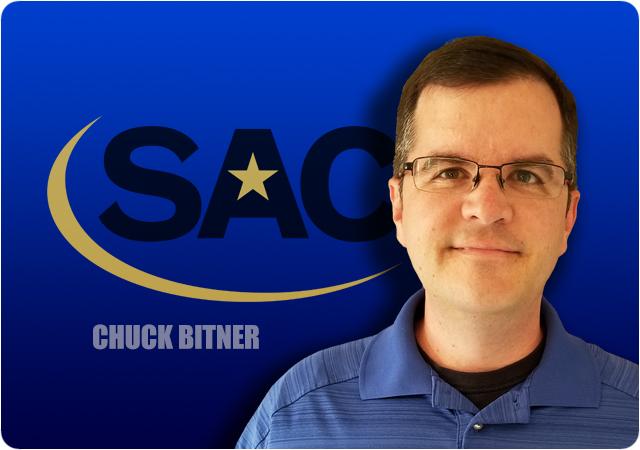 I swear I am not looking ahead to next week's game between Lenoir-Rhyne and Wingate. I swear I am not…
I am totally lying. I can't wait for it. Coaches and players cannot afford to look ahead. That's how upsets happen and they cannot get caught in that trap. But I am neither of those things. I am excited for the national television audience to see the quality of play we have at the top of this conference. I am excited for what should be a thrilling game. That said, the hype factor amplifies if both teams are 8-0...but they're not there yet. Both teams have business to take care of this week. So, let's be disciplined (looking at you, Chuck) and take it one week at a time. Coach Cronic and Coach Reich are masters of getting teams prepared for the next task in front of them, so I will follow their influence and get us ready for week eight of the SAC season.
Here is how the teams stack up as we head into the final month of the season.
1. Lenoir-Rhyne
The Bears stayed perfect with a 36-23 win over visiting Carson-Newman. The game was competitive for most of the day but it felt like Lenoir-Rhyne was in control. The Eagles took momentum briefly in the second quarter, closing the gap to two points with 1:29 left and it looked like we were set up for battle. But the Bears needed only a minute of game clock to respond and push the lead back to nine points at the half. That was the turning point. It swung momentum back in favor of the home team and kept Carson-Newman from getting any closer than a touchdown for the rest of the day. The defense limited Carson-Newman to less than 300 yards of offense, including just 158 on the ground. The Bears should be able to take care of business at Limestone this Saturday and return home with an unbeaten record for the big matchup with Wingate.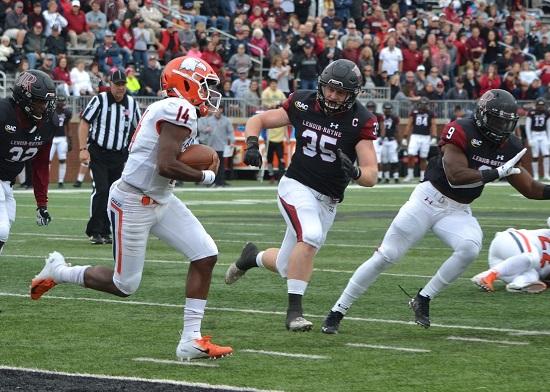 Clayton Horn led Lenoir-Rhyne's defensive effort with 10 tackles in the win over Carson-Newman. Photo by C. Bitner.
2. Wingate
The Bulldogs led UNC Pembroke by 32 points midway through the third quarter but had to hang on for dear life to secure the win. UNCP scored 35 second half points, cutting the final margin down to 10. The win is all that matters but it's a perplexing performance from a defense that has been outstanding for most of the year. They should be able to get back on track against the struggling offense of UVa-Wise this coming Saturday.
3. Carson-Newman
The Eagles did a good job of surviving the early onslaught from Lenoir-Rhyne. After falling behind 16-0 in the first quarter, the Eagles fought back with a pair of second quarter touchdowns to draw within two. Unfortunately they couldn't keep the offensive momentum in the second half and the fumble bug bit them yet again. A turnover inside their own 10 yard line set up Lenoir-Rhyne's only touchdown of the second half. The defense played well against one of the top offensive teams in the country. The three lost fumbles and nine penalties were killers. It was a tough loss but the season is not over yet. If they can win the remainder of their games, they would finish 8-2 with losses to a pair of highly ranked teams, and a win over West Florida. If that is the final body of work, it might be good enough for a playoff spot.
4. Mars Hill
Mars Hill rebounded from a disappointing loss at UNCP with a nice homecoming win in a dramatic battle with Limestone. Jimmy Urzua made his return to the lineup after missing three games and played remarkably well. The sophomore completed 27 of 40 attempts for 329 yards and two touchdowns. He also rushed for two touchdowns. It was a tight game for most of the day with the deciding drive occurring late in the fourth quarter. The defense sealed the win with an interception on Limestone's final drive. The Lions need two wins over the final month of the season to reach a winning record. A visit to 1-6 Catawba is on deck for this Saturday.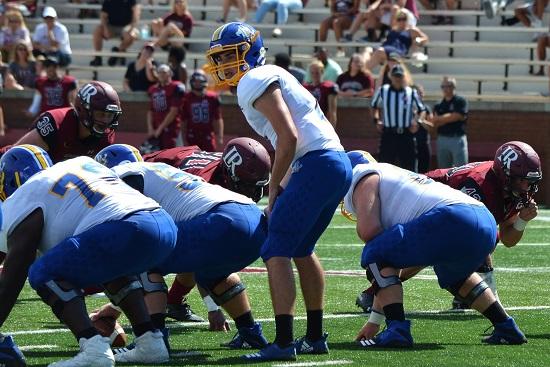 Jimm Urzua passed for 329 yards and two touchdowns in Mars Hill's win over Limestone. He also ran for two touchdowns. Photo by C. Bitner.
5. Newberry
The Wolves won for the third time in four weeks and picked up their first road win of the season with a dominant 44-21 result at Catawaba. Its pretty amazing that they put 44 points on the board, but only two players scored. Junior RB Chance Walker scored all six – yes SIX – touchdowns for Newberry. All six were rushing, as part of his 261 yard performance. Walker established new school records for rushing yards, touchdowns and points scored in a single game. For his performance, Walker was named SAC and D2Football.com offensive player of the week. Kicker Shea Rogers was the only other Wolf to register points. After an 0-3 start to the season, the Wolves have climbed out of the basement and still have a shot at a winning season. They need to win three of the last four to do it and that's going to require an upset or two, but they might have it in them.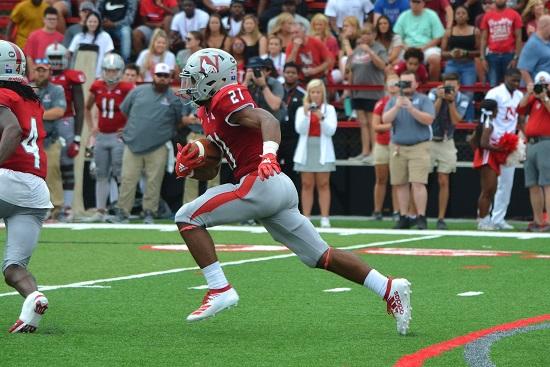 Chance Walker set Newberry records for rushing yards (261), rushing TDs (6) and points in a single game (36). Photo by C. Bitner.
6. Tusculum
Tusculum picked up their second win of the season at UVa-Wise. It was not pretty, but they got it done. Jordan Shippy had a good day, rushing for 127 yards and AJ Belanger hauled in a one-handed TD grab. Over the next three weeks, we're really going to see what the 2019 Pioneers are made of. They have a stretch of three straight home games against UNCP, Catawba and Mars Hill. They can compete with all three of those teams. Coaches love to talk about opportunity. That's all they really want. Well, this is an opportunity for Tusculum. Those are winnable games and if they take all three it would be a huge momentum builder for the program.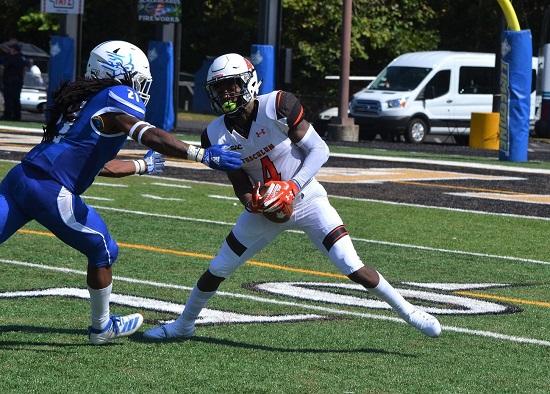 Dee Alford earned SAC defensive player of the week honors for his performance at UVa-Wise. Photo by C. Bitner.
7. Limestone
The Saints took the early lead at Mars Hill but then allowed the Lions to score three unanswered touchdowns to assume control of the game. To their credit, Limestone responded and managed to tie the game at 21 and again at 28. Naturally, just as I had been talking up how well the Saints' defense had been playing, they had one of their toughest outings of the year allowing 525 yards to Mars Hill. I think they can win at UVa-Wise in two weeks but will be surprised if they can tangle with the other three teams remaining on the schedule. Three wins would still be a step forward. They need to get that W in Virginia in two weeks.
8. Catawba
Saturday's loss to Newberry was five in a row for this struggling program. Their problems stopping the run hit a new low with Newberry posting 432 rushing yards and six rushing touchdowns. That is a demoralizing way to lose a game. Will Sweeper's return was good to see and he mad a few big plays but the offense still lacks explosiveness and the team is now down to its third option at quarterback. The way the defense is playing, a win over Mars Hill and their productive offense seems highly unlikely. Maybe they can pull off a small surprise against Tusculum, but its looking like UVa-Wise might be the only realistic shot at a second win.
9. UVa-Wise
The Cavs gave it a good shot on Saturday against Tusculum. A botched extra point after their first touchdown ended up making a huge difference in the 21-19 loss. The offense certainly wasn't good, but three touchdowns in a single game hadn't happened since the opener so that was encouraging. The defense had its best day in several weeks, coming away with three interceptions and a total of four turnovers. They'll probably take some lumps at Wingate this week but opportunity is on the horizon with Limestone and Catawba in weeks nine and ten.
Around the Region
The first round of regional rankings will come out on Monday, October 28. Heading into the week, here is a look at who the top contenders are from each conference.
Reminders: The top 10 teams in each region will be ranked until the championship field is announced on Nov. 17. The top seven teams from each region will make the field. Results against non-Division II teams are not considered in the primary selection criteria.
SAC
Lenoir-Rhyne and Wingate are 7-0 overall and against division II opponents. They meet on November 2 at Lenoir-Rhyne. If they're both 8-0 going into that game, the loser won't drop far – or at all – in the rankings. Both teams look like very safe bets for playoff spots. Carson-Newman is still in the picture at 4-2. Their strength of schedule is very good and the two losses are LR and Wingate. If they win the remaining four games, they'll have a chance. The head to head losses hurt them, but the win over West Florida will be a great asset.
CIAA
Bowie State (7-0) took control of the north division with a win at Virginia State but they still have to get through Virginia Union this coming Saturday to stay unbeaten. All three of those teams are very much alive for playoff positions. VSU's other loss is to an FCS program so they are still in contention at 5-1 against D2. Virginia Union survived a scare from Chowan to move to 5-1 against D2. Their loss was to Lenoir-Rhyne. Fayetteville State had to come from behind to beat JCSU but they pulled it off. They are 6-1 with the loss to Wingate.
GSC
As good as the GSC has been historically, they might be down to two contenders for the post season. Valdosta State keeps rolling at 7-0 and West Florida improved to 5-1. But the rest of them are dropping like flies. West Georgia and West Alabama took their third losses of the season. They play this coming Saturday. The winner can cling to hope while the loser will be out of the running, along with Florida Tech who is now 3-4. Delta State may be the GSC's third best team right now but they are vulnerable at 4-3. There are several big games to be played in this conference so anything can happen.
SIAC
Albany State prevailed through weather delays to win their fifth straight game last Saturday night. They are 5-2 along with division rival Fort Valley State who is also riding a five game winning streak. They meet each other on November 9 in the Fountain City Classic. Miles looks like the best team in the west division at 5-1 against D2.
Here is the week eight schedule
UNC Pembroke at Tusculum (2-5, 2-3) 1:30
UNCP was on the short end last week, but certainly showed some guts in fighting back from a 32 point deficit. Tusculum needs to show the same level of determination in kicking off a three game home stretch on Saturday. It's an opportunity for them start a run at winning season, which is still within reach.
This should be a favorable match up for the Pioneers. Braves QB Josh Jones has had a hot hand lately, but the offense is still a work in progress. I think Tusculum's talented back seven can limit UNCP's passing game and put pressure on Josh Sheridan to carry the load with the rushing attack. This game should come down to Tusculum's ability to run the ball. When they get the rush going with Jordan Shippy, they have a chance. UNCP has struggled against good rushing teams all year. The Pioneers need to commit themselves to owning the line of scrimmage and grinding out a win on the ground. I like their chances of executing that game plan.
Tusculum 24 UNC Pembroke 23
Mars Hill (4-3, 3-1) at Catawba (1-6, 0-4) 1:30
Mars Hill's offense has been very productive all season. Even in the three losses, the offense has moved the ball well. They'll be taking on a Catawba defense that is really up against it. They've struggled to stop the run all year and while Mars Hill does more damage through the air, they also have a decent complimentary running game. If they can move the ball on the ground, it just makes their passing game even more threatening. Unless Catawba's defense can rally with a big time effort and create some turnovers, this could be another really tough day for them.
Mars Hill is inconsistent on defense but they have it in themselves to play really well. Catawba may have to go with a freshman quarterback in this game. Kendall Davis was knocked out of the game in the third quarter last week. It may not be a bad thing to get some young players on the field, but its not ideal when they'll likely be under pressure to put a lot of points on the board. Mars Hill should be able outpace the Indians.
Mars Hill 38 Catawba 21
Newberry (3-4, 3-2) at Carson-Newman (4-2, 2-2) 3:00
This has potential to be a very, very interesting game. I could see this one playing out in many different ways. Carson-Newman is the more talented team. They should be able to grind down Newberry's defensive front with the powerful running game and pull away in the second half. Should.
But Newberry's defense has been getting better and the Wolves have had Carson-Newman's number. Newberry has won three straight over the Eagles, even during the losing campaigns of 2017 and 2018. The won't mean anything on Saturday but it will during practice this week. Newberry will go into this believing they can win.
Carson-Newman should prevent that as long as they play their game. Newberry's defense has been getting better…but against UVa-Wise and Catawba which doesn't necessarily buy a ton of credibility. Slowing Carson-Newman down will be a completely different challenge and while the defensive front has been developing more depth in recent weeks, the Eagles should still better at the line of scrimmage. The other factor in Carson-Newman's favor is their defense. Newberry found a rushing game against Catawba last week but they're not going to duplicate that against the Eagles' D line.
Carson-Newman 31 Newberry 17
#8 Lenoir-Rhyne (7-0, 5-0) at Limestone (2-5, 1-3) 4:00
This is a business trip for Lenoir-Rhyne. They'll make the short trip to Gaffney with their unbeaten record and I don't see any way possible that Limestone can threaten an upset. It would be easy for the Bears to get caught looking ahead to next week but one of the most impressive things about this program under Drew Cronic is that they simply do not do that. Maybe it's the fact that the upper classmen endured losing seasons as freshmen and sophmores, but this team does not take winning for granted. They buy into the one game at a time mentality as well as any program I've seen. They don't lose focus, don't let their guard down and don't assume that they can win just by showing up.
If they do that one more time, this should be lopsided. Expect a lot of pressure on Limestone QBs that will produce sacks and turnovers. The Limestone defense has had some good days but Lenoir-Rhyne will hit them with all the fresh legs they have and wear down that defensive front pretty quickly.
Lenoir-Rhyne 56 Limestone 20
UVa-Wise (1-6, 0-5) at #12 Wingate (7-0, 4-0) 6:00
Wingate outlasted a surging UNC Pembroke offense last weekend, but it will be very alarming if that happens again this Saturday. Wise is struggling with all kinds of problems offensively and remain statistically one of the least productive units in the nation. They're not bad on defense though so the Bulldogs will have to be focused and ready to execute. It would be really nice to do what they should be capable of doing and take care of this game in the first half and get some reps for bench players in the second half.
The Bulldogs should dominate the line of scrimmage on both sides of the ball. The defense is good at disrupting opponent backfields and that should be on full display. Expect a good number of sacks and turnovers, leading to Bulldog points.
Wingate 41 UVa-Wise 16
As always, you can send questions or comments to me at [email protected] and you can connect with me on Twitter @D2Chuck. Follow my SAC Football photos page for updates and check out games from the past three seasons.