SAC Preview Week Four
September 26th, 2019 5:00am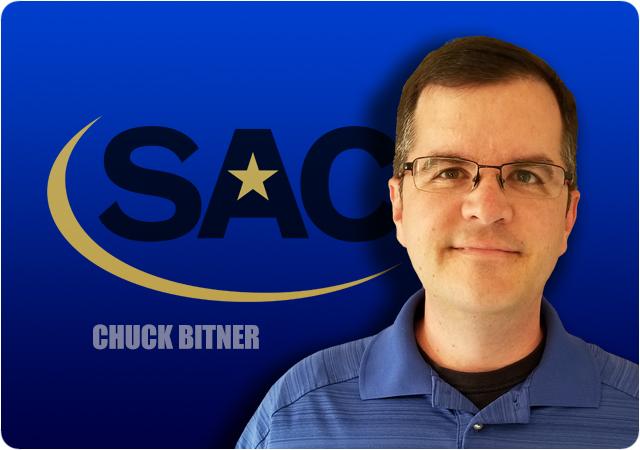 Before we get into the week four games, there is some more important news worthy of our attention.
SAC Players announced as semifinalists for William V. Campbell Trophy ®
Earlier this week, two SAC football players were named among 185 semifinalists for the William V. Campbell Trophy ®. The announcement was made by the National Football Foundation on Wednesday. The Campbell Trophy is acknowledged as college football's premier scholar-athlete award. To be considered, candidates must be a senior or graduate student in their final year of eligibility. The student-athlete must have a GPA of 3.2 or higher and demonstrate leadership and citizenship qualities. Nineteen players from Division II made the semifinalist list. The SAC is represented by Newberry's Tyler Lindsay and Wingate's Connor Baroniunas.
Tyler Lindsay, from Boiling Springs, SC, has already graduated from Newberry with a degree in Chemistry. He wrapped up his undergrad program with a grade point average of 3.75. I talk about statistics in this column frequently, but that may be the most impressive one of the season. Congratulations Tyler!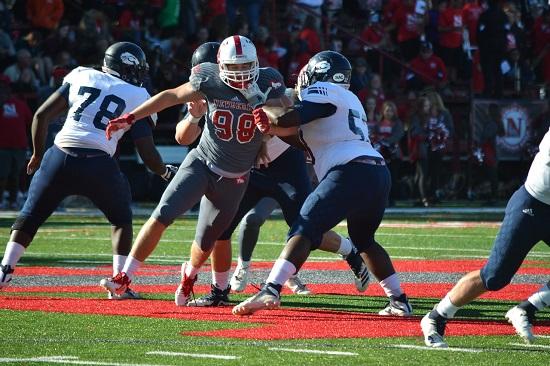 Newbery's Tyler Lindsay. Photo by C. Bitner.
Connor Baroniunas, from Apex, NC has been an anchor on the Wingate offensive line since his freshman season in 2016 and has earned multiple preseason and postseason awards. To date, he has helped Wingate to a record of 29-9 during his playing career. He is an accounting major in Wingate's Porter B. Byrum School of Business. Congratulations Connor!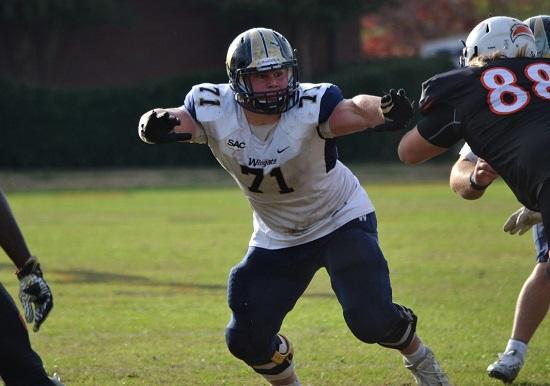 Wingate's Connor Baroniunas. Photo by C. Bitner.
The first round of conference games is now behind us and we're at the one-quarter pole for this season. Here is how the teams stack up after three weeks.
Lenoir-Rhyne
The Bears have been so impressive – and explosive - over the past 13 months that wins of 28-11 on the road and 34-17 at home seem to fly under the radar. Maybe that's a good thing. The wins in weeks two and three did not have massive point margins, but don't let that fool you. This Lenoir-Rhyne team is still very much in control and in my opinion, closing out games in the fourth quarter against teams like Newberry and VUU is better for them than annihilating St. Augustine's from the opening kickoff. These games will help them later in the season, as will the introduction of new talent which we saw last week. The Bears have an army of running backs and threw a couple more into the mix in week three, which only adds to their depth. The Bears lead the SAC in scoring offense, scoring defense, total offense, total defense, rushing offense, rushing defense, turnovers created, sacks…I could go on. The Bears should be more talented than the next three opponents, but Mars Hill and Tusculum are rejuvenated and you know they'll have their best stuff ready for the Bears.
Wingate
The most satisfying wins for any team are the ones where all three phases of the game make major contributions. That was the case for Wingate in the home win over Carson-Newman last week. The defense gave up four plays all night. The Eagles burned them four times by sneaking a receiver behind everyone but that was all they managed to do. The Bulldogs buried the Eagles' rushing attack and forced three turnovers. The offense had to operate without their number one running back and by halftime the top receiver had also left the game. Domineke McNeill put the offense on his back, rushing for a career high 176 yards. It was a great night for McNeill who entered last season as the number one running back in the rotation until it became obvious that Nijere Peoples was a special talent that had to on the field. McNeill has continued to prepare and play hard, and has been a significant factor in the offense. It was nice to see him excel in that opportunity to carry the team when they really needed him. Kicker Mclean Robertson played a big part in the win with three field goals, including two from more than 40 yards out. The Bulldogs look a lot like the team that overcame a 2-3 start to make the playoffs last year. They are a very close group that plays - and wins - as a team. They could be very dangerous late in the season.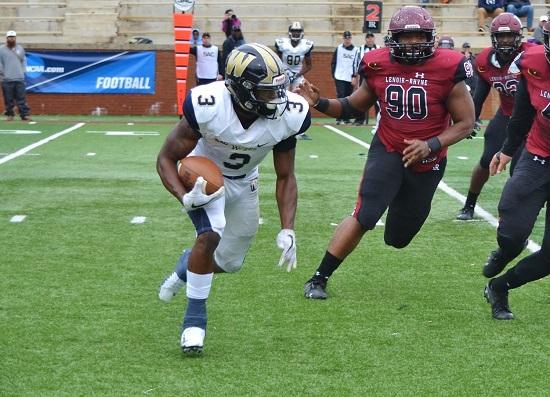 Domineke McNeill led the Wingate offense in the win over Carson-Newman. Photo by C. Bitner.
Carson-Newman
Carson-Newman hangs on to a top three spot in my rankings on the strength of the quality win over West Florida. The Eagles could have have won at Wingate last Saturday night but they most definitely did not deserve to. They killed their chances with sloppy ball handling, putting the ball on the dirt four times in the first half. They lost three of those fumbles and two of them were inside their own 15 yard line. When you do that, your chances of beating a good team on the road are almost non-existent. The Eagles did still have a chance in their final drive but WIngate never alowed them to establish the run and when quarterback Derrick Evans was knocked out of the game in the fourth quarter, Carson-Newman's hopes were slim. The Eagles have a lot to beat themselves up over. It was a disappointing, sloppy performance and they were not able to do what they do do best. Yet they were only a play away from overcoming it. This is a very talented team that is capable of playing much better. They have eight games left to prove that and they'd better start this weekend if they want to stay in the hunt for the SAC title and playoffs. Evans is critical to their success so if he has to miss time, it will be a major blow.
Mars Hill
Mars Hill did something I was not confident they'd be able to do last week. They threw the ball all over the yard against a very good pass defense. Jimmy Urzua had the best day of his young career, passing for over 400 yards. Craig Rucker has been doing his usual damage week in and week out and is tied for 4th in the nation in total receptions with 25. The defense has stepped up in a major way, holding their two D2 opponents to exactly 14 points each. They were stingy in the red zone last week against UVa-Wise, denying them on four of five opportunities. This week's meeting with Lenoir-Rhyne will tell us a lot, but for now, Mars Hill is in a really good position and they should continue to improve as Urzua gets more comfortable leading the offense.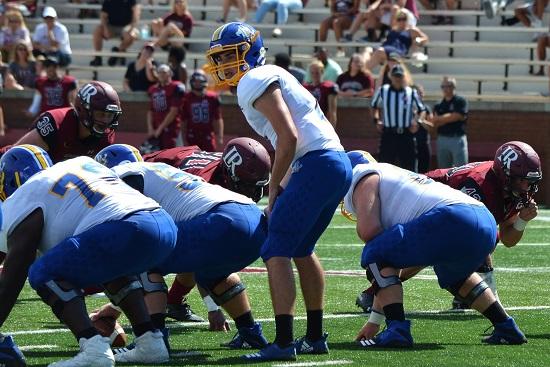 Jimmy Urzua passed for 403 yards in Mars Hill's win over UVa-Wise. Photo by C. Bitner.
Tusculum
After a tough 0-2 start, Tusculum needed to show up at Limestone ready to play their best and get a W on the board. They most certainly did that. I was very impressed with their level of play. They were hungry and they were very well prepared. I think the coaches sent a message that they were going all out to win that game when they opened it with an on-sides kick. The team responded. They took advantage of that and scored immediately, then followed it up with two more quick scores. They put Limestone on the ropes before the game was more than four minutes old and they never let up. Tusculum needed a win more than anything else, but they also needed to play well. 1-0 in SAC play is a whole new outlook on the season after an 0-2 start. Now the challenge is to follow that up with a similar effort at Newberry this week.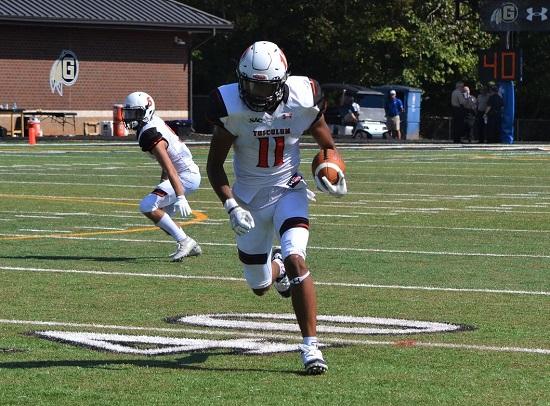 AJ Belanger caught 5 passes for 117 yards and two touchdowns in Tusculum's win at Limestone. Photo by C. Bitner.
UVa-Wise
The Highland Cavaliers have been struggling offensively for more than a year and last Saturday's home game against Mars Hill highlighted how much they still have to work on. The Cavs used two different quarterbacks but neither was very successful. As a team, they completed only 16 of 44 pass attempts with no touchdowns and an interception. I had said last week that I really wanted to see them get into conference play to see how good the defense is. Unfortunately, their SAC debut was not rough. They didn't give up a lot of points, but the normally tough pass defense didn't have many answers for Craig Rucker and the Mars Hill passing attack. The Cavs needed a win in that game. The schedule gets really heavy over the next month.
Catawba
The Indians started off this year in the same way they started off last year…with injury woes. Injuries are part of football, but Catawba has had more than their share recently. They really need all the weapons to be healthy to get this offense going. The Indians are scoring only 14.7 points per game and that's definitely not going to be enough against some of the upcoming opponents. Kendall Davis has been pretty good after being pressed into service a few days before the season opener, but getting Ken Avent back would be a boost and they are desperately missing a healthy Will Sweeper. They have an emerging threat in Chylon Thomas at receiver and getting Sweeper back would make him even more dangerous. Avent may also help jump start the rushing attack, which has not been productive enough. Defensively, they're doing okay against the rush, but teams have had success throwing the ball. The season is far from over but the Indians have a lot of adversity to fight through.
Newberry
When you're 0-3 you end up at the bottom of the rankings but I feel kind of bad putting Newberry there. They've played hard and they've battled, especially in the last two games. At times, the offense shows flashes of big potential, but consistency eludes them. The running game has been disappointing with only 129 yards per game and the passing game, while efficient, has a hard time getting the ball down field. The Wolves have the lowest yards per completion (10.6) in the SAC. These are not new problems for Newberry, but the defensive struggles are new. The Wolves have the worst rush defense in the SAC, allowing 265 yards per game.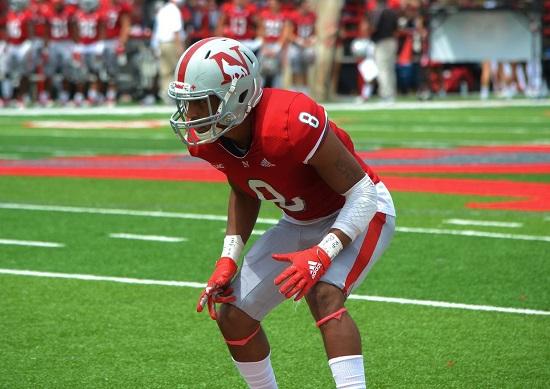 Anthony Blue led all SAC defenders in week three with 14 total tackles. Photo by C. Bitner.
Limestone
Last week was only one game, but it was a pretty big setback for this team. They really didn't do anything right or well in the loss to Tusculum, which was the program's 15th straight loss. For most of that span of 15 games, they have not been a bad team. Last Saturday, they looked like and played like a bad team. Maybe they were a little used up from the opening two games. Only they know for sure, but they have a lot to answer for internally. The defense made a sub-par Tusculum offense look fantastic, and the Saints offense was nowhere to be found. They couldn't run the ball at all and the passing game was even worse. I know they've been struggling, but they are better players and coaches than what they showed last week. This week of practice may end up being the most important week of the year for Limestone football.
Week four schedule
#12 Lenoir-Rhyne (3-0, 1-0) at Mars Hill (2-1, 1-0) 1:00
Four teams are 1-0 in SAC play and this game has two of them. Despite my pessimism about Mars Hill hitting their stride against a good UVa-Wise defense, they did exactly that. The timing is perfect because everything will have to go right for them to upset Lenoir-Rhyne. The Lions' offense had a huge day with Jimmy Urzua having his best day as a college player, passing for over 400 yards. That will be hard to duplicate against a Lenoir-Rhyne defense that gives up only 216 total yards per game. I don't think the Lions will establish much on the ground, so if they are going to have a chance, Urzua has to play at a high level and Craig Rucker and Javon Harbison will have to find space against an outstanding back seven in LR's defense.
I think those players are up for the challenge, but the Bears are deeper across the lineup. I think they'll win this the same way they beat Newberry and Virginia Union. The score may be close for much of the game, but the Bears will be in control and pull away in the second half. Third down will be a be factor in this game. Lenoir-Rhyne has the best 3rd down offense in the SAC, converting at a rate of 55%. That puts them in the top 15 in the country. Mars Hill will have to find ways to get off the field on 3rd down.
Lenoir-Rhyne 35 Mars Hill 21
UVa-Wise (1-2, 0-1) at Carson-Newman (1-1, 0-1) 1:00
Carson-Newman is going to be stinging a bit from the disappointment at Wingate but there is no time to dwell on it. For their part, UVa-Wise has their own frustrations to deal with. They squandered many opportunities in last week's SAC opener against Mars Hill, converting only once in five red zone appearances.
The Eagles didn't get the rushing attack going last week, but I think they'll find their footing again. The Cavs' defense is pretty good, but defending the Eagles' offense will be new for them. One big variable will be the health of Eagles quarterback Derrick Evans. He missed the final two drives at Wingate with a dinged up foot. If he's good to go, I think the offense will have a more representative day. If not, this will be a closer game.
With or without Evans, I think the Eagles win on the strength of the defense. UVa-Wise is one two teams in the SAC posting less than 300 total yards per game.
Carson-Newman 35 UVa-Wise 17
#18 Wingate (3-0, 1-0) at Catawba (1-2, 0-0) 7:00
Wingate is flying high after the big win over Carson-Newman in front of the home crowd. This Saturday, they're back on the road for the third time in four weeks. The last time they met in Salisbury, Wingate won a back and forth battle, 27-24 with a field goal on the last play of the game. If the Bulldogs focus and practice well, it should not be as dramatic this year.
The Bulldogs defense smothered Carson-Newman's vaunted rushing attack and that is not good news for an inconsistent Catawba offense. I don't think Wingate will have many problems limiting Catawba's productivity. Kendall Davis has started all three games at quarterback so far and has improved week by week. UNCP challenged them to throw the ball, by keying on the run and limiting Demonte Good to 1.8 yards per carry. Chylon Thomas stepped up at receiver and Davis was able to distribute the ball well, racking up 220 yards. Unfortunately, the passing game isn't as threatening without playmaker Will Sweeper. Sweeper was listed in the starting lineup last week but did not record a statistic. Wingate's offense has a few injuries to deal with as well. Nijere Peoples did not play last week and his status for Saturday is unknown. Receiver / returner BJ Muckelvene's status is also unclear. He left with an injury shortly before halftime last week and did not return. They have the depth to overcome those losses, but its still a challenge they have to deal with.
Despite any injuries on offense, Wingate's defense should be able to control this game. It might also be an opportunity to see if the Bulldogs can re-discover the passing attack that was so impressive in week one.
Wingate 31 Catawba 16.
Limestone (0-3, 0-1) at UNC Pembroke (2-1) 7:00
These are two teams heading in opposite directions. UNCP rebounded from a tough loss at Virginia State to grind out a win in the fourth quarter over Catawba. Their outlook is pretty decent with this week's game giving them a great chance to get to 3-1. Limestone started off the year with some encouraging signs, but last week's loss at home to Tusculum was a setback. Neither team is explosive on offense and both have struggled for consistency. UNCP sophomore quarterback Josh Jones doesn't have flashy numbers but he's been efficient in the Braves' two wins and has done a good job protecting the football. He has also contributed to the running game as a compliment to Josh Sheridan who had a career high 154 yards last week.
Limestone's offense had one of its toughest days in a long time last week. As they head into preparations for Saturday, I have to wonder if head coach Brian Turk will consider a quarterback change. You can't put all the Saints' struggles on the quarterback position – the run game was non-existent last week - but DJ Phillips' stat line is not good at all. It might time to give someone else a shot.
If Limestone can play more like they did in weeks one and two, I see no reason why the can't compete and possibly win the game. They have to put last week behind them and believe that they are better than what they showed. I have confidence that they will play better this week, but UNCP has a lot more going for them right now.
UNCP 28 Limestone 20
SAC Game of the Week
Tusculum (1-2, 1-0) at Newberry (0-3, 0-1) 1:00
Why do I have a 1-2 v. 0-3 as the game of the week? Because this is going to be one of those clashes that proves just how critical every game is in an eleven week schedule. Both teams came into the season with expectations of a winning record. Tusculum took a big step towards that goal with an impressive win last week, but cannot afford to drop to 1-3, especially with the schedule they still have in front of them. For Newberry, the situation is dire. There's no such thing as panic in sports, but the Wolves are desperate. At 0-3, they must win this weekend if there is any hope of turning this into a winning campaign.
This is why college football is like no other sport. Every game is life and death. These teams have important goals at stake and a winning season may come down to a win this Saturday. To that end, both teams have to play with a sense of urgency. That statement was true last week as well and to their credit, both did exactly that. Tusculum was very inspired in their win, finding some offense that had not been there to date. Newberry ultimately left Hickory with their third straight loss, but they showed up ready to play. They battled hard and had success in the middle stages of the game before the defense tired and gave up a few third quarter scores they could not overcome.
All of that makes this game really tough to call. I want to lean towards Newberry because I know they're fighting hard and they are playing hungry, but in the end it does come down to execution. The defense is struggling right now. They've managed to stay in games by keeping deficits manageable, but they are giving up a lot of yards and a lot of big plays. The Wolves are currently last in the SAC in total defense, allowing 448 yards per game. I think this game comes down to how well Tusculum's offense can play. The Pioneer defense is good against the run, and I haven't seen enough vertical passing from Newberry to make me think they can consistently make plays. Newberry can win if they keep Tusculum under 24 points. If Tusculum's offense sputters, the Wolves have a good chance. If the Pioneers execute like they did last week I think they're good for 28 points and a win.
Tusculum 28 Newberry 24
As always, you can send questions or comments to me at [email protected] and you can connect with me on Twitter @D2Chuck. Follow my SAC Football photos page for updates and check out games from the past three seasons.