SAC Preview Week Nine
October 31st, 2019 9:00am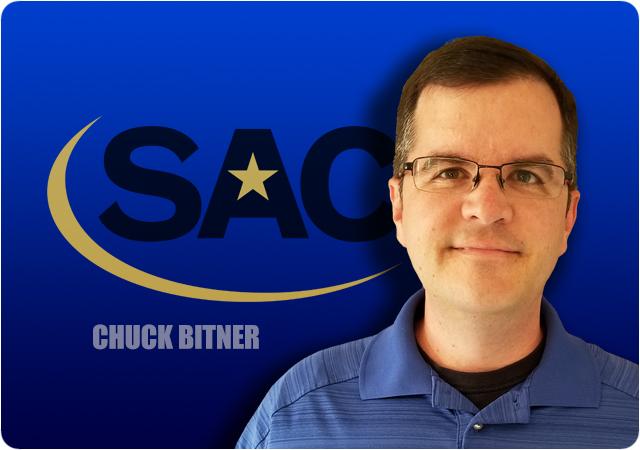 First regional rankings released
On Monday, the first round of regional rankings was released by the Division II championship committee. Here are the rankings for Super Region two, with D2 win-loss record in parenthesis.
Valdosta State (8-0)
Lenoir-Rhyne (8-0)
Bowie State (8-0)
Wingate (8-0)
West Florida (5-1)
Carson-Newman (5-2)
Virginia State (6-1)
Mississippi College (4-2)
Virginia Union (5-2)
Albany State (5-3)
In case you missed it, I published a column on Monday night breaking down the rankings. That column has some info on each of the ten ranked teams and the upcoming games that they still need to get through to earn playoff spots. If you missed it, here is the link: Thoughts on Super Region two rankings.
Since then, I've had a little more time to dig into the rankings. Here is a look at the top 10 teams, with D2 record, weighted OWP and OOWP and record against teams .500 or better. These are not the only factors considered, but they are among the primary criteria.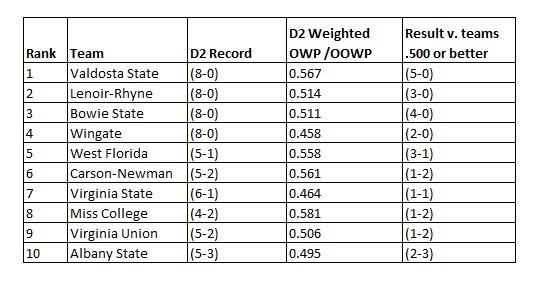 After reviewing the numbers published by the NCAA, I think the rankings mostly agreeable. Clearly, the four 8-0 teams earned the top four spots and they were ordered based on weighted OWP. West Florida and Carson-Newman came next. I can make an argument for swapping those positions based on the Eagles' head to head win, but the Argos got the nod based on better overall winning percentage and better winning percentage against teams .500 or better. There is sound reasoning for that decision. Based on winning percentage Virginia State could have been placed fifth, but weighted OWP is much lower than West Florida and Carson-Newman.
Mississippi College has the lowest winning percentage of any ranked team in any region. I was a little surprised to see them in the top 10 simply because of that. They do have a high weighted OWP but with only four wins and a 1-2 record against teams .500 or better, I'm not sure they've earned their way into the rankings yet. That said, they have three tough games remaining and if they can win all three, they will be a worthy playoff team.
For the tenth and final spot, Fayetteville State and Fort Valley State have better records than Albany State, but have really poor OWP and Albany has two good wins over .500 teams.
So basically, I took up a column and a half to say the rankings mostly make sense.
Here is the rundown of how the SAC teams stack up with only three games to go.
1. Lenoir-Rhyne
It is hard for a team to be at its best week in and week out for an entire season. Lenoir-Rhyne was not at its best last Saturday night at the Reservation in Gaffney, SC. It was shocking that they trailed for nearly 25 minutes in this game. They had trailed for less than 10 minutes all season to that point. It was not a situation I expected them to be in, but almost any perfect season by any team will have at least one close call. No matter how good the team is. The Bears were down a few key players with Kyle Dugger and Ameen Stevens not participating and just didn't have their best stuff. But facing adversity is a good thing. Sooner or later, its going to happen and the team has to respond and overcome. It wasn't the kind of win we've become accustomed to seeing, but the result is all that matters.
2. Wingate
If you only saw the final score of Wingate's 45-13 win over UVa-Wise you probably thought that's about right…Bulldogs cruised to a 32 point win. But it wasn't necessarily easy. The Cav's defense stopped some drives in the first half and allowed one sustained scoring drive. Wingate stayed patient and continued to work the running game with both Nijere Peoples and Domineke McNeill rushing for over 100 yards. The defense got burned by TD strikes of 69 and 50 yards but didn't did allow much else and as the game got into the later stages, they ended up wearing down Wise at the line of scrimmage. Winning in the trenches is one of things Wingate does best.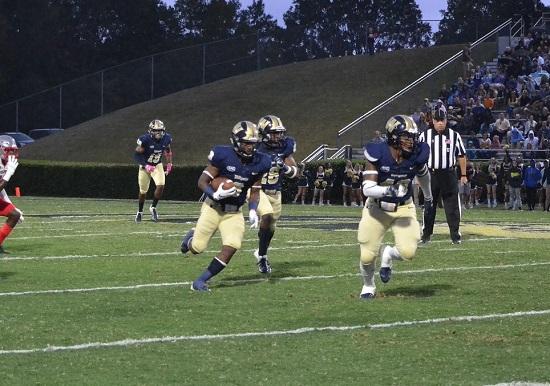 Matthew Ellis-White returned this interception 47 yards for a touchdown against UVa-Wise. Photo by C. Bitner.
3. Carson-Newman
The Eagles kept their playoff hopes alive and snapped a three year losing streak to Newberry with a 24-21 win at home. They had to recover an on-sides kick in the final minute to secure the win. The offense struggled to find rhythm at times but the defense came up with big turnovers and that was the difference in the game. After Monday's release of regional rankings, the Eagles are in a good position. The SAC title race is out of their hands but they control their destiny for the post season.
4. Mars Hill
The Lions started a little sluggishly at Catawba but once they got going there was no stopping them. A second quarter TD drive was quickly followed by a punt return for touchdown, a one play scoring drive and a pick-six. All of that happened in less than four minutes of play. They added one more TD before the half and then three more after the intermission. Based on where they are at today (5-2 against Division II), Mars Hill still has life for the post season. They must win-out and that would mean upsetting Carson-Newman and Wingate, but the program has a lot of momentum. I don't think their chances of winning the last three are high, but when they play their best football, they're a good team capable of beating anyone in the conference.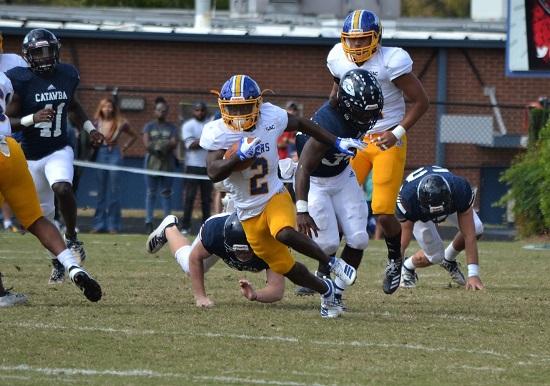 Craig Rucker scored four touchdowns in Mars Hill's win at Catawba. Photo by C. Bitner.
5. Newberry
Newberry had opportunities to earn what would have been their biggest win since beating Carson-Newman a year ago. The Wolves outgained Carson-Newman 374 to 316 which I did not expect. The defense held up well against the Eagles' run game, which is further validation that the defense has been steadily improving. They did fall into an old habit by making a quarterback change after Colton Bailey threw two interceptions. Dre Harris played well off the bench but all they really did was deny their redshirt freshmen of an opportunity to work through the adversity and find a way to lead the team back.
6. Tusculum
The Pioneers kicked off a three week home stand with a hard earned win over UNCP. Offensively it wasn't pretty. They had only 12 first downs and just 19 passing yards. You read that correctly, 19 passing yards. Thankfully the rushing attack was able to carry the load and put up 283 yards with both Jordan Shippy and Thurlow Wilkins going over 100 for the day. The defense had a huge day and Jackson Cauthen's interception return for a touchdown was a deciding moment. Eli Sheppard was a big weapon as well, hitting three field goals with a long of 45 yards. Catawba comes to town on Saturday and if the Pioneers can win that one, they'll take a three game winning streak into the final two weeks against local rivals Mars Hill and Carson-Newman.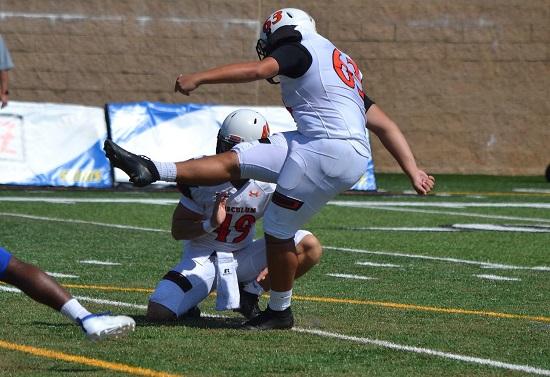 Eli Shepherd was 3 for 3 on field goal attemtps and converted two PATs in Tusculum's win over UNCP. Photo by C. Bitner.
7. Limestone
Its funny how a team sometimes gets more respect for a loss than a win. That seems to be the case for Limestone. They have a pair of wins on the resume this year, but taking Lenoir-Rhyne down to the final possession was eye-opening to say the least. I know Lenoir-Rhyne didn't play their best football, but that's their problem. Limestone had a legitimate shot to win that game and no one thought they would be capable of that under any circumstances. It shows that when they prepare well, they're a capable team. If they could have been just a little more efficient in the passing game they might have been able to do it. For coaches, a win is a win and loss is a loss, but they took a top 10 team down to the last play of the game and that has to be something to build confidence around.
8. Catawba
Catawba's 55-28 homecoming loss to Mars Hill marked the sixth consecutive loss for Indians. In a game that was reminiscent of the script from two weeks ago at Carson-Newman, they battled early, holding the Lions scoreless in the first quarter. The defense came up with a few stops and the Indians scored first to hold a 7-0 lead after 15 minutes. But the second quarter was all Mars Hill needed to walk away with the win. The Indians gave up five touchdowns in less than eight minutes of game clock. They did manage to post three more TDs of their own, scoring a season high 28 points but it was way too little and too late. Despite the lopsided loss, there were some positives to take away from the day. The 96 yard TD drive after forcing a redzone turnover was a big moment for the struggling offense. Redshirt freshman Kaylon Wade played well in his first start at quarterback, passing for 305 yards and four TDs. Senior Gavin Rose caught ten balls for 194 yards and a pair of TDs. If my stat review is accurate, his receiving yard total is the most by a SAC player in a single game this year.
9. UVa-Wise
With the kind of season UVa-Wise is having, you have to look for any positives to build on. The loss at Wingate went about as expected but the Cavs' defense showed up to play. The offense and special teams put them in a 10-0 hole in the first quarter, but if those mistakes hadn't happened, it could have been a one point game at the half. The defense put in a commendable performance and didn't wear down until the fourth quarter when the offense had hit the ceiling of what it could do. They couldn't run the ball at all but both Tanner Bernard and Garrett Cropp played as well as they have all season. They combined for 303 yards passing against a good defense. Freshman receiver Mykael Anderson had a breakout game with nine catches for 113 yards (both season highs for a Cavs receiver) and recorded his first career touchdown. UVa-Wise has Limestone and Catawba at home in the next two weeks so there is still a chance to record a SAC victory this season.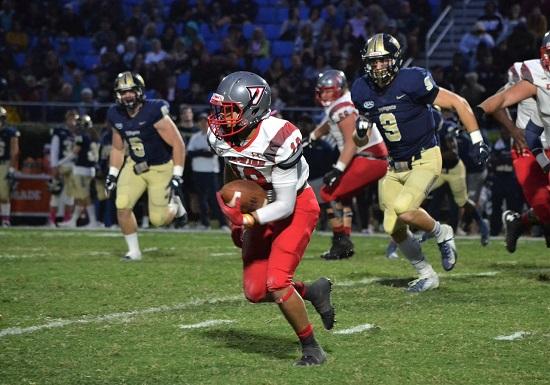 Mykael Anderson had a breakout game for UVa-Wise, catching nine passes for 113 yards and a touchdown. Photo by C. Bitner.
Week nine
Some of the game previews will be a little slim this week. I burned up most of my allotted time for the column writing my take on Monday's release of regional rankings.
Limestone (2-6, 1-4) at UVa-Wise (1-7, 0-6)
Games like this one are why I really enjoy watching and covering D2 football and putting in the time to write the column. Across the landscape of college football this game is utterly meaningless. As meaningless as it gets, really. There is nothing at stake that fans and observers care about. No championships to be decided, no playoffs on the line, not even a winning record to shoot for. They've never played so there is no history and no rivalry. And they're probably far enough apart that they won't compete head to head very often for recruits. So yeah. Meaningless.
Hogwash. I've never bought into that and you'll never hear me say it. When you only get 10 or 11 games in a season, they ALL matter. These coaches and players drive themselves all year for these very few opportunities to compete and I'll be damned if I'll diminish their work by calling any game meaningless. These teams are struggling. They need something, anything to help them lay a foundation for the future. Believe me, they want to win this weekend every bit as badly as Wingate and Lenoir-Rhyne.
UVa-Wise is still trying get their first SAC win and with all due respect to Limestone, this is probably their best chance to date. Until last Saturday, UVa-Wise was the only SAC team I had not yet seen this season. Despite the results, they did a few things that left a positive impression. The defense has several good players. They're good at getting into the backfield and disrupting plays. They have a couple of good cover corners that also tackle well. Offensively, the quarterbacks played much better than their season stats and one of the freshman receivers showed some big potential.
I still have to give a slight edge to Limestone because I think they're more talented on offense. The letdown effect concerns me a little bit. They played a tremendous game against LR in a close loss. The last time they did that (West Georgia in week two) they came back with a horrendous effort the following week. Hopefully they'll remember that.
Lots to play for in this one and a Wise win would not shock me but I'll go with Limestone.
Limestone 27 UVa-Wise 20
Carson-Newman (5-2, 3-2) at Mars Hill (5-3, 4-1)
LR v Wingate is the game of the year in the SAC but if it wasn't happening on Saturday, I would be at this game. I am very curious to see how this plays out. Mars Hill is not on anyone's radar for the post season but they still have a chance to throw their hat in the ring. If they can win this game and bump Carson-Newman out of it, people have to start taking them seriously. And I believe they can win. Obviously the Lions' defense has to play at their highest level but when they do play their best, their best is pretty good. They have the size and strength in the D line to hold up against the veer and if they don't get burned by a few big pass plays (which CN excels at pulling off a few times per game) I think they can play well enough to win.
My biggest concern for Mars Hill in this game is turnovers. In their two D2 losses turnovers were deadly. They have to play mistake free to win. Jimmy Urzua is playing really well at quarterback and he smart with the football. Carson-Newman is good at creating takeaways though and one or two might be enough to swing this game in their favor.
As long as they don't give Craig Rucker returnable punts, I think Carson-Newman can get it done on the road, but it will be a battle.
Carson-Newman 31 Mars Hill 27
UNC Pembroke (3-5) at Newberry (3-5, 3-3)
This should be a good match up for both teams. UNCP has had slow and steady progress on offense and Newberry has had slow and steady progress on defense. The way Tusculum ran the ball last week makes me think Newberry can prepare a similar game plan. Chance Walker has been hot in the last two weeks. Feed him and use the quarterback runs to make the defense cover the field. It should be a competitive game and probably look a lot like the UNCP Tusculum game.
Newberry 24 UNCP 21
Catawba (1-7, 0-5) at Tusculum (3-5, 2-3)
When Tusculum commits to the run, they generally run pretty well. Catawba has a lot of problems stopping the run and I think the Tusculum staff is more than capable of putting two and two together. The Pioneers should attack with the run and own the line of scrimmage. For Catawba, they need to try to get some receivers back on the field and see what Kaylon Wade can do with them. I liked what I saw in the young QB last week. He made some mistakes and missed some throws but I think he has a lot potential. Let him go for it and see what he can do. He just might have something special in him.
Tusculum 23 Catawba 16
#12 Wingate (8-0, 5-0) at #8 Lenoir-Rhyne (8-0, 6-0)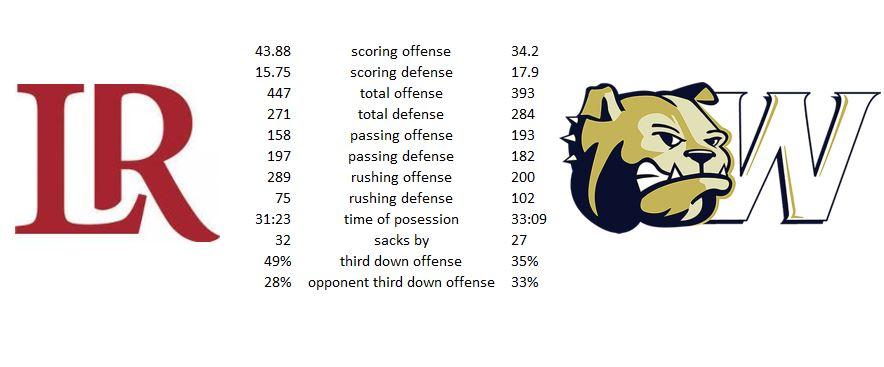 All of us that follow South Atlantic Conference football closely have known for almost a year that this was going to be a BIG game. Probably the biggest of the year. Maybe the biggest in many years. When the 2019 schedule was finalized and this was slated for week nine, it seemed like way too much to hope that both teams would make it through the first eight weeks unbeaten to set up a national spotlight game of conference rivals. It was not even reasonable to hope for that.
After the first month of the season, it started to look like a very distinct possibility. Lenoir-Rhyne showed that they hadn't lost a step from last season and in fact were probably a better and more experienced team than the group that finished 12-2 in the national quarter finals. Wingate proved to be a team that, once again, was going to find ways to win no matter how the game played out. Once both teams got by Carson-Newman, it seemed inevitable. So here were are. In most years, either of these teams would easily be the class of the conference but since they're both here are the same time, only one can walk away with a win and clear control of the conference title chase.
Neither team has many weaknesses. That's what makes this matchup so hard to judge. They're good in all three phases of the game, have talent at every position and they're mentally tough. You really can't rattle either of these teams. Although they are both very good offensively, I have a feeling this will play out like the last time they met. The second round playoff game at Moretz last November (one the best D2 football games I've been to) was a defensive battle. I think we're going to see each offense face the toughest and fastest defense they've seen all year. LR averages nearly 44 points per game and Wingate 35, but I won't be surprised if neither team gets out of the 20s.
Both teams have aggressive defensive fronts and I think that will make it difficult to throw the ball. That may be especially difficult for Wingate. The passing game has been explosive, but sometimes goes cold. Last week was an interesting example. The Bulldogs completed only five passes in 15 attempts, but those completions resulted in 137 yards and three touchdowns. If you can pull that off, the percentages don't matter…but I don't think LR will get burned by a few big plays in the same way that Wise did. The Bulldogs will have to be efficient with the pass so they can set up the run. They've got two of the best backs in the region in Dom McNeill and Nijere Peoples. Both average more than 85 yards per game. If they both hit their season average, I think Wingate wins.
The problem with that assertion is that Lenoir-Rhyne only gives up 75 rush yards per game. It's a defense that is really hard to move the ball on. Wingate's balance may be exactly what is needed to get the job done, but the Bears' defense at home is awfully hard to beat. Both teams have reliable kickers inside of 40 yards and they could be crucial assets if it is a defensive game.
I think it will be everything it's expected to be and both teams will make the entire conference very proud, yet again.
Lenoir-Rhyne 27 Wingate 23
As always, you can send questions or comments to me at [email protected] and you can connect with me on Twitter @D2Chuck. Follow my SAC Football photos page for updates and check out games from the past three seasons.