SAC Preview Week Seven
October 17th, 2019 6:00am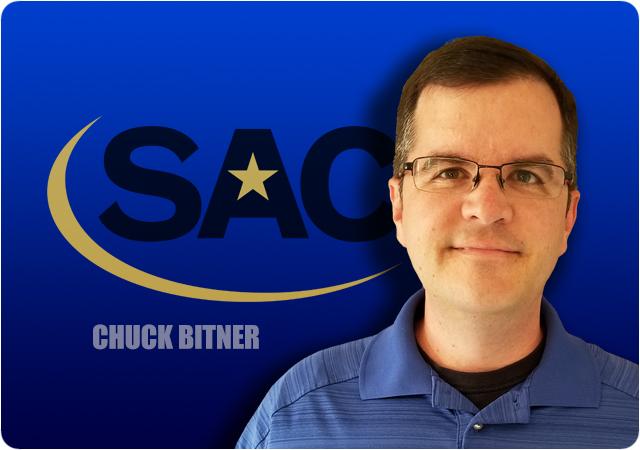 When the SAC football schedule came out earlier this year, there were three games that I immediately circled as games I have to get to. Those three games involve the SAC's top teams (Lenoir-Rhyne, Wingate and Carson-Newman) playing each other. Wingate took game one of this rotation with a 30-28 win over Carson-Newman on September 21. National attention is already ramping up for the Bulldogs' trip to Lenoir-Rhyne on November 2, but between now and then, Carson-Newman gets another shot at championship contention with a 2:00 kickoff at LR this Saturday.
That game highlights the schedule this week, but we have a full schedule that has some very interesting and even matchups. More on those games shortly. Before we get into week seven, let's recap last week and run through the order from one to nine.
1. Lenoir-Rhyne
Business as usual for the Bears. They went on the road, dominated the line of scrimmage in holding Tusculum to negative rushing yardage and got out of town with a fairly comfortable win. The downside to the day was that the offense didn't finish well. They built up a 38-7 lead by midway through the 3rd quarter but their last five possessions marched a total of nine yards and all resulted in punts. It's nothing to dwell on since they had a big lead to protect, but I'm sure they didn't feel good about bogging down like that.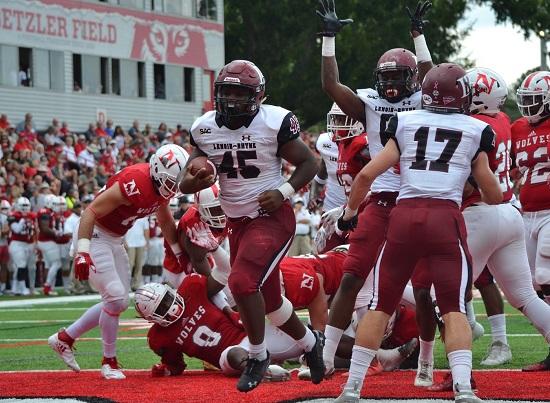 Ameen Stevens had three rushing touchdowns in Lenoir-Rhyne's win at Tusculum. Photo by C. Bitner.
2. Wingate
The Bulldogs' defense set the tone early when they held Limestone to a field goal following a turnover in Wingate territory. A strip-sack set the Saints up at the Wingate 35 but the defense forced a field goal and never let Limestone threaten to score for the rest of the night. It was a huge performance against a Limestone offense that was oozing confidence after setting records the week before. Wingate's defensive line came into this season with a lot of new faces in the rotation but they have quickly become a force. The front four had a lot to do with disrupting Limestone and they sustained pressure for all 60 minutes. The Bulldogs remain at home for the next two weeks and will be heavily favored in both contests. Its getting hard to not look ahead to that date in Hickory on November 2.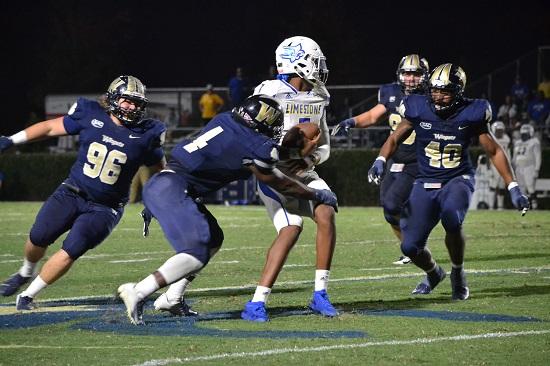 Wingate's defense held Limestone to 193 yards in the 34-3 win last Saturday night. Photo by C. Bitner.
3. Carson-Newman
Since the loss at Wingate, Carson-Newman has now won three in a row (all at home) by scores of 42-7, 69-18 and 59-14. The 45 point margin of victory was the largest point spread ever in the Eagles' long history with Catawba. The three game winning streak has included major contributions from all three phases of the game. It's the perfect time for everything to be coming together. The Eagles have what should be their biggest game of the year this Saturday at Lenoir-Rhyne.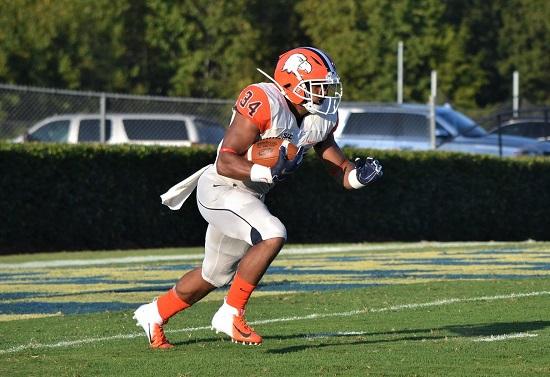 Marcus Williams returned a kickoff 95 yards for a touchdown in Carson-Newman's win over Catawba. Photo by C. Bitner.
4. Mars Hill
I don't often go back to things I've written in the past to prove that I was right (because I'm wrong at least as often as I'm right) but I will point out that even though I picked Mars Hill to beat UNCP, I was concerned that they've had a pattern of losing games like that. They were coming off a good win, had a really good shot at maintaining a winning record but lost to a team that isn't better. As good, maybe, but not better. The offense rolled up 540 yards and 30 first downs but had two very costly turnovers and failed to finish a couple of drives that had potential. It was a disappointing loss to say the least, but it does not count in the conference standings. They have homecoming this weekend against Limestone. It's a must-win for their prospects of a winning season and staying alive in the SAC race.
5. Limestone
After back to back wins, the Saints came back down to earth a bit with a humbling 34-3 loss at Wingate. It definitely was a bad day for the offense. A week after posting a school record 600 yards, Limestone managed just 193 at Wingate and they held the ball for only 23:42. The defense played pretty well but they were put in bad positions too many times. After allowing a 65 yard scoring drive on the opening possession of the game the Saints D locked in for the rest of the half. Field position ended up being a huge factor in the third quarter with the Bulldogs starting three straight drives in Limestone territory. All three resulted in touchdowns and the longest drive went only 37 yards. Its asking a lot of a defense to turn away a team with Wingate's talent in those situations.
6. Newberry
The Wolves played their most complete game of the year in a dominant 30-7 win over UVa-Wise. The Cavaliers are not a good team right now but it was still a very encouraging day for Newberry. The Wolves have had some problems on both sides of the ball, but when you look at their results, the difference between being 2-4 and 4-2 is very, very small. If they can continue to make steps forward they can still make something out of this season. They seem committed to Colton Bailey as the starting quarterback now and he's getting getter week by week. They still need to work on the running game and reducing penalties. Getting to 6-5 would require an upset of either Carson-Newman or Wingate, but with some momentum and confidence on their side, it may be doable. Unfortunately both of those games are away.
7. Tusculum
It was going to take a near perfect effort for Tusculum to upset Lenoir-Rhyne last week. Things started out exactly like the week before, with the Pioneers yielding two quick scores and playing from behind the entire day. The end result wasn't terrible, Lenoir-Rhyne is that good. They still have a chance to win some games over the next five weeks but they have to play cleaner football. They are being penalized at a rate of 94 yards per game, which is the worst in the SAC. I think they should win at UVa-Wise this week but they also need to play well. If they can do that, UNCP and Catawba follow in weeks eight and nine. If they get it together, there is an opportunity to right the ship with a nice a winning streak.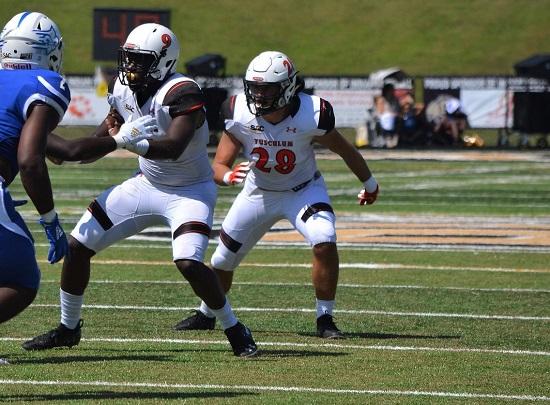 Tusclum linebacker Jackson Cauthen (28) led all SAC defenders in week six with 13 total tackles, including half a sack, a tackle for loss and a forced fumble. Photo by C. Bitner.
8. Catawba
In the early going of Catawba's road trip to Carson-Newman, the Indians managed to do a couple of things that could have helped them compete with the Eagles. Carson-Newman's first four possessions included two turnovers and a punt. The Indians trailed by only seven going into the second quarter but things fell apart quickly after that. When you're playing a more talented opponent on the road, and you're struggling to put points on the board, the last thing you can afford to do is give up non-offensive touchdowns. Catawba gave up three special teams touchdowns and that's darn near impossible to overcome. It will be interesting to see if the Indians can make anything out of the next month. Three of their next four opponents are very weak offensive teams.
9. UVa-Wise
Every game has been an offensive struggle for the Cavs, who are currently ranked in the bottom 15 in the nation in scoring offense and total offense, but last Saturday was a new low point. The loss at Newberry was the fifth straight for UVa-Wise and the offensive showing was…well, not really a showing at all. The Cavs managed only 112 yards of total offense and punted eleven times. The longest drive of the day was 28 years. Twenty-Eight. The defense had a respectable day outside of the stretch in the second quarter when Newberry scored on three consecutive drives. The second half was a strong performance, with the Newberry's only touchdown of the half coming on a defensive score on the final play of the game. The Cavaliers have four more opportunities to get their first SAC win, including home games with Tusculum, Limestone and Catawba.
Around the region
Six weeks are down which means its nearly time to start thinking about playoff positioning. The first round of regional rankings will be released following the conclusion of week eight, which is not far down the road. A lot will change from week to week but that's what makes it fun. Here is a look at who is in the running from each conference.
SAC
Lenoir-Rhyne and Wingate are front runners at 6-0 and Carson-Newman is very much alive at 4-1. A second loss this weekend would really hurt, but would not knock Carson-Newman out of it. They're going to have a really good strength of schedule and could still be in the picture at 8-2 by season's end and the win over West Florida could be worth a lot. Of course, if the Eagles knock off LR this Saturday, things change dramatically. None of the other six teams in the SAC will be in the playoff picture.
CIAA
The CIAA will be a lot of fun to watch as divisional play ramps up. The north division has three heavyweights with Bowie State (6-0), Virginia State (5-1) and Virginia Union (5-1). All three are very good football teams and will have a lot to say about the regional rankings. Bowie State faces their Virginia foes in back to back weeks with VSU this coming Saturday and Virginia Union on October 26. Only one south division team is really a contender, that being 5-1 Fayetteville State. Their remaining schedule is favorable, but they play at Livingstone, who is still alive at 4-2 and at Winston Salem State in the last two weeks of the season. A lot can change but this looks like a really good year for the CIAA. The conference is very well positioned to have multiple teams in the playoffs.
GSC
Valdosta State remains in control of the GSC at 6-0. They've already taken care of West Alabama and Delta State but still have to play West Florida and West Georgia in the final two weeks of the season. They have Florida Tech this weekend and the Panthers have the talent on any given Saturday. After the Blazers, it gets interesting. West Florida is 4-1 with the loss to Carson-Newman. All other teams have at least two losses. West Georgia stubbed their toes against Albany State and then got blown out by Florida Tech. They still have a shot at playoffs but little margin for error. The same is true for West Alabama who lost to VSU and was upset by North Greenville. Delta State and Florida Tech are 3-3 and must win-out to get into contention.
SIAC
Only three teams currently have a record that puts them in the mix. In the east division, Albany State has won four in a row after a 0-2 start. They have a couple of good wins in their resume with an upset of West Georgia and a shutout of Tuskegee. Fort Valley State is 4-1 against D2 with an impressive win over Florida Tech. In the west, Miles is leading the way at 5-1 with the loss at Missouri S&T. They own an important win over Fort Valley.
Again, this will all change by the end of the day Saturday but its always fun to watch the playoff race unfold.
Week seven schedule
Newberry at Catawba 12:00
Beating up on a down UVa-Wise team doesn't propel anyone into championship contention, but it was a big boost for Newberry. They played pretty well on both sides of the ball and walked out of it with several things to feel good about. Catawba battled hard for a half at Carson-Newman but they just couldn't hang and unfortunately, things aren't getting any better for them. They still lack consistency in the run game and the passing attack doesn't have a downfield threat. The Indians have the fewest passing touchdowns (four) in the SAC. I do think this matchup is an opportunity for Catawba's defense to have a better day. They're not bad against a conventional rushing attack and Newberry doesn't have much of a rushing threat at all. I think Catawba can put pressure on Colton Bailey to make plays throwing the ball and that's not a good situation for a freshman quarterback.
I want to give Catawba a shot in this game because they're desperate for a win and haven't given up on the season, but Newberry's defense has been getting a little better in recent weeks and Catawba still doesn't have much going for them on offense.
Newberry 24 Catawba 20
Tusculum at UVa-Wise 1:00
The Pioneers and Highland Cavaliers have identical records at 1-5 but at the halfway point of the season, Tusculum has more upside. They've played the toughest scheduled in the SAC so far and the results show that. But they were competitive with Wingate and had a good second half defensive effort against Lenoir-Rhyne. Despite what stats may show, the Pioneers do have a lot talent on defense and they should be able to do what most teams have done to UVa-Wise, which is keep them out of the end zone. The Cavs haven't scored more than 14 points in a game since week one and have been held to seven or less in the last three games. The Cavs do have some very good players on defense but the offense just isn't able to put them in good positions right now. They may be able to shine against an underwhelming Tusculum offense.
This should be a low scoring and perhaps ugly game. Neither team has stability at quarterback and both offenses are mistake prone. This could definitely be a game decided by turnovers. I think Tusculum gets the win and they'll take it in any form that it comes.
Tusculum 21 UVa-Wise 13
Limestone at Mars Hill 1:30
This may be the toughest game of the weekend to call. I think the teams should be evenly matched, and those matchups are very interesting. Mars Hill's defense has been good at times, but very inconsistent. The same can be said for Limestone's offense, which went from a school record of 600 yards and 52 points to a humbling 193 yards and 3 points a week later. Defensively, Mars Hill falls somewhere between Catawba and Wingate so it should be a better day for the Saints but not record setting.
I think the key to the game rests with Limestone's defense. That unit has come a long way in a short period of time. They've played very well for most of this season, including last week against a very talented offensive team. I believe they can play well enough to win this game. It's homecoming for Mars Hill which is an advantage and if they play their best football, I think they are a slightly better team. If the team that battled through adversity to win at Newberry shows up, I think they'll win but that's not a sure thing. The last time they met in Mars Hill the game went to OT. I could see that happening again. It's a toss up but I think Limestone's defense makes a late stand.
Limestone 28 Mars Hill 27
UNC Pembroke at Wingate 6:00
Pembroke's gutsy win over Mars Hill gives this game a different outlook than it may have had a week ago. The Braves had to really fight for that win and earning it will give them a lot confidence heading to preparations for Wingate. The Bulldogs' defense just keeps getting better as the season goes on, but Pembroke's offense has been making steady progress too. Braves quarterback Josh Jones had a remarkable night in last week's win completing 23 of 29 passes for 253 yards, three touchdowns and no interceptions. It's a perfect time for him to be on a high but he will have his work cut out for with a Wingate defense that spent a lot of time in Limestone's backfield last week.
Pembroke is a well-coached team that often has a knack for playing up to the level of their competition but the defense struggles against the run and Wingate has a powerful run game with the Dom McNeill and Nijere Peoples. The Bulldogs are a team that run to set up the pass and I think that will work out well for them this Saturday. It should be a little too much for the Braves to keep in check for more than a half. As long as the Bulldogs stay focused and don't let themselves look ahead to some big games coming later in the season, they should be able to pull away in the second half.
Wingate 31 UNC Pembroke 17
SAC Game of the week
Carson-Newman at Lenoir-Rhyne 2:00
These programs have had their share of big games over the years and this will fit right into that tradition. Lenoir-Rhyne has not lost a conference game in nearly two full calendar years. That's a streak of 11 consecutive SAC wins and 16 straight regular season wins. With success, the expectations and the pressure increase. The streaks are impressive but a loss this weekend would change a lot of things. It's a must win the Bears to maintain their place at the top of the standings as well as their top 10 national ranking.
For Carson-Newman, I don't think its out of line to say this is the biggest and most important game they have played in several years. Perhaps since their most recent playoff game in 2015. The Eagles really need this win. They owned the SAC for many years but have not finished better than 5-2 in league play since an undefeated (7-0) SAC title in 2009. Yes, its been that long since the Eagles have lost fewer than two conference games. A loss at Lenoir-Rhyne would drop them to 2-2 in the standings and for all practical purposes, eliminate them from the championship hunt. Playoffs would still be possible but they would be at a huge disadvantage to their conference mates Wingate an Lenoir-Rhyne because of the head to head results. And beyond all that, the program has a lot to prove. This is a roster loaded with seniors. The team is as talented as any in the region and this has to be the year to take advantage of that.
Obviously being the road team in a big game at Moretz Stadium is a tough task. A game of this magnitude on an October afternoon is sure to draw a big crowd and it will be a hostile environment to play in. In a situation like that, the worst thing that you can allow to happen is to let the home team start fast and get the crowd amped up. Stopping the Bears from starting fast is hard to do. They average 18 points per game in the first quarter. By now you're well aware of what the Bears can do offensively. They are fifth in the nation, scoring 48 points per game and deploy an army of skill players that give them many different looks and many different options that opponents may not be prepared for.
That said, Carson-Newman might have the defense to slow the Bears down enough to have a shot at winning. The Eagles are sixth in the nation in total defense, allowing only 244 total yards per game. They are equally strong against rushing and passing and are exceptional on third down. The Eagles have limited opponents to 21% on third down conversions. I think they have a very good chance to limit the effectiveness of the Lenoir-Rhyne's passing game. The Bears are efficient with the pass, but they have not played a defense that has the kind of secondary talent that Carson-Newman has.
Even if the Carson-Newman defense can play up to the level I believe they can, they may only be the second best defense on the field. Lenoir-Rhyne is every bit as talented on defense and statistically better. The Bears have allowed more than 17 points in a game only once and they still won that game by four touchdowns. They allow just 13.8 points per game which puts them in a tie for tenth in the country. They are third in the nation in rush defense allowing just 51 yards per game. Let me repeat that. Fifty-one yards per game...and they have allowed just two rushing touchdowns. Something makes me think that might be important.
Carson-Newman as the top rushing offenses in Division II, averaging 330 yards per game but the Lenoir-Rhyne defense doesn't give up anything on the ground and they know now to prepare for Carson-Newman's offense.
And wouldn't you know, Lenoir-Rhyne just happens to be one spot behind the Eagles in the national status with 304 rushing yards per game.
On paper, this game is fascinating. Both teams are very impressive in all areas of the game. I believe Carson-Newman has a very good chance to win this game if they play up to their full potential. The problem I have with that assessment is that there have been too many occurrences recently where the Eagles did not play as well as they could have, including the loss earlier this season at Wingate. A Carson-Newman win would not be shocking – or even surprising – but picking against Lenoir-Rhyne at home in a big game is not a wise bet.
Lenoir-Rhyne 30 Carson-Newman 28
As always, you can send questions or comments to me at [email protected] and you can connect with me on Twitter @D2Chuck. Follow my SAC Football photos page for updates and check out games from the past three seasons.