SAC Preview Week Six
October 10th, 2019 5:00am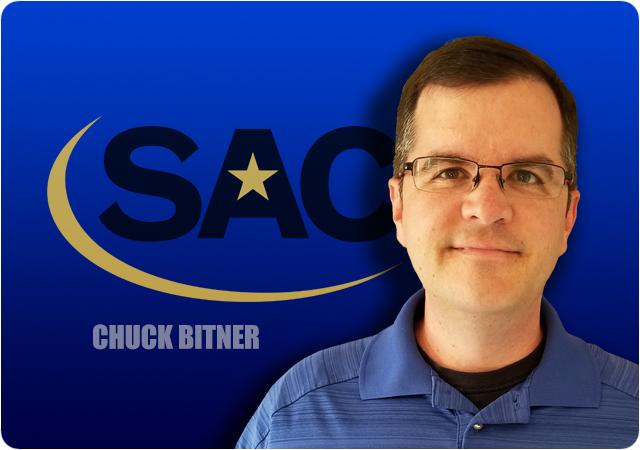 A wise film character once said Life moves pretty fast. If you don't stop and look around once in a while, you could miss it. While humorous, its also very true and never more so than during football season. Believe it not, when all games are final by this coming Saturday night, we will be passed the halfway point of the season. But hey, maybe we'll get that one weekend of autumn weather between summer and winter…
SAC member Anderson University announces plans for football program
Before we jump into recapping the SAC standings and previewing week six, there was a major news story that came out last Friday that has a huge impact on the future of SAC football. Anderson University, a SAC member since 2010, announced plans to launch a football program with on-field play beginning in 2024. Anderson's new program will give the SAC ten full members that sponsor football. This is an ideal situation for the future of football. With ten full members, the SAC can play a nine game conference schedule. Every team plays every team so there will be an undisputed champion, and it still leaves two weeks open for out of confernce games. Time will tell if that is the rout the conference will take, but I would expect it be. This should be a good thing from a scheduling point of a view. With the number of Division II teams in the region, most schools are able to fill out the eleven game schedule, but it can be difficult in some years. This will alleviate some of those burdens and should also help with travel time and expenses. This is assuming nothing else changes between now and then, but that's not necessarily a safe assumption. Coker is known to be exploring the possibility of adding football and the SAC may have interest in further expansion if the right fit comes into play. But based on what is known today, ten full member institutions for football sounds perfect.
Overall, its a great thing and I'm really excited to welcome Anderson as a Division II and SAC football member. Anderson is giving themselves a very long runway to get the program up and running but I will do my best to stay close to what they're doing and share any bits of news I can learn as they take the exciting steps forward to build out their progam.
Ranking the SAC
As we creep into the second half of the season, inevitably, eyes will start looking forward to regional rankings and the post season. A few questions have already been raised in the message board about regional rankings and how the playoffs work. As we get a little bit closer to the final weeks of the season, I'll have more to say about playoffs and will also start adding information in the weekly column about the leaders and top contenders. But we will have to be patient. The first round of regional rankings will be released by the championship committee on Monday, October 28, which follows week eight of the regular season.
Until then, here is how the SAC is looking after five games..
1. Lenoir-Rhyne
If you were enjoying the homecoming festivities in Hickory and missed the first few minutes of the game, well, unfortunately, you missed the entire game…and you missed a pair of Kyle Dugger punt returns that electrified that 6,000+ in Moretz Stadium. By the time Dugger took his second return to the end zone (just six and half minutes into the game) the Bears were cruising with a 28 point lead. It was 49-0 by halftime and it's a good thing the tailgate scene at Lenoir-Rhyne is top-notch because the game lost its drama about a minute after kickoff. This was the third time in five games that the Bears have scored more than 55 points. They'll get more of a challenge this week from a respectable Tusculum defense but the Pioneers don't have enough offense to be a threat. Things do get tougher after that with Carson-Newman, a resurgent Limestone team and Wingate on the horizon.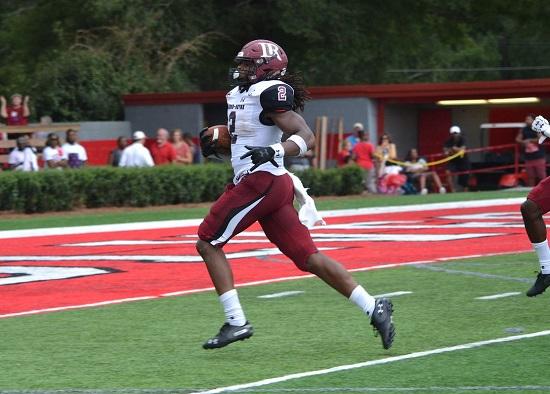 Kyle Dugger returned two punts for touchdowns in Lenoir-Rhyne's homecoming win last Saturday. Photo by C. Bitner.
2. Wingate
I expected Wingate's road trip to Tusculum to be a challenge but it was a tighter fighter than I thought it would be. Tusculum seems to have a way of elevating their play for Wingate and if not a for a few critical mistakes made by the home team, the Bulldogs could have been in serious trouble. In total contrast to the week before, Wingate struggled to keep the offense on the field. They converted only one of ten tries on third down and punted six times. The offense was limited to a modest 256 total yards. It was not a great day but getting out of town with the win is all that matters. I don't think the performance is anything to be alarmed over – as mentioned, Tusculum gives them fits - but they need to be much more polished this week against a newly confident Limestone team.
3. Carson-Newman
Similar to least week, it took Caron-Newman a while to get rolling but once they did, it was game over for UNCP. The Eagles held a 13-3 lead at halftime but erupted for 56 second half points. The Eagles rushed for just shy of 400 yards and converted eight of nine third down situations. Troy Dendy earned SAC offensive player of the week honors with 149 rushing yards and two touchdowns on just seven carries. Antonio Wimbush also topped the century mark with 135 yards on 13 carries. The defense limited UNCP to just 179 yards of offense and intercepted Braves quarterbacks five times. Des Fairell picked up Carson-Newman's first defensive score of the season with a 27 yard interception return in the final period. The Eagles should overwhelm an ailing Catawba team this weekend and if they do, it will set up a huge clash in Hickory next Saturday afternoon.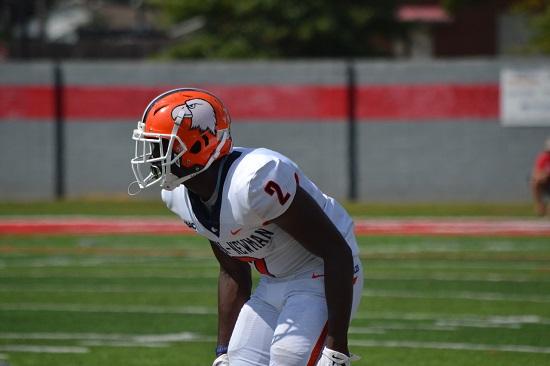 Desmond Fairell scored Carson-Newman's first defensive touchdown of the season with a 27 yard interception return.
4. Mars Hill
A win is a win, and any time you go on the road and win in conference, you take it. The victory at Newberry did not come easily, but it was almost easily given away. A lot of mistakes were made across all three phases of the game but in the end, the Lions persevered. They made plays when they had to and got a big-time effort from the defense. After allowing the first 19 points of the game, the defense limited Newberry to just 78 total yards over their final six drives. Falling into that hole never should have happened, but the Lions patiently and methodically worked their way out of it. That was impressive. One major issue that Mars Hill will need to deal with is the kicking game. Junior kicker Tanner Fox was on crutches at Newberry and his absence impacted decision making. On three different possessions, Tim Clifton opted to go for a fourth down conversion instead of a field goal attempt from makeable distances. PATs were shaky, with one sneaking through after being tipped and one bouncing off an upright.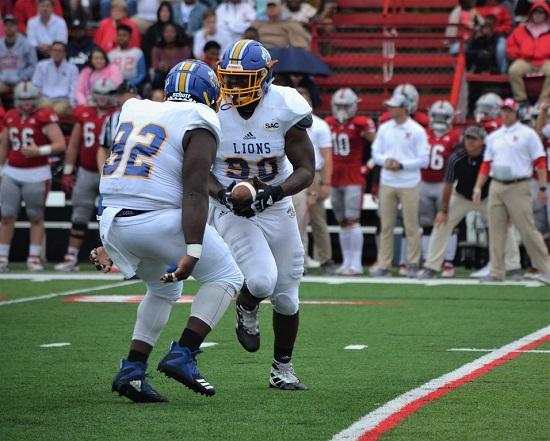 This second quarter fumble recovery by Earl Adams helped Mars Hill score two toucdowns within 12 seconds. Photo by C. Bitner.
5. Limestone
In a span of two weeks, Limestone went from a D2 punchline to a tie for third place in the SAC standings. The Saints now have a legit winning streak going with two in a row and they've really found something on offense. Catawba was helpless to stop a Limestone offense that carved through them with ease. The Saints moved into the red zone on six of their first seven drives, converting five of them into touchdowns. They rolled up a school record 600 total yards and tied the school record with four TD passes. I was on the field for the first half of this game and several things stood out. The attitude on the sideline was vastly different than when I visited two weeks before. They came ready to play and sustained that intensity level. Going for the TD on their first possession instead of taking an easy FG sent a message to both teams and Limestone fed off the energy of getting that score. Most impressively, after giving up the INT return that allowed Catawba to flip the momentum, Limestone immediately got it back. They drove down field and scored with a few seconds left in the half. They even overcame a penalty that took a TD off the board on the previous play. These are things that were not happening over the past 12 months. Two wins is not earth-shattering but it's given this program a completely new outlook. At this point, I wonder just how dangerous Limestone could become as we get into the second half of the season.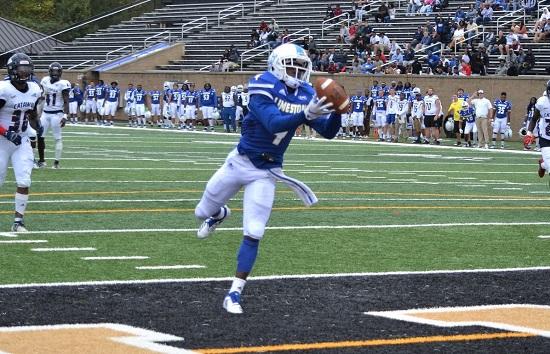 Juwan Scott had three receiving touchdowns in Limestone's win over Catawba including this one just 13 seconds before halftime. Photo by C. Bitner.
6. Newberry
Newberry was able to use a fast offensive start and a few Mars Hill mistakes to jump out to a 19-0 lead and held it until late in the second quarter. The turning point in the game was a fumble that immediately followed the Lions' first points of the day. The result was Mars Hill adding a second TD just 12 seconds after their first and closing the halftime gap to 19-14. The defense had possibly its best game of the year and might have held on for a slim victory if not for that turnover. They did a nice job containing Mars Hill's passing attack, limiting the receiving threat of Rucker, Harbison and Ferguson to a combined 78 receiving yards. Colton Bailey took all the snaps at quarterback and made some plays, but as a unit the Wolves are still a long way from where they need to be.
7. Tusculum
Tusculum narrowly missed out on a chance to get their most impressive win since the last time they beat Wingate at home in Greeneville. After spotting Wingate an early 14-0 lead, the Pioneers then out gained and outscored the Bulldogs over the remaining 52 minutes. The defense frustrated Wingate all day and allowed only two decent drives but special teams blunders assisted the Bulldogs' struggling offense. The first points of the day came on a blocked punt that Wingate returned for a touchdown and the final points came after a short punt, plus penalty yardage allowed the Bulldogs to start a drive at the Tusculum 26 yard line. It's a shame for Tusculum because a win would have made it a great day for the homecoming crowd and they had a chance. Now they must regroup and prepare their best shot for another ranked opponent in Lenoir-Rhyne.
8. Catawba
2019 is not yet a complete loss for Catawba, but the season is heading in that direction. They caught Limestone on a high after the Saints had finally picked up their first win in quite a while and the Indians were just not able to match their level of play. They did do a nice job fighting back from an early 28-3 deficit that seemed insurmountable, but they didn't have enough offense to keep pace and the only real defensive stop they made in the first half was the pick-6. That was also the only thing that kept this game from being a runaway. I don't foresee them being competitive with Carson-Newman this week but after that, they have a four week stretch that includes Newberry, Tusculum and UVa-Wise. Winning two of those three may be as much as the Catawba faithful can hope for this year.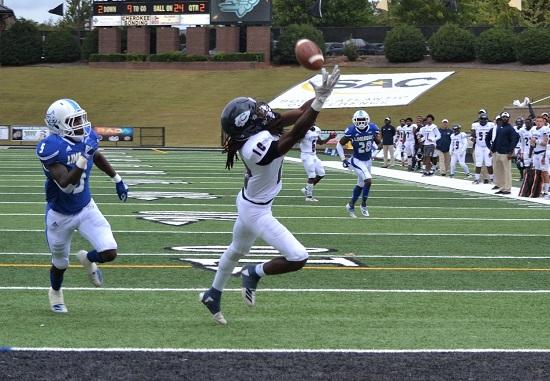 Kolby Easley's diving touchdown grab helped Catawba get back into contention in the second quarter. Photo by C. Bitner.
9. UVa-Wise
The trip to Lenoir-Rhyne was not expected to end well but the game played out even worse than I thought it would for the Cavs. They spotted 28 points to the Bears before many in the homecoming crowd even got through gates. When you play a team like Lenoir-Rhyne as an underdog, the last thing you can do is give up non-offensive touchdowns. Wise gave them two special teams TDs in the first quarter. The Cavs have now gone four straight games without scoring more than 14 points and their most recent two conference games were settled by finals of 42-7 and 63-6. The most important thing for this team right now is to not get discouraged. This year was going to be hard no matter how well they played. Other than Wingate, the toughest challenges in the schedule are behind them. If they stay focused and don't give up on the season, there can be better days ahead. They have Newberry and Tusculum in the next two weeks and both teams have problems of their own. Closing out the year with Catawba and UNCP may give them a chance to finish strong, if they work for it.
Week six schedule
Mars Hill (3-2, 2-1) at UNC Pembroke (2-3) 1:00
On paper this game should go Mars Hill's way. I think the Lions are a bit stronger on both sides of the ball and should be the better team. I think the Lions could be on their way to a winning season, but what concerns me is that over the past few years, they've lost games like this one. Games where they were equal to or better than the opposition, but they didn't get it done on game day and it disrupted their momentum. To that end, this is a critical match up for Mars Hill.
I do think they will win this game and I expect them to do it with another good defensive effort. The Lions' defense has been deceptively good. They gave up 56 to Lenoir-Rhyne and 63 to VMI, but LR will do that to just about anyone and VMI is a significantly improved FCS football team this year. Pembroke is average at best offensively and I think Mars Hill will have what it takes to keep them in check. They have some beef in the D line that can bottle up the run and they're getting very good play from the linebackers. Offensively, I'd like to see Mars Hill try to establish the run to take some pressure of Collin Sneed to make plays and allow Rucker and Harbison to be effective at what they do. Carson-Newman skewed UNCP's rush defense stats last week, but others have had success running the ball too. As mentioned earlier the Lions' kicking game is an issue so if this game is close, that could be a factor.
I believe Mars Hill is a better team and really want to see them prove that in this critical road contest.
Mars Hill 28 UNC Pembroke 21
Catawba (1-4, 0-2) at Carson-Newman (3-1, 1-1) 1:00
After three consecutive losses, Catawba now has to find a way to right their season with an upset at Carson-Newman. To have a chance of getting out of Mossy Creek with a win, they're going to have to play near perfect football, and probably need to get some help too. If Carson-Newman turns the ball over – like they did at Wingate – then Catawba may have a shot. Turnovers kill drives, and Catawba is having a hard doing that with defense so any turnovers they can get will allow them to hang around a little bit longer. If the Eagles keep it clean, I don't think they'll have any problems wearing Catawba down. The Indians have to game plan for the run, but they've had the most vulnerable pass defense in the league and Carson-Newman has been doing a really good job of making big plays with the down-field passing game. That gives the Eagles of lot of options for their game plan.
Even if Catawba can make a few stops, Carson-Newman should have no problems shutting down the Indians' struggling offense. The Eagles give up only 238 yards per game, and not much on the ground. Catawba desperately needs to establish a stronger and more consistent running game. If they could, I'd feel better about them being able to compete with Carson-Newman, but its just not happening for them right now.
Carson-Newman 41 Catawba 21
#9 Lenoir-Rhyne (5-0, 3-0) at Tusculum (1-4, 1-2) 1:30
Tusculum has had a tough schedule through five weeks and it only gets harder with undefeated Lenoir-Rhyne coming to town. Not ideal for them but for the Bears, Tusculum is a good test as they prepare for a very busy second half of the season. I say that because I don't think Tusculum can beat Lenoir-Rhyne even if the Bears struggle. They just don't have enough offense to do it, and especially not against a defense that allows less than 14 points per game. They have good running backs and solid O line but still have inconsistency at quarterback. But Tusculum does have a good defense and the Bears need to be challenged so they can be prepared for closer battles down the road. Tusculum has talent at every level of the defense, especially in the back seven. Passing may be a little tougher against the Pioneers' experience secondary. I expect to see a run-heavy game plan from Lenoir-Rhyne. They will have to be patient because Tusculum does have a solid D line, and they give up only slightly more than 100 rush yards per game. We'll see if they have the depth to hold up to the Bears' pace and the fresh bodies they will rotate through the backfield.
I believe Tusculum can keep this close but Lenoir-Rhyne will outlast and wear them down in the second half.
Lenoir-Rhyne 38 Tusculum 17
UVa-Wise (1-4, 0-3) at Newberry (1-4, 1-2) 4:00
Its been tough going for these teams, but this weekend gives each an opportunity to get into the win column. Last week's loss to Mars Hill was a let down for Newberry but on the positive side, the defense played much better than they had to date. They really needed that and I think it gives them reason to believe they can win with defense. UVa-Wise is one of the least threatening offenses in the country. Half of the 81 total points they have scored this year came in the season opener. In the last four games, they have scored 14, 14, 7 and 6. They don't have much of a running game and the three quarterbacks that have played have a combined completion percentage of 48.5%. Freshman quaterback Lendon Redwine is expected to make his second start for the Cavs.
UVa-Wise should also be looking at this as winning opportunity – Newberry has problems too – but this is a must win for the Wolves. They're at home and all it should really take is a decent day from the offense to score enough points to win this game. Their freshman quarterback Colton Bailey has played well so far and this has the potential to be his breakout game.
Newberry 34 UVa-Wise 21
SAC Game of the Week
Limestone (2-3, 1-1) at #14 Wingate (5-0, 3-0) 6:00
Wingate puts their undefeated record on the line against a Limestone team that is now overflowing with positive momentum and confidence. That doesn't make them the better team, but it does make me a little nervous for Wingate. The Bulldogs are finding ways to win through contributions from all three phases of the game, and that's what good teams do. But they've bogged down a little bit offensively in the last two games. Nijere Peoples was back last week and that definitely helps because establishing the run will be very important on Saturday night. Limestone's offense has found some rhythm and keeping them off the field is the best way to keep them out of rhythm.
Speaking of that offense, they're coming off the best performance in program history. The 600 yards they posted against Catawba was a new record and they tied or set a handful of other program bests as well. Wingate has a defense to tangle with anyone, but Limestone will show up believing they can move the ball. They have two running backs averaging more than 5.5 yards per carry and Juwan Scott is emerging as a big play threat in the passing game to compliment Quay Brown. There is a lot of skill player talent for Wingate to account for in this maturing offense.
I really think Limestone has a chance in this game. Wingate should be able to win this with defense but if Limestone's offense gets hot, the Bulldogs will have their work cut out for them.
Wingate 27 Limestone 21
As always, you can send questions or comments to me at [email protected] and you can connect with me on Twitter @D2Chuck. Follow my SAC Football photos page for updates and check out games from the past three seasons.