SAC Preview Week Three
September 18th, 2019 3:00pm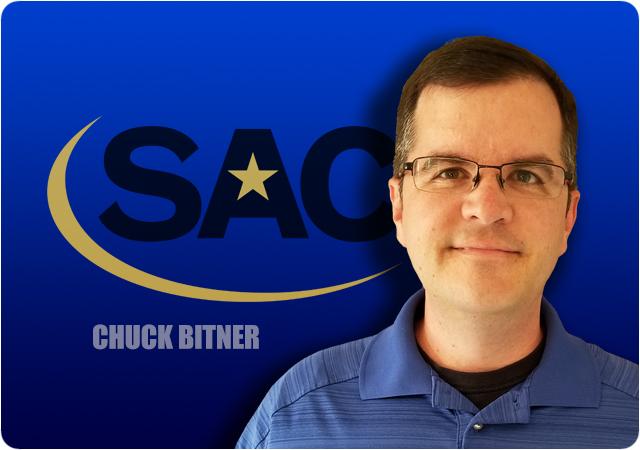 Week two was pretty good for the South Atlantic Conferene with Lenoir-Rhyne, Catawba and Wingate all earning solid wins on the road and Mars Hill opening the home portion of the schedule with a blow out win. Newberry and Limestone both lost at home but were very competitive with playoff caliber teams from the GSC and UVa-Wise gave FCS Tennessee Tech way more of fight than they wanted. Tusculum was the only disappointment of the wekend. The Pioneers were competitive in the early stages against West Alabama but things fell apart quickly. The good news for Tusculum is that conference play begins this Saturday which really gives every a team a chance to re-boot and get focused on winning a conference championship. As we head into our first weekend of SAC play, here is how I rank the nine teams.
1. Lenoir-Rhyne
The Bears survived a difficult game in hostile territory with a hard earned 28-11 win at Virginia Union. It certainly wasn't easy but it wasn't supposed be, and in reality, the Panthers never seriously threatened for the win. The Bears overcame a sluggish start to pull out to a 21-3 lead at halftime and went into the final period with a 28-3 advantage. The defense allowed a few too many big passing plays, but they held a strong rushing offense to only 39 net rushing yards. VUU's Tabyus Taylor, one of the top running backs in the region, finished the day with just 1.9 yards per carry. Dareke Young led the offense with three touchdowns.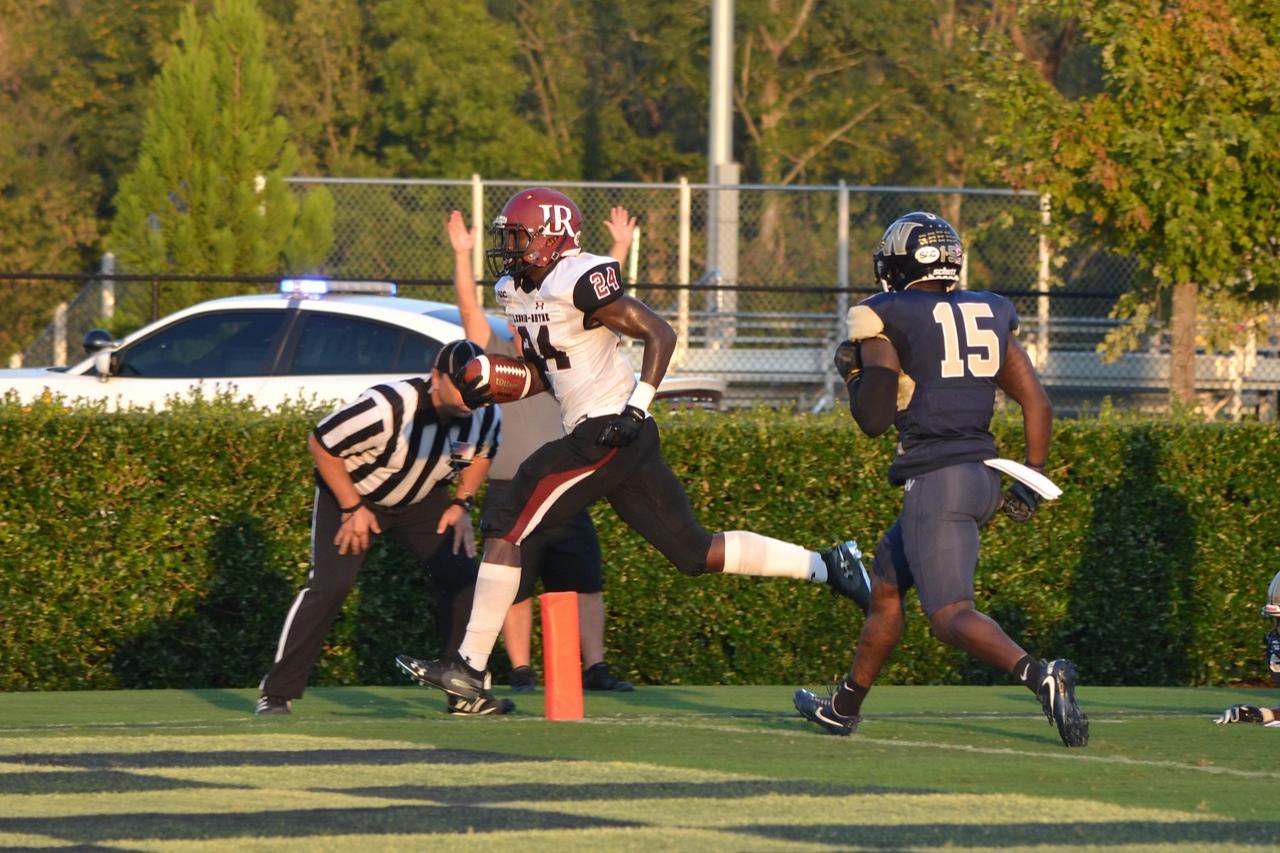 Dareke Young scored three of Lenoir-Rhyne's four touchdowns at Virginia Union. Photo by C. Bitner.
2. Carson-Newman
Carson-Newman was idle this past weekend. A bye in week two is unusual but the layover gives the Eagles a total of 16 days to prepare for the big outing at Wingate this coming Saturday night.
3. Wingate
For the sixth consecutive season, Wingate is off to a 2-0 start. They were a little sloppy in the first half of their road game at Fayetteville State and the result was a 17-17 tie at the break. The Bulldogs came out of the locker room angry for the third quarter and sored 17 unanswered to pull away from the Broncos. Wingate outgained FSU in total offense 402 to 220 with the running game looking very strong. Receivers BJ Muckelvene and Jalen Brooks made the most of their combined 6 catches, going for 153 yards but those were the only completions on the night. Wingate quarterbacks were just 6 for 18 with two touchdowns and 2 interceptions.
4. UVa-Wise
The UVa-Wise defense frustrated FCS Tennessee Tech for most of the first half but special teams and a defensive touchdowns put them in a hole. The Cavs struck first with a 9 play, 70 yard touchdown drive but the Eagles returned the kickoff 91 yards for a touchdown and that sparked a run of 28 unanswered points for the home team. I really am interested to see the Cavs start conference play to see how good this defense really is. Tennessee Tech put up only 301 yards of total offense and scored just two offensive touchdowns.
5. Mars Hill
The home opener for Mars Hill was a huge success with the packed house getting its first look at the beautiful new Ammons Field House and the home team pulling away for a lopsided win. The Lions did have to work for it though. St. Aug overcame an early deficit to tie the game at 14 midway through the second quarter but Mars Hill then ripped off five unanswered touchdowns. Craig Rucker had a hat a trick of TDs with one rushing, one receiving and one passing. Overall, it was a good day for Mars Hill but there are plenty of things to work on. The passing game wasn't very crisp, they lost three fumbles and committed 13 penalties. Any of those three problem areas will cost them games in conference play.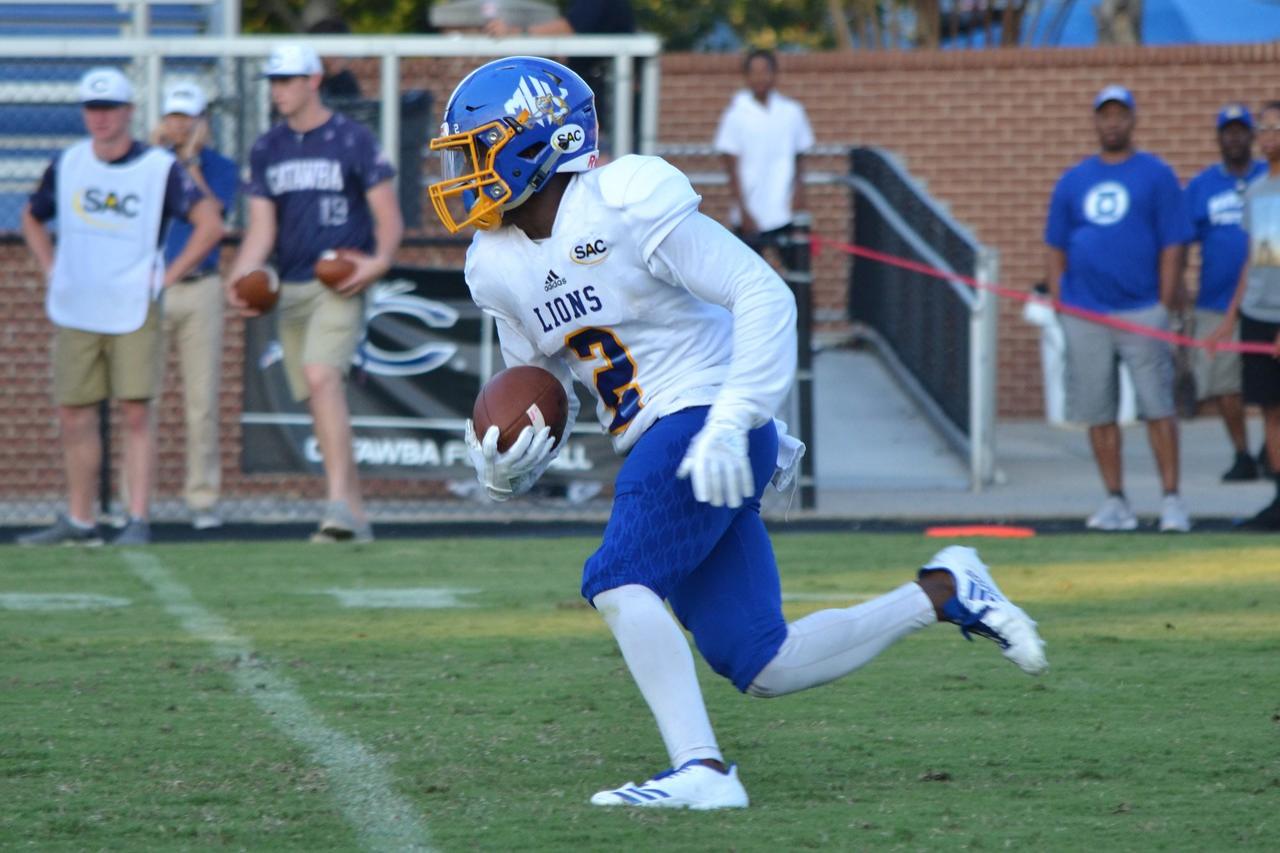 Craig Rucker accounted for touchdowns rushing, receiving and passing in Mars Hill's win over St. Augustine's. Photo by C. Bitner.
6. Catawba
Catawba pulled off a gutsy win at Winston-Salem State last Saturday night. It was a close, low scoring battle for all 60 minutes, and the Indians' game winning drive was one for the history books. With about 10 minutes remaining in the game, Catawba was losing the field position battle. They started a drive on their own twelve yard line which advanced zero yards in three plays. Forced to punt, they allowed WSSU to begin their next position in plus territory. The Indians defense stood tall and forced a 3-and-out. The punt pinned Catawba at their own 6 yard line with 7:34 remaining. The Indians then drained all but 0:27 from the clock, on a 14-play drive that finished with 8 points on the board. The Indians converted on two third downs and one fourth down on the drive. That drive was incredible and it should be a huge confidence boost for this maturing team.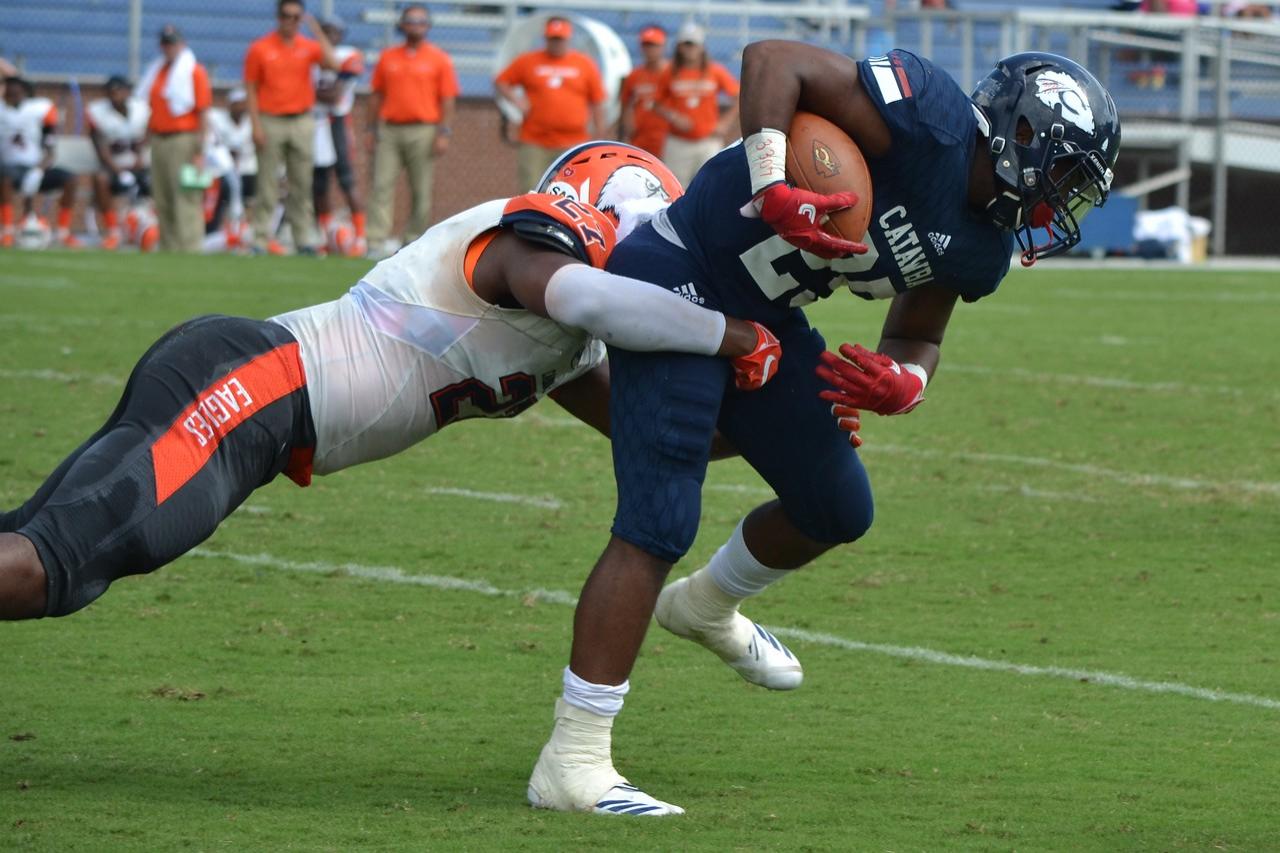 Demonte Good rushed for 123 yards in Catawba's win at Winston-Salem State. Photo by C. Bitner
7. Limestone
I don't know if coaches believe in the concept of respectable losses, but Limestone's effort against visiting West Georgia was exactly that. The Saints were in the game for all 60 minutes. It was a 14-7 game at halftime and I believe the pivotal moment was Limestone's response to a West Georgia TD with five minutes remaining in the third. When the Wolves capped a 56 yard drive with their third TD of the night, it looked like they might finally pull away in the second half, but Limestone shut those hopes down immediately. The Saints responded on the next possession with a 73 yard drive that cut the West Georgia lead back to 7 points. The West Georgia defense managed to close out the win by stuffing the Saints' final three possessions, but it was encouraging to see Limestone respond to adversity and play at that level against a ranked team.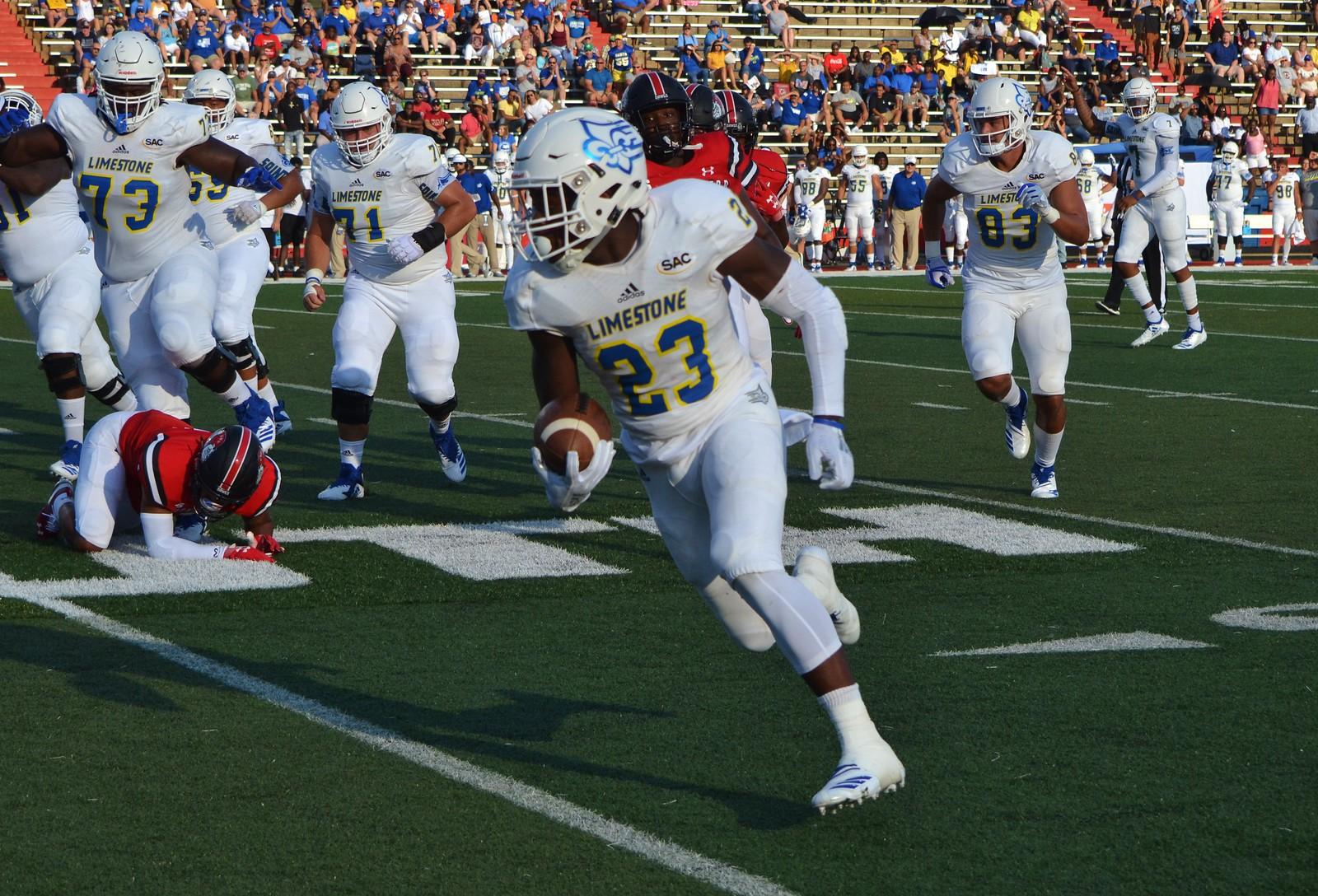 Jerko'ya Patton led all SAC rushers in week three with 140 yards and two touchdowns. Photo by C. Bitner.
8. Newberry
Florida Tech received the opening kickoff and covered 75 yards on just three plays to take an immediate lead on the home team. Newberry's offense struggled to respond and Tech added a field goal to lead 10-0 after one quarter. The Wolves then found some offense to battle back and take the lead 14-10 late in the second quarter. Florida Tech had been making big plays all afternoon and managed to reclaim the lead 17-10 with 0:47 left in the half. The game really swung in their favor on the next play. Newberry fumbled the kickoff and the Panthers recovered, already in scoring position. They needed just 27 seconds to score, making it two touchdowns in the final minute of the half. The Wolves trailed by 16 points at the start of the fourth, but rallied for two touchdowns and came agonizingly close to pulling off a final play hail mary. The Wolves did very well to battle back from adversity a couple of times in this game.That may be something to build on.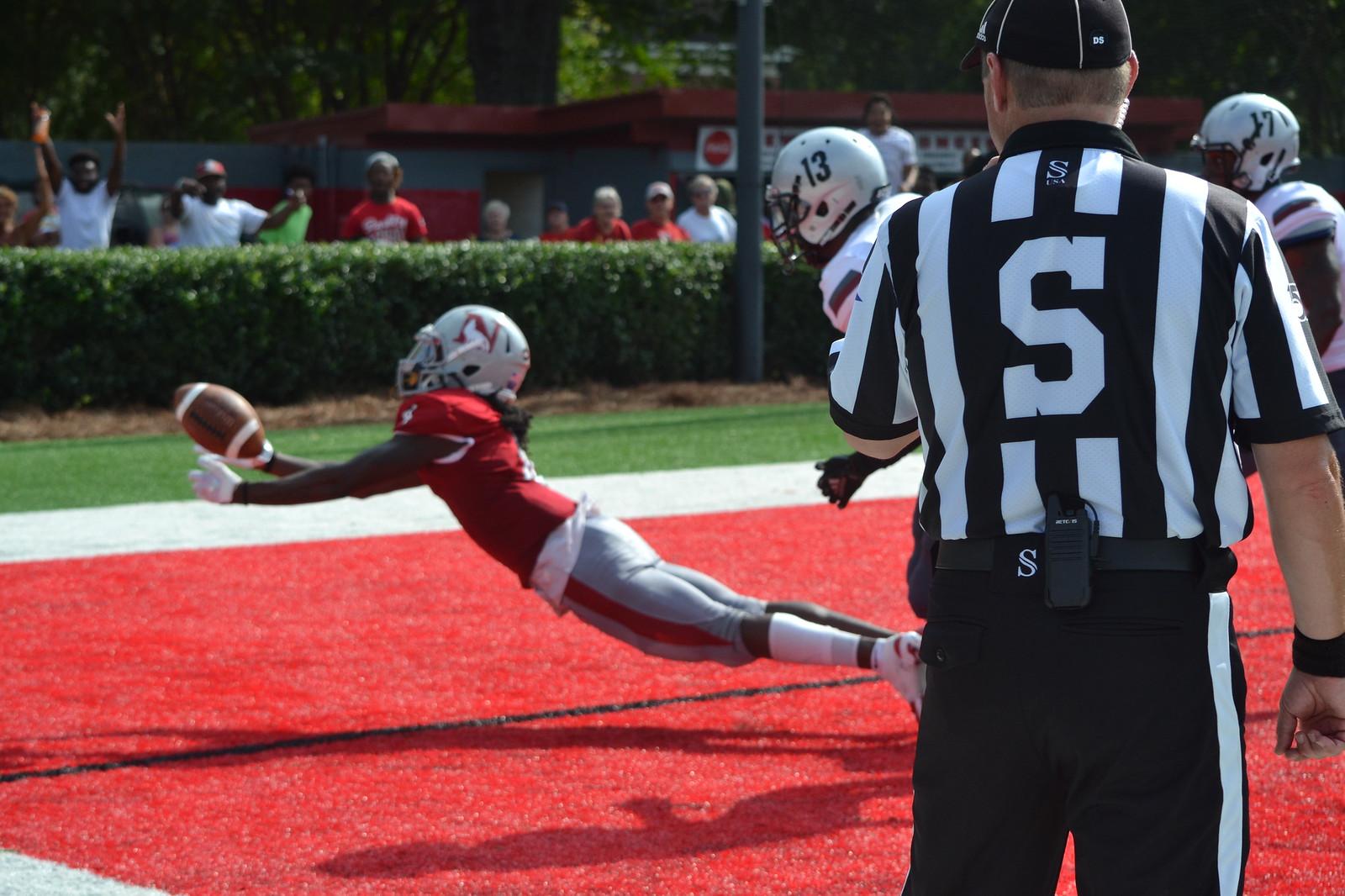 This is how close the final play Hail Mary was for Newberry last Saturday. Photo by C. Bitner.
9. Tusculum
Tusculum's meeting with West Alabama was rough. The Pioneers were outgained by more than 200 yards and the normally stingy pass defense gave up 368 yards through the air. West Alabama tried to hurt themselves with 12 penalties for 140 yards, but it didn't have much of impact on how the game played out. It has been a difficult start to the season but I really like that Tusculum is scheduling games against top tier teams. If you want to be a good team, you have to beat good teams. Hopefully the level of competition is helping them improve and get ready for the conference schedule.
Week Three schedule
Mars Hill (1-1, 0-0) at UVa-Wise (1-1, 0-0) 12:00
The Highland Cavaliers have had a solid start to their first season as a SAC member and this weekend they will play their first conference game at home against Mars Hill. Both teams have similar resumes to this point. Each has a good win against a mid to lower tier CIAA team and a commendable performance against an FCS opponent. On paper I think this is a pretty even matchup but I think the Cavs have a slight advantage because of their defense. Mars Hill is usually pretty explosive on offense but despite last week's 7 TD showing, they still have some things to work on. It is encouraging that they ran the ball well, but the passing game has been a little out of a sync so far and Wise has a really good secondary, making me think this won't be the week for things to fall into place for Mars Hill. For their part, the Cavs have a lot more to work on offensively. Their productivity has been pretty modest through two games and they are still having problems with fumbles.
This should be a very competitive game and I believe it will come down to which defense plays better. A timely turnover could be the difference in this one. I think UVa-Wise gets their first conference win in their first try.
UVa-Wise 24 Mars Hill 21
Tusculum (0-2, 0-0) at Limestone (0-2, 0-0) 1:00
There are still three winless teams in the SAC but at least one of them will get a win this weekend as Tusculum travels to Limestone. Both teams should be very hungry for a win but I don't think any team is hungrier than Limestone right now, and they are playing like it. Limestone and Tusculum are 0-2 in large part because each has played two very talented teams. Limestone was more competitive with West Alabama than Tusculum was, even though they played the Tigers on the road.
Its still very early in the season, but at this point I think Limestone has more working for them. The defense has played at a much higher level than it did all last year. They've made several big stops against very good offenses to help give their own offense a chance to find its way. Tusculum's offense has struggled to establish anything through two games and that creates an opportunity for Limestone to really come up with a big effort. The Tusculum defense is still good so Limestone will have to continue to work on consistency, but I think Saturday has potential to be a breakout game for them.
Limestone puts the losing streak behind them with their first win of the year.
Limestone 21 Tusculum 17
Newberry (0-2, 0-0) at #14 Lenoir-Rhyne (2-0, 0-0) 6:00
After an 0-2 start, a road trip to Lenoir-Rhyne is not exactly what Newberry needs. The Wolves need a win in the worst way and have to prepare and play with a sense of urgency. The Wolves could have won both games but the offense has struggled at inopportune times and despite not allowing a ton of points, the defense has been giving up way too many big plays. That last part is especially concerning because Lenoir-Rhyne makes big plays. Lots of them. LR is a team that tends to start fast and when they do, its awfully hard to overcome it. Newberry weathered a fast start by Florida Tech last week and battled back from 16 down in the fourth quarter, so that is encouraging for this week.
I'd like to say Newberry has a shot to get their first win, but I do not think this is a good match up for them. They made offensive plays when they desperately needed them last week, but they are still inconsistent and not very explosive. I think Lenoir-Rhyne's attacking defense is going to force mistakes and create turnovers. LR's offense wasn't superb last week but I think we'll see a more representative performance at home under the lights. Newberry's defense will have to minimize big plays. The offense has to establish a rushing attack and avoid turnovers. If they can do those things, they can make this a good game. If not, I don't think it will be close at the end.
Lenoir-Rhyne 38 Newberry 21
Carson-Newman (1-0, 0-0) at #19 Wingate (2-0, 0-0) 6:00
When the SAC schedule came out earlier this year, there were two games that I immediately looked for. Of course one is Wingate v. Lenoir-Rhyne, which should be a continuation of the remarkable two game series they played last year, and other was Carson-Newman at Wingate. This is definitely the most significant game in the SAC schedule for the first quarter of the season.
For Carson-Newman it will sort of feel like week one all over again. By the time this game kicks off it will have been 16 days since the opening day win over West Florida. Its hard to know if that's good or bad. That's a lot of time to focus on simply getting better before moving on to the traditional game week preparation. But its also a bit of an emotional swing to go through summer two-a-days, play the first game and then go back to two weeks of practice. We'll see how they handle it.
As far as how they match up, I think its pretty even. Wingate has had two very different games so far, but haven't played a team as good as Carson-Newman. The offense will face a much bigger challenge going against a Carson-Newman unit that held a talented West Florida team to 262 yards and 13 points. Wingate's passing game was superb in the opener but wildly inconsistent last week in Fayetteville. To beat Carson-Newman, they have to balanced because the Eagles have a tremendous rush defense to combat Wingate's 1-2 punch of Nijere Peoples and Dom McNeil.
The last two meetings in Wingate have been thrillers and this one could be too. I think Carson-Newman is a little further ahead right now. I like them to come through on the road.
Carson-Newman 28 Wingate 24
Catawba (1-1, 0-0) at UNC Pembroke (1-1, 0-0) 7:00
We're only two games into the season, but Catawba and UNCP already have one common opponent to compare results with. Both have played and defeated Winston-Salem State. The Braves opened the season with a 27-21 win at home over the Rams, while Catawba pulled out a hard earned 21-14 win at Bowman Gray Stadium last Saturday night in WSSU's home opener.
Last week's game was a big bounce back for Catawba, particularly for the defense. They limited WSSU to 92 rushing yards and only 15 first downs for the game. The confidence from that game should go a long way, especially in preparing for a UNCP offense that is coming off a very poor showing at Virginia State last week. I think Catawba will have another good night against the run, and if they can establish their own rushing attack with Demonte Good, I really like their chances. QB Ken Avent has sat out the last two games but may be ready to go by Saturday night. If not, Kendal Davis is only getting more comfortable leading the team. His poise in leading the game winning TD drive at WSSU may be a defining moment for him.
I think this will be a close game with neither offense being impressive. The morale boost from the big win at WSSU last week could do wonders for this Catawba team and I think it will help them prepare and practice well for another win this weekend.
Catawba 23 UNCP 17
As always, you can send questions or comments to me at [email protected] and you can connect with me on Twitter @D2Chuck. Follow my SAC Football photos page for updates and check out games from the past three seasons.