SAC Week 11 Preview
November 15th, 2019 5:00am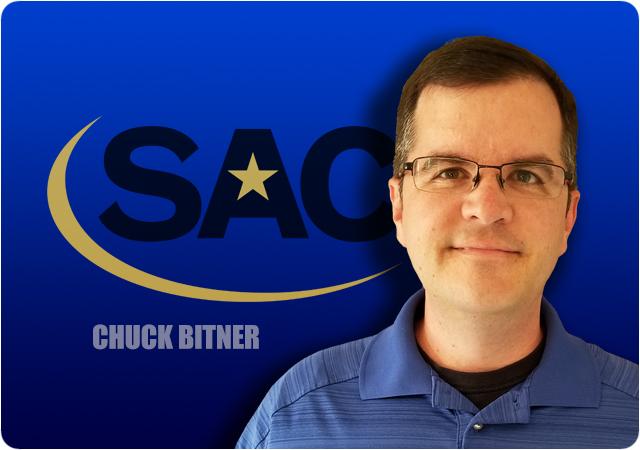 Week 10 may have been the best weekend of the 2019 SAC football season. We got some close, competitive action from games that I didn't really think would produce it. Lenoir-Rhyne, Wingate and Carson-Newman all faced significant challenges and persevered to keep their playoff hopes on track. Tusculum, Limestone, Newberry and UNCP all went into the weekend with losing records but played hard, inspired football. They played like their records were 0-0. That is how teams should approach every week and it was really impressive that they were able to find that kind of performance this late in the season.
Tusculum was the only one of those four teams to come of the weekend with a win, but the other teams I mentioned should feel really good about how well they performed against good competition. It was an inspiring weekend of football and that is one of the primary reasons why I like to follow and support these teams. At this point in the season, not many people are still paying attention to how hard Newberry or Limestone plays week in and week out. But it means everything to the players and they showed that. Passion, pride and belief in your teammates are the reasons to give everything you have. We saw a lot of that last weekend and I'm thankful I got to take in two of those games.
Regional rankings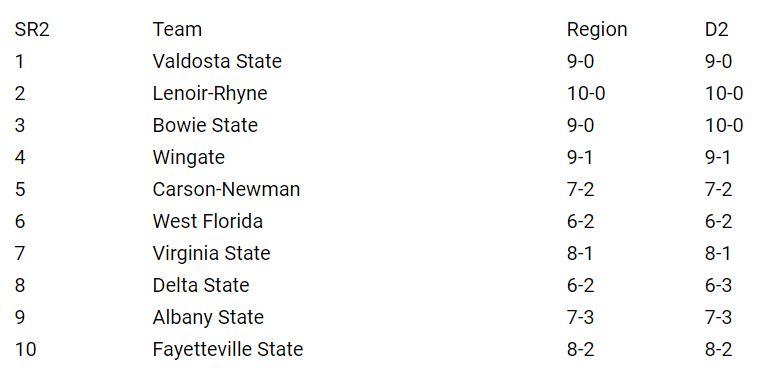 I was slightly surprised last week when Lenoir-Rhyne jumped over Valdosta State but was not surprised that they swapped positions again this week. The Blazers earned their biggest win of the year with a victory over West Florida. UWF's record helped boost Valdosta's weighted OWP (.580) while Lenoir-Rhyne's meeting with UNCP brought their weighted OWP down slightly (.532). This will occur again this week with Valdosta facing West Georgia (6-4) and Lenoir-Rhyne playing Catawba (1-9). This means Valdosta State will lock up the #1 seed with a win.
#3 Bowie State continued their perfect season and will now play south division champ #10 Fayetteville State in the CIAA championship game. Bowie State is safely in the field but if FSU would manage to upset them, things could get interesting. The Broncos have a low OWP but Bowie State's 10-0 record will help bring it up. A win by FSU could vault them into contention.
#4 Wingate held onto their position with the win over Newberry and #5 Carson-Newman predictably moved ahead of #6 West Florida after the Argos suffered their second defeat of the season (remember, Carson-Newman has a head to head win over West Florida).
#7 Virginia State is the only ranked team not playing this weeeknd. The Trojans beat rival Virginia Union in overtime last Saturday but their loss to Bowie State a few weeks ago means they are in the clubhouse anxiously waiting for Sunday's selection show.
Virginia State should be rooting for their rivals in Bowie to win on Saturday to keep Fayetteville State from having a claim to the #7 slot. If the Broncos win I think Virginia State would have reason to be very nervous. The biggest variable for the final playoff position is the SIAC Championship. #9 Albany State will most likely get in if they beat Miles. Miles secured their spot in the title game by beating Tuskegee in front of 23,000 last week. Miles is not ranked but a win over Albany State would elevate them to 9-2 and that might be enough to get them into position for earned access.
After it all shakes out, here is what I think the SR2 playoff field will look like.
Valdosta State
Lenoir-Rhyne
Bowie State
Wingate
Carson-Newman
West Florida
Albany State
The Division II Football Championship selection show will be streamed on ncaa.com at 5:00pm, Eastern time on Sunday, November 17.
Here are the SAC rankings as we head into the final week.
1. Lenoir-Rhyne
I'll admit, while I was getting over my surprise at Limestone's rally to pull ahead of Carson-Newman, I was even more surprised to look at live stats on my phone to discover that Lenoir-Rhyne was trailing UNCP in the 3rd quarter. At home. That wasn't expected, but the Bears responded to the challenge and scored the final 17 points of the game to walk away with a 14-point win. For the second week in row, Jaquay Mitchell set a school record for length of a touchdown reception and this time put his name in the books permanently. His 99 yard TD catch in the fourth quarter set a record that can be equaled but never broken. QB Grayson Willingham passed for 303 yards and three TDs on just 12 completions and was named SAC offensive player of the week. The Bears will attempt to complete an undefeated regular season on the road at Catawba.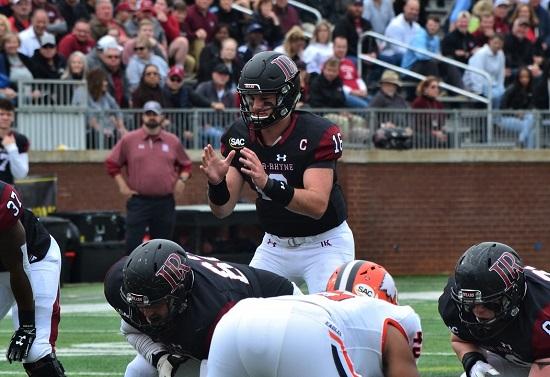 Grayson Willingham passed for 303 yards and three touchdowns against UNCP. Photo by C. Bitner.
2. Wingate
Wingate needed a bounce back after the tough loss at Lenoir-Rhyne. They blew a 21 point first half lead over Newberry, but pulled it out in the fourth quarter to secure their ninth win of the season and maintain their fourth place spot in the regional playoff rankings. It wasn't good that they fell behind after opening up a big lead but there is a lot to be said for winning games in the fourth quarter. Special teams was an important factor and punter / kickoff specialist Ethan Evans was recognized as SAC special teams player of the week. The defense has a few things to sure up heading into the finale with Mars Hill. Newberry was able to fight back into the game with some big plays in the passing game. A win this weekend would give Wingate the first 10-win season in program history and set up a chance for 11 in the post season.
3. Carson-Newman
I did not expect Carson-Newman's trip to Limestone to be one of the most interesting and entertaining games of the season. That belief only seemed solidified after twenty minutes of play had produced a 24-0 Carson-Newman lead. Allowing Limestone off the deck was not supposed to happen and the blame goes in equal parts to the offense and defense. They should not have blown a 24 point lead, but they came back late and made the plays when they desperately needed them. In the end, all that matters is that they got it done and if they do make it into the playoffs, they'll need the guts to win late in the fourth quarter. They got a very gutsy performance from backup quarterback Tyler Thackerson, standing in for Derrick Evans who was benched due to an unspecified violation of team rules. RB Troy Dendy was a weapon, rushing for an even 200 yards. The Eagles have to beat local rival Tusculum on Saturday to secure their spot in the playoffs.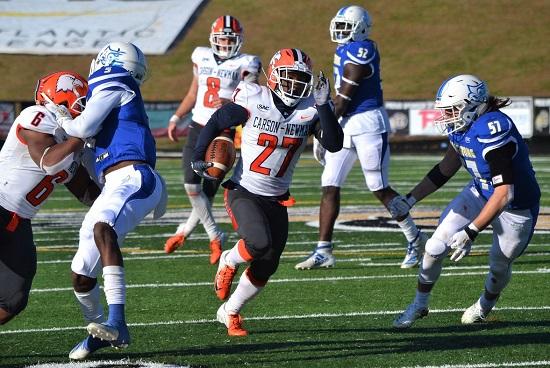 Troy Dendy led the offense with 200 rushing yards at Limestone. Photo by C. Bitner.
4. Tusculum
Tusculum extended their winning streak to four games with an impressive win over Mars Hill in the home finale. It was a modest day for the offense but they scored 21 unanswered in the second half to pull away for the win. Thurlow Wilkins rushed for over 100 yards for the third consecutive game and the quarterbacks were efficient. The defense shut out Mars Hill in the second half and limited the normally unstoppable Craig Rucker to 47 yards of offense. DB Dee Alford earned SAC defensive player of the week honors for the second time this year. A few weeks ago, at 1-5, a winning record seemed impossible, but they enter the finale with a shot to pull it off. If the Pioneers can upset in-state rival Carson-Newman, they will have their first winning season since 2014.
5. Mars Hill
Mars Hill had their toughest outing of the season at Tusculum, managing less than 300 yards of offense and only 7 points. It was just an ugly day all around. The Lions could not establish the run (53 yards), turned the ball over five times and committed 14 penalties. Those are losing numbers against nearly any opponent. The Lions have now lost two in a row and take a 5-5 record into the finale. A winning season depends on earning an upset over Wingate at home.
6. Newberry
I thought Newberry had potential to cause problems for Wingate but after one quarter of play, I discovered I was wrong and would probably be escaping the dropping temperatures early in the second half. But after surrendering 21 unanswered, Newberry then outscored Wingate 28-3 from midway through the second quarter to the end of the 3rd. The Wolves were able to do a lot of damage in the air with Colton Baily passing for 301 yards. Deshun Kitchings had a huge night with 178 receiving yards on six catches, including a 64 yard catch and run for a touchdown. They couldn't quite get it done in the end but it took a big time effort to come back from 21 down on a damp, chilly night. Newberry will finish with a losing record for the third year in a row but they can finish strong with a home finale against Limestone.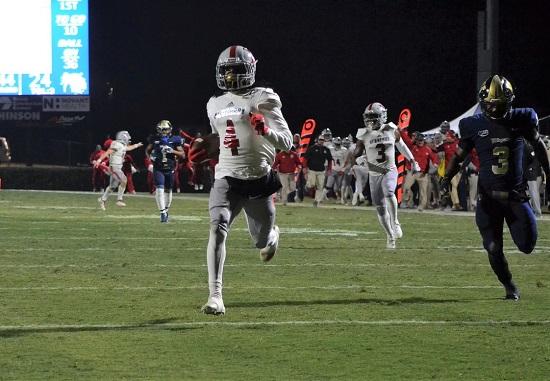 Deshun Kitchings finished Saturday night with 178 receiving yards, including this 64 yard TD. Photo by C. Bitner.
7. Limestone
Limestone was one play away from what would have been the biggest win in the short history of the program. It sure would have been a great story if they could have pulled it off. The Saints allowed visiting Carson-Newman to race out to a 24-0 lead in the first half and it looked as though the Eagles would cruise to a lopsided win and maintain their spot in the regional playoff rankings. But the Saints decided they weren't going to finish their last home game in embarrassment. They steadily clawed their way back into the game, finding a rhythm with the rushing attack and creating some turnovers on defense. They rallied all the way back to take the lead with five minutes left, and even recovered an on-sides kick afterwards. Unfortunately a fumble gave the ball back to Carson-Newman with about 3 minutes left and they were able to use most of the remaining time on a game winning TD drive. It did not end in a W but was an impressive rally and a tremendous effort. Limestone finishes the year at Newberry on Saturday afternoon.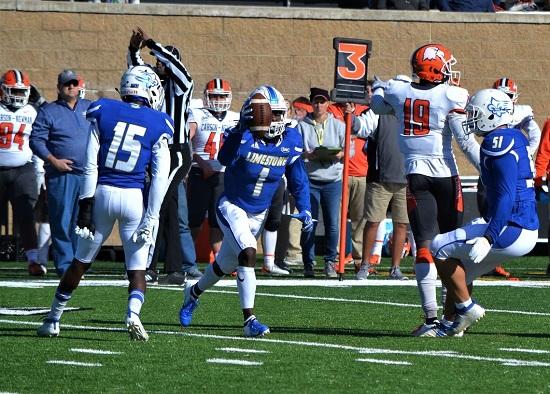 Mannie Ogletree's second quarter INT helped spark Limestone's comeback. Photo by C. Bitner.
8. UVa-Wise
The Highland Cavaliers earned their first ever SAC victory with a 21-14 win at home over Catawba. The offense went back to Lendon Redwine at quarterback and while his numbers were modest, he led two good scoring drives and threw a pair of touchdown passes. The defense limited a hapless Catawba offense to less than 200 yards and less than 1 yard per rush attempt. The conference schedule is complete for the Cavs. They'll finish out the season on the road at UNC Pembroke.
9. Catawba
Catawba's road trip to UVa-Wise was likely their final shot at SAC victory in 2019 but it was another dreadful day for an offense that just seems lost at this point. The Indians finished the day with only 23 net rushing yards and 197 total. The offense set up the winning score for UVa-Wise by allowing a sack and fumble deep in their own territory. The Cavs turned that into a TD which was the difference in the 21-14 outcome. The defense had its best day in several weeks, managing to kill some drives with four sacks and two interceptions. Catawba did have the lead for about four minutes in the third quarter and it was the first time since week two that they had a lead after halftime. The program's worst season in recent memory comes to an end at home this Saturday against Lenoir-Rhyne. If they lose, it will be the first Catawba team to finish with fewer than two wins since 1983 (0-9-1).
Senior Day
For at least two thirds of the SAC, this Saturday will be the end of the season. For the senior players, cheerleaders and band members, this is their final chance to put on their uniform and represent their school on game day. Congratulations and thank you to all of them for the work they have put in througout their careers. Make your last game day memorable!
Lenoir-Rhyne (10-0, 7-0) at Catawba (1-9, 0-7) 12:00
If Catawba wins this game it would probably be the biggest upset in Division II this season. With an undefeated season on the line, I can't possibly foresee Lenoir-Rhyne allowing that to happen. That said, I won't be surprised if the final score is a little closer than we would expect. This is Catawba's last chance to show some fighting spirit and at least go out with some pride, and Lenoir-Rhyne should have an interest in getting their depth into the game as much as possible. Unless Valdosta State slips up, LR is going to have to roll right into playoffs next week and they have some beat up bodies that could use rest.
Lenoir-Rhyne 42 Catawba 20
UVa-Wise (2-8, 1-7) at UNC Pembroke (3-7) 1:00
UVa-Wise was able to pick up their second win of the season last week while UNCP lost their fourth straight game. The Braves went winless on the road this year, but the close out the season at home. It will be their first home game since October 12. That alone may be enough to spur them on to victory but I also thin they are the better team. They're not great on defense but Wise has one of the weakest offenses in Division II. UNCP has enough offensive talent to carry them to a win.
UNCP 24 UVa-Wise 14
Wingate (9-1, 6-1) at Mars Hill (5-5, 4-3) 1:00
Wingate got over an important hurdle last week with the win over Newberry. That win puts them right back on course for their march to the post season and while I do believe Mars Hill can cause some problems for them, I will be surprised if Wingate gets upset. The Lions have had their days on defense, but a strong rushing attack can beat them and Wingate has a power running game with two of the best backs in the league. Mars Hill can stay in it if they don't turn the ball over. Wingate's defense is good, but they have created the fewest turnovers (12) of any defense in the SAC. In some of their closer games this season (Carson-Newman, Newberry, UNCP) the Bulldogs were burned by the deep ball a few times. That may be Mars Hill's best shot to pull off win.
It may be competitive but Wingate has a lot to lose and should be locked in as if it's a playoff game.
Wingate 31 Mars Hill 21
Limestone (3-7, 2-5) at Newberry (4-6, 3-4) 1:00
If both teams play as hard as they did last week, this will be a great game. I saw both play in losing efforts against better teams, but they played inspired football and came up just short of what would have been very memorable upsets. Limestone relies heavily on the pass, but they have two very good running backs in Jerko'ya Patton and Malik Brooks. Both were difference makers in the comeback effort against Carson-Newman. If they commit to the run and have success with it, they can win this game. Newberry is still very unpredictable at quarterback but I would expect Colton Bailey to start and play the whole way after accounting for nearly all of the Wolves' offense last week.
It should be a very competitive game and I can see it going either way. I'll take the home team by a point.
Newberry 28 Limestone 27
Tusculum (5-5, 4-3) at Carson-Newman (7-2, 5-2) 1:00
This could be a very tough game for Carson-Newman. The Eagles have a playoff bid on the line but the Pioneers are playing for something important too. If they can earn their fifth straight win, they will complete the season at 6-5 and that would be the program's first winning season since 2014. I'd argue you can go all the way back to 2010 since that 2014 record includes a win over College of Faith, which was never a legitimate college football team. Bottom line, it's been a while and just getting into this position has been a long road. It would have been easy for the Pioneers to pack it in when they were 1-5 but they didn't let that happen. They stayed together, fought their way back and have earned this opportunity.
I think they have the defense to do it. Tusculum has had success against Carson-Newman and they know how to prepare for the veer offense. The Pioneers are particularly strong in the secondary and that is important because the Eagles manage to pull off a few deep balls in every game. I think Tusculum can avoid being burned.
Pulling off the upset will require a little more productivity from the offense. They've run the ball well recently but Carson-Newman is pretty tough against the run. Tusculum will need Bryce Moore and Joaquin Collazo to make plays throwing the ball. Both have been steadily improving and becoming more consistent passers but they will have to do more than what has been asked of the over the last four weeks. If they're up for the challenge, they have play makers to get the ball too.
Tusculum has won two of the last three in this series. I think the Pioneers can do it but Carson-Newman is playing for the post season and will get it done at home.
Carson-Newman 28 Tusculum 17
Other top games this week
#3 Bowie State v. #10 Fayetteville State (CIAA Championship) 3:00
#9 Albany State v. Miles (SIAC Championship) 2:00
#6 West Florida v. West Alabama 4:00
#1 Valdosta State at West Georgia 7:00
#8 Delta State at Mississippi College 2:00
As always, you can send questions or comments to me at [email protected] and you can connect with me on Twitter @D2Chuck. Follow my SAC Football photos page for updates and check out games from the past three seasons.