SAC Week 12 Playoff Preview
November 21st, 2019 1:00pm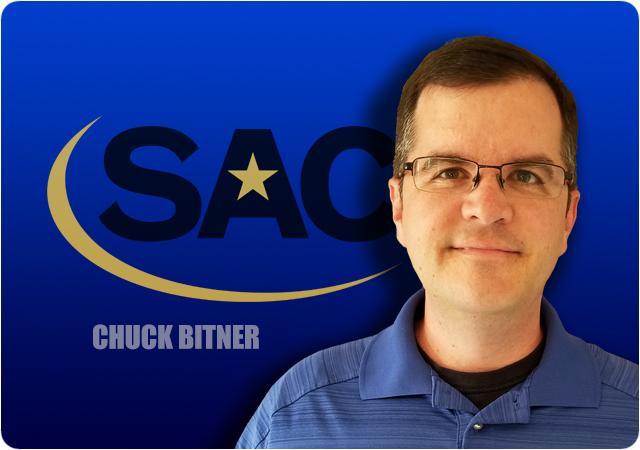 It's playoff time! After eleven grueling weeks of football, the NCAA Divsion II playoff bracket has been set. A field of 28 teams will compete for the national championship over the next five Saturdays, culminating in the championship game in Mckinney, Texas on December 21. The South Atlantic Conference has possibly the strongest representation it has ever had in the D2 playoffs with the first, second and third place teams in the final standings all making the field. #2 seed Lenoir-Rhyne and #4 seed Wingate will host first round games while unseeded Carson-Newman will travel to #3 seed Bowie State.
Playoffs don't happen every year for a progam, so if your team made the field, do your best to get out to the game to support them. Playoffs are intense!
Here is a look at the three games this weekend.
Carson-Newman (8-2) at Bowie State (11-0)
Carson-Newman Eagles
Location: Jefferson City, Tennessee
Conference: South Atlantic Conference
Head Coach: Mike Turner
Record: 8-2 (3rd place, SAC)
Five players to watch
#2 DB Desmond Fairell
#6 RB Antonio Wimbush
#14 QB Derrick Evans
#24 LB Rondrow Peebles
#27 RB Troy Dendy
Bowie State Bulldogs
Location: Bowie, Maryland
Conference: Central Intercollegiate Athletic Association
Head coach: Damon Wilson
Record: 11-0 (CIAA Champions)
Five players to watch
#16 QB Ja'rome Johnson
#17 TE Dushon David
#26 DB Demetri Morsell
#55 DL Joshua Pryor
#56 DL Jason Rogers
Statistical comparison

The matchup
One of the things I enjoy most about playoff season is that we get to see matchups that may otherwise never happen in the regular season. It's not that Carson-Newman and Bowie State can't play each other, but they never have. That makes the meeting in Bowie unique and with the high stakes of playoff football, it should be fun game to see.
The Eagles have never faced the Bulldogs but they have familiarity with some of their competition. The Eagles have had a CIAA opponent on the schedule most seasons for the past 20 years and have won 13 straight against CIAA competition. That's a piece of history on their side BUT the Eagles have historically not fared well in road playoff games. While the Eagles can tout an impressive 39-20-1 post season record, they have won just two road playoff games in their Division II era.
Winning at Bowie State will require a well rounded effort. Bowie State is a team without many weaknesses to exploit. Carson-Newman's veer offense can cause problems for any team but Bowie State has the defensive talent to handle it. They are in the national top 10 in scoring defense and total defense and they have delivered in the biggest games of the season. Rivals Winston-Salem State, Virginia State and Virginia Union were all held to 17 points are less and Fayetteville State managed only 7 in the CIAA Championship. There is a lot be said for showing up big in big games. They know how to elevate their play.
Turnovers are a huge part of their success . The Bulldogs have a remarkable 25 interceptions, with nine of them going to one player, Demetri Morsell. Three of his nine INTs were returned for touchdowns. If Morsell played for Carson-Newman, he would be the team's third most productive receiver. This is a huge concern in this game because against good defenses this year, Carson-Newman killed themselves with turnovers. They lost three fumbles at Wingate and three at Lenoir-Rhyne.
The Eagles will probably still find ways to move the ball, but finishing drives will be hard against the third best red zone defense in the nation. That means the Eagles' D will need to have a big day to keep this low scoring. They should be capable of that. The defensive front is good against the run and the secondary has been nearly as effective as Bowie State in creating turnovers with 19 INTs. Their challenge will be to find some way to minimize dual threat Ja'rome Johnson. The junior QB (who started his career at UVa-Wise) is a 60% passer with 21 touchdowns to seven interceptions and he also has rushed for 898 yards and 12 TDs. Supporting him is a large cast of contributors. The Bulldogs have eight players with 10 or more pass receptions and nine players that have scored four or more touchdowns. That's remarkable. Nine players with at least four TDs.
I have no doubt Carson-Newman can win this game, and if they do, I think they could be dangerous in the next round. But this is going to be a very tough game. The status of QB Derrick Evans is unknown. He has been absent for the last two weeks due to a violation of team rules. Tyler Thackerson has played very well in his place, but I think they need Evans to win this game.
It could be a toss up but Bowie State is really good at home. They have not lost on their own field since a close one against Delta State in the 2017 playoffs. If Carson-Newman wins the turnover battle, they win the game. But it's a big If.
My Pick: Bowie State 23 Carson-Newman 21
Miles (9-2) at Lenoir-Rhyne (11-0)
Lenoir-Rhyne Bears
Location: Hickory, North Carolina
Conference: South Atlantic Conference
Head Coach: Drew Cronic
Record: 11-0 (SAC Champions)
Five players to watch
#8 RB / WR Jaquay Mitchell
#16 QB Grayson Willingham
#32 LB Jaquan Artis
#35 LB Clayton Horn
#90 DL Dan Louba
Miles Golden Bears
Location: Fairfield, Alabama
Conference: Southern Intercollegiate Athletic Conference
Head coach: Reginald Ruffin
Record: 9-2 (SIAC Champions)
Five players to watch
#20 LB N'Ktavious Floyd
#22 RB Justin Ruiz
#24 LB Mitchell Smiley
#26 RB Donte Edwards
#57 DL Jaylon Thomas
Statistical comparison

The matchup
Lenoir-Rhyne earned their second consecutive and fifth overall trip to the D2 championship field by completing an undefeated season. The Bears are 11-0 and have won 21 straight regular season games. Miles won a second consecutive SIAC championship last week and secured the final spot in the playoff bracket with a 9-2 overall record. The nine win season is the most in school history and the Golden Bears will seek their first ever playoff victory on Saturday.
It might be easy to dismiss Miles, as we suspect their invitation to the field was based on Division II's earned access process, but don't let that skew your opinion. This is a good football team. Both losses were on the road, one far away from home at Missouri S&T and the other on a muddy field at Central State. Starting running back De'Rell Freeman was injured way back in week two but the offense has continued to run the ball well with his backups. The Golden Tigers have been good away from home this year winning at Fort Valley State, Tuskegee and Albany State.
The win at Tuskegee was in front of 23,000 people but I believe winning between the bricks at Moretz Stadium will be the toughest assignment they've faced. Lenoir-Rhyne has won 13 consecutive home games and the crowd will turn out and be loud on Saturday afternoon in Hickory. Lenoir-Rhyne will also be the best team Miles has faced this year.
The Golden Bears' defense has come on strong in the second half of the season, allowing an average of 6.75 points per game over the last four weeks, which included games against their fiercest rivals. The Golden Bears are strong against the run, allowing only 84 yards per game and they excel at creating negative yardage plays. They will be tested by a Lenoir-Rhyne offense that puts up 270 rushing yards per game but Miles will be confident. Albany State does a lot of things offensively that are comparable to what Lenoir-Rhyne does and Miles held them to 170 total yards in last week's SIAC Championship.
Offensively, Miles runs the ball effectively with two running backs that average more than five yards per carry. They like to run between the tackles with physical back Donte Edwards and then change it up with Justin Ruiz who is quicker and shiftier. They run a lot of read option from the pistol formation and even though they're not deadly throwing the ball, they spread out with three and four wide. The LR defense is very tough against the run and they have the speed to avoid being burned at the perimeter. They will have to respect the pass, but I think they'll commit to defending the read option run game. I think they can force Miles to make plays throwing the ball, which is not exactly what the Golden Bears want to do. Miles is only a 50% passing offense with 15 TD passes and 12 INTs.
The key to hanging with LR is to not let them get off to a fast start. It's a four quarter game, but Miles has to be within a touchdown after the first quarter. Their best chance is to establish the inside running game with Edwards and rely on the defense to keep this close. I think they are good enough to do that and give themselves a chance but beating the Bears at home is a tall order.
My pick: Lenoir-Rhyne 35 Miles 20
West Florida (8-2) at Wingate (10-1)
Wingate Bulldogs
Location: Wingate, North Carolina
Conference: South Atlantic Conferenec
Head Coach: Joe Reich
Record: 10-1 (2nd place, SAC)
Five players to watch
#1 WR Jalen Brooks
#3 RB Domineke McNeill
#13 Jesiah Carlton
#9 DL Cal Hanford
#10 LB Robbie Wallace
West Florida Argonauts
Location: Pensacola, Florida
Conference: Gulf South Conference
Head coach: Pete Shinnick
Five players to watch
#14 QB Austin Reed
#24 LB Trent Archie
#29 WR Quentin Randolph
#88 WR Tate Lehtio
#99 DL Ian Bush
Statistical Comparison

The Matchup
Wingate and West Florida will meet in the playoffs for the second time in three years. The Bulldogs are making their third consecutive and fourth overall appearance while the Argos are making their second trip to the playoffs. Fans of both teams will remember the first round meeting in the 2017 playoffs. Wingate had held down the #1 ranking in SR2 until a week 11 loss at Tusculum. West Florida was a slight surprise on selection Sunday, but took advantage with four straight wins on their way to the championship game. That run started with a 31-0 win over a Wingate team that had really recovered from the devastating loss the week before.
I expect a more competitive game this time around, but Wingate will face no less of a challenge that they did two years ago. Statistically, it's a toss up. The teams are very close. The matchups that are most interesting to me are Wingate's rushing offense against West Florida's defense and West Florida's pass against Wingate's defense. The Bulldogs have two exceptional running backs in Domineke McNeill and Nijere Peoples. Both were named to the SAC first team offense this week. The duo has combined for 1700 yards and 19 touchdowns. The Argos have a strong defense, ranking 8th in the nation in scoring with just 15.10 points allowed per game, but good rushing teams managed some success against them. Wingate's offensive line and backfield rotation may a good match up.
Similarly, Wingate is pretty good overall defensively but a handful of teams were able to make big plays in the passing game. The Bulldogs allow 214 passing yards per game which doesn't sound that bad, but only one offense in the SAC averages more than 200 passing yards per game. Carson-Newman, Wingate and Newberry were all able to hit deep passes on the Dogs. The Argos have the offense to test them with quarterback Austin Reed who led the GSC in passing yards (244 per game) and touchdowns (24).
He has a host of receivers that can do damage. Tate Lehtio leads the team in receptions and is the man to cover on 3rd down, but Quentin Randolph is the game breaker, averaging more than 20 yards per catch.
Between the passing prowess of West Florida and the overall strength of the defense, I think they are going to be a tough out. If the Bulldogs get the running game going, I like their chances but they will have to be consistent with it. Rain is expected and that could help their cause and if it's a slippery track, could even be enough to swing events in their favor. That element aside, I think West Florida wins a close one.
My pick: West Florida 24 Wingate 17
As always, you can send questions or comments to me at [email protected] and you can connect with me on Twitter @D2Chuck. Follow my SAC Football photos page for updates and check out games from the past three seasons.