SAC Week Two Preview
September 12th, 2019 6:00am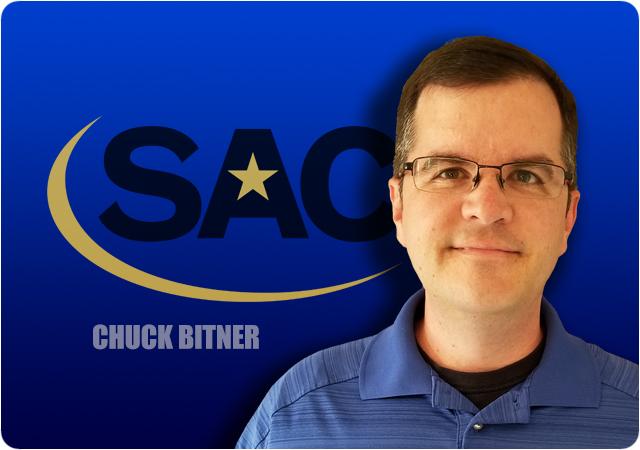 Week one of the South Atlantic Conference football season mostly played out as expected, with only a few minor surprises. The big three (Lenoir-Rhyne, Wingate and Carson-Newman) all earned impressive wins and UVa-Wise had a nice start to their SAC tenure with a fine win at home over Chowan. Limestone showed some fight that was missing in the second half of 2018 and Mars Hill showed some grit in fighting back from an early deficit against an FCS opponent. We're only one week in but here is how I rank the SAC, with a few notes on week one performances.
1. Lenoir-Rhyne
The Bears could not have asked for much more in their opening week win. They totally overwhelmed St. Augustine's in all three phases of the game. The defense probably would have shutout the Falcons if not for one turnover. There are no freebies in the schedule but if the Bears win what should be a tough road game at Virginia Union this weekend, I don't think there are any big obstacles in their way until the meeting with Carson-Newman on October 19.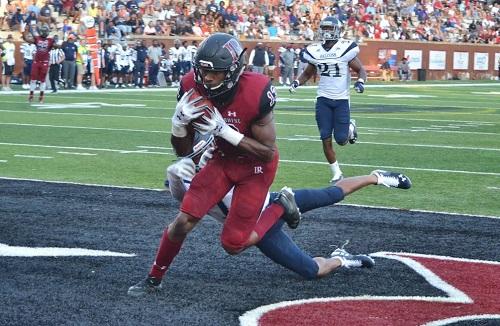 Demarius Hampton hauled in this 34 yard touchdown grab in the second quarter. Photo by C. Bitner
2. Carson-Newman
The Eagles earned the SAC's best win with a hard-earned victory over West Florida. That win does not impact conference standings in any way, but it's a great start to a season that has potential to end in a deep playoff run. The defense was fantastic, holding West Florida to only 262 total yards and only 68 on the ground. The offense did what they do best, holding the ball for more than 35 minutes and churning out 352 yards on the ground. Derrick Evans was a tidy 8-14 and led the Eagles with 140 rushing yards. The Eagles left points on the field with a red zone turnover, a missed field goal and a few stalled drives in scoring position. Those are things to focus on this week at practice, but getting that win was huge.
3. Wingate
I expected a rush-heavy offensive attack from Wingate in their opener at Johnson C. Smith, but the Bulldogs went in the opposite direction. With a fairly new corp or receivers, Wingate opted to work on the passing game and the results certainly got my attention. Wingate quarterbacks completed 20 of 24 attempts for 368 yards and 4 touchdowns. Five different receivers had a reception of more than 20 yards. BJ Muckelvene and Jalen Brooks led the way, but a couple of true freshman also had an impact. Watch for this group to get stronger as the season goes on and for Shaw Crocker to emerge as the best passer in the SAC. The defense, which had some re-tooling to do, had a shut out on the board until late in the final period.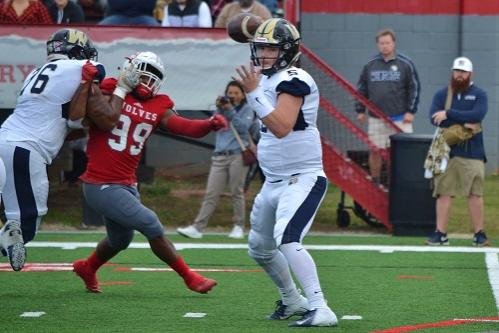 Shaw Crocker completed 18 of 20 passes for 296 yards and 3 TDs. Photo by C. Bitner.
4. UVa-Wise
An 84 yard fumble return and a 91 yard punt return propelled UVa-Wise to a win in their debut as a SAC member. The experienced secondary did a great job of limiting the impact of Chowan's standout QB Bryce Witt who passed for only 170 yards an no touchdowns. There are a lot of things for the Cavs to work on though. They did not lose a fumble, but put the ball on the deck three times. That's a bad sign. This team led the nation in lost fumbles last year and they must improve in that area. Nine penalties is also a problem, and even though the defense did a great job against a good offense, the Hawks held the ball for 37 minutes. If that happens against teams like Carson-Newman, Wingate and Lenoir-Rhyne, they'll have some very long days.
5. Limestone
The Saints lost the opener on the road at West Alabama which was not a surprising result. The Saints fought a hard battle though and there were several positive takeaways. UWA outgained Limestone by just 21 yards, 451-430. They made some big plays in the passing game and got a breakout performance from Quay Brown who led all SAC players last week with 143 receiving yards. The defense gave up a few long scoring drives but also forced 10 punts. Seven of those punts followed 3-and-out possessions. A loss is a loss, but for a program that's fighting for its first win since October, 2017, there were a lot of positives to build on.
6. Mars Hill
Mars Hill's outing at VMI ended in a lopsided score, but the Lions had some moments in the game. After falling behind 21-0 in the first quarter, Mars Hill rallied with two quick scores in the second quarter to draw within a touchdown. The second half was all VMI, but that response in the second quarter is important, and they should not overlook that. There will be a time later this year when they'll fall behind by a couple of scores in a more winnable game, and they need to remember that they have the fortitude to respond when it happens. Another big positive was the performance of Javon Harbison. VMI knew they had to plan for Craig Rucker, but that created some opportunities for Harbison to haul in a pair of TD grabs and 131 total yards. They do need to work on 3rd offense. They converted only four times in 19 tries.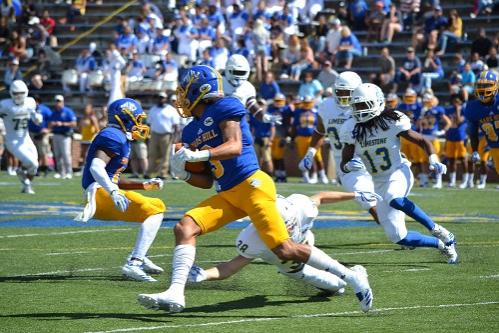 Javon Harbison led Mars Hill with 131 receiving yards and two TDs at VMI. Photo by C. Bitner.
7. Newberry
Going into week one, I thought Newberry was settled with Dre Harris at quarterback and aside from one mistake that resulted in an early interception, he played pretty well. But the Wolves went back to an old strategy of changing QBs when they inserted redshirt freshman Colton Bailey in the second half. Bailey did lead the Wolves' lone scoring drive but coaches then went back to Harris. The result was 7 points. I don't know what the strategy will be this week, but it is alarming because instability at quarterback has been a problem for more than two years. It's also concerning that the Wolves allowed 241 rushing yards to North Greenville, which is not characteristic of a Newberry defense.
8. Tusculum
Tusculum's outing at Delta State looked a lot like many of their games against more talented teams over the past few years. The defense played very well. Delta State had only 10 first downs and 295 total yards in the game. Unfortunately, the Pioneers' offense did no better. They ran for only 81 yards and completed only 15 of 36 pass attempts. They're still working on solidifying the quarterback position, which was expected, but this offense has to get a lot better if the Pioneers are going to reach their goal of a winning season.
9. Catawba
As with most of Catawba's recent outings with West Georgia, the final score probably looked worse than it really was. It was a big struggle for the offense, and most unfortunate too. Ken Avent was set to begin the season as the starting QB but a practice injury took him out of the lineup. The Indians looked to sophomore Kendall Davis to lead the offense. Catawba was in a close battle until late in the first half when a pick six gave UWG a two-score lead. That was immediately followed by a questionable decision on a fake punt attempt, which allowed the Wovles to build a lead Catawba could not fight back against. West Georgia will be one of the best teams Catawba will face this year so there is no need to panic, but there are already some concerns with injuries to a few important players.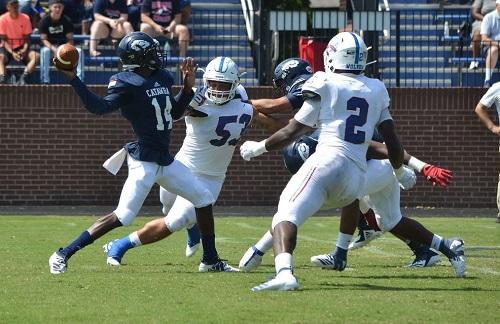 Kendall Davis made his first start at quarterback for Catawba last Saturday. Photo by C. Bitner.
Here is the schedule for week two.
Lenoir-Rhyne (1-0, 0-0) at Virginia Union (1-0, 0-0) 1:00
Lenoir-Rhyne's visit to Hovey Field at Virginia Union will be one of the top games in Super Region 2 this weekend. The Bears are coming off an impressive thrashing of St. Augustine's and Virginia Union is coming off an upset of FCS Big South member, Hampton. The week before, Hampton throttled Elizabeth City State 65-7. As the second half of VUU's upset unfolded, my friend and CIAA columnist Kris Ferguson pointed out that Hampton was discovering that there is a big difference between the top half and bottom half of the CIAA. I think Lenoir-Rhyne will learn that too.
Virginia Union is a good football program and particularly tough at home. Carson-Newman was very fortunate to get out of town with a win last year. I expect this to be a tough game for the Bears. I do think they are a little deeper from top to bottom and the defensive talent gives me confidence on the road. That's important because the offense didn't get quite as much of a workout as a 68 point performance would indicate. The offense moved the ball very well last week but were rarely under pressure or put in bad situations. That's going to happen a few times at Virginia Union so they need to be prepared for it. The run defense will face a much bigger challenge this week. VUU has size in the o-line and one the region's best running backs in Tabyus Taylor, who ran for 159 yards at Hampton.
This is a great early season challenge and it will help both teams prepare for their upcoming conference schedules. LR is a team that embraces the one game at a time philosophy and their focus has been impressing me since week one of last year. That will be important this week.
Lenoir-Rhyne 34 Virginia Union 21
St. Augustine's (0-1, 0-0) at Mars Hill (0-1, 0-0) 1:00
Both teams had similar fortunes last week as each was simply overmatched in its season opener. Mars Hill was predictably outmanned playing an FCS program while St. Augustine's had nothing for Lenoir-Rhyne. But that doesn't mean the same thing will happen again. The Falcons don't have a lot, but they do have a few good players. St. Aug's best offensive possessions against LR occurred when they were able to hit short passing routes with quick releases. Jalen Jones is a senior quarterback with Division I experience, and he will have better days for SAU. Mars Hill needs to make sure Saturday is not one of those days.
I do think the Lions should win this game no matter how it plays out. The offense should have a great chance to hit their stride against a St. Aug defense that is licking its wounds. Jimmy Urzua needs a good outing in what will be his second start for Mars Hill. Look for him to work on minimizing mistakes, which were costly last week, and getting the ball into the hands of Craig Rucker and Javon Harbison.
I think you'll see more from St. Augustine's this week but Mars Hill gets the win at home.
Mars Hill 35 St. Augustine's 21
Florida Tech (1-0, 0-0) at Newberry (0-1, 0-0) 1:00
Newberry needs a bounce back effort after a 7-point showing at North Greenville last week. Florida Tech won by a single point at Savannah State last Sunday afternoon. Newberry and Florida Tech have history with each other. This will be the fifth meeting between the programs. The record is currently tied at two wins for each. When they last met, it was a low scoring defensive battle with both teams held under 300 yards of offense. I expect a similar outcome this week, and I fear that favors Florida Tech. The Panthers are led by senior quarterback Trent Chmelik who had a fine season opener, passing for 331 yards and 2 TDs. Newbery's offense struggled in the opener and FIT will likely have a defense as good as or better than NGU. Like last week, I think Newberry's defense will give them a chance by keeping it low scoring for most of the game, but Florida Tech's offense will be able to mount a few more scoring drives. Watch for receiver Miles Kelly to be an impact player again this week. He saw limited action in 2018 for Florida Tech but had a breakout performance in week one for the Panthers.
Florida Tech is facing a shorter turnaround this week. The opener at Savannah State was played on Sunday to allow time for the hurricane weather to pass through. A return to South Carolina for Saturday afternoon is less than ideal for the Panthers, but I think they will overcome that.
Florida Tech 21 Newberry 13
West Alabama (1-0, 0-0) at Tusculum (0-1, 0-0) 6:00
I really wanted last week to be the game that would allow Tusculum to announce that they were ready to challenge for the SAC championship. It certainly did not happen but they have another chance at home this weekend. West Alabama makes the trek to eastern Tennessee following a season opening win at home over Limestone. The Pioneers should play better at home, especially after a full game under their belts, but West Alabama will likely be an even bigger challenge than Delta State.
It will be interesting to see what Tusculum does with the quarterback position. Joaquin Collazo started, but split time with Bryce Moore. Both got valuable game experience but neither really separated himself from the other. Collazo's numbers were slightly better but Moore did lead the longest drive of the day, in terms of plays and game clock. I would not be surprised to see both quarterbacks see snaps again this week.
I think it will be another learning and growing experience for the offense, but unfortunately, I don't think they are far enough along to take down a team like West Alabama.
West Alabama 28 Tusculum 13
Catawba (0-1, 0-0) at Winston-Salem State (0-1, 0-0) 6:00
Winston-Salem State took the lead at UNCP with 16 seconds left in the first half and built the lead to 11 points by midway through the third quarter. UNCP set to work chipping away at the lead, scoring the last 17 points of the game to send the visitors home with a loss. The Rams out gained UNCP 368 to 325 but, as is often the case in close games, turnovers and penalties made the difference. WSSU was guilty of 14 penalties and two of their final three drives ended with interceptions. If Ken Avent plays, I think Catawba's chances go up significantly. Kendall Davis showed some flashes last week, but Avent has a better command of the offense is better at improvising when plays break down. I don't know if the game comes down to whether or not he's healthy, but its possible that it will. Catawba's defense played better than last week's score indicates, especially against the run. WSSU's passing game is containable, and if the Indians can be tough against the run, they'll have a very good chance.
Both teams must play this game with a sense of urgency, but Winston-Salem State really needs this one. Their next three games are Tuskegee, Virginia Union and Bowie State and the first two are away. The Rams cannot afford to be 0-2 heading into that brutal three week stretch. They need this one badly.
Winston Salem State 20 Catawba 16
Wingate (1-0, 0-0) at Fayetteville State (1-0, 0-0) 6:00
Wingate and Fayetteville State will face each other in week two for the third straight season. The Bulldogs have won the last two meetings, including a 31-21 win at FSU in 2017. However, this FSU team is no push over. The Broncos are the defending champs of the CIAA south division and were picked to repeat in 2019. They opened the season with a 35-21 win at Benedict, a game that is thoroughly unimpressive on paper. FSU led the game 26-0 at one point but Benedict made a second half push to make the game close. The game featured 4 fumbles that were returned for touchdowns and a grand total of 48 rushing yards. I want to give credit to FSU for playing good defense, but Benedict had 74 total yards and only 14 on the ground. Pretty clear indication that they are not a good football team.
For their own part, FSU was not impressive offensively. They had 195 yards for the game with only 34 of it on the ground thanks to negative yardage plays. Stevie Greene is a solid running back who averaged more than 100 yards per game last year and Collyn Anderson is an experienced quarterback. Their leadership should help FSU play cleaner football this week and being at home will help. I won't be surprised if this is close for most of the game, but will be surprised if Wingate doesn't come home with a win. They haven't lost to a CIAA team since 2013 and that win streak currently stands at 11 games. I think they'll make it 12 on Saturday night.
Wingate 34 Fayetteville State 20
West Georgia (1-0, 0-0) at Limestone (0-1, 0-0) 7:00
Limestone put in a commendable effort last week at West Alabama and now they'll get to play in front of the home crowd for the first time this year. Unfortunately, they're taking on one of the power teams from the GSC again. West Georgia will be looking to go 2-0 against the SAC , following last Saturday's road win at Catawba.
West Georgia was better than Catawba, there wasn't much doubt about that. But the game could have been different if the Indians had eliminated mistakes. That's a lesson for Limestone to take away from the game film. The Saints did a pretty good job of playing clean football at UWA. They did have a few penalties, but only one sack and no turnovers. If they can do that again, I think they'll have a chance to put up some points. I'm hoping they can have some success establishing the run. Catawba wasn't able to establish any balance against the Wolves, but Limestone may be in a better position to do that. They definitely need more touches for Malik Brooks, who averaged 7.4 yards with his 8 carries. The passing game has to be more efficient this week. DJ Phillips threw for over 300 yards but completed less than 50% of his attempts. That kind of inconsistency won't get it done against a West Georgia team that will have more talent and will more easily overcome their own mistakes.
I think Limestone can be competitive and may even put a scare into West Georgia, but I don't see an upset happening.
West Georgia 35 Limestone 20
UVa-Wise (1-0, 0-0) at Tennessee Tech (1-1, 0-0) 7:00
The Highland Cavaliers had a good debut as a SAC member with a win over visiting Chowan. For week two, they'll step up a level with a trip Tennessee Tech. The Golden Eagles are a member of the Ohio Valley Conference, competing at the Division I FCS level. Tech won a 59-58 shootout over Samford in overtime, then last at FBS Miami (Oh) last weekend.
Tech is an FCS opponent, but hardly a fearsome one. They've already equaled their win total (one) from 2017 and 2018. Things certainly are looking better though with a huge win over Samford, which was probably their most impressive offensive showing in years. The Eagles put up 671 yards of offense in that game, with 425 of it in the air. That will be a good test for the experienced secondary of UVa-Wise, which had a very good showing in the opener against a very good quarterback in Chowan's Bryce Witt.
I don't think the Cavs can win this game, in large part because there are still a lot of questions about the offense. They certainly weren't bad last week, they were opportunistic. I don't think they'll get as many gifts as Chowan handed to them. I do think the defense can make Tennessee Tech work for it, but I don't think it will be close in the fourth quarter.
Tennessee Tech 48 UVa-Wise 13
As always, you can send questions or comments to me at [email protected] and you can connect with me on Twitter @D2Chuck. Follow my SAC Football photos page for updates and check out games from the past three seasons.