SAC Week Five Preview
October 3rd, 2019 5:00am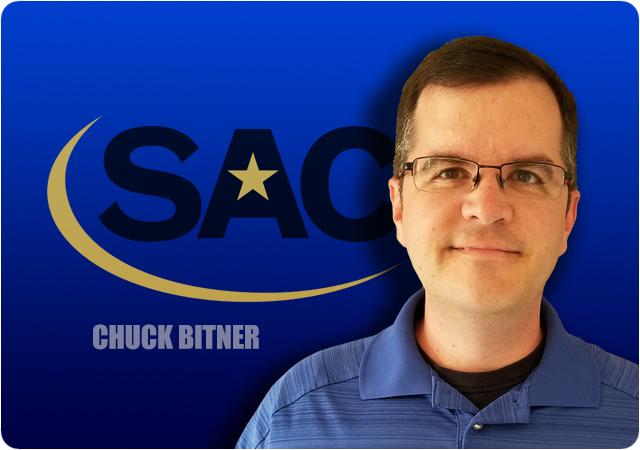 Round four of the SAC football season reinforced that football is most definitely a week to week sport. What happened last Saturday may not be any indication of what will happen this Saturday. Nothing proves that more than Limestone's performance at UNC Pembroke. I saw Limestone for the first time this season in the conference opener against Tusculum. The Saints looked really bad that day. They didn't do anything well and after falling behind early, seemed like they just wanted to get the game over with. They got the result they deserved. But they showed up in Pembroke seven days later looking like a totally different team. They were inspired, motivated, prepared and they executed very well. Once again, they got the result they deserved.
On the flipside is Tusculum. The Pioneers rolled into Gaffney in week three determined to play well and go home with their first win. Their execution was nearly flawless and the final score reflected the way they played. I thought that win was going to send them on their way, but they were unable to follow up with a similar performance at Newberry. They were extremely sloppy, turning the ball over five times, and it cost them the win.
It will be very interesting to watch both teams this Saturday to see how they perform. Limestone can match up with Catawba and if they play well, they can win. Tusculum will be an underdog, but they were the last two years against Wingate. They pulled off a major upset in 2017 and were close last year to doing it again. If they play their best, an upset can happen. How they respond is up to them.
Here is how the SAC teams rank after four games.
1. Lenoir-Rhyne
The Bears extended their regular season winning streak to 14 with a road win at Mars Hill. The final margin was four touchdowns but it was hardly an easy afternoon. The game spanned nearly five hours due to three separate delays for lightning detection in the surrounding area. At any level of football, weather delays are much harder on the visiting team. The home team has the advantage of being in their own space with access to everything they need while the visitors are jammed into a cramped visiting locker room. The Bears endured it very well and it certainly didn't impact the rhythm of the offense, which scored touchdowns on seven of its first nine possessions and rolled up 609 yards of total offense. There are a couple of takeaways from that game though. Mars Hill had a lot of success throwing the ball, and also managed to respond multiple times when it looked like Lenoir-Rhyne had taken control of the game. That said, at this point it's difficult to imagine anyone other than Carson-Newman or Wingate seriously challenging this team, and both of those games are at Moretz Stadium.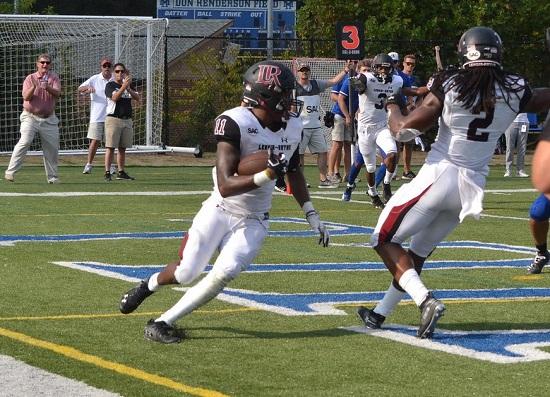 Erik Jackson had three interceptions in Lenoir-Rhyne's victory at Mars Hill. For his performance, he was named D2Football.com national defensive player of the week. Photo by C. Bitner.
2. Wingate
The biggest mystery of week four was how Wingate managed to put only 13 points on the board. They did everything right on Saturday night at Catawba except finish drives. They outgained Catawba 444 to 273 and had nice balance with 232 rushing yards and 212 passing yards. They were 13 for 18 on third down and five of their seven offensive possessions lasted more than five minutes. That's a great recipe for winning but a couple of missed scoring opportunities, including a red zone fumble, made this one a nail-biter. There are a lot of takeaways to work on, but also a lot of things that they did well. The defense was phenomenal and Shaw Crocker's third down play making ability was a difference maker. The Bulldogs need to continue taking the season one week at a time, but as a fan, its hard to look at the schedule and not consider the possibility of this team being undefeated heading into the huge clash with Lenoir-Rhyne. There is a lot of work to do between now and then but Wingate will be a clear favorite in the next four games. They do have some injury concerns on offense. Nijere Peoples and BJ Muckelvene sat out and standout offensive lineman Connor Baronuinas was injured at Catawba. Wingate has depth, but that is a lot of talent on the shelf.
3. Carson-Newman
It took Carson-Newman almost a full quarter to get going in their home game against UVa-Wise. The Cavs scored first and the Eagles did not take the lead for the first time until halfway through the second quarter. Once they got rolling, the offense was hard to stop, running for 464 yards behind four different players that ran for 50 or more yards. That was a much-needed rebound after being held to just 87 rush yards the week before at Wingate. The defense forced six three-and-out drives and held UVa-Wise to just 195 yards of total offense. Darius Williams didn't quite make it to the end zone, but had a 79 yard INT return which is sixth longest in program history. The Eagles get to stay at home for the next two weeks and will be favored to win both games. A huge road trip to Hickory is on the horizon on October 19.
4. Mars Hill
Mars Hill's meeting with Lenoir-Rhyne went about the way most expected. The defense, which had played very well in the previous two games, had a hard time stopping the Bears, but the offense was able to make plays to keep them in the game. Collin Sneed substituted for an injured Jimmy Urzua and played very well. He had three balls picked off and one was extremely costly as the Lions were at the goal line, but he also passed for 345 yards and ran for 42, accounting for all four touchdowns. If Urzua's injury keeps him out of the lineup, the Lions' offense is still in good hands. Even though they are coming off a humbling loss, Mars Hill has a great opportunity to make a run towards a winning season. They match up well with the next four opponents and all will be winnable games. The road tip to Newberry this weekend is huge. If they win that, they may be on their way. Lose, and the season could go in the opposite direction.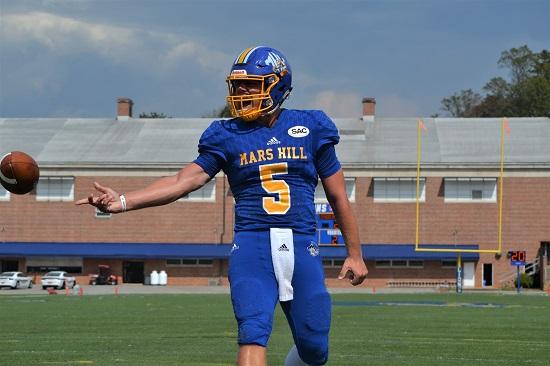 Collin Sneed passed for 345 yards with three touchdowns and scored this rushing touchdown last Saturday against Lenoir-Rhyne. Photo by C. Bitner.
5. Newberry
I can't really sum up Newberry's first win of the season any better or more succinctly than their sports information team did in the post game article….The final stats told one story, the scoreboard told another...The stat lines looked very similar to the first three games of the season (all losses) for Newberry. The Wolves couldn't run or stop the run and overall, posted very modest offensive stats. But they made plays when they really needed them and the defense forced five turnovers and converted one of them into a defensive touchdown. It may not have been pretty, but there is a lot to be said for finding ways to win when the offense is struggling. Their biggest problem is consistently losing the line of scrimmage. As a team they are rushing for only 114 yards per game and allowing 261 rush yards per game. That is not like vintage Newberry football so we'll see if they turn it around in the second half of the season. I'm still a believer in Dre Harris' ability as a quarterback, but Colton Baily played a lot against Tusculum and had a solid outing with three touchdown passes.
6. Catawba
The Indians were not able to match the offensive output of Wingate Saturday night, but they did match their level of play. They battled hard and gave themselves a chance to pull off what would have been a big upset. The defense struggled to get off the field on third down but they stood tall when it mattered most. The defense is actually getting better week by week and will continue to give them opportunities to win. Unfortunately the offensive production just isn't there right now. Any time you hold a conference opponent to 13 points on your home field, you have to win. We're only four games in, so if the offense can make even small steps forward, they can still win some games. A more consistent rushing attack would go a long way for this team.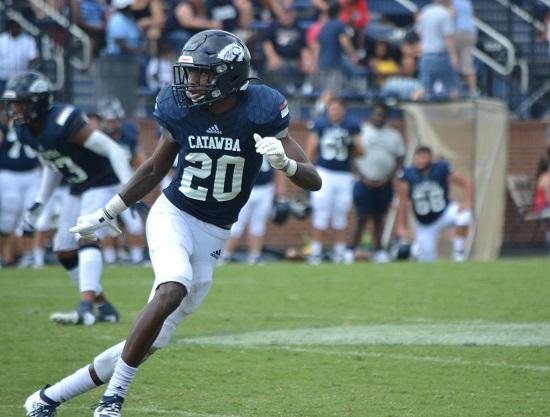 Brenden Westbrook led all SAC defenders with 15 solo tackles in week four. Photo by C. Bitner.
7. Tusculum
Every time I want to buy into Tusculum, it backfires. They had a nice win at Limestone in which they not only won, but played extremely well. I really wanted to believe that was going to jump start their season and give them a good chance to compete in the SAC. Unfortunately, they followed that up with a sloppy, five turnover performance that ended with a much-deserved loss. They outgained Newberry 426 to 248 and they owned the line of scrimmage. The Pioneers were -5 in turnover margin and that is the only reason why they lost. I don't know where things go from here. When they play their best, this team can compete with anyone in the league. They have Wingate and Lenoir-Rhyne in the next two weeks and must play as close to perfect as they can to win those games.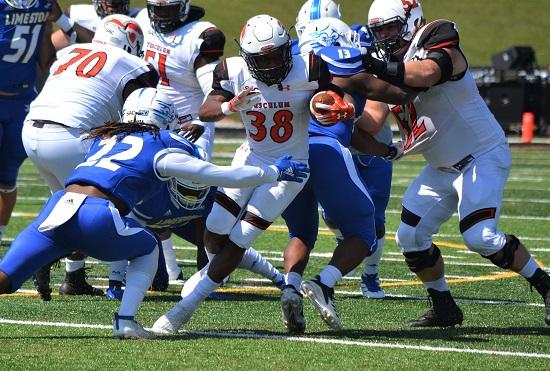 Jordan Shippy led all SAC rushers with 162 yards in week four. Photo by C. Bitner.
8. Limestone
Fifteen games worth of frustration, disappointment and embarrassment is ancient history. The Saints now have a one game winning streak to build on. Okay, one result isn't a streak but what matters is they've gotten rid of the burden of carrying a long losing streak. The reality is that the 2019 Limestone team had a three game losing streak, not 15. But they still carried that weight on their shoulders and now its gone. That's huge for this program. And they didn't get the win by beating a team that just happens to be a little worse off than they are. Pembroke isn't great, but they are not without talent. That Saints went to their field and out played them for all 60 minutes. I really have to hand it to them for putting the Tusculum game behind them. I was very discouraged after watching that game and did start to wonder if another winless season was a possibility. They played very poorly that day. They obviously learned from it, focused and practiced well afterwards. That's not easy to do given what they've been through in the last 14 months. There are winnable games ahead on the schedule, including this weekend against Catawba.
9. UVa-Wise
A promising start to the season has soured quickly for UVa-Wise. The loss at Carson-Newman was their third in row (although only second in D2 competition) and it was another very tough outing for the offense. Most of their 195 yards came in the first 16 minutes of the game and once Carson-Newman got the running game rolling, the Cavs couldn't stop it. That was fairly predictable given that it was their first time preparing for it and defending it. The Cavs might be able to get the defense back on track against the inconsistent offenses of Newberry and Tusculum in weeks six and seven, but sandwiching those outings will be meetings with Lenoir-Rhyne and Wingate. They haven't scored more than 14 points since the season opener so its hard to see when and where their first SAC win may come.
Week Five Schedule
Catawba (1-3, 0-1) at Limestone (1-3, 0-1) 1:00
Putting the losing steak behind them was important for Limestone and now that they've done it, they have a good opportunity to make another stride forward this weekend. Catawba is not a bad football team, but they have some problems and its unlikely that they're going to overwhelm Limestone with offense, which means this is a winnable game for the Saints. Catawba and Limestone already have two common opponents with each team hosting West Georgia and traveling to UNCP. Limestone fared considerably better against both teams. The Saints defeated UNCP 41-25 while Catawba lost on the same field the week before, 28-14. Catawba played hard against West Georgia but hurt themselves with mistakes and lost 37-9. Limestone took UWG deep into the fourth quarter before falling 24-14.
You can never draw straight lines from one result to the next, but those are noteworthy trends. Catawba is getting better on defense each week, as demonstrated by their showing against Wingate but the offense still lacks a punch. This week should be very telling. The Saints have done a decent job in bend-but-don't break scenarios but they do allow more than 400 yards of offense per game. If Catawba can't make some things happen this week, it may not happen at all this year. I think Kendall Davis has played well enough to win games but they need some others on the offense to step up. They must establish a running game to win at Limestone.
I can see this one going either way. Catawba has their backs to the wall and I think they have the fortitude to come out swinging, but Limestone has some much needed momentum. As I said earlier, football is a week to week game. I think this is a better week for Catawba and they will sneak out with a win in the SAC's first overtime game of the year.
Catawaba 23 Limestone 20
UNC Pembroke (2-2) at Carson-Newman (2-1, 1-1) 1:00
Thumping UVa-Wise last week isn't a cure-all for Carson-Newman, following the frustrating performance at Wingate but it did get them heading in the right direction again. If they play their best football, I don't see why they can't achieve a similar result this weekend. UNCP is a bit more talented offensively than UVa-Wise, but to beat Carson-Newman, you have to be able to establish the run. The Eagles have one of the best pass defenses in the nation, allowing just 134 yards per game. The Braves' passing game is reasonably efficient and protects the ball well, but may not be productive enough to sustain scoring drives against the Eagles' defense.
For most teams facing Carson-Newman, the biggest concern is containing their run game and finding ways to force them into unfavorable down and distance situations. The last time UNCP faced a good rushing attack was in the week two road trip to Virginia State. The Trojans wore them down with 394 yards on 57 carries. The Eagles need another big day to build momentum and I think they will get it.
Carson-Newman 35 UNCP 17
UVa-Wise (1-3, 0-2) at #11 Lenoir-Rhyne (4-0, 2-0) 2:00
The Highland Cavaliers have had a rough introduction to their new conference. The normally reliable defense has been abused in consecutive week's by Mars Hill's passing game (430 yards) and Carson-Newman's rushing attack (464 yards). That's a troubling thought as they prepare to face the SAC's top offensive team. Jace Jordan has had the hot hand for the Bears, rushing for 255 yards in the last two games, but he's one of many backs that will get carries and keep the UVa-Wise defense running all day. The Cavs do have some good players in the secondary so the Bears may not have their best passing day of the season, but with all the fresh legs they rotate through the backfield, they should wear down UVa-Wise pretty quickly.
Slowing down Lenoir-Rhyne will be extremely tough, but the Cavs also have to try to mount some offense of their own and guess what? Lenoir-Rhyne has the best defense in the SAC to go along with the best offense. They have yet to allow a team to rush for more than 100 yards in a game. Its very unlikely that this will be the weekend for UVa-Wise to find their way. It will be homecoming in Hickory and that can come with some distractions, but The Bears should control the game from start to finish.
Lenoir-Rhyne 56 UVa-Wise 14
#16 Wingate (4-0, 2-0) at Tusculum (1-3, 1-1) 2:00
Wingate is trying to get to 5-0 for the second time in three years. It is also the second time in three years that they've taken an unblemished record to Greeneville. In 2017, the Bulldogs were 9-0, had already locked up the SAC title and were cruising into the playoffs. But the perfect season was ruined by an inspired Tusculum team that outplayed them and stole a win, 25-17. The Pioneers also played Wingate very close a year ago at Irwin Belk when the Bulldogs had a playoff bid on the line.
I'm not going to count out Tusculum because they have the capacity to play very well, but I think Wingate has the defense to frustrate the Pioneers and force them into mistakes. Tusculum should be emphasizing ball security after last week's five turnover fiasco, but Wingate is good at forcing turnovers and making teams pay for mistakes. If they're going to have a chance, they'll need a big day from Jordan Shippy. He should be up for the challenge having rushed for 249 yards in the last two weeks. The Bulldogs have a few issues on offense with some injuries to overcome but they're getting good results from the running game no matter who takes the carries and Shaw Crocker is really coming into his element as a leader and a play maker. Tusculum does have a good defense so I think this will be low scoring, but Wingate gets the win.
Wingate 24 Tusculum 14
SAC game of the week
Mars Hill (2-2, 1-1) at Newberry (1-3, 1-1) 4:00
With identical 1-1 conference records, Mars Hill and Newberry can keep hopes of competing for a SAC title alive with a win this weekend. Newberry finally has some momentum after grinding out a win last week over Tusculum. Mars Hill was humbled by Lenoir-Rhyne, but not without a fight for most of the game. The matchups this week are entirely different from what each team faced off with last week. Mars Hill's defense played very well in weeks two and three but got lit up by Lenoir-Rhyne. The Lions' D should be more competitive this week against a Newberry offense that is still finding its way. The Wolves have been struggling to establish the run and that has put a lot of pressure on the quarterbacks to make plays. Based on recent history, I expect both Dre Harris and Colton Bailey to take snaps so Mars Hill must be prepared for both.
When Newberry is on defense, they'll see a more polished unit than they faced last week with Tusculum. Mars Hill can move the ball on just about anyone. They don't run the ball that well but they may try to establish the run game against the SAC's worst rush defense. Whether they do or not, they should have success throwing the ball. Starting quarterback Jimmy Urzua may be out again this week, but back up Collin Sneed proved his worth last week against Lenoir-Rhyne. I think Mars Hill can win with either quarterback.
I like Mars Hill to win this game as long as they do not lose the turnover battle. Newberry beat Tusculum because they were +5 in turnover margin. Mars Hill was -3 against Lenoir-Rhyne.
Mars Hill 28 Newberry 24
As always, you can send questions or comments to me at [email protected] and you can connect with me on Twitter @D2Chuck. Follow my SAC Football photos page for updates and check out games from the past three seasons.