SAC Week Six Preview
October 7th, 2021 2:00pm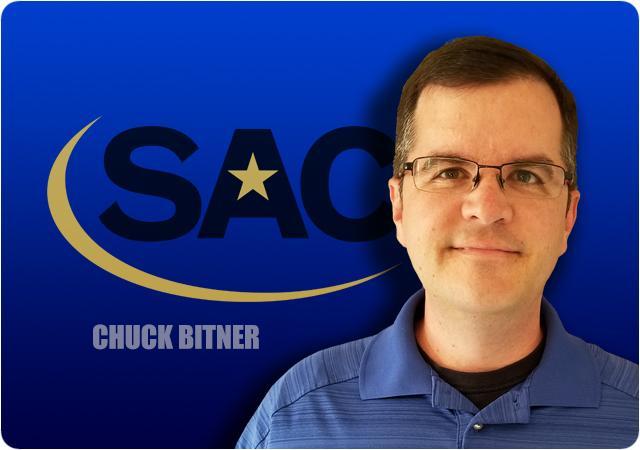 It's been my custom over the last few years to lead off each column with my own ranking of all the SAC football teams from first to last. Usually my rankings resemble the official standings pretty closely, but I am factoring in my opinions based on what I see from watching nearly every SAC game in person or on tape. This week, ranking the teams was more challenging than it has ever been.
Wingate is the easy choice for first place. They are the only undefeated team left overall and in conference (excluding Catawba, as the cancellations will eventually convert to losses). Carson-Newman is, unexpectedly, an easy choice for last and Limestone falls in line just ahead as a the only other winless team. Although in fairness to the Saints, they've had two opportunities taken away due to opponent cancellations.
Back to Catawba for a second. What to do with them? They've taken care of their business on the field. The Winston-Salem State win has gone down in value, but the win over Barton, which seemed underwhelming at the time, has gone way up in value. But the last two games have been cancelled, so what is a fair way to account for that? I went with a sixth place position, just ahead of Tusculum, with the understanding that at the moment Catawba is 0-0 in SAC play, but realistically they are 0-2.
Where it really gets squirly is positions 2-5. Assuming Wingate is the best team in the conference right now…who is the second best team? UVA Wise just won consecutive games, over Carson-Newman and Lenoir-Rhyne. It must be the Cavs, right? Maybe. But I can't ignore the complete whipping they took from Mars Hill back in week three. So, put Mars Hill at two right? Meh. They have the big win over Wise and beat Newberry (who would have been the clear #2) on Saturday. But they lost at Lenoir-Rhyne who is struggling.
Here is a look at some of the round-robin results that make the SAC picture a convoluted mess right now.
Mars Hill beat UVA Wise
UVA Wise beats Lenoir-Rhyne
Lenoir-Rhyne beat Mars Hill
Newberry beat Lenoir-Rhyne
Mars Hill beat Newberry
We're just going to have to let the season play out to see where everyone lands. Between now and then, here is my best shot at stack ranking the teams.
1. Wingate
The Bulldogs solidified their spot as the undisputed number one team in the SAC and a top 10 team in the D2Football.com poll with a homecoming victory over Tusculum. If you'd told me Wingate would have 43 points on the board at the end of the night, I would have expected a comfy margin of victory. But while the offense had an efficient night, the defense had some problems Tusculum did have a special teams touchdown that helped them go blow-for-blow, but they also had scoring drives of 75, 75, 52 and 69 yards. That surprised me. The Bulldogs' run defense was there all night, but surrendered more than 18 yards per pass completion. They have Limestone and Barton in the next two weeks so run defense will be the key in those contests. But they'll need to work on defending the pass for upcoming games against Wise, Mars Hill and Lenoir-Rhyne.
2. Mars Hill
Is Mars Hill really the second best team in the SAC right now? I don't know, but results on the field have to speak louder than anything else. LR can't be #2 and the other two candidates for second place both lost to Mars Hill, so the Lions take the position. The win over Newberry was quite the thriller. In the years I have been watching the SAC, I have not seen Mars Hill be as stubborn about running the football as they were last week. The Lions ran the ball on 44 of 72 offensive snaps and churned out a productive 4.0 yards per carry. Not stellar, but it got the job done and was a very nice compliment for 235 passing yards. The win should really be credited to the defense though. Newberry had a lot of respect for the Mars Hill run defense and schemed to throw the ball as much as possible. They got yards with it, but the Mars Hill D made a lot stops and created turnovers in the red zone. Overall it was a really good day, aside from fumble that occurred while trying to run out the clock. That was as inexcusable as it was disastrous. It should not have happened and this game should not have gone to OT. But…when it was all said and done, the Lions got the win and inserted themselves into the SAC championship conversation.
2. UVA Wise
One week after earning the program's biggest win as a SAC member UVA Wise earned the program's biggest win as a SAC member. The Cavs toppled the SAC establishment two weeks in a row. Yes, we know Carson-Newman has tons of problems and Lenoir-Rhyne is not in 2018/2019 form, but still, when you beat established conference heavyweights in consecutive weeks, people start to look at you differently. Later I'm going to talk about how much Lenoir-Rhyne hurt themselves but for Wise, the win isn't about what LR did wrong, its about what the Cavs did right. Wise had a good defensive game plan that was very successful at putting pressure on the quarterback and forcing mistakes. That was the single biggest key to the win. Offensively, they gave LR a lot of different looks and distributed the ball exceptionally well. Six players had multiple pass receptions and an even dozen had at least one. It was never easy to anticipate where the ball was going on any given play.
It's going to be fun watching the next few weeks play out. Opponents will look at this team differently but they'll look at themselves differently too. They've proven to themselves that they can compete in the SAC and now everything they want is right in front of them. Newberry, Tusculum and Wingate are up next. Tusculum is on the road, the other two are at home. The home field advantage has been a big deal for UVA Wise.
4. Newberry
Newberry's hopes of a SAC championship hit a significant roadblock last Saturday. I don't know if they were a little spent from the hard-earned wins over Lenoir-Rhyne and Tusculum, or if their game plan just wasn't on point, but they took way too long to find a rhythm offensively. They did not seem confident in the running game, which surprised me a bit. They did accumulate 350 passing yards but destroyed their chances with three devastating interceptions. All three were deep in Mars Hill territory and two were in the end zone. The last was in the first frame of the second overtime, which gave Mars Hill a clear path to victory with any points on their possession. Mars Hill already has a conference loss and many difficult games ahead, so the Wolves are still very much in contention but cannot afford a second conference loss.
5. Lenoir-Rhyne
The Bears' loss to Newberry a couple of weeks ago was difficult, but some days you just get beat. Newberry had a good game plan and played better. That happens. The loss to UVA Wise felt different. I don't want to diminish the accomplishment for UVA Wise, but Lenoir-Rhyne did a lot to defeat themselves. The Bears had so many costly mistakes on defense. Tons of penalties, including several on third downs that extended drives and a handful of pre-snap penalties that are just inexcusable. Not at all what I expect from a unit with veteran leadership up front. Offensively, they had some success but they struggled with pass protection, which was a major factor in three interceptions and six sacks allowed. When you give up 113 yards in penalties and 45 in sacks, it's usually going to be too much to overcome. The Bears actually came close but the mistakes were just too costly.
6. Catawba
Nothing new to say for Catawba, but it is interesting to note, as mentioned above, that the Barton win from a few weeks ago can now be looked at a little differently. That didn't seem very impressive at the time, but in the two weeks since then, Barton annihilated Limestone and beat Carson-Newman by two touchdowns. Barton is proving to be a difficult team to prepare for and Catawba's effort might indicate that the defense is a little better than I previously thought.
7. Tusculum
The Pioneers came up one play short of what would have been a significant upset in D2 last weekend. Knowing the quality if Wingate's rush defense, the Pioneers had a game plan to move the ball through the air, and while it wasn't as efficient as they wanted, they were successful. Ten different players had at least one pass reception as part of a 293 yard passing performance. I would have thought 35 points could be enough but the defense had a slow start. Half time adjustments worked nicely but Wingate did a lot of damage in the first half. Tough loss, but some things for the Pioneers to feel confident in heading into another difficult road game at Lenoir-Rhyne this week.
8. Limestone
Unintentional bye week for the Saints. Hopefully it was a good opportunity to get some players healthy and work on some problem areas as they prep for a visit from Wingate.
9. Carson-Newman
After a baffling start to the season, the Carson-Newman offense really had nowhere to go but upward. Things were a bit better in the road game at Barton, with the team hitting season highs in points scored and total offense. But let's be practical. 17 and 243 are still very modest numbers that won't be good enough for many wins. I did like the decision to give Lamarcus Brown a full game at quarterback to see what he can do. He had a couple of costly interceptions, but looking at where there are now, he may have the highest upside of any option they have. Defensively they had a good day aside from two big plays in the first quarter that put them in a hole. There are still six games to play but to this point, progress has been too slow and too minimal to be confident they can turn this around. The Catawba trip this weekend is a do or die game.
Here is the schedule for week six
Newberry (3-2, 2-1) at UVA Wise (3-2, 2-1) 12:00
From time to time, I revisit columns from earlier in the season to see what I thought about a team in the past compared to the present. Here is something I noted about UVA-Wise in the preseason column…
Schedule notes: The Highland Cavs have an opportunity to open some eyes with a three-game home stand in weeks four through six with Carson-Newman, Lenoir-Rhyne and Newberry coming to town.
Are your eyes opened? Mine are.
Another thing I noted about Wise in the preseason was that their offense was slightly ahead of their defense, which is unusual. That was true at the time, but the normally very stout Wise defense has come a long way since the spring. The defensive front had a huge role in the victory over Lenoir-Rhyne, causing disruption in the Bears' passing game. Some teams have had success moving the ball through the air but the Cavs have been good at creating pressure and turnovers. They lead the SAC with 10 interceptions (with half of those belonging to freshman Markel Dailey) and have accumulated 11 sacks in four games against non-VUL opponents.
Newberry went with a pass-heavy game plan last week against a tough Mars Hill run defense but I really think they need to get back to running the football. The numbers in the Lenoir-Rhyne and Tusculum games were not flashy, but they earned those wins over with a persistent running game. They passed for 350 yards last week, but it wasn't consistent enough to win the game. They need a running game.
What to watch: Newberry's defense isn't bad but they have not been creating turnovers or sacks. This could lead to a good day for the UVA Wise passing game.
The pick: UVA Wise
#8 Wingate (4-0, 2-0) at Limestone (0-3, 0-1) 1:00
There are some unknowns for Limestone coming into this game. With the unplanned weekend off, they've hopefully had a chance to get their starting quarterback out of concussion protocol and break down where things went so wrong defensively against Barton. Wingate will be watching that game tape to see how they can replicate the success Barton had on the ground. Wingate has been very efficient with their passing game this year but I would expect a ground heavy game plan this week with Nijere Peoples and Kalen Clark. For Limestone to stay in the game, they'll have to find some consistency with the passing game. It hasn't come together yet but if they can't get first downs throwing the ball they'll be in trouble.
What to watch for: It's the kind of game where you could expect a little bit of letdown for Wingate but also the kind of game where they should control the line of scrimmage. The winning formula should be as simple as running the ball and stopping the run.
The pick: Wingate
Carson-Newman (0-4, 0-2) at Catawba (3-0, 0-0) 1:00
Very interesting matchup with these old SAC rivals. Both teams should be hungry but for different reasons. Carson-Newman is desperate for a win while Catawba is desperate to just get back on the field. The Indians had their remarkable start to the season derailed by consecutive cancellations so theyshould be frothing at the mouth to just get back on the field.
Catawba is comparable to Barton, but the running game isn't quite as explosive. Carson-Newman's effort last week on defense wasn't bad, but they gave up a few too many big plays. Catawba QB Ken Avent's running skills are the source of big plays so if the Eagles can keep him from busting off some big runs I think they can stay in this game. But sadly, The Eagles just haven't given me any reason to feel comfortable picking them.
What to watch for: Its unusual to have two weeks off in the middle of season. There is no way to predict how that may effect Catawba, positively or negatively.
The pick: Catawba
Tusculum (2-3, 1-2) at Lenoir-Rhyne (2-2, 1-2) 1:00
Its do or die time for Lenoir-Rhyne. The Bears have most likely seen their SAC title hopes disappear, but a post season invitation is still a possibility. The Bears have done well in the playoffs in recent yeas and so has their coach Mike Jacobs. It's time to get into playoff mode because every game for the next six weeks is an elimination game.
The friendly brick walls of Moretz Stadium, where the Bears have played only once this season, will be a good place to start this six week run towards the post season. And what better way to re-boot the season than to welcome the first SAC team to beat them on their home field since 2017. Tusculum ended the Bears 20 game SAC winning streak in the spring by winning the spring season championship game.
I can see a path to victory for either team. For Tusculum, they need to do what they did last week at Wingate. Design a game plan to move the ball with the abundant receiver talent that they have. If they can do that and be tough against the run, they're going to have a good chance. They likely need to win the turnover battle as well. I do think Lenoir-Rhyne is a better team all around but they must play cleaner football. They were sloppy last week and it cost them dearly. I think they'll be better with the home crowd behind them.
What to watch for: Tusculum has 17 sacks on the season, which is good for top 20 in the nation and most of any SAC team that didn't play VUL. Lenoir-Rhyne had some challenges in pass protection last week, leading to six sacks allowed.
The pick: Lenoir-Rhyne
Barton (3-2) at Mars Hill (3-2, 2-1) 1:30
Mars Hill is riding a nice wave of momentum after the OT win over Newberry bumped them into the contention for the SAC crown. But if we're talking Big Mo, not many programs in the region have more than Barton does right now. The Bulldogs have won three of the last four games, with a one-score contest at Catawba as the only L in the last month.
Barton's formula for victory is simple. Run the football, slow the game down and control the clock. The Bulldogs have the nation's fifth most productive rushing offense with 258 yards per game on the ground. That attack is led by redshirt freshman running back Jordan Terrell who leads Division II in rushing yards per game (187.2) and total rushing yards (936). This is a formidable challenge for the Mars Hill defense but I believe they are up for it. Mars Hill has the nation's third best run defense, allowing just 46.6 yards per game. Even if adjusted to remove the stat-skewing VUL game, they remain a top 15 rush defense. Lenoir-Rhyne is the only opponent to eclipse 100 yards on the ground against the Lions.
Mars Hill's offense poses a challenge that Barton hasn't seen much of recently. The Bulldogs have fared well in pass defense but haven't seen many offenses with a strong passing attack. Mars Hill has the SAC's top passing offense at 276 yards per game and also lead the league in passing touchdowns with 14.
What to watch for: Mars Hill's defensive front is very physical but Barton's run game excels at rushing the perimeter. Watch for the Bulldogs to try to break plays outside the tackles and use Terrell's speed to counter Mars Hill's physicality.
The pick: Mars Hill
Questions, suggestions, comments, complaints? Email me at [email protected] and follow me on Twitter @D2Chuck