Seven D2 Players Selected in XFL Rookie Draft
June 17th, 2023 8:00am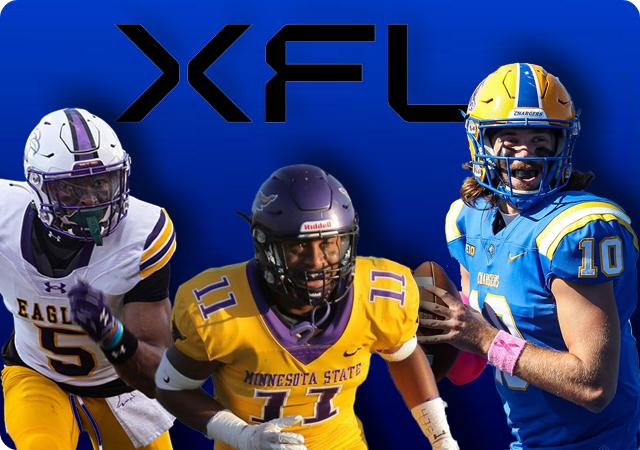 The XFL's 2023 rookie draft was completed on June 16 with a total of 80 players selected by the league's eight teams. Among the selections were seven former Division II players. A complete list of players selected is below.
Additional information about the XFL draft from XFL communications:
Players who were drafted in the XFL Rookie Draft will be placed on XFL rosters with players who finished the 2023 season on active and reserve lists. XFL teams will hold exclusive rights with the players they select in the draft.

For undrafted players, the XFL will host a series of player showcases across the United States in June and July. These showcases will give prospective football players a chance to exhibit their skills in front of XFL coaches and personnel directors. Players will be evaluated based on performance for inclusion in the XFL player pool for the upcoming 2024 season. The top performers will be invited to the XFL Combine, which will be held July 25-27 in Arlington, Texas.

Additional showcases will be held throughout the summer in Atlanta (June 18), St. Louis (July 7), Washington DC (July 9), Houston (July 14) and Arizona (July 16). Additional information on each of the showcases can be found below.

The XFL Combine, which will be held July 25-27 in Arlington, Texas, will be an invite only. Invitations will be sent to the top performers from the showcases earlier in the summer.
Division II players selected in XFL rookie draft
Sy Barnett, WR, Davenport (Arlington Renegades)
Connor Degenhardt, QB, New Haven (Arlington Renegades)
Michael Ayers, LB, Ashland (Houston Roughnecks)
Quinton Barrow, OL, Grand Valley State (Houston Roughnecks)
Momar Fall, DL, CSU-Pueblo (Houston Roughnecks)
Alijah McGhee, DB, Minnesota State (Houston Roughnecks)
Darius Gaines, DB, Western Colorado (San Antonio Brahmas)