Shepherd's Tyson Bagent Wins Harlon Hill Trophy
December 17th, 2021 3:00pm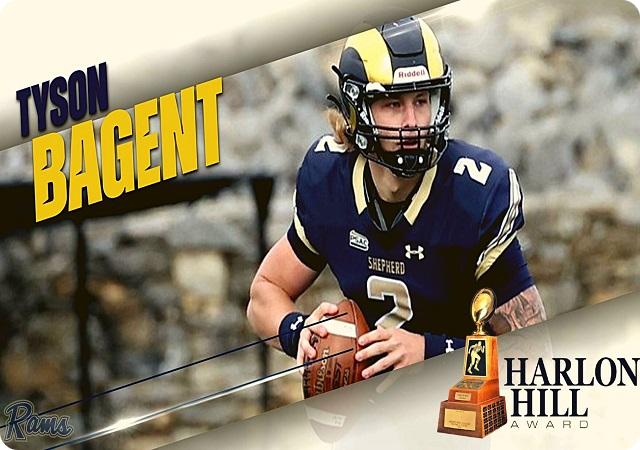 By Chuck Bitner, D2Football.com
Graphic by NCAA Division II
Shepherd University quarterback Tyson Bagent has been named the winner of the 2021 Harlon Hill Trophy. The Harlon Hill Trophy has been presented annually to the Division II college football player of the year since 1986. Bagent was one of 36 candidates and was one of eight national finalists. He is the first Shepherd University player to earn the award and sixth from the PSAC. Bagent is the 35th recipient and 30th individual to be honored with the Harlon Hill Trophy.
Bagent earned 44 first place votes from the 89 ballots submitted. He totaled 169 points in the voting. Nebraska-Kearney QB TJ Davis finished second with 117 points and Northwest Missouri State running back Al McKeller was third with 74 points.
Coming off a standout season in 2019, Bagent was a front runner for the award all year. He led Shepherd to a 13-2 overall record, including three playoff wins and a berth in the national semifinals. At the conclusion of the regular season, Bagent ranked first in the nation in passing yards per game and passing touchdowns and was in the top five in completion percentage and efficiency.By the end of Shepherd's post-season, Bagent had passed for exactly 5,000 yards, which led Division II and currently ranks fourth among all NCAA quarterbacks. His 53 touchdown passes led Division II and places third among all NCAA players. His season was highlighted by ten games with more than 300 passing yards and nine games with four or more touchdown passes. Bagent completed at least one touchdown pass in each of Shepherd's 14 games this fall. Since the conclusion of the regular season, Bagent has been named PSAC East division offensive player of the year, First team Super Region One and First team All-America by AFCA.
Beyond the statistics and post season honors, Tyson Bagent's 2021 season may best be remembered for Shepherd's run to the national semifinals and the late game heroics the Rams pulled off in the second and third rounds of the playoffs. In the second-round meeting with Notre Dame College on November 27, Shepherd had just 0:28 seconds to respond to a late scoring drive by the visiting Falcons. It proved to be more than enough time as Bagent connected with Josh Gontarek for the game winning score from 23 yards out with just 0:02 remaining. One week later, the game winning score came after time had expired. In the Super Region One final, The Rams trailed Kutztown 28-24 when the ball was snapped for the final play of the game. Bagent eluded pressure and nearly went down before launching the ball towards the end zone. The clock hit triple zeroes before the ball was snagged out of the air by Alex Wetzel who outjumped multiple defenders for the game winning "Hail Mary" touchdown. You can re-live the remarkable game winner here.
Tyson Bagent's 2021 final statistics
Category

Statistic

National Rank

Total passing yards

5,000

1st

Pass yards per game

333.33

3rd

Passing Efficiency

165.79

6th

Completion Percentage

67.5

4th

Passing touchdowns

53

1st

Wins as starting QB

13

1st

Weekly Performance

Opponent

Completions

Attempts

Yards

TD

INT

Ohio Dominican

26

37

346

4

1

Gannon

29

37

363

5

0

IUP

28

41

468

4

1

Kutztown

42

51

398

4

1

Shippensburg

23

33

336

5

0

Lock Haven

17

26

330

5

0

Millersville

13

28

191

1

3

West Chester

19

27

234

3

1

Bloomsburg

31

37

364

5

0

East Stroudsburg

27

45

437

6

0

Clarion

32

45

447

4

1

Findlay

22

34

288

2

2

Notre Dame

30

50

301

3

1

Kutztown

30

42

248

1

1

Ferris State

22

46

249

1

1

Totals

391

579

5000

53

13
The trophy will be presented to Tyson Bagent at the Little Rock Touchdown Club annual awards banquet on January 14, 2022.
Past Harlon Hill Trophy Winners
| | | | |
| --- | --- | --- | --- |
| Year | Player | Pos. | School |
| 1986 | Jeff Bentrim | QB | North Dakota State |
| 1987 | Johnny Bailey | RB | Texas A&M-Kingsville |
| 1988 | Johnny Bailey | RB | Texas A&M-Kingsville |
| 1989 | Johnny Bailey | RB | Texas A&M-Kingsville |
| 1990 | Chris Simdorn | QB | North Dakota State |
| 1991 | Ronnie West | WR | Pittsburg State |
| 1992 | Ronald Moore | RB | Pittsburg State |
| 1993 | Roger Graham | RB | New Haven |
| 1994 | Chris Hatcher | QB | Valdosta State |
| 1995 | Ronald McKinnon | LB | North Alabama |
| 1996 | Jarrett Anderson | RB | Truman State |
| 1997 | Irvin Sigler | RB | Bloomsburg |
| 1998 | Brian Shay | RB | Emporia State |
| 1999 | Corte McGuffey | QB | Northern Colorado |
| 2000 | Dusty Bonner | QB | Valdosta State |
| 2001 | Dusty Bonner | QB | Valdosta State |
| 2002 | Curt Anes | QB | Grand Valley State |
| 2003 | Will Hall | QB | North Alabama |
| 2004 | Chad Friehauf | QB | Colorado School of Mines |
| 2005 | Jimmy Terwilliger | QB | East Stroudsburg |
| 2006 | Danny Woodhead | RB | Chadron State |
| 2007 | Danny Woodhead | RB | Chadron State |
| 2008 | Bernard Scott | RB | Abilene Christian |
| 2009 | Joique Bell | RB | Wayne State (Mich) |
| 2010 | Eric Czerniewski | QB | Central Missouri |
| 2011 | Jonas Randolph | RB | Mars Hill |
| 2012 | Zach Zulli | QB | Shippensburg |
| 2013 | Franklyn Quiteh | RB | Bloomsburg |
| 2014 | Jason Vander Laan | QB | Ferris State |
| 2015 | Jason Vander Laan | QB | Ferris State |
| 2016 | Justin Dvorak | QB | Colorado School of Mines |
| 2017 | Luis Perez | QB | Texas A&M-Commerce |
| 2018 | Jayru Campbell | QB | Ferris State |
| 2019 | Roland Rivers III | QB | Slippery Rock |