Spring Football Sunday Roundup (4.11.21)
April 11th, 2021 6:00am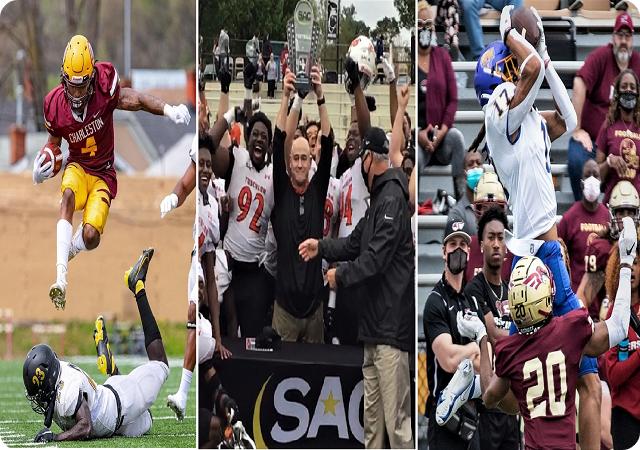 Photo credits: Tusculum sports information, Fort Valley State sports information, Chuck Roberts (Charleston)
By Chuck Bitner, D2Football.com
Tusculum wins SAC Spring Championship
The Tusculum Pioneers won the South Atlantic Conference spring football championship with a 28-23 victory at Lenoir-Rhyne. A touchdown pass from Rogan Wells to Derrick Wright with 0:06 left in the second quarter gave the Pioneers a 21-14 lead at halftime. An early third quarter TD strike of 78 yards extended the lead to 28-14 and although the Pioneers were shut out for the remainder of the game, they never relinquished the lead. The day was far from perfect for either team. Penalties and turnovers were enormous factors through all four quarters and both teams missed several opportunities. The Tusculum passing game posted 438 yards but it was really the defensive effort to eliminate LR's running game that allowed the Pioneers to make 28 points hold up for the win. The Bears finished the day with just 59 rushing yards. The win earned Tusculum its first football championship since 2008 and capped the program's first winning season since 2014.
Ohio Dominican wins at Findlay
Ohio Dominican totaled only 14 points and 192 yards of offense Saturday night, but a dominant defense was able to hold FIndlay scoreless for 55 minutes and the Panthers got out of town with a slim 14-10 win. The Panthers appeared to be on their way to a shutout but a late rally nearly flipped the victory to the home team. Findlay finally got on the board with 4:02 remaining to cut the deficit to 14-7. An ODU fumble on the kickoff gave Findlay a bonus possession that they would convert into a field goal. An Oilers defensive stop set up the potential game winning drive, but the ODU defense came through with a stop on downs to secure the win. On the Oiler's final drive, an apparent miscommunication between the sideline and QB Matt Winezeler resulted in Winzeler clocking the ball on 3rd and 4 from the ODU 34 yard line. Ample time remained for Findlay to call a play in the situation and save the down. Findlay was stopped on fourth down with a 1:12 still on the clock.
Tiffin stays perfect
Tiffin prevailed at home against Kentucky Wesleyan in one of the ugliest games of the spring season. Neither team eclipsed 200 yards of total offense. The Dragons were opportunistic, with two of three scoring drives starting in plus territory, set up by defense and special teams. Ugly as it may have been, the win got Tiffin to 4-0 and set up a showdown with Ohio Dominican this coming Saturday. The winner of that game will be in sole possession of first place in the G-MAC standings.
Charleston, Notre Dame win MEC divisions
Charleston rolled to a dominant win over cross-town rival West Virginia State on Saturday, locking up the MEC's south division. The Golden Eagles outgained their rivals in toal offense 545 to 141 and deployed an extraordinarily balanced attack, with 262 rushing yards and 283 passing yards. In the north, Notre Dame rolled to another lopsided victory to secure their place in the MEC's first ever championship game. The Falcons rode another strong performance from Tabyus Taylor, who churned out 267 yards on 24 carries. The MEC Championship game is set to be played at Notre Dame College this coming Saturday at 1:00.
GLVC races
Missouri S&T and Truman State were both victorious Saturday night as each moved to 2-0 in the brief GLVC season. They will face each other on Thursday night with the winner securing the GLVC West division and a place in the championship game. The Miners earned their win by grinding out 9.1 yards per rushing attempt. For the second week in a row, both Payton McAlister (190) and Aaron Moya (149) ran for more than 100 yards. Truman State also ran their way to victory with 300+ rushing yards led by Cody Schrader and Jaylen Jefferson. In the East division, McKendree won at home while Indianapolis was idle. They wil play this coming Saturday at UIndy with the winner earning a place in the championship.
Newberry completes spring with 5-1 record
Newberry finished off an impressive spring season with a win at home over Wingate. It was the fifth win for the Wolves, making them the winningest team in the SAC this spring. After three straight losing seasons, this is a huge boost for the Newberry program. They will enter the fall season full of confidence and momentum and perhaps most importantly, no question marks at quarterback. Instability at quarterback has been a problem for the Wolves, but Dre Harris clearly asserted himself as the team leader and will head into the fall season as one of the top offensive performers in the SAC.
Mars Hill finishes spring with OT win
Mars Hill gave up a late two touchdown lead to Limestone but came through in overtime to finish the spring with a win in their final opportunity. The Lions trailed for most of the first half, but led for nearly the entire second half. They appeared to be well on their way to victory but Limestone scored 14 points in the final three minutes of regulation to force a tie. Despite giving up the lead late in the game, the Lions played the entire second half with a sense of urgency, which was really something they needed to do. Chritopher Roberts put the offense on his back, carrying 39 times for 193 yards and four touchdowns. Gurvan Lafayette wa equally impressive, with 136 yards on 16 carries.
Fort Valley State closes short season 2-0
Fort Valley State made it two for two in their short spring season with a win at Erskine. The Wildcats were the only SIAC program to play more than once this spring and their efforts to get on the field were rewarded. FVSU was impressive before and after a weather delay, rushing for 299 yards and passing for 204. The defense held Erskine to just 31 rushing yards.
Davenport sweeps Gannon
The Davenport Panthers had just two games on the spring calendar, a home and home series with Gannon. Davenport took game one in Erie, PA by a final of 30-22 on March 20. Gannon made the return trip in Michigan last Friday night. Davenport led from start to finish and even a 16 point fourth quarter from Gannon was not enough to get within striking distance. Deondre Ford passed for 300 yards and three TDs in the win.
Shepherd wins only game this spring
Shepherd and Mercyhurst met in a neutral site game in Wheeling, West Virginia in a game that was scheduled only a week in advance. It marked the first appearance of the spring for both teams. Mercyhurst will play once more this spring against rival Gannon but for Shepherd, this was their one and only contest. It wasn't a pretty day for either offense with teams held under 300 total yards. Turnovers and special teams played major roles in the outcome and led to four straight scores for Shepherd in the second half, on their way to a 38-14 win.
Those are just few of the top stories from this past weekend. Visit the D2 Message board to discuss your favorite headlines from weekend and be sure to follow @D2Football on Twitter. You can find me @D2Chuck and [email protected]