Week 11 National Roundup
November 12th, 2023 5:00am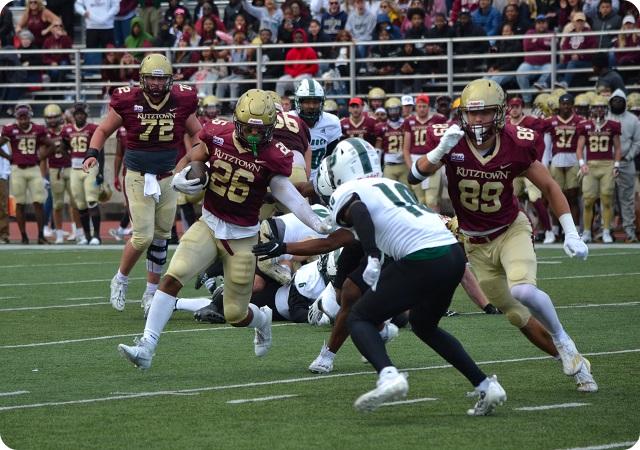 Eleven weeks up, eleven weeks down. The curtain has fallen on the 2023 regular season. We move on to the playoffs. The championship field will be unveiled Sunday night at 6:00pm, eastern. Be sure to follow us on the social channels and the website for direct links to the selection show. We will have reactions to the bracket shortly after on Inside D2Football at 8pm, eastern.
By Chuck Bitner, national columnist
Pictured: Kutztown running back Darryl Davis-McNeil was named MVP of the PSAC Championship game
Before we take a look at some thoughts on what may happen with the playoff brackets, we should celebrate the 2023 Division II conference champions. We get so consumed by playoffs by this time of year that we sometimes lose sight of how much it means to win a conference championship. For most programs, it's the first goal on the list every year. Here are your 2023 Division II conference champions.
CIAA: Virginia Union
GAC: Harding
GLIAC: Grand Valley State
GLVC: Indianapolis
GMAC: Tiffin
GSC: (t) Delta State / Valdosta State
LSC: UT Permian Basin
MIAA: (t) Pittsburg State / Central Missouri
MEC: Charleston
NE10: New Haven
NSIC: Augustana
PSAC: Kutztown
RMAC: Colorado Mines
SAC: Lenoir-Rhyne
SIAC: Benedict
The week 11 headlines will spotlight our champions…
Kutztown dominates in PSAC Championship
For the second time in three years, the Kutztown Golden Bears are PSAC Champions. In a dominant performance from start to finish, Kutztown defeated PSAC West division champs, Slippery Rock, by a final score of 31-7. I was at this game and it was not at all what I expected. I knew Kutztown was capable of winning, but how they did it was surprising to me. The way the Golden Bears controlled the game on both sides of the ball was very impressive. Slippery Rock entered the day undefeated (10-0), ranked number one in super region one and ranked fifth nationally. Kutztown's defense held the Rock to just 229 total yards of offense and did not yield a point until the final minute of the game. It's been a long time since I've seen a Slippery Rock offense struggle like that. The Golden Bears' offensive line dictated the tempo, leading to an average of 5.5 yards per rush and a total of 275 yards on the ground. Darryl Davis-McNeil was named MVP after rushing for 146 yards and a TD on 26 carries. He also caught two passes for 17 yards. The win will solidify a playoff spot for Kutztown (9-2) and likely place an SR1 game at Andre Reed Stadium this coming Saturday. Slippery Rock drops to 10-1 but will still be safely in the super region one playoff bracket with a home game.
Benedict rolls to second straight SIAC title
Benedict did what they've done all season: Play outstanding defense. The Tigers yielded just 193 total yards to Albany State and allowed just 10 points in a 47-10 rout. WR Caden High had a standout day for Benedict, catching 10 passes for 156 yards and a touchdown. The Tigers' defense tallied 8 sacks for a loss of 43 yards among 14 tackles for loss. The Tigers have likely wrapped up the number one seed in the super region two bracket for the second year in a row.
Lenoir-Rhyne throttles Tusculum in SAC championship
Lenoir-Rhyne allowed only five first downs and 156 yards to an outmanned Tusculum offense. Tusculum did not have a drive lasting more than five plays or ten yards until late in the fourth quarter. Total domination by the Bears' defense. Offensively, Jalen Furgerson remained inactive but Sean White had a standout performance hitting 19 of 30 passes for 305 yards and 5 TD. LR should land a home playoff game in the first round.
Virginia Union wins first CIAA title since 2001
The Virginia Union Panthers took home the CIAA championship with a 21-10 win over defending champs Fayetteville State. Neither team would eclipse 225 yards of total offense in the defensive battle. Jada Byers picked up 135 hard-earned rushing yards and a pair of TDs. The Panthers are solidly in the playoff field but probably playing on the road. Fayetteville State will be in the conversation but most likely not in the field.
Augusta Wins outright NSIC championship
Augustana pulled away from visiting Bemidji State to win their second NSIC championship in three years and first outright title since 1959. This was a 7-0 game at the half but Augie bested Bemidji 17-6 in the third and then salted it away with two late scores. Bemidji held a significant edge in total yards, 429 to 294 but Augie did a fantastic job of answering every time the Beavers looked poised to take momentum. The win should secure a home playoff game for the Vikings. Bemidji should be in the SR4 field but probably drops to seventh in the final rankings.
Falcons claim first LSC championship
UT-Permian Basin won their first ever conference championship with a big second half performance against Central Washington. The LSC showdown was tied at the half, but the Falcons separated in the third quarter and pulled away for a 42-14 win. The Falcons' offense posted 502 yards against a good CWU team while the defense did not allow a point in the second half. Seeding is to be determined, but UTPB will make their first appearance in the Division II playoffs. Of note for Central Washington, Tanner Volk had yet another multi-interception game, pushing his season total to 11.
Colorado Mines made sure the SR4 field goes through Golden, capping an undefeated season and another RMAC championship. In the regular season finale, John Matocha set a new college football record for most total touchdowns in a career (181).
The Northeast 10 championship came down to a battle between New Haven and Bentley. In another of the day's tight defensive battles, the Chargers won the day by outscoring Bentley 10-0 in the fourth quarter. New Haven should be in the SR1 playoff field. It's possible they will land seventh in the committee's final rankings but as the highest ranked NE10 team, they'll be in as long as they are ninth or higher.
Central Missouri and Pittsburg State will share the MIAA championship with both teams finishing 10-1. Both will be in the Super Region Three playoff bracket and should be hosting first round games.
Delta State and Valdosta State each take a share of the GSC title with both finishing 7-1 in league play. The Blazers put in an impressive home performance in a 58-28 win over West Georgia. Delta State beat Mississippi College 41-3. Expect Delta State and Valdosta State to be the two and three seeds in SR2.
Grand Valley State completed an undefeated run through the GLIAC with a shutout of Davenport. It is the second straight unbeaten conference season for the Lakers who should be the no. two seed in SR3.
Harding completed an undefeated season with their fourth shutout of the year. The 11-0 Bisons should have home field advantage in the SR3 bracket.
Tiffin had already earned a share of the Great Midwest championship last week but left no doubt with a resounding 26-7 win at Findlay. The Dragons shutout the Oilers for 55 minutes. Tiffin finishes the regular season as the only undefeated team in super region one. Expect to see the Dragons as the number one seed in SR1.
Indianapolis overcame the tough loss last week to beat Southwest Baptist on the road and nail down another GLVC championship. It is the Greyhounds' ninth league title since 2012. UIndy will be in the SR3 field as an unseeded team. They likely land sixth or seventh in the final rankings.
Charleston finished two games ahead of the field to take home the MEC trophy. It is UC's first championship since the formation of the Mountain East Conference. The Eagles took care of their cross-town rival West Virginia State 52-20. The Eagles should be at home next week for a first round SR1 game.
Other notes…
Henderson State's win over Ouachita Baptist was not only a much-needed victory in one of D2's best rivalries, but it may have been enough to get them into the playoffs. The Reddies' win was a gift to Missouri Western who was in position but unlikely to make the field. Ouachita's loss opened the door for the Griffins to jump up to sixth with UIndy following in seventh. But that window was swiftly thrown shut by a Missouri Southern team that has played hard all year. The Lions outlasted Missouri Western in double OT and likely bumped them out of the playoffs. The good news is this probably takes earned access out of the equation as UIndy (the highest ranked GLVC team) should be sixth or seventh. Who gets the final spot in this region will be a hot debate on the committee calls.
McKendree beat William Jewell to close the year with five straight wins. The Bearcats started the year 0-5 and finished at .500. Very impressive for McKendree to battle back when the season seemed like a total loss.
Hillsdale also had a dreadful start to the year, losing the first four games. After that, the Chargers went 6-1. Saturday's win over Ohio Dominican secured the winning season.
Southern Nazarene beat Oklahoma Baptist 49-21 to earn the program's first winning season as a Division II program (since 2012). Gage Porter capped his incredible career with 195 rush yards and four touchdowns. Congratulations to the Crimson Storm on a milestone achievement.
In a result that surprised no one, Barton throttled winless Erksine 48-14. Running back Jordan Terrell set a new South Atlantic Conference single game rushing record with 404 yards on 44 carries. He also scored four touchdowns.
In the best season for Lock Haven football in more than 40 years, running back Chris Collier set a new program single-season rushing record with 1,393 yards.
It's been a tough season for Western New Mexico but the Mustangs ended the year with a huge 25-24 win over rival Eastern New Mexico.
After a 2-9 season, UVA-Wise head coach Dane Damron announced his resignation immediately following the finale.
Thank you for following along during the regular season. I hope you'll stick around for the playoffs even if your team or conference is not involved. Remember to watch Inside D2Football for our playoff bracket reactions on Sunday night at 8pm, eastern.

Questions, suggestions, comments, complaints? Email me at [email protected] and follow me on Twitter @D2Chuck