Week Five National Roundup
October 2nd, 2022 7:00am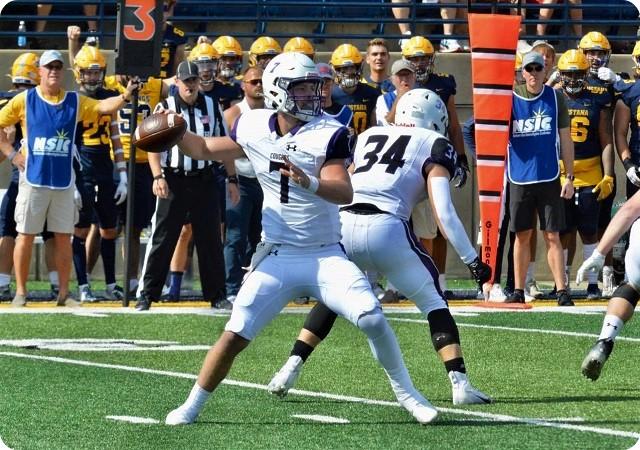 Headlines, news and notes from a busy week five.
By Chuck Bitner, national columnist
The exclusive club of unbeaten teams fell by a few numbers on Saturday as no less than six undefeated teams are heading into the new week with their first L. Two of those teams (Augustana and Saginaw Valley) lost to ranked teams in games they were considered the underdog. Slippery Rock and Newberry lost road conference games that will have major implications on league standings. The biggest upset of the Top 25 happened in Carrolton, Georgia where Mississippi College upset #6 West Georgia. More on that later. Concord was unranked, but also lost their undefeated status, falling at home to Fairmont State.
#21 Delta State hangs 70 on #16 Valdosta State
Near perfection. That is about the best way to describe the night for the Delta State offense. I started out the evening schedule planning to watch this game but was quickly able to divert as Delta State was in command from start to finish. Aside from killing the clock at the end of the first and second halves, the Statesmen scored touchdowns on every possession. 10 for 10. The first half was especially impressive, with scoring drives of 75, 57, 70, 63, 67 and 76 yards. The game was over by halftime and even though the Blazer offense continued to fight, anything they could do was too little and far too late. Statesmen QB Patrick Shegog literally could not have played better. He completed 26 of 29 pass attempts for 346 yards and four TDs. He also led the team in rushing yards and ran in three scores. As a team, Delta State rolled up 703 yards, averaging 7.9 yards per play. Delta State is now 5-0 and coming off consecutive wins over GSC preseason favorites Valdosta State and West Florida. The Statesmen still have a tough road ahead, but must be viewed as the favorite in the GSC at his point. Valdosta State should fall from the rankings after this loss and looking at what is still in front of them, its hard to see a path to the playoffs.
#2 Grand Valley Defense Controls #18 Saginaw Valley
Things started a little anxiously for Grand Valley on Saturday night. The Lakers offense sputtered early, totally just 24 yards on their first three drives. By contrast, Saginaw exploded out of the gate with a 70 yard scoring drive to take an early 7-0 lead. But that was as good as it would get for the Cardinals. Their next longest drive of the night covered 47 yards but ended with a turnover. Saginaw Valley had one of the top rushing offenses in the country heading into the weekend, averaging right at 300 yards per game. On Saturday night in front of nearly 15,000 fans at Lubbers Stadium, Grand Valley held the Saginaw rushing attack to just 106 yards on the ground.
#25 Sioux Falls dominates Key to the City game
The final margin was just seven points in the 10th annual Key to the City game but I watched all sixty minutes and this was The Coo's game. I have to give a lot of credit to Augustana for getting off the deck and finding a way to rally for 17 fourth quarter points, but by that point, they had too far to go to potentially earn the win. The Vikings trailed by as much as 21 before the late rally. The stat sheet shows a pretty even game, but it didn't feel like that watching it. The Sioux Falls defensive front seemed to control the game and the seven sacks they produced were a huge factor. I said in my preview column that I thought the Coo would win with the consistent rushing of Thuro Reisdorfer and that wasn't far off. Reisdorfer had 134 tough rushing yards, averaging 7.1 per carry. Many of those yards were hard earned carries between the tackles.
IUP Beats Rival #12 Slippery Rock on Homecoming
Gray skies and rain put a little bit of a damper on the homecoming atmosphere at IUP, but any concerns about weather will be long forgotten following the Crimson Hawks' win over #12 Slippery Rock. This was a tight, defensive battle all the way. IUP held a slim 7-0 lead at halftime and closed the fourth quarter with consecutive turnovers on downs to win by a final of 20-12. The stat sheets for each team are nearly identical but the difference in the outcome was redzone performance. IUP's offense was 3-4 in the red zone while Slippery Rock was 1-3. In the first half, IUP killed two Rock scoring threats with interceptions in the end zone. Those were the only turnovers in this game and they were the difference. IUP wide receiver Duane Brown continued to make a case as the best player in the country. IUP quarterback Mak Sexton had 19 completions for 240 yards. 10 of those completions went to Brown for 140 yards and two of IUP's three touchdowns. IUP now has to reset and get ready for California this weekend. One year ago, the Crimson Hawks won the rivalry game of Rock but then got bumped off by Cal the next week and were stunned by Edinboro following that. This is a team that could go far in the playoffs but they cannot have a letdown like they did last year.
Mississippi College Upsets #6 West Georgia
The visiting Choctaws trailed West Georgia 21-3 just before halftime, but a late first half score sparked a 36-17 run. Later in the game, when they had their chance to go for a win, they took it. Trailing 38-31, Mississippi College capped a 66 yard scoring drive with just 0:04 left with a three yard rush TD. Within a point of tying the game, the Choctaws opted to go for two and the lead. They ran the ball right up the middle for the 2 point score, the lead and a few minutes later, the win. The Choctaws ran for 283 yards in the game.
137th Black Hills Brawl goes to Black Hills State
Playing in one of D2 Football's most unique venues, O'Harra Stadium at South Dakota School of Mines, Black Hills State extended their season opening winning streak to five games. The Yellow Jackets managed only 12 first downs and were outgained in total offense 447 to 243, but won the game with defense. The 'jackets D got off the field when it mattered most. Black Hills allowed only 8 third down conversions in 21 attempts and forced four turnovers (all in the second half). Nicc Quinones' 58 yard interception return in the fourth quarter set up a red zone TD that proved to be the winning margin. Black Hills State won college football's fourth most-played rivalry game by a final of 24-17 and will now hold onto the Homestake Trophy for the next year.
Here are some additional notes from the weekend
Benedict abused host Fort Valley State to run their record to 5-0 and firmly state their claim as the top threat to Albany State in the SIAC East division. The Tigers rushed for nearly 300 yards and held Fort Valley to a total of 207. The Benedict defense is for real. We're only at mid season but its starting to look like the SIAC may come down to the defensive clash between Benedict and defending champs Albany State on October 16.
Concord entered the weekend 4-0 but struggled to mount scoring drives in their homecoming game against Fairmont State. The Mountain Lions finally found the end zone with seconds remaining. Rather than attempt a PAT kick to tie, Concord went for two and the win. It was close. REALLY close. But the conversion attempt failed and Fairmont State won it 10-9.
Davenport is 4-0. The Panthers started their home game against Michigan Tech in a 17 point deficit but would go on to score on their last six possessions of the game on their way to a 52-38 win. The Panthers may have something with graduate transfer QB Jason Whittaker (Northwestern). The former four-star scholastic QB has passed for 839 yards with 12 TD and only 1 INT in just two starts.
Carson-Newman has a long and rich tradition but have been through a couple of lean seasons. On Saturday, they earned the biggest win under second year coach Mike Clowney. The Eagles trailed Newberry 14-0 in the first half but then reeled off 24 unanswered to stun the Wolves. They did it the old fashioned Carson-Newman way with a rushing offense and stifling defense. The Eagles ran for 311 yards and held Newberry to just 179 total yards for the day.
Similar to Carson-Newman, Bloomsburg has had a couple of lean years after two decades of winning tradition. The Huskies got their biggest win under second year coach Frank Sheptock with a 21-16 win at home over West Chester. The Huskies' offense struggled all night but as a team, they scored touchdowns on offense, defense and special teams. The defense came up with big stops all evening and closed the game with a stand on their own side of the field to lock up the win.
Central Missouri notched their first win of the season and first win under Josh Lamberson with a 35-13 win over Northeastern State.
A week after wrapping up Limestone's first ever three game winning streak, the Saints extended it to four. In a game moved from Saturday afternoon to Thursday night due to hurricane Ian, the Saints defense dominated in a 17-14 win over Mars Hill. Its time to start thinking about Limestone as more than just a positive story. They are looking like a legit threat in the SAC Piedmont Division.
Western Colorado outlasted Colorado Mesa in OT. It was the third straight win for the Mountaineers. Really nice rebound for them after the 0-2 start.
Southwestern Oklahoma State won again to make it three out of the last four. The Bulldogs are enjoying a fantastic turnaround under a new coaching staff.
That's a wrap for week five. Be sure to join us tonight on Inside D2 Football. IUP Coach Paul Tortorella will join to discuss the win over Slippery Rock and the upcoming game with California.
Questions, suggestions, comments, complaints? Email me at [email protected] and follow me on Twitter @D2Chuck.