Week Nine National Roundup
October 28th, 2023 7:00pm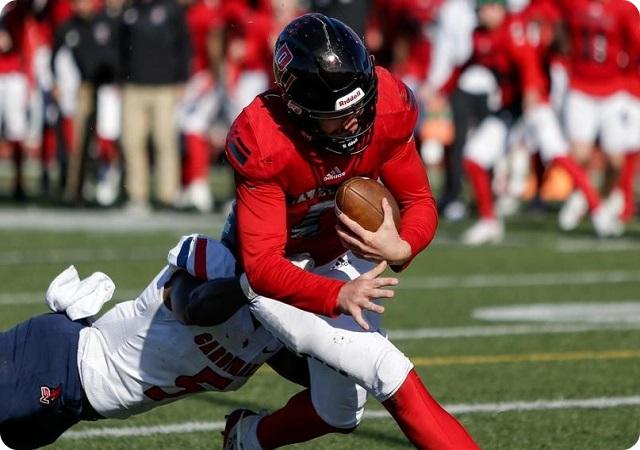 Headlines, news and notes from a very busy day of D2 Football.
By Chuck Bitner, national columnist
Photo: Davenport's Jason Whittaker scored the game winning touchdown on 4th and goal in the Panthers' come from behind win over Saginaw Valley State.
Top stories
#1 Colorado Mines Manhandles rival #13 Western Colorado
The game we expected to be the game of the week really wasn't. That's thanks to Colorado Mines (9-0) who decided a competitive game wasn't at all what they wanted in front of a sold out home crowd. The score was close at the half, but Mines had left some points in the field. It really didn't feel like a close game and the Orediggers quickly proved that it wasn't. The Mines defense was in control all day, holding Western Colorado to just seven yards on the ground. Western averaged 0.3 yards per rush, compared to Mines' 6.2. In total, Mines outgained Western 505 to 142. That was not at all what I expected. We know how explosive Mines is but I thought the Mountaineers had a defense to slow them down. For a while they hung, but it was clear from the start that Mines' defense wasn't going to let Western establish anything. It really was the Oredigger defense that dictated how this game played out and it was much more one-sided than I anticipated. Just a phenominal all-around performance for the Orediggers in every phase of the game and in game-planning. They knew exactly how they wanted to attack. For icing on the cake, John Matocha, the defending Harlon Hill winner, set a new Division II record for total touchdowns in a career. He passed the previous record of 171 set last year by Shepherd's Tyson Bagent. The only things standing between the Orediggers and an undefeated season are New Mexico Highlands (2-7) and Fort Lewis (0-9).
#7 Lenoir-Rhyne loses road contest to rival Wingate
Wingate (6-3) prevailed in a back-and-forth battle with SAC Piedmont division rival Lenoir-Rhyne (8-1). The Bulldogs knocked the Bears from the ranks of the unbeaten with a 34-30 win at home in front of a full house at Irwin Belk Stadium. LR appeared to have possibly salted the game away with a 15 play, 70-yard drive that resulted in the go-ahead TD with 1:01 to play. But Wingate would respond immediately with a 75 yard strike from Brooks Bentley to Evan McCray. Bentley had the best performance of his young career, passing for 335 yards and three touchdowns. Lenoir-Rhyne had a balanced day with 221 rush yards and 262 pass yards against a good Wingate defense, but never found a consistent rhythm. Around their five scoring drives were four three-and-out possessions. LR drops into a tie with Limestone at the top of the Piedmont division but the Bears do own the head to head advantage in that tie.
#8 West Florida falls to #24 Valdosta State
Valdosta State (8-1) picked up their biggest win since Tremaine Jackson took over the program with a 31-28 win at West Florida (6-3). Predictably, the Blazers did struggle to stop the run. One thing I gor right in the analysis of this game (along with the outcome) was that PeeWee Jarrett rushes would be a big part of the game play and that was true. But the Blazers made some stops in critical situations and did a very good job against the Argos' passing attack. As high as I am on West Florida's receiving duo of John Jiles and Caden Leggett, it was Valdosta's tandem of B.K. Smith (8 catches, 151 yards) and Ted Hurst (6 catches, 84 yards, TD) that made the difference for the Blazers. I also have to give big props to Estin Thiele for nailing a 48 yard field goal in the fourth quarter that ended up providing the winning margin. This result will have a huge impact on SR2 regional rankings this week.
#10 Augustana upset at Wayne State
Wayne State (6-3) endured difficult weather conditions to upset No. 10 and previously unbeaten Augustana (8-1), 14-12. The entire game was played in steady (and increasing) snowfall throughout.To illustrate how difficult it was, this is one of the wildest college football statistics I have ever heard, witnessed or read: Wayne State, the winning team, finished the day with 20 net yards of total offense. Twenty. Can you believe that? The Wildcats had three first downs, -23 rushing yards and 43 passing yards on five completions. Is that a record for fewest yards ever by a winning team? I don't know, but I'm going to try to find out. Turnovers were the deciding factor as the Wildcats intercepted Augie's Casey Bauman three times on the day. A late second quarter interception by Tanner Cooper was returned 64 yards for a touchdown.
#17 Davenport pulls off dramatic win to stay unbeaten
Davenport (8-0) trailed for the entire second half and appeared to be headed for defeat, trailing 21-9 midway through the fourth quarter. The Panthers rallied with a pair of late TDs to keep their unbeaten season alive. Down 21-16 with under two minutes to go, Davenport engineered a 12 play, 92-yard drive and scored the game winner with just 0:11 remaining. The drive included two fourth down conversions, including Jason Whittaker's touchdown run on 4th and goal from the 10 yard line. Freshman QB Mason McKenzie made his first career start for Saginaw Valley(4-5) and played admirably, completing 22 of 31 for 156 yards and rushing for 54 yards and a TD.
Elsewhere in the Top 25
#3 Pittsburg State (9-0) had their first regular season out of conference game in a long time, hosting Sioux Falls. The Gorillas jumped all over the rebuilding Coo program with a 27-0 lead at halftime and cruised to a 55-6 win.
#5 Harding (9-0) took another step closer to an undefeated GAC championship with a shutout win at Southeastern Oklahoma State (4-5). The Bisons' notched their third shutout win of the year. They will look to close out an unbeaten season with East Central (3-6) and Arkansas Tech (4-5).
#6 Slippery Rock (9-0) wrapped up the PSAC West division with a week to spare. Rock's 42-14 win over Clarion boosted their divisional record to 6-0 and eliminated any other teams from catching them. Similarly, Kutztown (7-2) secured the east division with a close win over Millersville. Slippery Rock will play at Kutztown on November 11 in the PSAC championship game.
A big first half allowed #12 Bemidji State (7-1) to build an 18 point lead over Minnesota Duluth (7-2) by halftime. To their credit, the Bulldogs rallied in the second half, outscoring the Beavers 21-10 but Bemidji was able to hold and run out the final few minutes of the clock. Bemidji's rushing attack was more effective than I thought it would be. The Beavers ran for 212 yards against a very good Duluth run defense.
In the biggest upset of the weekend, #21 Shepherd (7-2) was held to just 10 points in a loss at Bloomsburg (2-7). The Huskies scored midway through the fourth quarter to take a 14-10 lead. The defense turned the Rams away on downs near the red zone and the offense picked up two first downs to run out the clock. It was a huge moment for a proud Bloomsburg program that has endured some lean seasons in recent years. Bloom outgained Shepherd 317-312 and the held the Rams to just 13 first downs. The loss puts Shepherd into a very precarious position for the playoffs, and they still have a difficult matchup with East Stroudsburg (8-1) ahead.
In other shocking upset news, #22 Truman State (7-2) lost to Southwest Baptist (3-6). The Bearcats kicked a 31-yard field goal as time expired to down the Bulldogs and likely end their hopes of making the playoffs in a very crowded super region. Southwest Baptist's defense turned in a fantastic day, holding Truman State to just 167 total yards.
Tiffin (9-0) finally made it into the Top 25 last week, debuting at 23. They stayed perfect for the season with a 40-13 win over Walsh. They did most of their work on the ground, rushing for 308 yards. They still have work to do, closing the regular season with road games at Ohio Dominican (4-5) and Findlay (7-2).
#25 Central Washington (7-2) scored with 1:30 remaining to take a 21-17 lead over Texas A&M-Kingsville. It was the first time all night that the Wildcats had the lead. They would hold on for the win to remain unbeaten in LSC play. The Wildcats have a week off to prepare for the huge upcoming clash with UT-Permian Basin.
And around the rest of the nation...
Charleston (7-1) took control of the MEC with a home victory over Frostburg State (6-2). The Eagles trailed for most of the game until late in the third quarter when they took a 21-17 lead. They added another score in the fourth and made it hold up for a 28-25 win. Both teams were held under 300 yards total offense and turnovers were a huge factor. Charleston stands alone in the MEC standings with West Liberty (3-5) and cross-town rival West Virginia State (4-4) left on the schedule. The Eagles are looking good for a playoff spot.
Allen (6-2) was featured in the week nine preview column but I felt they were the underdog in their meeting with Edward Waters. The Yellow Jackets were anything but an underdog in a 59-21 win. David Wright, who is one of the top passers in D2, had another outstanding day with 308 yards and four TD.
Findlay (7-2) stayed in the GMAC hunt with a controlling win over Ohio Dominican (4-5). The Oilers' defense limited Ohio Dominican to just six first downs, six rushing yards and 82 total yards. Findlay is still alive for the GMAC championship and could play their way into the postseason field with wins over Ashland (6-3) and Tiffin (9-0) in the next two weeks.
Sticking in the GMAC, Ashland (6-3) won for the fifth week in a row. Likely too late to make an impact on the postseason, but the Eagles are on a roll and showing they'll be a team to beat in 2024.
Johnson C. Smith (6-3) beat CIAA South foe Winston Salem State (4-5) for the first time since 1996. It's too late for the Golden Bulls to catch Fayetteville State for the division title, but it's been a great season in Charlotte. JCSU will finish with a winning record for the first time since 2012.
New Haven (6-2) remains the Northeast 10's best hope for the playoffs. The Chargers trailed a feisty Assumption (5-4) team that was down several starters, but they were able to finish a drive when it was do or die time. The win, coupled with Saint Anselm's loss to Pace, puts New Haven back in front in the conference standings.
Gannon (5-4) pulled off late game heroics for the second week in a row and both times, it was Eric Scarpino hitting a game winning field goal. This week, it was a 51-yarder as time expired to beat IUP (4-5) 16-15. It was the second straight win over IUP for the Golden Knights.
Concord (1-8) got their first win of the year, 38-9 over still winless West Virginia Wesleyan.
Mars Hill (7-1) seems to be quietly going about their business. The Lions have won four in a row to build their record to 7-1 and have a firm grip on the SAC mountain division. They do have a trip to Tusculum (5-4) next week. The Pioneers are inconsistent but can beat any team in the SAC when they play their best football.
And we'll close with this. Anderson University, a full SAC member in Anderson, South Carolina, is gearing up for its first season of D2 football in 2024. The Trojans held an intrasquad scrimmage at their home facility, which has undergone major upgrades to host football. More than 5,000 people packed the facility to get their first look at Trojans football. What a great day for Anderson athletics.
Those are your top stories from week nine. Remember to watch Inside D2Football for the weekend recap on Sunday night at 8pm, eastern. We'll project the playoff picture for all four super regions.
Questions, suggestions, comments, complaints? Email me at [email protected] and follow me on Twitter @D2Chuck