Week One National Roundup
September 3rd, 2023 9:00am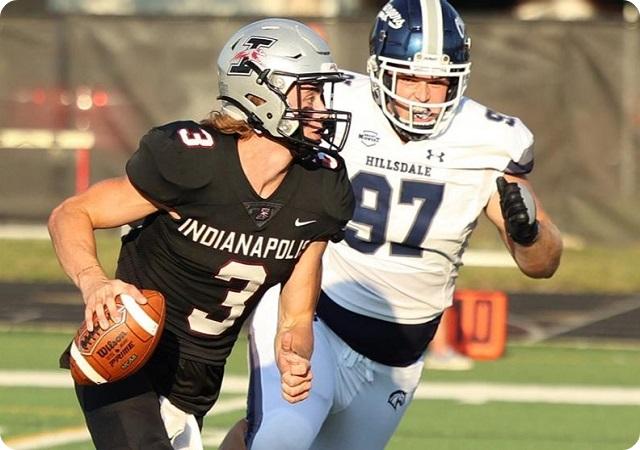 Headlines, news and notes from the opening weekend of Division II football, in no particular order...
By Chuck Bitner, national columnist
#4 Mines prevails over #2 Grand Valley with last second field goal
In a game that was eerily similar to last year's meeting, the road team rallied fromm a large deficit, only to have victory snatched away in the final minute. Grand Valley trailed by 21 points entering the fourth quarter but went on a 21-0 run over a span of 11 minutes. Quarterback Cade Peterson tied the game at 28 with a 20 yard touchdown run on a 4th and ten play with just 0:36 remaining. The game appeared destined for overtime but the Orediggers would need just 0:34 to move 51 yards and set up a game winning field goal attempt for a kicker that had been out of college football for more than a year and hadn't kicked in a game since 2018. But there was no doubt about Hunter Pearson's 41 yard boot that lifted Mines to a 31-28 win in regulation. The Lakers had a small edge in total yardage, 444 to 430, and most of that was through the air. Cade Peterson finished with 295 passing yards and 103 gross rushing yards (reduced to 64 net, factoring in sacks). Defending Harlon Hill Trophy winner John Matocha hit 27 of 41 throws for 327 yards and a pair of TDs. Max McLeod got his season off to a phenomenal start, snagging 11 catches for 157 yards. Mines will now have to prepare to hit the road to meet highly ranked Angelo State, a team they've become quite familiar with. Grand Valley will host their home opener against a CSU Pueblo team that was impressive on Saturday night.
#1 Ferris State overwhelmed Mercyhurst in their season opener. The Bulldogs posted 646 yards of offense. Xavier Wade needed just three catches to accumulate 125 yards and a TD.
#15 Harding is the early clubhouse leader in takeaways. The Bisons took three fumbles and three interceptions from Southern Nazarene in the Thursday night opening win.
#6 Angelo State trailed 14-10 at the half at West Alabama, but outscored the hosts 28-0 in the second half. Three first half turnovers forced by the Rams' defense allowed the offense time to find its footing. For the day, they held West Alabama to just 196 total yards.
#5 Northwest Missouri State did not put away an inspired Missouri Southern team until the final play in their opener in Joplin. Southern cashed in on chunk plays to take a shocking 14-0 lead in the second quarter. The game was tied at 24 entering the fourth. Northwest used a much more methodical approach, running twice as many plays as Southern (80 to 40) and earning the win with a 91 yard drive that lasted 8:39.
#3 Pitt State needed a big fourth quarter to put away Washburn. The final was 34-7 but it was a 13-7 ball game after three quarters. Penalties were a significant factor but so was Pitt's run defense that surrendered just 77 yards.
#7 Minnesota State showed form reminiscent of the 2010s decade with an overpowering run game. The Mavericks rushed for 461 yards in a 54-26 win over a rebuilt Sioux Falls team. Shen Bulter-Lawson carried just nine times but rolled up an unbelievable 221 yards and 4 TDs. Christian Vasser had 144 yards on just 11 carries.
#10 Bemidji State steamrolled a decent Northern State team by a final of 49-13 to state their claim to authority in the NSIC. The Beavers scored touchdowns on their first three drives of the game and never looked back. The offense was a balanced as can be with 212 rushing yards and 213 passing yards. The defense picked off NSU four times. Running back Ali Mohamed, the transfer from Minot State, tallied 113 yards and two TDs on just seven touches.
#12 IUP scored late to win their opener against #14 Ashland, 24-17. Ashland played determined defense all night and never really allowed IUP to hit their stride. Very similar to last year's second round playoff meeting of the same teams. The Crimson Hawks' defense was even better. They allowed just 190 total yards and just 3 third down conversions in 14 attempts. Karst Hunter passed for 261 yards and 3 TD in his debut, but was also sacked five times and turned the ball over twice.
#13 Shepherd survived but struggled mightily and needed a last minute rally to beat Southern Connecticut State at home on Saturday. The Rams trailed most of the day and netted just 13 first downs.
GSC favorites #9 Delta State and #8 West Florida overwhelmed their opponents, as they were expected to. Delta State won at Missouri S&T, 48-20 while West Florida beat Kentucky Wesleyan 35-3 at home in a game that was even less competitive than the score suggests.
Also in the GSC, #19 West Georgia was pushed to the end by Limestone. PATs were the difference in the Wolve's 21-19 win at home. The result may say more about how good Limestone could be this year than how good West Georgia may be.
#25 CSU Pueblo opened the Phil Vigil era with a dominant win over Midwestern State. The Thunderwolves were never threatened in the 37-8 win.
Frostburg State did not take a lead in their victory at New Haven until the first overtime period. The Bobcats trailed most of the way, but rallied to tie twice during regulation and ended up scoring the game's final 13 points. Frostburg opened the OT with a short field goal, then stopped New Haven on downs to earn the victory in the first ever night game at New Haven.
The CIAA had a big weekend with two wins over FCS opponents. Bowie State beat Delaware State in a game they led from start to finish and Virginia State won at Norfolk State in bizarre fashion. Holding a 27-24 lead with seconds remaining, the Trojans tried to run out the final 0:06 but ended up turning the ball over on downs with a 0:01 remaining inside their own 10. Norfolk lined up for a game tying field goal, but mishandled the snap. Elsewhere in the CIAA, Bluefield State got their first win as a CIAA member, beating Livingstone. Watch out for Bluefield this year. The north division is tough, but they're going to be a handful.
Notre Dame held on for a 23-21 win over Ohio Dominican in an MEC v. GMAC matchup. The Falcons' offense struggled at times with a new starting quarterback, but the defense was tough all day and Cameron Shirkey was a difference maker, going 3-for-3 on field goal attempts.
Truman State endured a tough, defensive battle with a 20-10 road win at Findlay.
UIndy pulled a slight surprise and went with Juco transfer Gavin Sukup at quarterback. He passed for 326 yards and 3 TD in the 'hounds win over Hillsdale.
Tiffin scored a school record 79 points in their win over McKendree. The Dragons had 614 yards of offense highlighted by several chunk plays in the passing game.
Assumption beat Kutztown for the second year in a row despite being outgained in total offense 362 to 285.
Walsh was a 1-9 team in 2022 but got the new year off to a great start with a win at home over West Liberty. The Cavs did nearly blow a 24 point lead, but held on for a 24-21 win. The Walsh defense allowed just 29 rushing yards. West Liberty's Rudy Garcia stood out in the loss, passing for 374 yards and three TD.
Similarly to Walsh, Oklahoma Baptist endured a brutal 1-10 campaign in the 2022. They got the new season off to a good start with a home win over Arkansas Tech, a team they lost to by 21 points a year ago.
And finally, how about some love for D2 newcomer Emory & Henry. The Wasps are in their second year of D2 ball after years of Division III membership. They showed their chops last year with an upset of Wingate and an OT loss to Newberry. They opened this year with a 56-10 trouncing of a Concord team that was considered a threat to win the MEC this year.
By no means is that everything, but keep up with all our columnists throughout the week to stay informed of everything happening in D2Football.
Questions, suggestions, comments, complaints? Email me at [email protected] and follow me on Twitter @D2Chuck