Week Six National Roundup
October 9th, 2022 7:00am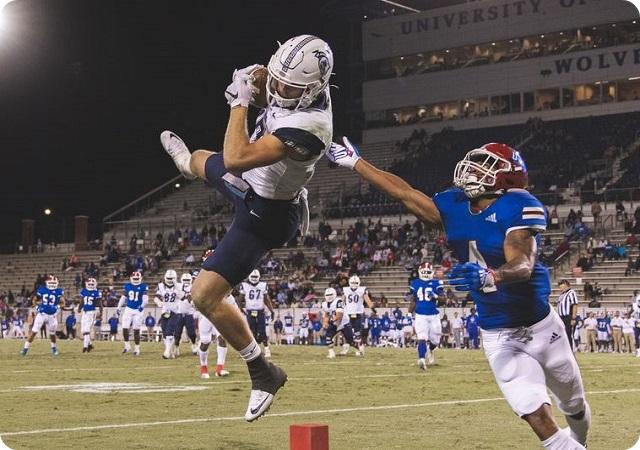 Headlines, news and notes from week six of the Division II season
By Chuck Bitner, national columnist
photo by Morgan Givens, West Florida Sports Information
Pitt State holds off late Northwest rally
#6 Pittsburg State held a 21-3 halftime lead over rival #10 Northwest Missouri State, but the Bearcats rallied to come within a two-point try in the final seconds. The Gorillas moved the ball well in the first half, mounting scoring drives of 88, 61 and 50 yards but the Northwest defense controlled the second half. Pitt State opened the half with five consecutive three-and-out possessions before finally mustering a field goal that provided the winning margin. That drive covered just 24 yards after a stop on downs gave the Gorillas possession at midfield. By game's end, Northwest had outgained Pitt in total offense, 359 to 309 but Pitt's effectiveness in the first half was enough to get the win. Field position was a big factor. The struggling Northwest offense started 11 of 13 possessions inside their own 30. In a game like this against a really good Pitt defense, the Bearcats needed a couple of short field opportunities to ignite the offense. Their best starting position of the day was their own 45 and Pitt limited that possession to a field goal. A lot was said on social media about the two-point try in the final seconds. Northwest QB Mike Hohensee (relieving Braden Wright who was injured on the TD scoring play before) placed the ball perfectly for his big tight end to go up for it but officials ruled he did not control the ball cleanly all the way to the ground. I don't think the MIAA replay challenge process would have changed anything. Video from the broadcast was inconclusive. One thing that was conclusive is the official who made the call was decisive. He had the best view of it and did not hesitate in his call. Video replay would not have been able to give a better view than he had.
Late score lifts #20 IUP to Coal Bowl win
#20 IUP trailed rival California for nearly the entire game but erased an 11 point fourth quarter deficit to defeat the Vulcans and keep their perfect season intact. IUP had moved the ball well in the first half but struggled to finish drives and hurt themselves with a couple of costly turnovers. The Crimson Hawks stayed patient and finished the game with three touchdowns from their final four drives. Elite 100 watch list receiver Duane Brown had a tough day, missing a couple of balls he normally grabs but the attention he commands opened the door for a big day from Hilton Ridley. Although he didn't find the end zone, Ridley snagged eight balls for 161 yards including several critical first down pickups. If you missed it, I asked coach Paul Tortorella about the combo of Brown and Ridley on last Sunday's Inside D2 Football. Sadly, for California, it was the third time this season they had a fourth quarter lead and lost the game. This one was especially gut wrenching because they were in scoring position at the end. All they needed was a FG but failed to get out of bands on a completion short of the sticks as the clock was winding down. They rushed their effort to spike the ball and got flagged for procedure with 0:07 on the clock. That resulted in a 10 second runoff which ended the game. The ball was spotted at the IUP 14 yard line on that final play which would have set up a 31 yard FG attempt. Tough way to lose to your rival at home. IUP has now cleared the two toughest obstacles in their PSAC West schedule. Edinboro tripped them up last year after the Hawks lost to Cal but I don't see that happening again. The team to watch for a few weeks down the road is Gannon. The Golden Knights are 5-1 and picking up more momentum each week.
#11 West Florida hands #16 West Georgia second straight loss
Both teams scored in all four quarters in Saturday night's game but West Florida pulled away with a 28-point second half to give the host Wolves their second consecutive GSC loss. The Argos are 4-0 all time at UWG's University Stadium. West Florida was definitely the better team and we are seeing glimpses of what they are capable of when everything is working. That said, they still made a lot of mistakes that helped West Georgia stay in this game. The score was tied at the half because of three West Florida turnovers, two of which were in West Georgia territory. The talent level on this West Florida team is extraordinary and if they continue to improve and put 60 minute games together with minimal mistakes, they will be very hard to beat late in the season.
#1 Ferris State survives a scare at #25 Saginaw Valley
For the second year in a row, the Bulldogs and Cardinals staged a game that was enjoyable, dramatic, thrilling, frustrating and puzzling all at the same time. It was lower scoring than last year's 47-45 overtime affair but played out similarly. Turnovers and penalties dominated the stat line. Ferris was flagged 16 times for 203 yards and Saginaw 10 times for 110 yards. Ooof. It made for a frustrating watch as a fan. Ferris outgained Saginaw by more than 200 yards (449-247) but barely escaped with the win. A lot like last year's game. That said, it was a gritty performance for the Bulldogs. After scoring on three of their first four drives to build a 20-7 early lead, the Bulldogs ghosted the scoreboard for 2.5 quarters and fell behind by as much as eight points in the fourth quarter. But they never panicked and they found ways to get the points they needed. Midway through the final period, Tony Annese wisely took a field goal deep in Saginaw territory when it was really tempting to go for the TD. That decision paid off when the Bulldogs completed the comeback with a TD run on fourth and goal from the one yard line with just 1:11 remaining. It was not a pretty win but good teams win ugly games, and we can't forget the Bulldogs are still playing without starting quarterback Mylik Mitchell.
News and Notes
In the Lone Star Conference, Angelo State and Texas A&M-Kingsville remained unbeaten. Angelo pulled away from Eastern New Mexico 28-9...Kingsville trailed Western New Mexico by a field goal for nearly half the game but finally pulled ahead early in the fourth with the go-ahead TD. The Javs defense played shutout football in the second half of the 21-17 win. Angelo and TAMUK will meet on October. 22.
Western Oregon got their first conference win as an LSC member with a 16-14 win over long-time GNAC rival Central Washington. But not without some intense drama. The Wolves scored with just 0:09 seconds remaining to take a 16-14 lead. However, the PAT was blocked and returned all the way to the two yard line before kicker Danie Cossette made a game saving tackle. A two point score for Central on that play would have likely extended the game into overtime. You can see the dramatic special teams play here.
Emory & Henry continued their impressive debut season in D2. The Wasps beat regional rival UVA-Wise in the Southwest Virginia Bowl 34-14. E&H is 4-2 overall and 3-1 in the SAC in their first season since reclassifying from Division III.
Frostburg State rebounded from consecutive losses to beat #22 Notre Dame College in overtime. The Bobcats played the previous two games without starting QB Graham Walker and lost both. Walker returned on Saturday and led the team to it's biggest win this season.
UIndy running back Toriano Clinton had a huge day in the Greyhounds (5-0) win over McKendree. The Harlon Hill Trophy contender carried 20 times for 272 yards and four TDs, averaging 13.6 yards per carry.
Wayne State (Neb.) bounced back in a big way. A week after collapsing at Winona State and seeing their perfect record slip away, the Wildcats jumped on Minnesota State early and then withstood a comeback attempt to finish out a 41-33 win on homecoming. Wildcats QB Nick Bohn had 266 passing yards on just 10 completions. Bohn hit four completions of more than 40 yards to four different receivers.
Newly-ranked #24 Benedict stayed undefeated with a 20-3 win over Miles. This sets up the game of the year in the SIAC as the Tigers travel to Albany State this Saturday.
East Central pulled off a nice upset win at home over Henderson State. It was a tight game entering the fourth quarter but the Tigers outscored the Reddies 17-0 in the final period to walk away with a 31-10 win. ECU has won four in a row after starting the season 0-2.
South Dakota Mines bounced back from a bitter defeat in the Black Hills Brawl to beat a hot Western Colorado team on the road. The Hardrockers never trailed in a dominant 38-10 win. QB Jayden Johannsen added to his stellar season with 261 passing yards and 146 rushing yards and accounted for all five touchdowns.
Bowie State threw down an authoritative 41-14 win at Virginia State. The Bulldogs now return home to face undefeated Virginia Union in what will be the most important game of the season in the CIAA.
New Haven made it a five in a row with a win over Pace. The toughest test remaining for the Chargers is an October 29 trip to Assumption.
The passing combination of QB Jack Mangel and receiver Jarod Bowie has been electric all year for Concord. Both had another huge day in the Mountain Lions' win at West Liberty. Mangel was 36 of 50 for a career high 444 yards and five touchdowns. Bowie caught 16 balls for 186 yards and two scores.
That's a wrap for this week. Be sure to tune into Inside D2 Football Sunday night at 8:00pm, eastern. West Florida coach Pete Shinick will join to talk about the Argos.
Questions, suggestions, comments, complaints? Email me at [email protected] and follow me on Twitter @D2Chuck